Hangtown Motocross Classic
Rancho Cordova

,

CA
Hangtown Motocross Classic
Lucas Oil AMA Pro Motocross Championship
Interviews by Steve Matthes and Aaron Hansel
Ricky Dietrich, Valli Motorsports Yamaha 11-9- 450 class
It was a good start. Personally I want to be top five every time. I'm capable of it, I've done it before. I thought it was pretty decent considering I have never been to this track before. My first moto I was behind everyone but was putting in solid times at the end. I'm good there! I'm not going to do any more motos- I'll just work on those first five laps and I'll be good. Those guys put in those best laps in the beginning and that's not my style. I'm sort of floating out there when I should be hammering down. We know what need to work on and we'll go from there.

Tommy Hahn, Motoconcepts Yamaha, 8-8 450 class
It was a good way to start, it was an up and down day and I got bad starts but seemed to go good after that. I did get tired there in the second moto though, the track was gnarly. I haven't been riding on stuff this rough, it was a tough day and I'm coming out of it at 100% so that's fine.

It's a good place to start. The field is stacked, and when the guys that are out come back it will be gnarlier. I think I just need to keep riding and doing motos and I think I need to get stronger to throw that bike around a little bit more.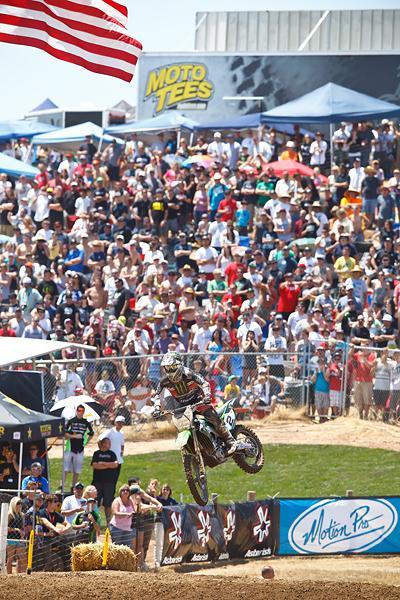 Villopoto was solid in his first outdoor race in almost two years, finishing third overall.
Photo: Simon Cudby

Ryan Villopoto, Monster Energy Kawasaki, 3-3 450 class
For the first outdoor race for me in pretty much two years and on this track with how rough it was, I'm not mad or bummed. I know a couple of areas that we can work on with me and on the bike and we'll get better. I know I have the speed, I don't know how much testing the other guys did but I didn't do much because of supercross and I guess they didn't either but anyways, we just have some more work to do.

Do you feel you might have pushed it too much in the second moto?
Yeah maybe-I knew my limit and with the way the track was I wasn't going to blow myself up or crash and make it worse so I went for as long as I could and then backed it off a little bit. These were definitely the biggest braking bumps that I've ever seen here at Hangtown.
Jake Weimer
, Monster Energy Kawasaki, 21-6-450 class
It's tough and it's different.
Hangtown
is always pretty tough regardless of what bike you've been on. I've been sick here a little bit and wasn't as prepared as I wanted to be but I'm sure there were lots of other people in that same position. Practice went pretty decent and the first moto was pretty much a mess. I went down a couple of times, including on the first lap. I felt like I was making some moves and getting by some guys but someone jumped across the track and I landed on him and landed off the track. I just rode that moto out.

Second moto, with the way the new rule is that says you're gate pick is off of your first moto position- which I think is a good rule- but in this case, I got a bad gate pick and was way outside. I ripped a pretty good start. I tried to ride steady. I'm not as prepared as I want to be and everything considered, I rode ok. I didn't ride excellent but I didn't ride crappy either.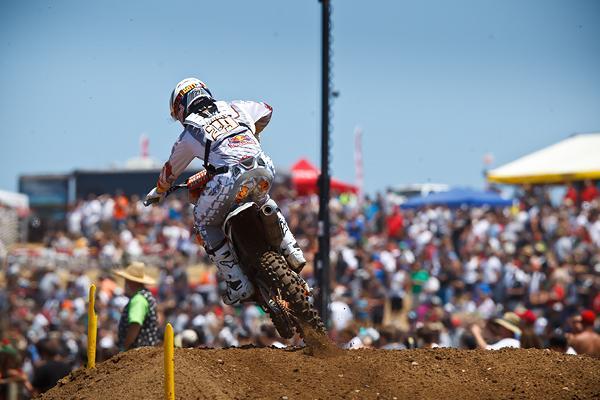 Short finished ninth in the first moto, but had his problems in the second moto.
Photo: Simon Cudby
Andrew Short, Red Bull KTM 9-DNF- 450 class
My day didn't go well, but my second moto was good. I was right behind Villopoto when my bike let go. In the first moto I also had some bike problems but I managed to finish it out. Not the way you want to start the year off for sure, it's kind of like my Honda years where the first race haunted me. The 350 was really good in the motos but in the qualifying when the track is tilled up and deep, that's where the 450 is better. But when it gets really bumpy and hard pack, that's where the 350 shines. I felt strong all day, my fitness felt well. I don't know if it's the bike or me, I hope it's me!

Marvin Musquin, Red Bull KTM, 4-6-250 class
Pretty good ride for me, really happy to be here racing the AMA nationals. Practice went well, I had the fastest lap time, which I didn't expect, but I was happy with it. My motos, I didn't get very good starts at all but worked my way up to fourth which was good. Looking forward to the second moto but I crashed in the second turn and came back to sixth. Really happy, track was rough, but I'm happy.

Last weekend at the USGP, you kind of struggled a bit so this was much better.
I haven't raced since Bercy last November so the track last week was really wet, kind of sandy and slippery. I was just riding around, I rode kind of bad and wasn't happy with myself but today, the KTM bike was awesome and I'm really happy.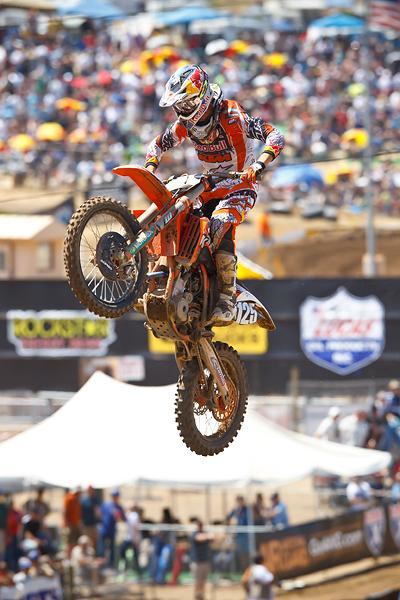 Musquin finished fifth overall in his first AMA Pro Motocross race.
Photo: Simon Cudby

Austin Howell 250 class, 16th (15-19)
It went pretty good. The first moto I ended up getting fifteenth. I don't know, I had a little bad luck; the second moto I crashed in the first corner and went from fortieth to nineteenth, and it gave me a sixteenth overall.

Did the fact that this is your home race help you out at all?
Yeah, I like it. The track got rough, it's totally different from what it's ever been. My back shock kind of overheated, so I have to get together with Will from Enzo and talk about it and come out swinging at Freestone.

Ryan Sipes 250 class, 38th (36-DNS)
It was a bad day. In the first corner [first moto], it was just one of those things. I think it was Malcolm [Stewart], got sideways, and I high-sided over him and got ran over. It knocked the wind out of me, but I got up and I felt good for about three laps but the next lap my wrist was getting pretty sore, and I was like, "I better pull in and check it out." They said it didn't look good. They couldn't tell a lot, but they said to go get a CT scan and find out.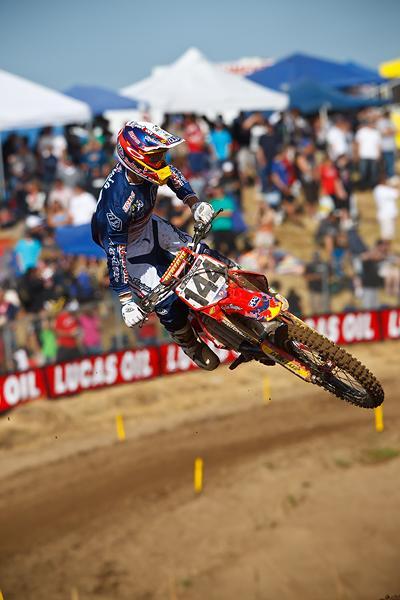 Craig finished an impressive tenth overall at
Hangtown
.
Photo: Simon Cudby

Christian Craig 450 class, 10th (14-10)
It was pretty good, I had two solid motos. In the first moto I made a lot of mistakes, but I finished pretty strong. In the second moto I ended up tenth, so I think I got tenth overall. That was my goal this weekend to be inside the top ten, or tenth overall, so I'm happy.

What prompted you to ride the 450 when you've been riding the 250 in supercross?
I rode the 450 when I was in the amateurs a lot, and I rode for JGR the last four in 2009 and I feel like I ride the 450 really well outdoors. They had an open spot, and they needed to fill it. They let me ride the bike a couple times and I felt really comfortable on it right away. I think it's a good decision, and I'm riding the bike really well.

How was the track?
The track was really rough, it was gnarly. It was the roughest track I've ridden in a while, but I had fun out there the whole time just battling with everybody, and being back on the track and racing again since L.A. Supercross. I'm happy. The track was good, I was happy with the track, and the whole layout was fun.

Are you feeling an effects from your injury at the L.A. Supercross?
No. My leg is all healed up and I'm feeling good.