Hangtown Motocross Classic
Rancho Cordova

,

CA
Hangtown Motocross Classic
Lucas Oil AMA Pro Motocross Championship
Welcome to Racerhead. Well, folks, it's here. It honestly feels like Christmas Eve, because tomorrow is the Hangtown Motocross Classic, which is the opening round of the 2011 Lucas Oil AMA Pro Motocross Championship, so that's why DC is unable to contribute to today's Racerhead column.
We spoke with him a few times today and he says the track is abuzz with activity and everything looks to be on track for a spectacular event tomorrow. So if you live anywhere near the Prairie City SVRA, head out bright and early tomorrow morning. If you can't be there in person, don't worry, as this year promises to have you covered everywhere.
Get up to speed by catching The Racer X Motocross Show tonight, and then tomorrow you can watch the first motos live on both Allisports.com (on your computer) and Fuel TV (on your television) starting at 4pm EST. If you want mobile Live TIming & Scoring coverage on your smartphone, bookmark http://americanmotocrosslive.com/m. The SPEED channel will then have us covered on Sunday, so please be sure to check your local listings.

OK, time to dive into Racerhead...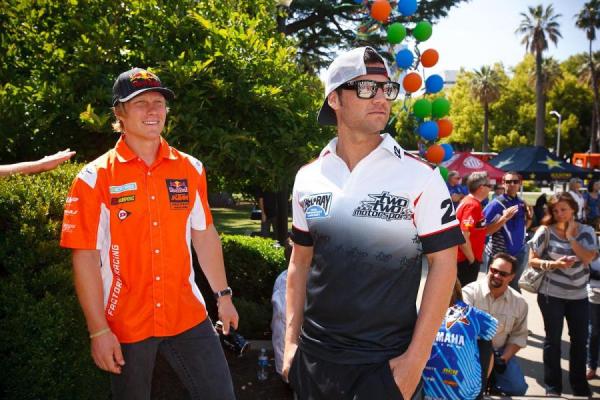 Short and Reed hanging out at the
Hangtown
press conference.
Photo: Simon Cudby
Here is the Weege:
Really, no one should be pumped right now. Supercross is a grind, with seventeen races in eighteen weekends, and this a season that packed the kind of intensity that really makes you want to just exhale when it's over. It's like that in every aspect of the industry. The riders needed to max out over the last few weeks, but so did the teams around them. And those of us in the media, or those in the marketing or promotion business, knew that this 2011 SX season was a once-in-a-lifetime year, and you had to promote, push and cover every aspect.
Now that's all over. Pressure is off. Summer weather is on the way no matter where you live. Does this not seem like the perfect time to just blow things off and enjoy life a little?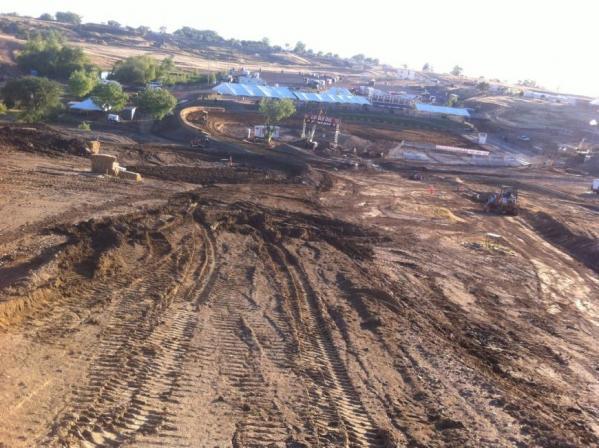 The guys at Dirt Diggers North MC have worked hard preparing the track to tomorrow's opening round of the Lucas Oil AMA Pro Motocross Championship.
Photo: DC
Considering that, I'm surprised about the mood here at Hangtown. I know the Dirt Diggers, the MX Sports staff, and others involved in this race and series have been grinding themselves up to make this year work. Lots of stories about lack of sleep from those crews yesterday. But outside of that, I'm surprised how refreshed everyone looks. Riders and teams have been busting their butts to cram in months worth of testing into two weeks—but they seem happy to be here. Consider Kevin Windham and Chad Reed, who had no obligation whatsoever to race here. At yesterday's press conference, Reed said he has a good feeling right now with his bike and team, and when he has that feeling, he enjoys going racing—like he did in 2009, when he entered the series at the last moment and emerged as the champion.
These riders live to race. All that matters is that they feel good—if they do, they're going to do it. I believe Windham carved out a bonus program from Honda for himself, as Reed always goes with "betting on himself" via insurance policies. But when you're racing for bonuses, you're taking a huge risk. You have to do well or you're putting in all of this work for nothing. The feeling these guys have right now makes them think these bonuses are in reach.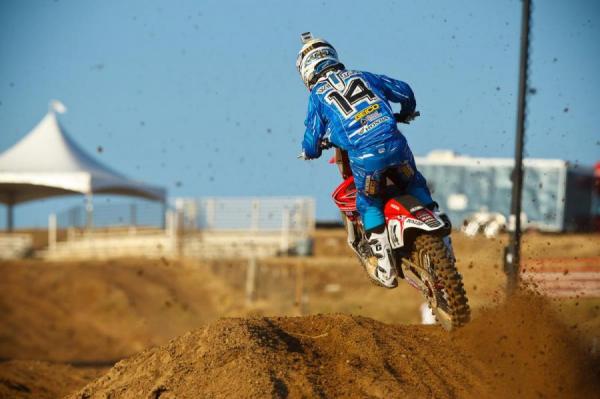 Windham will be on the gate tomorrow.
Photo: Simon Cudby
Just goes to show where the atmosphere for the series is right now. Better tracks, better coverage, and a better format (the riders love the one-day format). I know the outdoor tour is known as the tough one—the one for the real men—but sometimes you have to add a few luxuries to make it fun. You can't just expect people to grind themselves up just for the sake of it. This series seems to be reaching a nice mix of fun and tough all at once, and the people here seem to be happy to be here, even with a supercross grind just barely in the rearview.
I hope you folks aren't too confused about the TV schedule for the year. It's actually quite simple: Fuel TV and Allisports.com will cover every first moto live, so you can watch every week, live, for free, on TV and web. Second motos will air on either SPEED or NBC, some live, some later in the day Saturday, and some on Sunday. Hangtown's second motos air Sunday because SPEED is airing the Spring Cup All-Star Race on Saturday night. So just remember—Fuel TV and Allisports.com for the first motos LIVE every week, and then check the listings to see when the second motos air. And I can't wait to get back in the TV booth this weekend. Sorry, folks, I really do have the best job in this industry.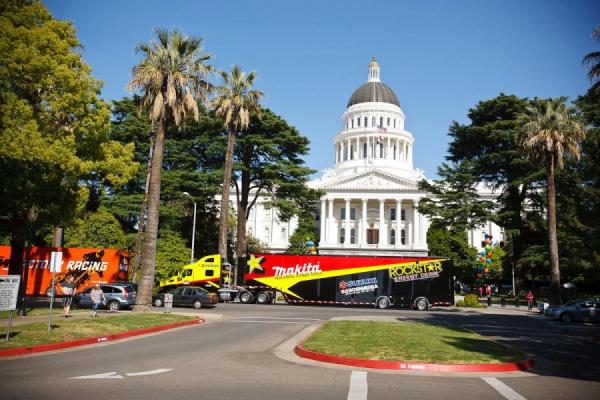 The factory trucks rolling into the state capitol on Thursday.
Photo: Simon Cudby
Speaking of, it's out of control this weekend getting all of these web shows done for Allisports.com and then getting prepared for TV tomorrow. Much more to add next week.

Now here is PING:
This year is flying by, isn't it? Supercross is done and we're less than twenty-four hours from the start of the first outdoor national moto at Hangtown. Man, it wont be long until I'm out front hanging Christmas lights again, Clark Griswold-style, and prepping for 2012.
The racing is going to be awesome this weekend and the TV package will ensure that we can all enjoy it from the comfort of our own sofas. DC and the MX Sports crew deserve a big pat on the back for really making an investment in American motocross. It is paying off, and it will continue to do so. That might sound like I'm just sucking up to the boss, but I really mean it. Those guys pour their heart and soul into this series so that it's better for the riders, the fans, and the sport in general. Great job, guys.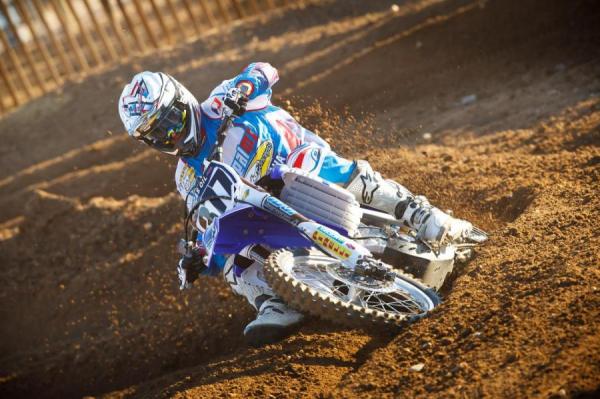 Pourcel is back in action after missing the enitre SX season.
Photo: Simon Cudby
I wish I was there to see it. For the first time in a long time I won't make the Hangtown opener. I'm going to be riding with a group of Canadians in what looks to be a rain-soaked Manitoba track. If it's too muddy, maybe we just park the bikes and go moose hunting, eh?
I did a little riding this week at Milestone MX Park and got to see Chad Reed and Marvin Musquin shaking down their outdoor setups and putting in some last-minute laps. I came away with two observations: Chad Reed hauls ass, and so does Marvin Musquin. Profound, right? Occasionally I'll jump in behind guys to see how much faster they really are than me. I mean, I used to have some skills. Well, suffice it to say that my ego took a hit. A big hit. And anyone doubting that those two are capable of winning their class tomorrow is seriously wrong. But there will be a pretty good list of guys fast enough to win; that's what makes the opener so cool. More than one guy believes he should be winning, and that usually only lasts for a couple races before everyone settles into their spots.
Good luck to all the riders this weekend. Hey, looky there—if you're signed up, you're tied for the points lead right now! Strong work!

How has Short adjusted to the 350 outdoors? I guess we will find out tomorrow.
Photo: Simon Cudby

Now we will pass it over to Matthes:
A new series is starting, and with that comes delusions of grandeur and dreams of prosperity. And that's just in the media!
It's Hangtown weekend, and that means the kick-off to a fantastic summer of racing, from the hard-pack of Hangtown to the heat of Texas to the off-cambers of High Point to the hills of Budds to the altitude of Lakewood to the leap at RedBud to the sand whoops of Millville to the shadows at Washougal to the cavity at 'Dilla to the endless sand of Southwick to the uphill start of Steel City to the backbreaking roughness of Pala. This series will have it all!
Can you tell I'm excited?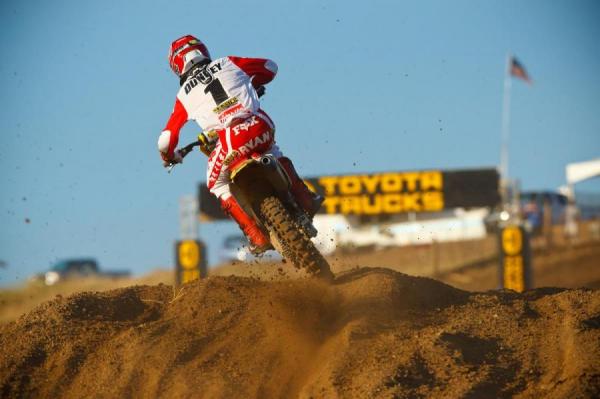 Dungey is back to defend his #1 plate.
Photo: Simon Cudby
As good as the supercross series was, I have a feeling this outdoor series will be even better, as we have a few different riders going for the championship in both classes.
Unlike in past years where there were one or two clear-cut favorites, the 250 Class is wide open. You have to do the shoulder-shrug test: say a rider's name followed by the words "... is the 250 national championship winner." When you shrug your shoulders and go, "Oh, yeah, that makes sense," then you know that it's a wide-open series. Dean Wilson, Tyla Rattray, Justin Barcia, Eli Tomac, Blake Bagget, Broc Tickle, Marvin Musquin, or Ryan Sipes would fit in there perfectly.
As far as the 450 Class is concerned, you'd have to think Ryan Villopoto or Ryan Dungey would be the favorite going in just because of RV's multiple outdoor titles and Dungey's demolition of the class last year. Remember when Dungey struggled last year at Hangtown? I'm betting that doesn't happen again.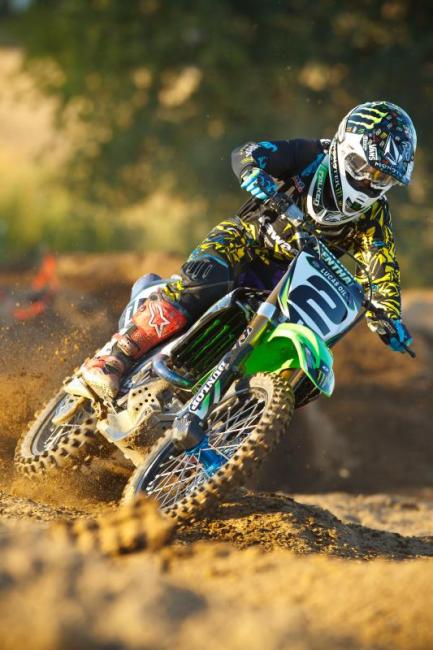 Villopoto will be there to challenge Dungey.
Photo: Simon Cudby
Just below those two guys are Chad Reed, Mike Alessi, Andrew Short, and Christophe Pourcel. Pourcel will start slowly, I think, just because of lack of race action and not that much time on the bike, and Short will struggle a bit because he's not a fan of the California tracks. Alessi won the second moto at Hangtown last year and he's won twice at this track before, so look for him to get a spot on the box. Reed might be a bit behind to start as well, as he didn't even think about outdoors while he was going after the SX title. He rode outdoors one time and packed it in early to focus on the jumpy-jump stuff.
After that you have Brett Metcalfe, who was so good last year, Jake Weimer, who is hungry to start racing and get into it, Tommy Hahn, who hasn't been talked about by anyone but who's been riding outdoors for a while now, Michael Byrne, who hauls butt outside, and Kyle Chisholm, who was so good last year (he'll get better as the series goes on). And what about Kevin Windham, who isn't doing the whole series but will probably be on point by the third round at High Point?
The prediction game is dangerous—you just end up pissing off riders and industry people—but that's my mini look at the two classes. I leave tonight for Sacramento and will be tweeting all day long from the racetrack via @pulpmx and @racerxonline.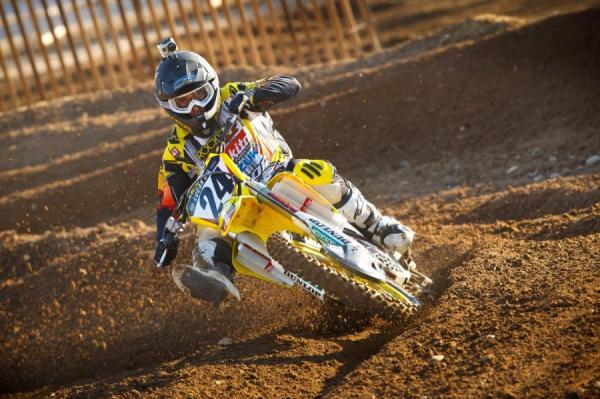 Metcalfe is hoping to have the success he had last year in his 450 class debut.
Photo: Simon Cudby
I also did a photo report on Pulpmx from RedBud, only it's from 1983!
Do you live in Winnipeg, Manitoba? As he mentioned above, Racer X's own David Pingree is in town to do a school this weekend at Shadow Valley. There is a meet-and-greet at Capitol Motorsports in Winnipeg tonight, so if you've ever wanted to meet Ping and ask him about the 2000 125 West title chase, now's your chance. Check out www.capitolmotosports.com for more info.
Good luck, Ping, and please bring me back some ketchup chips and a warmed-over poutine.
Finally, check out the MX Preview Podcast that Ping, Weege, and I did.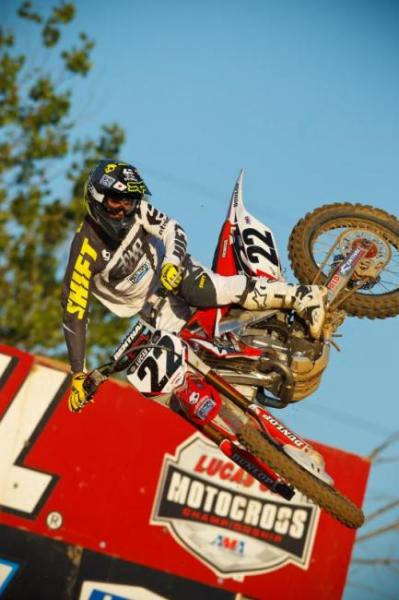 Can Reed bounce back from a tough 2010 outdoor season?
Photo: Simon Cudby
Finally onto some random notes:
If any of you out there have an iPhone/iPod Touch/iPad and you still haven't picked up Mad Skills Motocross, now you can try it for free with the new LITE version. It lets you race on up to ten tracks to get your feet wet, and if it hooks you, you can upgrade to the full version for only 99 cents. Here are the download links: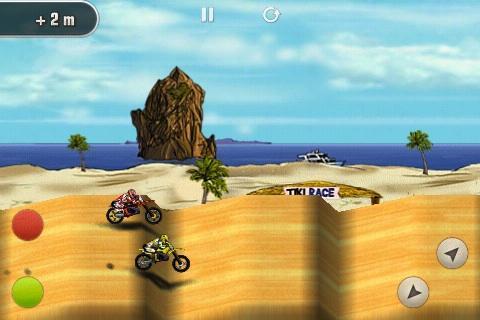 Steve McQueen's personal 1971 Husky 400—the one he rode (shirtless) for a Sports Illustrated cover shot back in the day—was sold this past weekend for an eye-popping $144,500 at the recent Quail Lodge Classic Motorcycle gathering in Carmel, California. The auction was conducted by the noted auction house Bonhams.
Join the family of Facebook followers and get automatically entered into a drawing to win seating upgrades to their new (inside the track) seating.

All you have to do is friend the Hangtown Facebook Page and you will be entered in to be upgraded to inside the track seating. 24 lucky ticketed 2011 goers will be pinged via Facebook that they are winners one hour prior to the first moto. So, friend them and check your Facebook from your phone while you are at the park.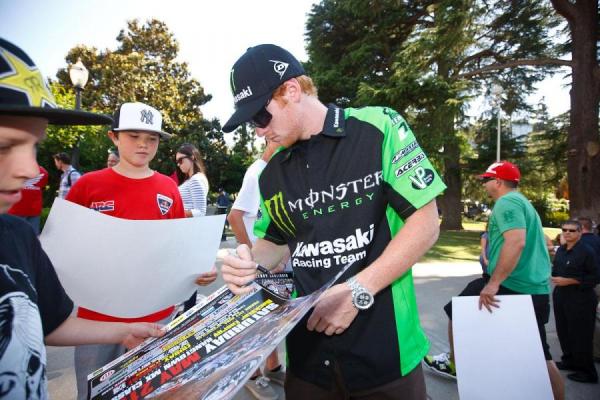 RV signing autographs at the Hangtown Press Conference.
Photo: Simon Cudby
Here is a personal letter from
Ian Trettel
regarding his accident: Get well soon IT77!
Dear sponsors, friends, and all of my fans;
Since my injury, I've been looking forward to the day that I could personally reach out and thank everyone for all of the love and support that you have shown me and my family through these tough times. I'm so blessed and moved by the constant caring that has been sent my way from each and everyone of you. So first and foremost - THANKS!
On March 5th, I suffered a Traumatic Brain Injury during my practice session at the Daytona Supercross. The injury required me to be in a medical coma for almost 4 weeks and I am now in my 7th week of rehab at The Shepard Center in Atlanta. The injury has left me with several physical and cognitive deficits that with dedication and focus can be managed allowing me to live a full and prosperous life. I will continue my rehab through The Shepard Center / Pathways for a another 4-5 weeks before I can return home. I'm excited for that time to come and to also see many of you again but for now I need to continue to focus on my rehab so that I can maximize my recovery.
Even though that through hard work and dedication my long term prognosis is excellent, I along with my family and my Doctors have been forced to make the decision to discontinue my motocross career. Even if I were to make a full physical, and cognitive recovery, my brain injuries are severe enough that the risks associated with another head injury would by life threatening. That's just not a risk that I'm willing to take seeing that I have my entire life in front of me and I'm not willing to put my family, friends, and myself through anything like this again. Motocross has been the only life I have ever known but I am now ready to move on and live for the other things that I enjoy. I will use my accomplishments to pave a new path for me hopefully in some way helping fellow TBI patients. Life looks different to me now and I plan to make the best of what I have.
I really want to say a special thanks and appreciation to all of my many sponsors that have stood by my side helping me to make my motocross career what it was. I'm hoping that in some way I can continue to stay involved with all of you as I move my focus to other interests. I'm confident that whatever I decide to do, that with your help, I'll be able to continue to achieve great things.
Thanks again to everyone for your support and prayers. It truly helped me and my family get through this and I look forward to seeing and talking to you very soon.
Sincerely yours,
Ian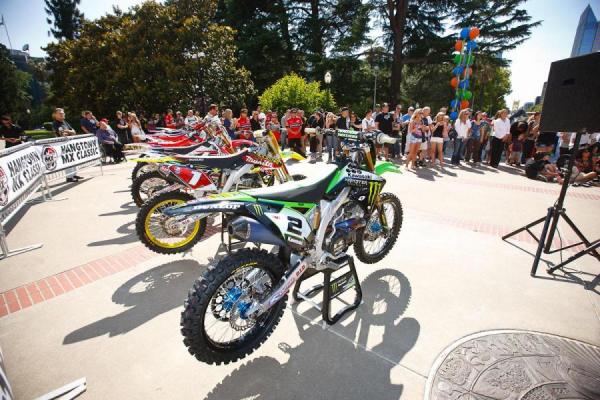 All the factory bikes being shown off at press day.
Photo: Simon Cudby

And here's an interesting press release from the Mayo Clinic:
MAYO CLINIC SPORTS MEDICINE LAUNCHES MX RETURN TO RIDE PROGRAM:
Baseline Concussion Testing Available at Memorial Day Weekend Event
Mayo Clinic is launching a program to help motocross riders return to racing safely after a concussion. Similar programs are already used by other sports such as hockey and football; they guide athletes step-by-step through their recovery and return to competition.
The Return to Ride Program helps riders avoid the possibly serious consequences of repeat concussions before the brain has healed from a concussive injury.
Young athletes are at even greater risk for these consequences, including negative effects on learning ability, increased recovery time from future concussions, and sometimes even permanent disability or death.
Baseline concussion testing is one tool that helps health care providers know when an athlete's brain has healed enough for them to safely return to their sport.
Baseline concussion testing will be available during the 2011Millville Super Series Memorial Day Weekend Event. Come visit us on the 2nd floor of the Registration Building on Saturday, May 28th and Sunday, May 29th from 9 am to 7 pm.
For more information, please contact Amy at 507-269-9147 or e-mail zimmerman.amy2@mayo.edu.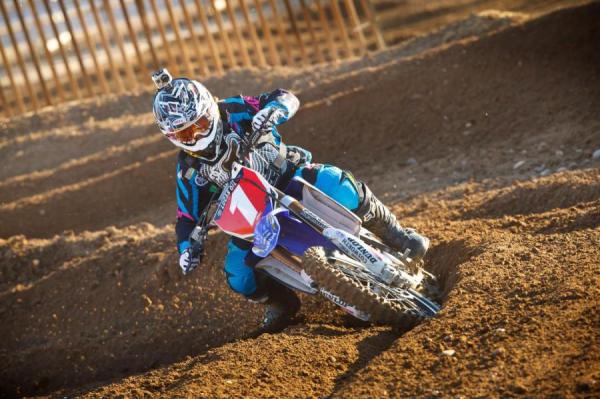 Jessica Patterson
is back and ready to defend her #1 plate.
Photo: Simon Cudby
Okay, now that the 2011 AMA Pro Motocross Championship is about to begin, it's time to get serious with a few of our staff predictions:
Bad Billy Ursic
450 - Ryan Villopoto
250 - Eli Tomac
WMX: Ashley Fiolek
Chase Stallo
450: RV Park
250: Bam Bam
WMX: Patterson
Pete Martini
450: Villopoto
250: Tomac
WMX: Patterson

Andrew Fredrickson
450: Ryan Villopoto
250: Justin Barcia
WMX: Tarah Gieger
Tim Cryster:
450: Villopoto
250: Tomac
WMA: Patterson
Andy Bowyer:
450: RV
250: Tomac
WMX: Balbi
Scott Wallenberg
Open class: Jimmy Weinert
250 class: Bob Hannah
Powderpuff: Kerry Kleid

That's it for this week in American Motocross. Thanks for reading Racerhead. See you at the races.