Hangtown Motocross Classic
Rancho Cordova

,

CA
Hangtown Motocross Classic
Lucas Oil AMA Pro Motocross Championship
By: Alex Gobert/MotoOnline.com.au
After staring down the barrel of retirement, Reed did what very few professional motocross stars have done before him and formed his very own TwoTwo Motorsports Bel-Ray Racing team using production Honda equipment.
Even more impressive was the fact that Reed and his management were able to launch a team in a short period, and then go on to take two wins and second in Monster Energy AMA Supercross, an FIM World Championship.
Now, Reed is also poised to contest the Lucas Oil AMA Pro Motocross Championship as it commences this weekend at Hangtown in Northern California.
Our friend Alex Gobert at MotoOnline.com.au gave Reed a call this morning for a quick catch up to see how his season is progressing to date. He sent us this interview for this week's Between the Motos. And be sure to stay current with the MotoOnline.au site to keep up with racing from the Down Under perspective.
Racer X Online: You had a great season in Supercross, just fell short of the title, but ultimately 2011 must be very rewarding so far?
Chad Reed: It was good. I mean we started the season behind the eight ball, but each and every race we got better and better. In the end we were consistently on the podium and able to win races. We fell four points short, but there's nothing I would have changed – it was an awesome season and I had a lot of fun. I felt like I achieved a lot.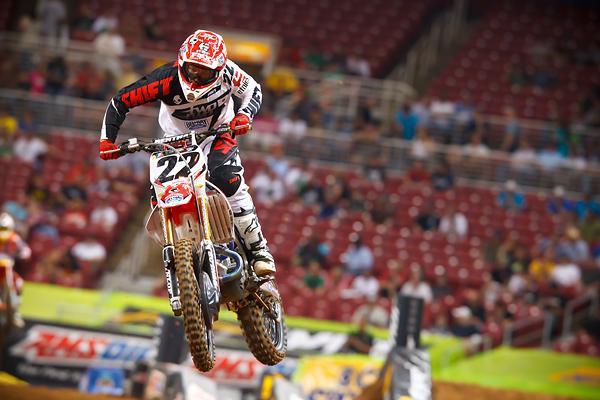 Reed finished second overall in the 2011 SX season.
Photo: Simon Cudby
I remember at Newcastle Super X last year when you debuted on the Honda in TeamVodafone colors, it was hard to imagine back then that you would form your own team and race to second in the AMA series. It really wasn't that long ago!
It wasn't that long ago, no. In a lot of ways it's hard to think of it like that, but for me that was why I went racing, you know? I enjoyed it, it was fun and the feeling that I wanted to have on the bike was that feeling. I felt like Newcastle was awesome, just doing it on my own and it was on a great bike.
I felt like I had a good shot at winning races and putting a championship together, so that was really where it all started. The whole fact that we got to work with Vodafone was unique and fun, which kind of inspired the rest of how TwoTwo Motorsports came together.
And the plan from here? Obviously motocross commences this weekend at Hangtown, can you shed any more light on your deal for the outdoors?
For outdoors I'm going racing, but everything is up in the air as to how we're going to go racing. There's an announcement still to come on that one at the moment.
American Honda has really stepped up their support for you and TwoTwo by the looks of it, so just how much does that help having those extra resources while testing etc?
It's always nice to have extra resources available to you, for sure. I mean, I think I made the right decision and I think we went in the right direction. You know, it's always difficult to change things when everything's going well – I was a podium guy who could fight for race wins, so at that point sometimes it's not a smart move to maybe go and recreate the wheel. You have to go and ride, get used to a whole new motorcycle.
So, I mean I rode their bike, felt that the positives could really help me in the outcome of the season. I think that in the last two races I rode strong, rode good, so I was able to get a second and a first. At the end of the day we made a good decision to try and give me the best opportunity to go out and win a championship.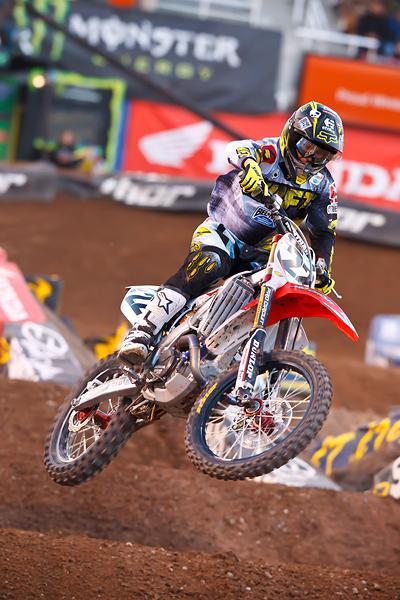 How much of a factor will Reed be at Hangtown?
Photo: Simon Cudby
Now that you have your own team and the infrastructure in place, is that something you're keen to move forward with to expand in the future?
Yeah, I really want to, I want to keep doing it. I enjoy it, I love it, it's fun. Having the final say on everything is always a good thing, so for me I want to keep it around. It's a long-term goal and it was never intended to be a short-term deal. I always wanted to do this and we've got some sponsors that we're really working with closely. I think TwoTwo Motorsports will only get bigger and better. Right now I'm excited for the future and I'm also excited for the goals that we are achieving in our first year.
How about the U.S. GP over the weekend? You were on hand and got to catch up with old friends, but did you wish you were racing at all out there?
It was cool, I mean there was a part of me that really wanted to race but we just weren't ready. I hadn't even started outdoor testing until Wednesday. I rode on Tuesday but I still felt like I was hung over from the weekend in Vegas [laughs]. So I tested Wednesday and Thursday, which just isn't enough. Plus the GP's fuel and sound rules make it even more difficult since we would have had to focus our energy on something we didn't really need to do. Unfortunately I didn't get to race, but it was nice to see some old people who I had become close with over the years. It was actually pretty cool to watch, I felt like I learnt a lot watching those guys ride – they're awesome outdoor riders. I took a back seat, watched it and took it all in.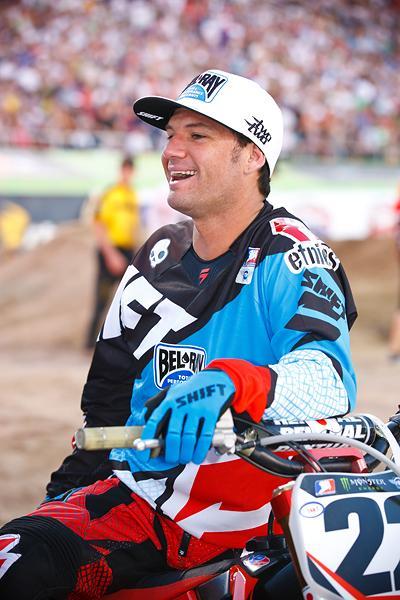 Reed is realeasing a new book about his career.
Photo: Simon Cudby
Just finally, we've heard news of the book you're releasing, so that must be an exciting thing for you to do at this point in your career…
Yeah, I have been working on my book deal for a while now and from my end I'm finished with it. We're kind of waiting for the final copies, so I'm excited just because it's unique to have a book. It's been fun to do because the amount of stuff that you do in your life, when you go back through it, you forget so much of the memories that you've collected over the years.
It's kind of scary that I've been travelling the world since I was 11 years old! Kinda' been living the gypsy life for a long time, so it was cool to put all that into words and I'm excited to read it myself. At the end of the day I have the final say on everything, so I'm looking forward to that.
Okay well we can't wait to read that and wish you the best of luck this weekend at Hangtown!
Alright, cool Al, thank you.