Racer X Brand Debuts All-New National Stickers and Clothing Line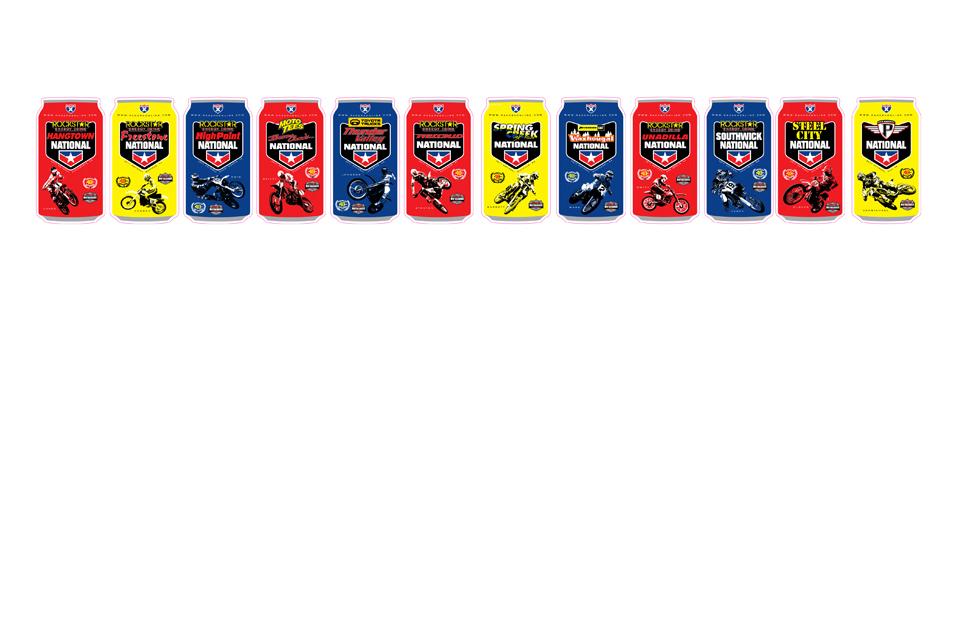 Racer X Brand Debuts Commemorative Stickers Honoring
40 Years of American Motocross at Hangtown Motocross Classic
Morgantown, W. Va.– The Racer X Brand will be rocking at every round of the Lucas Oil AMA Pro Motocross Championship in 2011, with a new line of clothing and of course the famous (and always free) Racer X National stickers, which celebrate each round of the American Motocross tour. And with this being the 40th summer of the word's most competitive motocross series, Racer X made sure to go extra big on the stickers by going right into the wheelhouse of every dedicated race fan: beverage cans!
"We always have a lot of fun at Racer X coming up with a theme for the twelve commemorative decals that make up our national sets each year, and since we were splitting a 12-pack as we worked on this year's concept, it just kind of come to us naturally," joked Racer X founder Davey Coombs. "We always try to come up with a common theme each summer, whether it's road signs or license plates, but with this being the 40th year for the series, we wanted to include some of our favorite riders of all time too."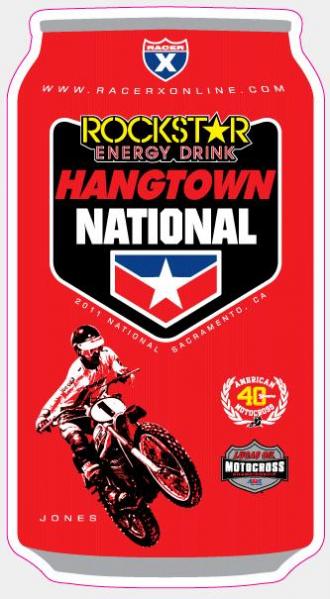 Gary Jones, the first AMA 250cc Motocross Champion going back to 1972, graces the front of the Rockstar Energy Drink Hangtown National event sticker.
Each decal represents a different legend from American Motocross history, all of whom are multi-time champions, including Ricky Carmichael, Bob Hannah, David Bailey, Doug Henry, Mark Barnett, Jeff Ward, Jeff Emig, Broc Glover, Marty Smith, and more. Leading off the series will be Gary Jones, the first AMA 250cc Motocross Champion going back to 1972.  The only way you can get the stickers of course is to stop by the Racer X Booth at each event—and the stickers are free, so stop by and visit early, as these are bound to go quickly!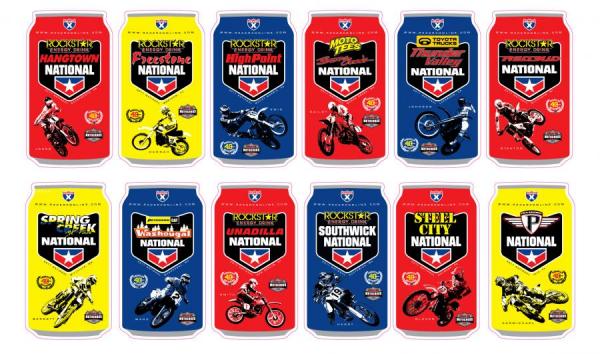 The 2011 Racer X Brand clothing line features old favorites like the Classic Shield Tees, as well as new, vintage-inspired designs to celebrate the 40th Year of American Motocross—thanks to design help from the folks over at Taylor Creative. Prices range from $20 to $30 for shirts; smaller items such as Koozies and souvenir cups will also be available at the Racer X Booth.