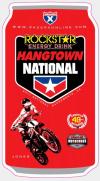 Greetings from sunny, hot and very SoCal-feeling San Bernardino. Racerhead is coming to you from the site of this weekend's Monster Energy U.S. Grand Prix of Motocross at Glen Helen. Yesterday was the press intro at Malcolm Smith Motorsports, followed by some epic bench-racing sessions with some of the very fast GP riders that are in town. More on that in a moment.

First, I want to congratulate a few people, starting with Ryan Villopoto, his mechanic Mike Williamson, Monster Energy Kawasaki team manager Mike Fisher, and that whole team on winning the #1 plate in the 2011 AMA Supercross tour. RV overcame a lot to get here, as anyone knows who went to a race and saw the gruesome, big-screen x-rays of his broken leg from '10 that were part of the opening ceremonies. He put two bad years of injuries behind him, overcome a zero-point night in Jacksonville, losing the lead, and then came back and earned it. Well done, Ryan, you now have five major titles in your collection!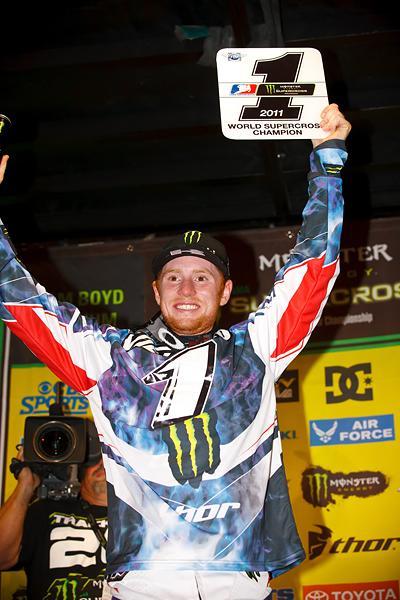 Ryan Villopoto
came through in the end to earn the #1 plate.
Photo: Simon Cudby
As for Mike Fisher and the team, remember at the beginning of the year when the big controversy was Ryan racing with the FMF pipe instead of Pro Circuit? It got heated between the team, sponsors, exhaust companies.... For whatever their initial reasons, Fisher and the team stuck to their guns, kept FMF on the bike and the gamble paid off. It seems like so long ago, and such a big deal, but now?

Pro Circuit got a title too, from Broc Tickle on the Monster Energy/Pro Circuit Kawasaki team. Broc pulled victory from defeat after it looked like the rapidly improving Eli Tomac was going to help the GEICO Powersports Honda team sweep the Lites titles, but he played his cards right in traffic, got around Tomac and earned himself a title. I've known Broc since he was a kid coming up in the B class from North Carolina. He really hasn't changed much—great, polite kid—except that he's a helluva lot faster!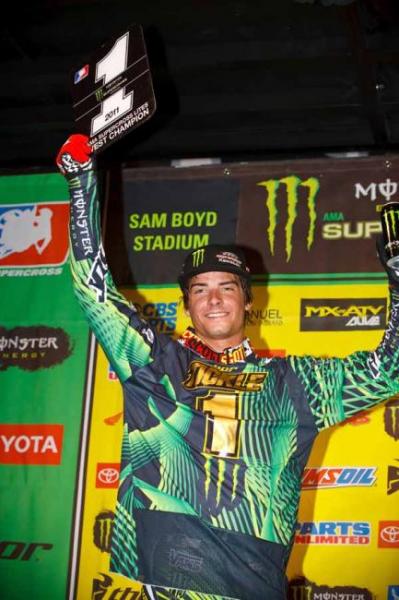 Broc Tickle
is a champion for the first time as a pro.
Photo: Simon Cudby
And congrats to Justin Barcia for taking the East Region title on his GEICO Powersports Honda with much less drama, though he watched an amazing race for the win in front of him as Blake Baggett edged out Ryan Sipes at the very end for the race win. But Sipes got his own trophy later that night with a win in the East/West Shootout, so well-done to Sipes—who also earned himself his first-ever Racer X cover this week!

And what about Ken Roczen? Holy smokes is that kid fast—and getting faster every time we see him. His progress in AMA Supercross since his January introduction to the dirt floor at every stadium in the southwest has been off the charts. He's fast, funny, charismatic—and he's going to be tough to beat in AMA Supercross next winter. He will also be tough to beat this weekend when he matches up against old rival-turned-teammate Marvin Musquin in MX2 at the USGP.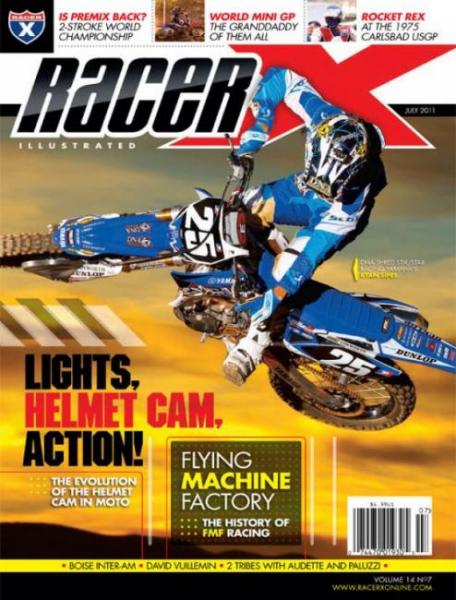 Congratulations to
Ryan Sipes
on his first major magazine cover!
Chad Reed, privateer, gave it hell, and he almost won the whole thing. And Ryan Dungey was not as successful as last year, but he never stopped trying, and he lost a whole race with a broken chain, so both deserve some credit for making the series podium. They both have another shot outdoors at a title in 2011.

Finally, I want to congratulate Feld Motorsports. That was a kick-ass series, from start to finish. The live crowds were up, and I understand that the television audience was up nearly 25% (which equates to millions of new viewers), and the last round at Las Vegas had the production quality of a U2 concert—the post-Osama Bin Laden jet-fighters flyover sent chills up and down the aisles. The platform that they have built the athletes and teams in this sport is second to none, and the shows they put on for the fans are quite a spectacle. Of all their seasons in the AMA Supercross business—which basically goes back to the very beginning—this ranks in my own book as the best ever. 

So now its up to everyone at the Lucas Oil AMA Pro Motocross Championships to try to keep pace, provide our own brand of very good racing, great family entertainment, and a strong media platform that helps the sport grow. I hope we are up to the challenge, and we will spend the next week counting down the days to the 40th Annual American Motocross tour.

The teams don't have much time to get some rest, get ready—two weeks ain't what it used to be, it seems—and then get up the highway to the Rockstar Energy Hangtown Classic. The first two motos will will air live on Fuel TV, and also live (and free) on www.allisports.com. The second motos will be on SPEED TV. It's going to be a lot of fun and a lot of motocross racing, being beamed all over the world (live in Europe, by the way, on MotorsTV). You can keep up with all of the info and goings-on of the series on its new Facebook page: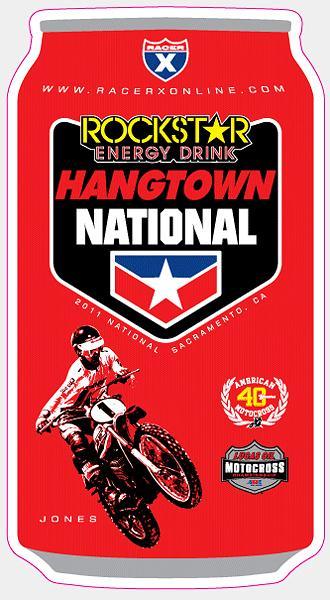 The 2011 Racer X National stickers have a great theme: It's a 12-pack starring all of the series' legends, beginning with Gary Jones.
For a preview of the series, check out SPEED's "Wind Tunnel" show this Sunday night with the super-cool Dave Despain, as he hosts Ricky Carmichael (our greatest champion) Gary Jones (our first champion) and Ryan Villopoto (our new SX champion and a three-time AMA Motocross Champ) beginning at 9 p.m.  Despain himself is a Hall of Fame announcer who started out calling motorcycle races, and he's never forgotten his roots, even as he became a mainstream motorsports icon. The show should be very interesting, so check it out.

Of course there's a race between now and the AMA Motocross opener, and that's why we're here at Glen Helen. The Europe-based riders on the Grand Prix tour are all in town for the second USGP (at least in its newest incarnation), and while they all seem to wish more Americans and AMA-based riders would be lining up, they all seem happy to be here. I got to speak to Tony Cairoli, who may be the most improved sand rider I have ever seen (after once struggling the sand, he has won Valkenswaard in Holland four years in a row), as well as Jeffrey Herlings, one of the super-fast KTM kids that also won in Valkenswaard.

Marvin Musquin was out at the Malcolm Smith's open house.
Photo: BrownDogWilson
And Stefan Everts was there, visiting with his old friend Eric Johnson, and I asked Everts again about Herlings maybe coming to Southwick and trying his hand in the sandiest race on the AMA tour. Everts said he would wait and see how the world title is panning out, and then decide sometime late July before committing the young Dutchman, who would do some damage to our boys in the sand, I hate to say...

It was also cool to see old teammates Cairoli and Musquin hanging out, bench racing, comparing notes. And I got to visit with an old friend, Sean Hummel, who works at Malcolm Smith Motorsports and was once the proud sponsor of Michael Brandes when #43 almost won a moto here at the '01 Glen Helen National!

Ken Roczen was not there at Malcolm Smith's open house, but he was at Milestone earlier this week, along with Chad Reed, James Stewart (who is still a question mark for outdoors), Ashley Fiolek and more. Check out Simon Cudby's very cool film right here:
Tony Cairoli is back on US soil and looking to claim victory at
Glen Helen
.
Photo: BrownDogWilson
At the end of the presser, hosted by Tom White, Glen Helen promoter Bud Feldkamp came up and said that his friend at the South Pointe Hotel Casino in Las Vegas would write a check for $100,000 to any American rider who won the MX1 class on Sunday. It created quite a stir among the folks gathered, and I will be curious to see if anyone takes him up on it. Unfortunately, no such bounty exists for the MX2 class, where Zach Osborne has a boxer's chance of winning against those KTMs and the Monster Energy Kawis of Tommy Searle and Max Anstie.

Okay, I am headed out to the track and see what kind of spectacular challenges architecht Jody Weisel has pulled together this year for the GP. Let me switch it over here to Steve Matthes....

What a weekend in Vegas, man it was a great show for the fans and an appropriate way to end the fantastic 2011 Monster Energy AMA Supercross Series. Now I haven't been around that long but I have followed the sport pretty extensively as a fan and to me, you'd be hard pressed to find a better season in the history of supercross than this past one. Feld Motorsports likes to call every season great or every season the closest one ever in their PRs, but  I think they nailed it when, at the end of the awards banquet video, the words "Best Season in History" flashed across the screen.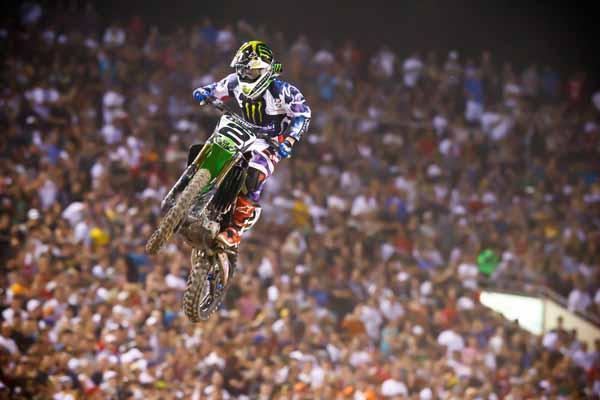 Villopoto was the last man standing in 2011.
Photo: Simon Cudby
It truly gave us fans everything we could want on and off the track and in the end, Kawasaki's Ryan Villopoto was left standing with the #1 plate and he should definitely be damn proud of himself for this one. I can't be sure but I would bet that there's never been a winner of the series that hasn't qualified for a main event.

If you're James Stewart, what's next? A fourth-place and some bad crashes is definitely not what he wanted to do and like I've said before, it wasn't a very good year despite the five race wins. I feel like Reed is playing with house money at this point: he's doing what he's always done only now he's got his own team which makes it more impressive. Ryan Dungey has the least amount of experience in the class out of the top four and he'll be back and stronger than ever so to me, the question is this: Can James get his title back?

At times this year he looked mortal, guys would just catch him and pass him or pressure him into a mistake. That wasn't what we normally would see. With James taking control of his team, will we see him on another bike for 2012? I have heard whispers that he's just not digging the Yamaha and maybe he'll go searching for a new OEM for his team. My co-host on the Pulpmx Show, Kenneth Watson, thinks that James will go to Suzuki and Dungey will go to Honda on Reed's team for next year, so there's that option one supposes. That stuff will all play out in the next couple of months once Dungey, one presumes, settles on a new agent.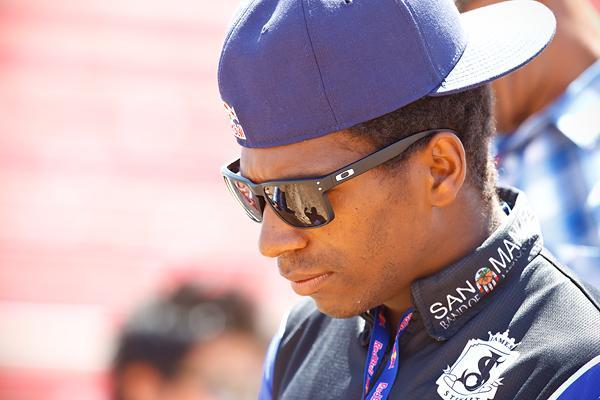 What's next for JS7?
Photo: Simon Cudby
The 250F races had a new format and the vibe I got from the riders was mixed, but it was really cool to see the West title bout as such a nail-biter, the East main come down to the last lap, and Ryan Sipes avenge himself for losing the last East main to Blake Baggett by winning in the Dave Coombs Sr. East/West Shootout. I applaud the folks at Feld for taking a chance on something and switching things up. If you're not evolving, you're not trying!

Everything else I had to say about Vegas was in the wrap-up podcast with Ping and Weege or in the Observations column earlier in the week. Check those out for more Vegas analysis.

This weekend is the U.S. Grand Prix at Glen Helen Raceway and by the time you read this, I should be on my down there to check out the action. I have always liked the GPs and been to a couple here and there. The field is stacked and I'm looking forward to seeing this Steven Frossard character and see if he's for real against the mighty Antonio Cairoli. I've been impressed with the jump up in speed that the Frenchman has taken this off-season. As many of you know, I do the goggle service for X Brand at the races and this year Mike Alessi, the Motoconcepts Yamaha team as well as Matt Boni, Tyler and Travis Bright (not related) have all been using the product. Anyways, this weekend at the GP, we have Zach Osborne, the Martin Honda guys and Frossard—the MX1 points leader—all running the goggle. So I'm pumped to go and meet the guys (not Osborne though, I go way back with Zac-Pack) and hopefully a lens doesn't pop out in the middle of a moto!

Last year this race was light on American riders and this year it looks to be even lighter as the teams and riders just don't seem to be into it. Whether it's not being ready, fear of injury or simply wanting a weekend of rest after a 17-races-in-18-weeks Supercross season and now, starting next weekend, a grueling 12 race American motocross series—whatever it is, the guys aren't showing up. I really thought that the Monster Energy Kawasaki guys would race due to the FIM GP's being sponsored by Monster but then again, I get it why they wouldn't want to race.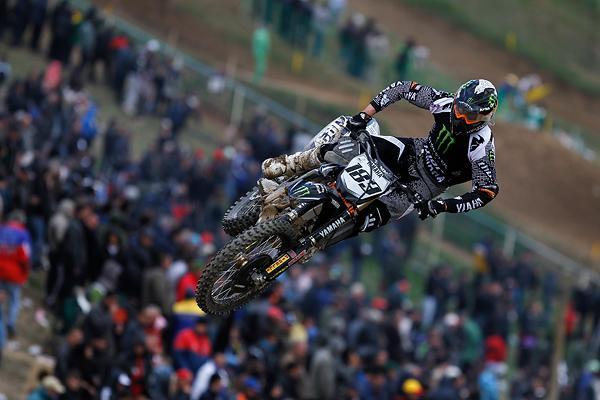 Steven Frossard leads the MX1 class.
Photo: Ray Archer
No matter who's there or who's not, I'm looking forward to seeing some good racing by some very, very fast dudes. If you're going to be there and you see some black-socked BRO wondering around looking for Villopoto, Stewart or Ferry- pull him aside and give him these tips to help himself enjoy the USGP:

1.)    Cheer on Zach Osborne in the MX2 class after all, he's American!

2.)    If schnitzel is your thing, cheer for da German Kenny Roczen because he's been over here a whole bunch racing, won Las Vegas 250 west series and is a cool kid.

3.)    Study Marvin Musquin out there as he rides with the FIM number 1 plate for the last time because six days after Glen Helen, he'll be running the #125 and going very fast at Hangtown.

4.)    Antonio Cairoli is one of the very best riders in the world be it America, Bulgaria or Bolivia. He proved it last year and this year, the question is, Does Stephane Frossard have enough speed to give him a challenge this year?

5.) Doug Dubach is going to be there racing the Vet race and he and Kiwi Darryl King are going to go at it hard.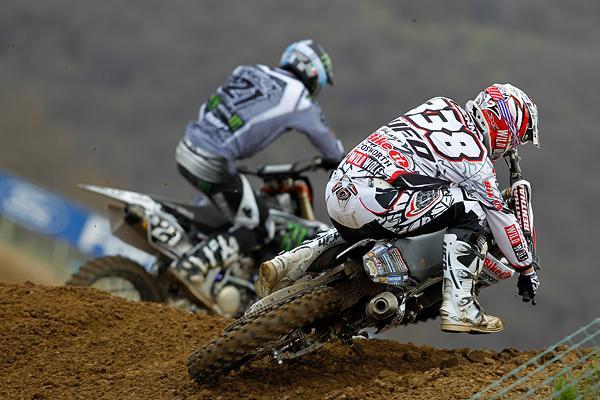 Zach Osborne makes his return to American soil.
Photo: Ray Archer
Look for reports on Twitter from the USGP as well as a race report from our own Adam Wheeler and then some coverage next week right here.

Then it's on to Hangtown, live coverage on Fuel TV and Allisports.com, same-day on SPEED, and all of the big dogs.... And maybe a surprise entry or two!

Here's PING:

I'd like to start with a little tip of the cap to Kevin Windham. He's been entertaining all season long with his opening ceremonies transfer leaps and in Vegas he outdid himself. If you missed, check out this link below. It's over 100 feet and it looks like he crossed over four lanes to me. Maybe we can get a read on how hard he is going to race that night by how big he goes in the opening show?

It's a shame that Ryan Sipes isn't getting more press for his weekend in Vegas. The title winners, Ken Roczen's first win and the West Region drama clouded the fact that he won the East-West Shootout and nearly won the East Region main event. It was probably one of the more dominating rides of the weekend. Great job, Ryan.

Here's the thing about that West Region main event: If there were no other riders on the track, Eli Tomac would have won that championship. He was out-riding Broc until they hit lappers and I don't think he was going to make a mistake. But there are other riders during a race and you have to be able to get through them.

So, was Tickle getting help or not? You can watch the tape all you want and there was never any dirty riding going on. All of those guys were fighting for podium spots and racing hard. But it sure looked suspicious when they all stopped for a group hug on the jump after the finish. Now Honda is mad, Factory Connection is mad and, judging by the emails I got this week, a lot of you are mad. It was just a really bad situation and that's about all you can say about it. Broc rode a great series and Eli surpassed everyone's expectation of him. Both have bright futures ahead of them so don't feel sorry for them.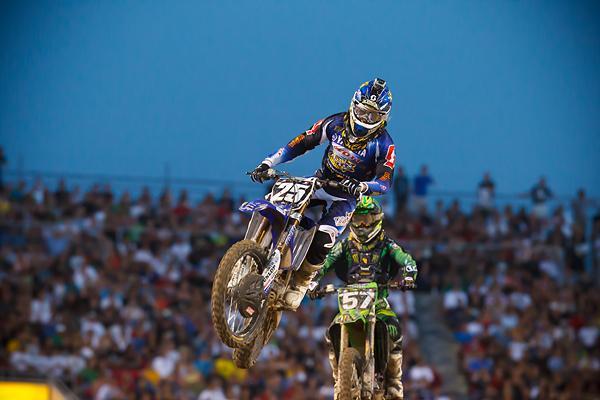 Ryan Sipes
had quite the weekend at Vegas.
Photo: Simon Cudby
The 450 racing was amazing—at first. But dangit if Bubba didn't go and crash again, taking another rider down with him in the process. I'm not picking on James here—I'll do that in a minute—but what is going on? It is so out of character for him to crash while leading and he's been doing it a lot this year. Yes, he's had the pushes [a front end condition, not related to eating spicy Thai food] and tipped over in turns but he's also had some big, over-the-bars moments this year that he should be thankful he walked away from. I don't know if it's a focus issue or a suspension setting issue but I hope he gets it sorted out because I feel like this year we haven't seen the best of James Stewart. 
I know one moment where we didn't see his best side was when he took to the podium.

Oh, hey James, Steve Erkel called and he wants his glasses back... Really, no good could come of him wearing those things. That was just a non-starter. In his defense, I have noticed that a lot of celebrities are wearing those clunky, black-framed glasses these days. Maybe all of us are the square ones?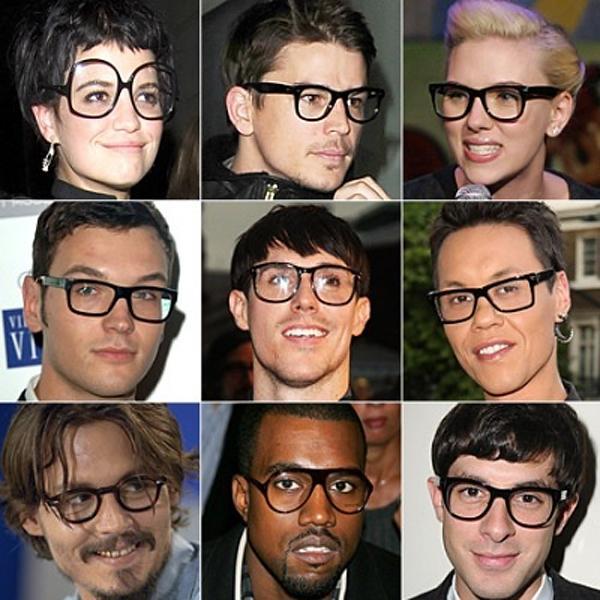 If you are planning on making a long weekend of it at Hangtown be sure to check out the crossover athletes that will be competing on Friday morning. Back once again is the Go Pro Crossover Challenge, which will include some amazing athletes that love motocross. There will be an autograph session so you can get a poster with all the athletes' signatures on it. Here's a sample of the poster.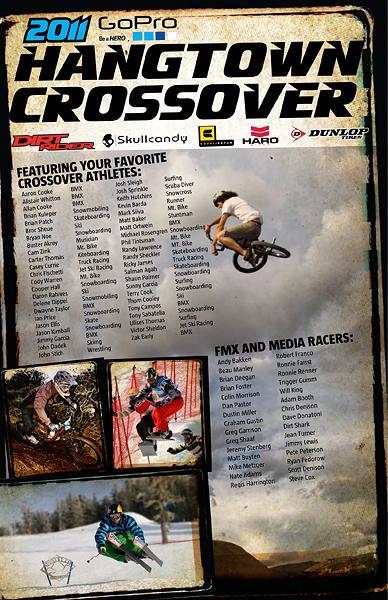 Now here's
Weege
:
I don't know when I started dancing. My memory is sometimes fuzzy when it happens, but I can guarantee you it started somewhere between moving to Morgantown 10 years ago, and today. Just started getting my groove on and making things happen on the dance floor. Back in like 2007, I would go out on Saturday nights after supercross and say, "I'm going right to the front and center of that dance floor right now" and just get out there. Oftentimes I was dancing before I had even had a drink (I'm the same way with karaoke, don't get me started). Only one time did I truly not have the skills to pay any of those bills—one night after Anaheim they had full-on break dancers at this club and I had nothing for them. Otherwise, I've busted out the dancing at any time, any place, anywhere, from coast to coast, from Paris to Tokyo (I'm not kidding about any of this) and it always works.  
Sunday night at the Supercross Awards Ceremony in Vegas, I hit the dance floor and started feeling the mojo (alas, this time was not before I had a drink) and the singer from the band liked what he saw. So he told me to get up on stage and show the masses. Next thing I know I was in a dance off with the legendary Dano from DVS Shoes, and we battled pretty hard. Afterwards I grabbed the mic and went on about thanking my team, sponsors, and talking about how much hard work and effort we put in. Hey, it's what you do at the Awards Ceremony!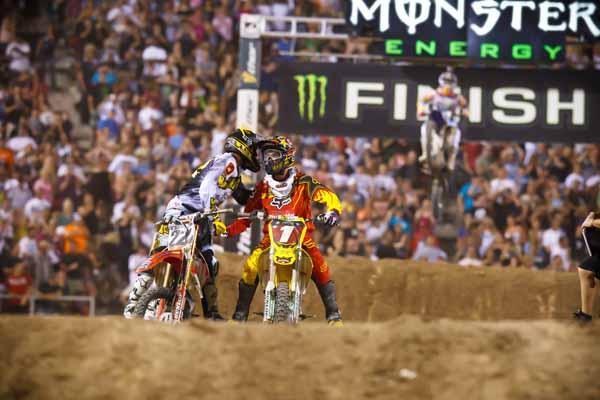 Reed and Dungey had an epic battle at Vegas.
Photo: Simon Cudby
Now I hear video of the dancing has shown up on Transworld's site. I'm so proud that after 10 hard years of sweat, desire and effort, I finally have been recognized for my talents. Much thanks!  
Ryan Villopoto
also had his chance to shine, only this for much more important things, like winning perhaps the toughest SX Title there has ever been to win. All of the top names stayed in the hunt, everyone took a swing at it, and RV was the most consistently fast rider in the series. He won the most races, and he won them in all fashions—through sheer speed or sheer smarts, from the front of the pack and from the back. Any talk about gifts or luck is junk, Ryan was the best rider this year over 17 races, no doubt about it. I was amazed that he didn't cry during his victory speed, though. From my last count, the last four champions have shed tears during their Awards Ceremony speeches, including Dungey last year, Stewart in 2009 and Reed in 2008. This is a hard-fought game and the emotions really take hold when the riders realize what they have accomplished—when riders are battling on 50cc bikes at Loretta's, they're all picturing winning this supercross championship when they're older. Congrats out to Ryan, but I have a feeling he doesn't feel like he has officially climbed to the top yet. AMA Pro Motocross is up next and I think Ryan has a goal of winning both crowns, and he won't be happy until he does it. Look out.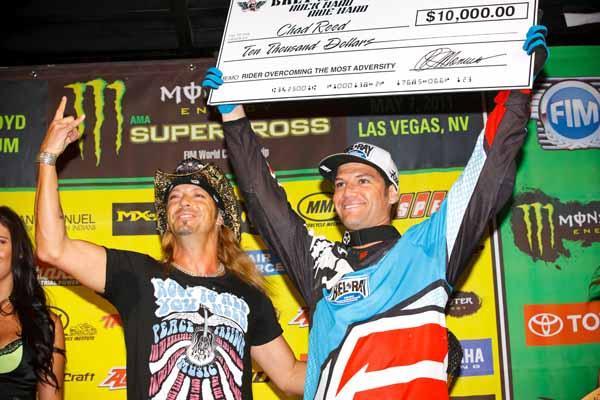 Chad Reed
took home the Brett Michaels Rock Hard Ride Hard Award.
Photo: Simon Cudby
Chad Reed
won $10,000 for the Brett Michaels Rock Hard Ride Hard Award, which is voted on by the fans but also selected by Brett (not sure what the mathematical equation for that is). Reed certainly overcame a big obstacle by building his own team, but with
James Stewart
crashing and getting back up countless times, Villopoto coming back from last year's broken leg, and Dungey climbing out of a 40-point hole, man, the voting had to be close on this one. But good for Chad that he won—he's a privateer and he needs that money!  
I'm joking. Sure seems like Honda and Chad enjoyed their little test ride with each other this season and expect much bigger support for TwoTwo Motorsports in 2012—and I've heard the same "They're going after Dungey" rumors Matthes has, which shows, if anything, there are plans to keep this team around long after
Reedy
himself is done racing.  
I think we all have a soft spot in our hearts for nostalgia, so when we hear things like "greatest season ever" we can all probably go back to some great era of the past and reflect on how awesome it was. The 1990 and 1992 years were close, as well, and I love looking back on them because I remember learning to set the VCR to tape each one at 12:20 a.m. Eastern on Thursday nights—I was so into the races, so these were big years for me. And 1985, by the statistics, is right up there with this year for close competition. But stripping away nostalgia and hype, I think this one was the best. We didn't just have multiple winners and a close points race, we had wild crashes, controversy and a great personality play between the riders and teams. If only the internet had existed in 1985. Then we could go back, see what the fans said, and really get a gauge on how this one compares.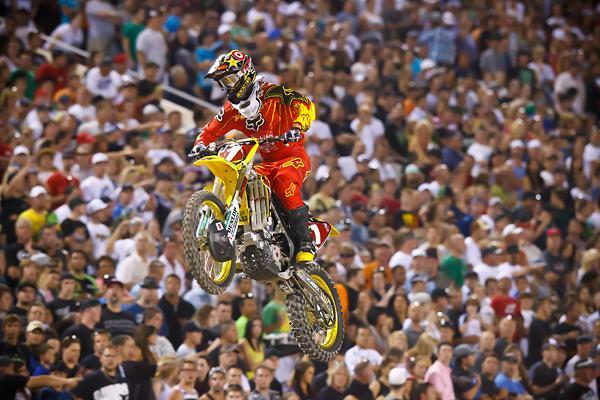 Dungey could not find a way to repeat his 2010 performance.
Photo: Simon Cudby

But now it's onto the Lucas Oil AMA Pro Motocross Championship. At the St. Louis Supercross, I spent Friday and Saturday gathering interviews with top riders to build a season preview show for Fuel TV. The show debuted last night, and it's excellent, and if you missed it, there are plenty of re-airs.
The next showings for the AMA preview show are:
SAT 5/14
@ 2p EST / 11a PST
THUR 5/19
@ 10p EST / 7p PST
@ 1a EST (5/20) / 10p PST (5/19)
@ 4a EST (5/20) / 1a PST (5/20)
SAT 5/21
@ 3p EST / 12P PST  

If you don't have FUEL TV, you had better go find a way to get it, because the network is showing every single 250 and 450 first moto this year live. The second motos from Hangtown will air on SPEED on Saturday night—for every race this year, you're going to get live or same day coverage.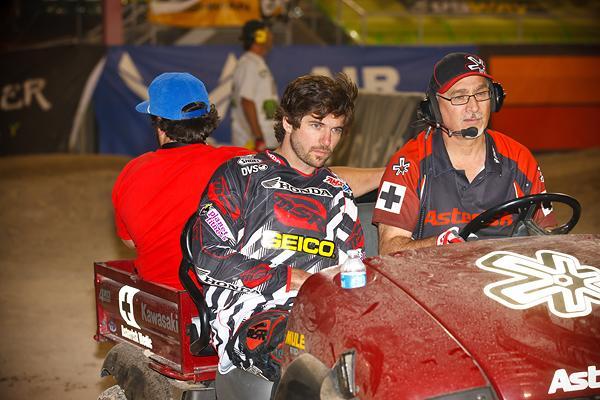 Windham may miss Hangtown after a bad crash at Vegas.
Photo: Simon Cudby
I'm hearing
Kevin Windham
won't be on the gate at
Hangtown
, unfortunately, after his crash with
James Stewart
in Las Vegas. One man who will be back is
Brett Metcalfe
, after missing most of supercross with a wrist injury. Don't forget that
Metty
was as strong as anyone coming down the stretch on a 450 last year. And I'm bummed
Metty
didn't get into the season preview show on FUEL, the folks from Allisports shot most of the interviews at the St. Louis Supercross, and
Metty
missed that one with an injury. Then the Kawasaki and Honda people followed up to get interviews done with their west coast riders a few days later in California. Hopefully we'll all be talking about Brett by the time the racing is done at
Hangtown
.   I'll be back in the TV booth myself along with Jeff Emig and Erin Bates. As much as I like have a weekend off this weekend (we've got Matthes, Adam Wheeler and DC out covering the USGP) I wish I had a time machine, because I can't wait to give the race call next weekend. It's going to be epic!
We'll finish with some notes:

The guys over at Novik Gloves released some pretty hilarious grip donuts this week… Yes, donuts! Save yourself some blisters and check these out.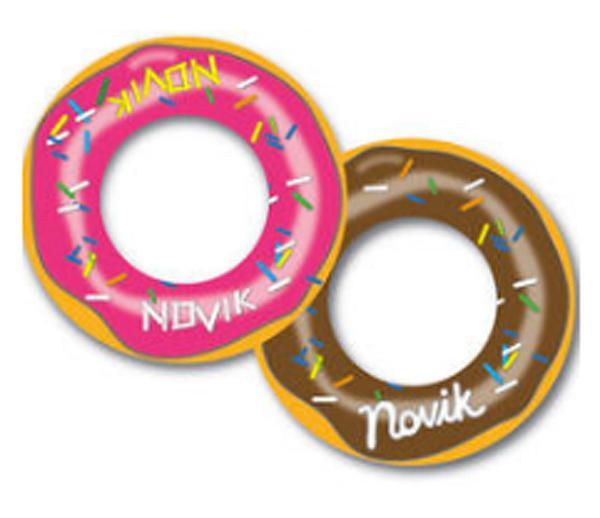 Check out this sneak peek of the new 2011 line of Racer X Brand. We have started to get our new inventory in here at Racer X HQ, and we couldn't be more stoked! A huge thank-you to Kevin Carpenter and the rest of our friends at Taylor Creative for designing some really rad retro shirts in celebration of the 40th Anniversary of American Motocross. The entire line will be available, in the coming weeks, online at www.racerxbrand.com, as well as East Coast rounds of the Nationals. A small selection will be at all rounds, in the Racer X booth, so make sure you stop by and check it out! Keep an eye out for hats, ladies and kids apparel, and other swag coming soon!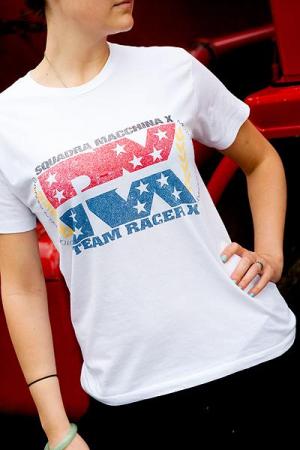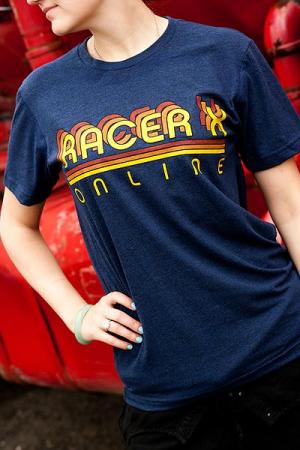 Photos by: Andrew Fredrickson

If you are heading to the Monster Energy U.S.G.P. this weekend at Glen Helen, then be sure to check out Pole Position Raceway in Corona or Murrieta. There's all sorts of cool motocross memorabilia on display and it's home to the fastest riders in our sport. Pole Position Raceway is America's #1 chain of indoor kart tracks and those behind the brand include Jeremy McGrath, Chad Reed, Grant Langston, Greg Albertyn, Kenny Bartram and Mike Metzger, to name a few. Check out www.PolePositionRaceway.com.

We've got Chris Pourcel lined up for our 10Q feature in the next issue of the magazine, so here's your chance to ask CP a question. Click here to submit:

That's it for this week in American Motocross. Thanks for reading Racerhead. See you at the races.