And that's a wrap! The 2011 Monster Energy Supercross Series ended with a bang and really, after the year that we just had, would you expect it to end any other way? Yes, from the outside you would say to me, "Hey, the three riders that went in with the points lead all won their respective titles so how much of a bang could it have been, stupid?"
Well, I'll put aside the part where you just called me stupid and answer your question. All throughout the season, you never really knew what was going to happen.  I remember going to St. Louis, and all I heard was that it was a normal SX night, and that was a little boring after non-stop action each and every week. This season has been remarkable for precisely how many remarkable moments there were each and every week.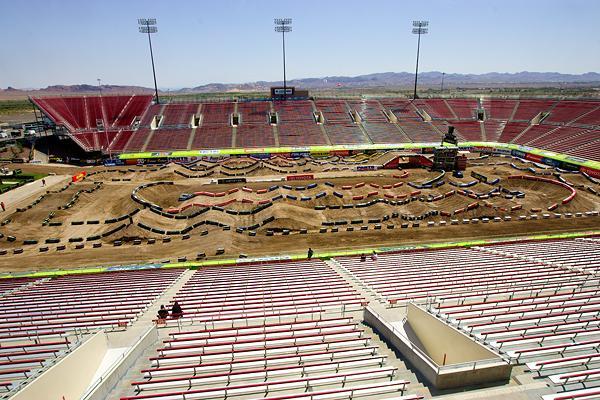 Vegas provided its typical hard packed surface this past weekend.
Photo: Matty Fran
Let's hit the Vegas track first. I thought it was pretty good. It was a typical Las Vegas track, it was hard packed and that surface, more than anything else, made it tricky. I'm always a fan of the over/under Bridge, as I think it gives you options and looks pretty so that part was cool. The single jump coming out of Thunder Alley is, to me, a time waster because it quickly loses its luster but then again, maybe they just don't have the dirt to build another rhythm lane. The whoops were tricky and I love the fact that there were a couple of things out there that didn't get jumped until the last moment and were only done by a few riders. That is awesome and really makes you appreciate the skill of these dudes.
Ryan Villopoto went into the race with a nine-point lead.  He really won this championship last week in Salt Lake City with a great ride to win that thing. This weekend in Vegas he had to accomplish two things and the title would be his.
1-    Qualify for the main event. (Don't laugh, we all know he missed Jacksonville but since the semi races were taken away, the list of great riders that have missed some main events is a long one.)
2-    Don't crash. That one seems simple enough but if Reed won, RV would have to get a sixth or better to win the championship. When you add in RV's "I'm sort of trying but sort of not" speed and not crashing, then what you get is a sixth or better. It's simple math people.
So when the top two riders crashed within five feet of each other and left RV in the lead, well it was a foregone conclusion for the Kawasaki kid. He did put up more of a fight than I expected but hey, in the end he backed it down to third and got his first 450 championship.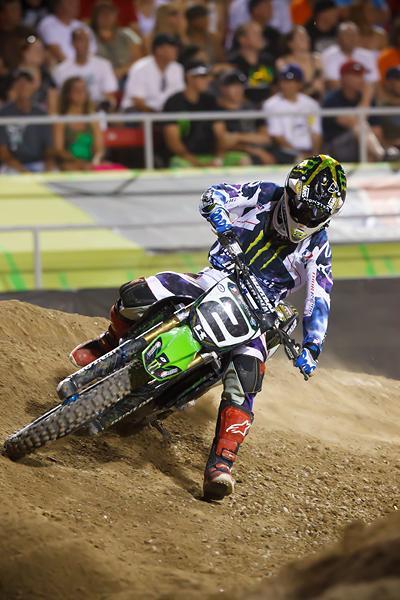 Villopoto wrapped up his first career SX title in Vegas.
Photo: Simon Cudby
So seventeen races later, the man who won the first race of the year and looked to be in control at one point narrowly wins the supercross title and really, there isn't too many people who could say that he wasn't the best guy week in and week out. Stewart was too inconsistent and Reed and Dungey weren't on RV's level in my opinion. They were close and, at times, better, but in the end- the guy who was the best for seventeen weeks won this thing in the end.
Now anyone want to bet against him for the outdoor crown?
James Stewart once again amazed us all with his skill and speed but once again, he crashed his way out of what looked like to be a sure win. The seven ate poop in the whoops and where he crashed was a little strange because I felt like he wasn't in danger of crashing there. The 50 mph scrub on the single jump coming back into the stadium? Sure. The quad going into the corner? Sure. But the whoops? I'm not sure, Stewie is the best through the whoops out of anyone in the series and these things weren't that tough but yet there he was, the front end missing one and Stewie going to the ground in a heap. The crash wasn't that bad but the Honda CRF450 clipping Stewie's bike and slamming the swingarm into the leg of Stewart was.
That was it, James was carried out on his shield (or YZ450F anyways) and if he wasn't going to win, the man who said "Wreckers or checkers" was, once again, wrecked. You know before the season started James got a little upset at a media member who asked him why he didn't back it down a little bit and take seconds and thirds. But early on, that was exactly what he appeared to be doing as he won three out of the first five races and opened up a five-point lead.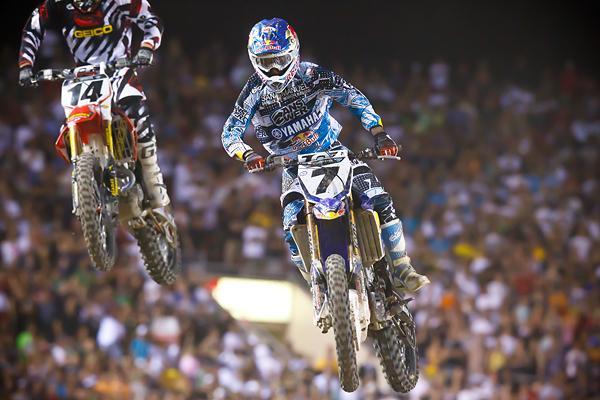 Stewart held the early lead, but was done in by another crash.
Photo: Simon Cudby
Then came Houston and it all went to crap from there. That was a turning point as was Daytona. Then with the opportunity to take the series points lead in Jacksonville, he crashed again and that was it from there. I took some heat in the beginning of the season for saying repeatedly that James can do things that other riders cannot and I think I have been proven right. Unfortunately for James, the other people that said he crashed too much to stay up there for seventeen races were also right.
I was surprised at Kevin Windham and his ride this weekend. The Vegas race would've turned very interesting if Stewart hadn't gone down because Windham was coming. He turned a great start into a great race and to my massive surprise, he followed Stewart the next lap and jumped the quad to match James. At this point in his career, Windham isn't going to win you a title but he is hugely popular and this Vegas race really made me realize that he's far from being put out to pasture. It's like this with Windham: if he has a good start and is feeling it, he's going to go for the win but if not, he'll go for the podium but this year has been his toughest one in years. Yeah, sure he crashed out, but to me, Vegas was a success for the fourteen. He showed me that an old dog can learn some new tricks.
Chad Reed won his second race of the year and ended the year second in the points. Unlike Stewart and Ryan Dungey, I feel like Reed should look at this year as a good one for him. We all know the story by now: he was close to not going racing and late to get his team going. He was off the pace early on, got better as the season went on and was rewarded with a factory Honda for the last two races. In Vegas he rode his typical race and he probably wasn't going to catch Stewart or Windham but he rode twenty laps at his still-very-fast pace and was rewarded with the win.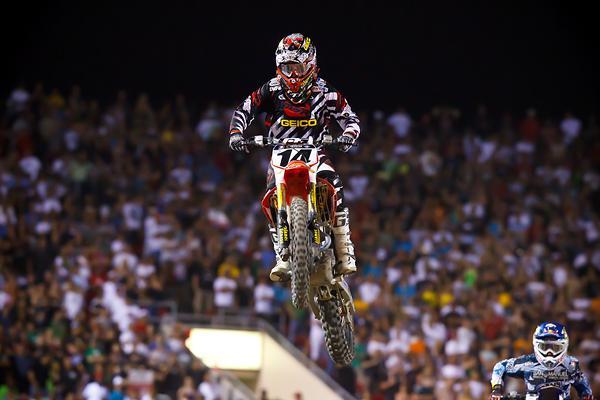 K-Dub was in contention early before being gobbled up by Stewart's crash.
Photo: Simon Cudby
Hold your head up high Chad, you did a good job and deserve the praise that you and your team received at the SX awards banquet. Now you better duck because you'll be eating rocks and dirt at Hangtown when you do the outdoors!
Ryan Dungey came on strong in the second half of the race, as at one point he was five seconds or so back of Reed. He figured things out, picked up his pace and caught the twenty-two. He wasn't able to make the pass but I thought it was one of his better races of the year. The Dunge has to give up his number one plate indoors and I'm sure there are a few more for him in the future, but in 2011, he wasn't quite good enough.
The Lites East Region was pretty much settled, as Justin Barcia just needed to pretty much ride around in tenth to clinch the championship. Early on he was leading and looking good to take the win but washed out in a turn. He still got up to end up third and think about this, Barcia made the podium each and every race in the series. That's hard to beat!
Justin rode with a damaged wrist/hand for most of the series and deserves credit for gutting it out. There were a few weeks when he wasn't riding during the week and after the east series went on a bit of a break, his hand went in a cast for a little while. Barcia deserves some credit for calming down a bit out there and not making so many enemies out on the track. He matured and got faster!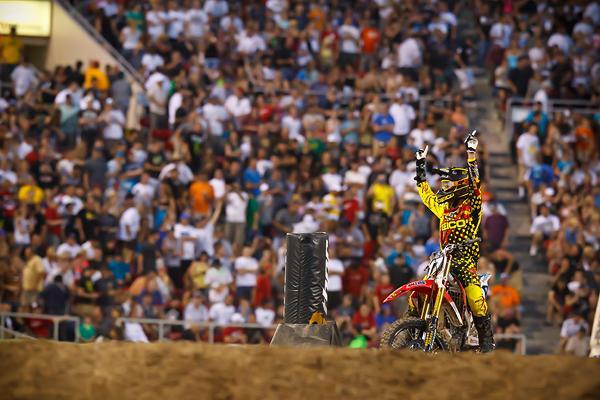 Barcia claimed his first career East Lites title in Vegas.
Photo: Simon Cudby
In the Lites West Region, Broc Tickle had a two-point lead going in over Eli Tomac but you'd be hard pressed to find anyone who thought that Broc was going to hold onto that lead by the end of his main event, myself included. Tickle had won one race and held the points lead through attrition more than anything else. Tomac was coming on quickly and seemed to have all the momentum going into the finale. Tickle seemed to be affected by being in his first championship hunt, and he also broke his collarbone during the break and that probably hurt his confidence as well.
In the main event, Tomac was ahead of Tickle for most of it and looked to be able to make up those two points with a solid podium finish. But then Kyle Cunningham (who rode so good at Vegas a year ago on a 450) came up and caught him and Cole Seely crashed while leading. These two gave Tomac fits throughout the race and in his desperate attempts to get by either guy, time was lost and Tickle caught back up to all of them. Tomac needed friends out on the track and instead, he was surrounded by all of Tickle's buddies.
Eli dove to the inside, the outside and tried flat-tracking it around the guys but it was to no avail. Tickle passed Tomac and that was it, the championship faded away in the Las Vegas dust.  I know that I have seen a lot of championship winning rides in my 15 years as a mechanic/media dude and most of the time, if they're not battling for the win, the riders seem to give the championship contenders a break. I mean, Tomac did catch Seely from a ways back. But a race is a race is a race and although they both ride red, Seely and Tomac are not teammates. So to me, there's an etiquette of letting the riders in the points get by without too much hassle, but it's not a right.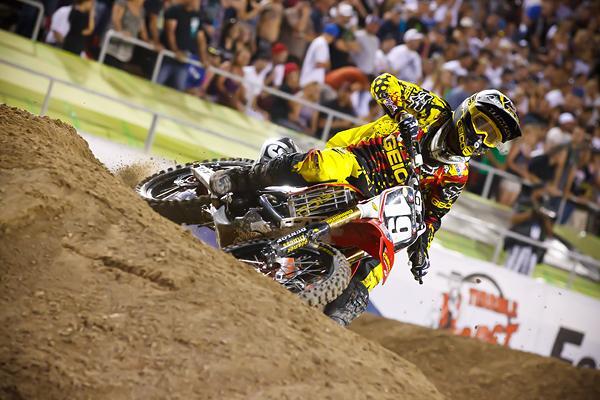 Tomac came up just shy of his first career SX Lites title, but had a successful rookie season nonetheless.
Photo: Simon Cudby
So as you can see, I understand both points of this deal and I think that if anyone at GEICO Honda were mad, I would understand 100 percent. But if Seely said, "Hey, it's a race and I'm in it to win it," I would understand that completely as well. Let's just hope that Seely's buddy Tickle remembers this when it comes time to see who pays for the next dinner. Congrats to Broc Tickle on his win, he wasn't always the fastest guy but he was the one left standing at the end.
So did the new format of running the east and west mains first and then the Dave Coombs Sr. East West Shootout? I don't really know, to be honest. I've written a few times that I was worried about the track prep for the first main out there but that did not come to fruition so I applaud that. The mains were certainly dramatic and it was a bit weird to be so "into" the race so soon if you know what I mean.
So while the mains worked and it was a cool deal, the Shootout suffered in my opinion. We saw ten laps of guys out there riding around with only two or three guys really sticking it in there. I think there needed to be some incentive for the guys besides the 5K which really isn't that much to most of the potential winners. The shootout used to be cool for sure but I felt it was almost overlooked a bit this year with the titles on the line in the other races.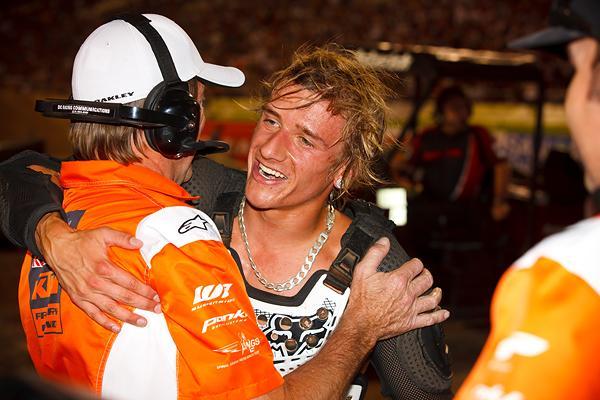 Roczen celebrating his first career SX Lites victory.
Photo: Simon Cudby
Congrats to Ken Roczen for winning his first race in America, Blake Baggett for taking the east main and Ryan Sipes for winning the Shootout--and all three of these dudes will get screwed on recognition in the coming weeks because there were so many other things to talk about.
Let's look at the results shall we?
AMA Supercross Lites Class West:
1. Ken Roczen KTM- Roczen has been on quite a roll here lately with his GP rides, SLC and Vegas podiums. He's 17, mega-fast and the future is very bright for da German.
2. Broc Tickle Kaw- Tickle's ride was very underrated, he got better as the laps left got lower.
3. Kyle Cunningham Yam
4. Eli Tomac Hon
5. Cole Seely Hon
6. Tyla Rattray Kaw- Has there ever been a more invisible rider in the last two weeks than Rattray? Styla is just sitting there rubbing his hands together waiting for the outdoors.
7. Ryan Morais Suz
8. Travis Baker Hon- Good race for Baker and good to see him break out a bit.
9. Martin Davalos Suz
10. Josh Hansen- Not sure what happened to Hanny, he was up front and then dropped back quickly. Then he didn't line up for the LCQ because, as he told Jason Weigandt, he and the team didn't know there was an LCQ for the Shootout.
11. Bruce Rutherford Kaw
12. Nick Paluzzi Yam- This was Paluzzi's last ride with the Star Racing Yamaha team and he now moves over to the Rockstar Suzuki deal for the nationals.
13. Jake Canada Kaw
14. Ben Evans Kaw
15. Casey Hinson KTM
16. Dakota Tedder Kaw
17. Landen Powell KTM
18. Tommy Weeck Hon
19. Gared Steinke Yam
20. Topher Ingalls Hon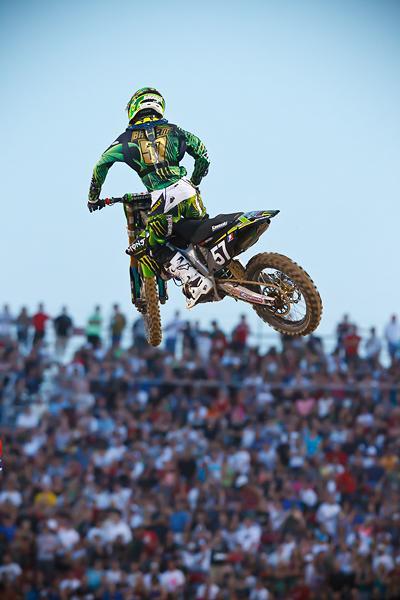 Baggett would take the victory in the Lites East main.
Photo: Simon Cudby
AMA Supercross Lites Class East:
1. Blake Baggett Kaw- Like I was saying, Baggett won't get much credit for his win but he rode great in passing Sipes with just over one lap remaining. Oh well, the check will still cash. I'm sure.
2. Ryan Sipes Yam
3. Justin Barcia Hon
4. Dean Wilson Kaw- I expected more fight from Deano to be honest. I feel like he just sort of rode around out there. Maybe he was in the "protect myself for the outdoors" mode.
5. Malcolm Stewart Suz- Not surprisingly, Mookie was fast in the whoops. He looked pretty good out there and he held it together for 15 laps!
6. Matt Lemoine Kaw- Lemoine was quietly good once again, he is the guy doing the most with the least no doubt about it.
7. Lance Vincent Hon- Vincent was on fire with his starts all night long and placed well in the main event.
8. Hunter Hewitt Suz
9. Les Smith Hon
10. Justin Sipes Kaw- Pooh was up there in the beginning, it was looking like a podium filled with Sipes' but alas, it was not to be.
11. Chris Gosselaar Suz
12. Taylor Futrell Hon
13. Levi Kilbarger Hon
14. Tyler Bright Hon
15. AJ Catanzaro Hon
16. Johnny Moore Hon
17. Killy Rusk KTM
18. Ricky Renner KTM
19. Bradley Ripple Hon
20. Gannon Audette Yam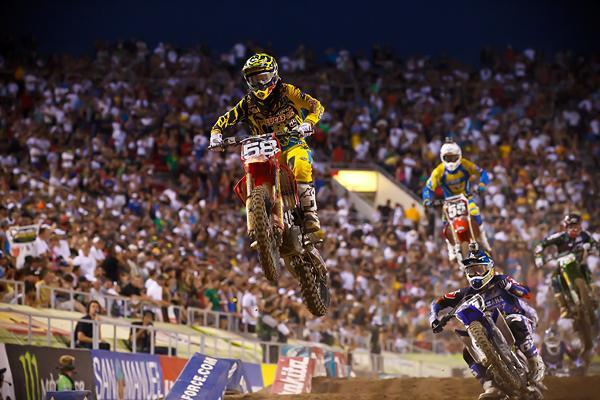 T-Bake had a solid night in Vegas.
Photo: Simon Cudby
Dave Coombs Sr. East/West Shootout
1. Ryan Sipes Yam- Congrats to Sipes, he'll be in the record book forever with a lot of prestigious names.
2 Cole Seely Hon
3. Ken Roczen KTM- This was one guy that wasn't taking this shootout stuff lightly. Rocz was pushing it.
4. Dean Wilson Kaw
5. Martin Davalos Suz- This was a good finish for Martin and new team manager Dave Gowland thinks he can build on this.
6. Eli Tomac Hon- Eli had to be bummed out over what happened but he rode hard in coming from the back to sixth.
7. Kyle Cunningham Yam
8. Lance Vincent Hon
9. Travis Baker Hon
10. Broc Tickle Kaw
11. Tyla Rattray Kaw
12. Blake Bagget Kaw- Baggett was one guy who looked to me to be looking forward to Hangtown after winning the east main.
13. Nick Paluzzi Yam
14. Matt Lemoine Kaw
15. Ryan Morais Suz
16. Justin Barcia Hon
17. Les Smith Hon
18. Malcolm Stewart Suz
19. Jake Canada Kaw
20. Hunter Hewitt Suz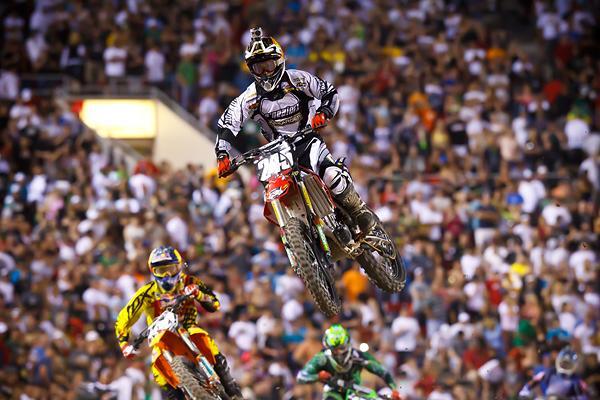 Lance Vincent continued his successful rookie campaign at Vegas.
Photo: Simon Cudby
AMA Supercross Class:
1. Chad Reed Hon
2. Ryan Dungey Suz
3. Ryan Villopoto Kaw
4. Chris Blose Kaw- Who would have thought that H&H's best finish all year would have been logged by Chris Blose? Great ride for the understated and quiet man.
5. Andrew Short KTM- Shorty had to go to the LCQ so that meant a poopy gate pick and so a fifth is a good ride for the 350 man.
6. Jake Weimer Kaw
7. Austin Stroupe Yam- Yeah Stroupe! The mercurial one was up to fifth and on Blose when something went wrong and he dropped back. Still a seventh is a good finish for him.
8. Nick Wey Yam- Wey was in a battle for most of the main.
9. Kyle Regal Yam- Regal seems to be getting better as the series went on. Too bad  that the outdoor-ish specialist Regal has to park his bike for the summer.
10. Tye Simmonds KTM- Career best finish for the Aussie man-child.
11. Tyler Bowers Kaw- Bowers represented himself well after coming over from the AX series.
12. Weston Peick Yam- Weston's 12th looks good on paper but in reality, he was the last guy out there doing laps as seven guys(!) DNF'd the last main event of the year. Peick still had a good year.
13. Davi Millsaps Yam- Millsaps was up there before he suffered a flat tire.
14. Michael Byrne Suz- Man, Byrne was up there early before getting a tuff block cover stuck in his bike. I was looking forward to seeing what he was going to do with his good start.
15. James Stewart Yam
16. Kevin Windham Hon
17. Tommy Hahn Yam- Hahn pulled it in early, apparently with some bike problems.
18. Mike Alessi KTM- Alessi got the holeshot and then while settling back into his normal placing of sixth or so, ate poop bad over in a rhythm lane and DNF'd. Still he was riding really well and looking good, in all places, through the whoops.
19. Justin Brayton Yam- Brayton twisted an ankle and pulled out.
20. Robert Kiniry Kaw- Not sure what happened to Bobby but whatever it was, it was real early in the main!
On Sunday night it was the annual Awards Ceremony that has been returned to all its former glory since relocating back to the Hard Rock Hotel. It's always a good time and the program itself has been shortened up to get the people in, get them some drinks and get the awards handed out.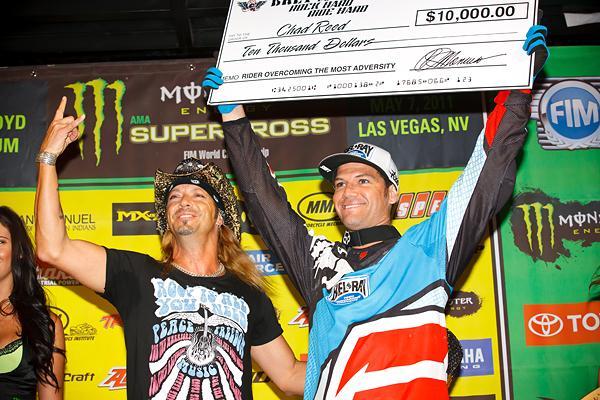 Chad Reed won the Brett Michaels Rock Hard, Ride Hard Award.
Photo: Simon Cudby
Reed won the Brett Michaels Rock Hard, Ride Hard award on Saturday night which was voted on by the fans for the rider that overcame adversity this year and I'll go with that although it would be great if they managed to get someone that wasn't universally mocked by pretty much everyone to sponsor the award. At the banquet, Reedy's manager Dave Osterman won team manager of the year and as well, Two-Two Motorsports won team of the year, which was cool to see. Kevin Windham won fans choice which basically means he is the most popular rider in the pits and that's no surprise right there.
All in all a good time was had by all and I want to thank the folks at Feld for hosting a cool banquet. Good times indeed!
That's it for the supercross season and what a season it was! Thanks for reading this column all year and let's pick it back up for the USGP this weekend and then onto the outdoors! If you have any questions, email me at matthes@racerxonline.com