Sam Boyd Stadium
Las Vegas

,

NV
Las Vegas
Monster Energy AMA Supercross Championship

Welcome to Racerhead and to the last weekend of the 2011 Monster Energy AMA Supercross Series. It's been a banner year for the stadium tour, with great racing, big crowds, lots of drama and intrigue, and a championship still up for grabs. Granted, it was a lot closer before James Stewart crashed in Salt Lake City and Ryan Villopoto calmly held off a spirited charge by Chad Reed. Now it's all going down to the wire in Las Vegas, and you can watch it all live on Saturday night on SPEED.

And to keep up to date all afternoon long about what's happening in the pits at Las Vegas, visit Racer X Online and our Thor Race Center for constant updates, breaking news, photos, and more.


Before we get into all of the week's activities, here's a job-well-done to the brave soldiers who found the baddest bad guy of all earlier this week and dealt with him accordingly. And leave it to Johnny O'Hannah to come up with the first joke of the post-Osama Bin Laden era: "I walked into a bar last night and asked the bartender to make me a Bin Laden. He said, 'What's that?' I answered, 'Two shots and a splash of water.'"

This afternoon the folks at Feld Motorsports had a couple of big announcements. First came the 2012 Monster Energy AMA Supercross schedule:

January 7    Angel Stadium    Anaheim, Calif.
January 14    Chase Field    Phoenix
January 21    Dodger Stadium    Los Angeles
January 28    Overstock.com Stadium    Oakland
February 4    Angel Stadium    Anaheim, Calif.
February 11    Qualcomm Stadium    San Diego
February 18    Cowboys Stadium  Arlington, Texas
February 25    Georgia Dome    Atlanta
March 3    Edward Jones Dome     St. Louis
March 10    Daytona Int'l Speedway    Daytona, Fla.
March 17    Lucas Oil Stadium  Indianapolis
March 24    Rogers Centre    Toronto, ON
March 31    Reliant Stadium    Houston
April 14     Louisiana Superdome    New Orleans
April 21    Qwest Field    Seattle
April 28    Rice-Eccles Stadium    Salt Lake City
May 5     Sam Boyd Stadium    Las Vegas

So no Syracuse—I was hoping it would happen, but parking all the rigs would be a huge challenge, I'm told—and no more Jacksonville, but a return to New Orleans (which is awesome).

Feld also announced the return of a big race in October in Las Vegas, only it won't be the U.S. Open at the MGM, but rather the new Monster Energy Cup, which will offer a quarter-million-dollar purse, with a chance for a full $1 million in bonus money. To read more, check it out right here.

Tomorrow night will not only mark the title in the AMA Supercross class, but both the East and West Region Lites titles will be decided, followed by the East-West Shootout—the Dave Coombs Sr. Memorial Race—which will match the best riders from either region in one last race for bragging rights.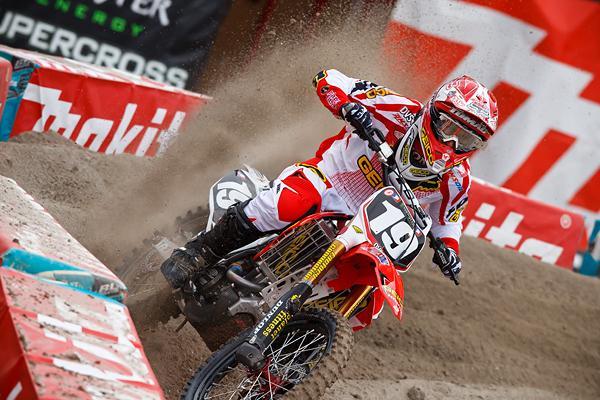 Eli Tomac
will be battling
Broc Tickle
for the West Region title.
Photo: Simon Cudby
I would like to take a moment to thank Feld Motor Sports, and Charlie Mancuso in particular, for continuing to hold the East-West Shootout and naming it for my dad, who died back on August 3, 1998. Dad and his friend and fellow promoter Bill West pushed for the inclusion of a 125cc class in AMA Supercross, and the class has become a mainstay in the series. He would get a kick out of how big it's all become, and I am sure he would be honored to know there's a race out there with his name on it. I know it means a great deal to my mom, and also my brother and sister and myself, so thanks again to Feld and Mr. Mancuso for their kind gesture of continuing to name the series finale for the Lites class the Dave Coombs Sr. Memorial.

Okay, I have been working hard on the upcoming 2011 Lucas Oil AMA Pro Motocross Championship kickoff, which takes place in exactly fifteen days (!!!), and so has everyone else at MX Sports and Alli Sports. Look for some big announcements in the next couple weeks about the TV package, the free online shows and race streaming, a really cool pit promotion, and lots and lots of other stuff. And you can also brush up on all of the series stats, years gone by, series news, and more on the new series Facebook page. Just visit and "Like" and you will soon have the chance to win some pit passes, race tickets and more.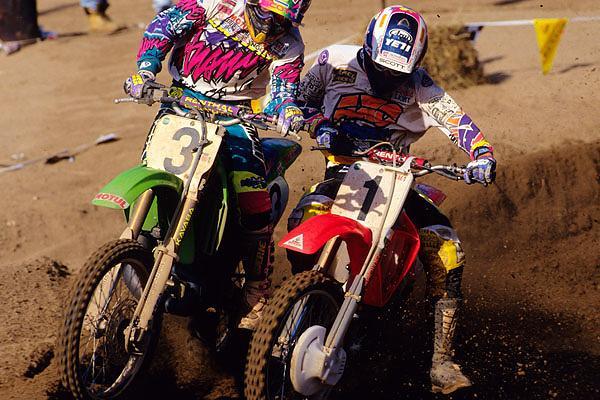 Revisit great battles like this one between Jeff Stanton and Mike Kiedrowski in our 40-Year Countdown.
Photo: Paul Buckley (Buckleyphotos.com)
And if you've missed our 40-Day Countdown, year by year, to the kickoff of the Lucas Oil AMA Motocross Championships at Hangtown in a fortnight, please have a look. We started at 1972, the first year for AMA Motocross, and have added one year each day. We are not on 1996. We have been digging up amazing old photos from super shooters like Paul Buckley, Thom Veety, Fran Kuhn and Steve Middleworth, and recycling some great old motocross tales. It's the perfect way to get ready for motocross! Check them out right here.

Okay, enough outdoors. This week it's all about Las Vegas, the grand finale for supercross 2011, and much, much more, so let me turn it over here to the men on the scene, beginning with Jason Weigandt:

This is it, folks. It's billed as "the greatest season in supercross history," and the facts don't lie. We still have four riders with a shot at this Monster Energy Supercross Championship, we still have both Lites titles up for grabs, and we still have the "with the way this season has gone anything can happen" to keep the hype going. Remember this year the next time the season year the next time we have a blow out. Enjoy it.

The annual pre-race Las Vegas press conference just finished up here at Sam Boyd Stadium, with Eli Tomac, Broc Tickle, Justin Barcia, Dean Wilson, James Stewart. Ryan Dungey, Chad Reed and Ryan Villopoto sharing some thoughts on this season. Once that wrapped, the riders headed onto the track for some laps. It's incredibly hard and dry here, so be careful, guys (we remember well when Grant Langston crashed on press day here in 2006, breaking his wrist).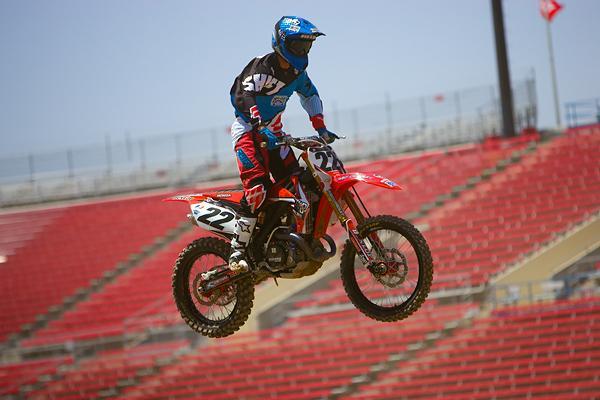 Reed has some new gear and graphics for Vegas.
Photo: Matty Fran
Not much to report from the Lites class, Tickle and Tomac had short answers to their questions. I asked Tickle if he has been riding more conservative while battling for the points lead, but he says he wishes that was the case. He's not purposely riding conservative; he's just plain struggling with some things, and he admits he hasn't ridden as well from San Diego on. He said he had a good week and he hopes to have those issues resolved.

Once the East Lites boys, Barcia and Wilson, came up, Barcia quickly made it clear that there have been some great battles between himself and Wilson this year, and since Vegas is always crazy, why not have one more? And of course Barcia smiled just thinking about the prospects of another bar-banging battle. Wilson agreed, said they've had some great races and said he expects another here. Clearly, they're replacing the term "stop and go battles" with "great racing."

James Stewart was next. Jim Holley asked Stewart how hard they have been pushing the pace this year, and if that has lead to the many front-end washouts we've seen. Stewart countered by saying he was actually riding easy in Salt Lake, he just simply lost traction, and he will have to work on some issues for next year as far as bike set up and tires. He also said the way he sets his bike up, he needs to ride it hard, so taking it easy in Salt Lake doesn't work.

Stewart says he expected to perform better this year, but he doesn't lose sleep over any of it. He said the off-track distractions didn't effect his riding, and he was happy that in Daytona, at least, he gained some more respect from the fans for picking himself up and still finishing ninth.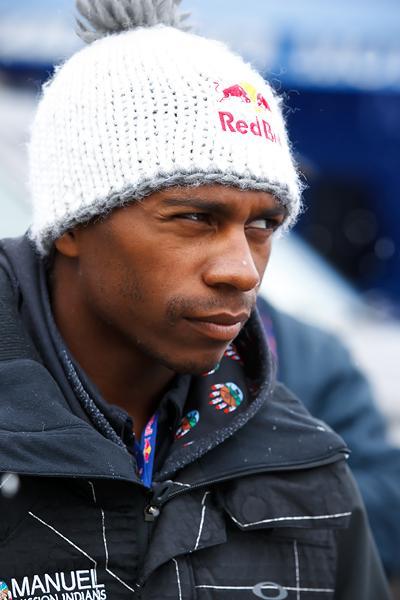 Stewart was expecting more in 2011.
Photo: Simon Cudby
For Ryan Dungey, the inevitable question about last year and this year came up. TV producer Chris Bond asked Dungey if he felt he had proven himself against the full field by staying in the championship hunt all season, even with a mechanical problem. Dungey said, "First of all, I don't ride to prove anything to anyone. I ride for myself."

Chad Reed says that as much as this year has been hyped up, it feels the same as any other year here, like when he came here practically tied in points with Ricky Carmichael in 2006. He said he's had a blast this season, so he doesn't harbor any grudges against the teams that didn't hire him or give him more support this season. Then he added, "I don't race for money anymore. I make my money from my investments—racing is just a hobby."

Finally, Ryan Villopoto took to the stage and I asked him how he comes up with the mental strength to overcome a big injury and all of this pressure down the stretch. "I guess it comes down to when I was an amateur, and always being the second-best guy," explained Villopoto, referring to his old rivalry with Mike Alessi, and how he knows how to keep believing in himself. "Now I just know that if I put in the work it will pay off and I don't have to second-guess anything."

And now we turn it over to Steve Matthes, who's in Vegas because he's always in Vegas—he lives there!

Like Weege said, the press conference just wrapped here at Sam Boyd Stadium and this just in: Chad Reed still doesn't know if he's doing the outdoors yet! That's the official word I got from Reed himself, but then I spoke to someone else close to the deal who said "it's real close to being done," which means Honda has probably stepped up with some bonuses for the Two-Two.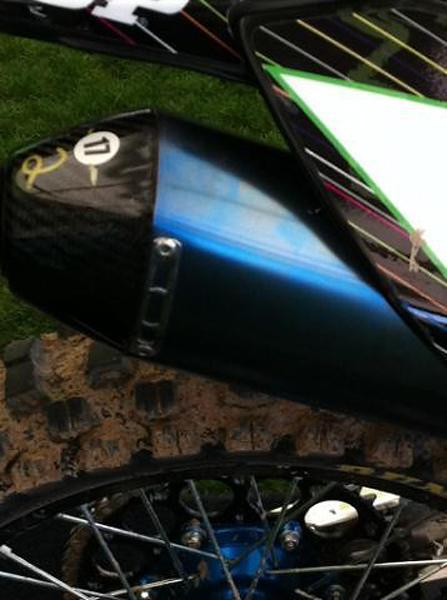 Is FMF coming out with an energy drink?
Photo: Steve Matthes
I spoke to Honda's Erik Kehoe and he didn't know much about Reed but did confirm that Kevin Windham will be riding for the factory team for at least four rounds. By that time one of or both members of Honda, Trey Canard or Josh Grant, should be back and riding. Kehoe mentioned that Windham told him he just doesn't want to race Southwick! With the 'Wick being at the end of the schedule, I think KW is safe—unless he does really, really well in those first four rounds.

Little bit of buzz this week when it was rumored that FMF is coming out with an energy drink, and it was sort of confirmed by Donnie Emler Jr. on the Pulp Show last Monday. Well, in case you didn't realize it, Kawasaki—one of FMF's big teams—is sponsored by a well-known energy drink called Monster. This is a conflict in Monster's eyes and they're not really pumped on this. So to ease the tensions right now, the FMF pipes that the Kawi guys run this weekend apparently won't have any FMF logos on them. The three sides will work toward a resolution for Hangtown, but in my opinion, I wouldn't look for any Flying Machine Factory logos on the Monster Kawasaki anytime soon.

Tonight at 8 p.m. PST, make sure you tune in for a special edition of the Pulpmx Show presented by BTOSports.com Las Vegas edition with myself, The Weege, Jason Thomas, and Nick Wey all in-studio to take your calls and talk supercross. Go to Pulpmx.com for more information.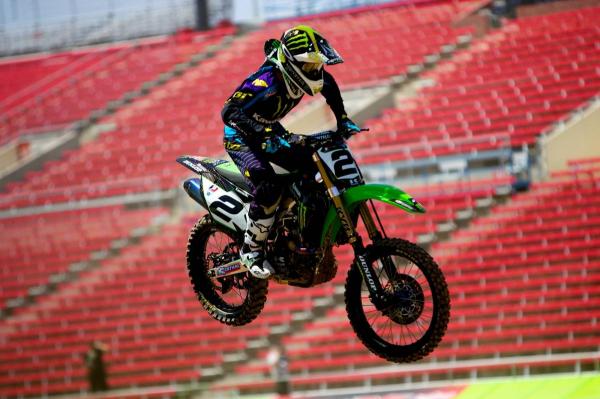 RV getting ready at Vegas.
Photo: Matty Fran
I went down memory lane this week over at Pulp MX when I started going back through my old magazines and looking at all the bikes tests from the bikes that I once owned. I got some great emails from people about this and even my mom emailed me to say that it brought a tear to her eye. Anyways, I had a lot of fun doing it, and you can check it out here.

Okay, here's Ping:

For the first time in a long time, I'm not racing in the MiniMoto event going on tonight in Las Vegas. I've decided that I've rolled the dice with my ankles one too many times, and right now healthy feet are more important than being the guy who can ride a kids' bike the fastest. I'm pretty bummed out, though, because the race is being held at a different venue this year with a larger arena floor, and the track is insane. If you haven't been to a MiniMoto event, you should check it out. There is more bumping, crashing, and drama than you can imagine. And since all the qualifying is done during the day, you get to see nothing but main events in the night show. The race goes down tonight at the South Point Hotel and Casino. Go to www.minimotosx.com for more details.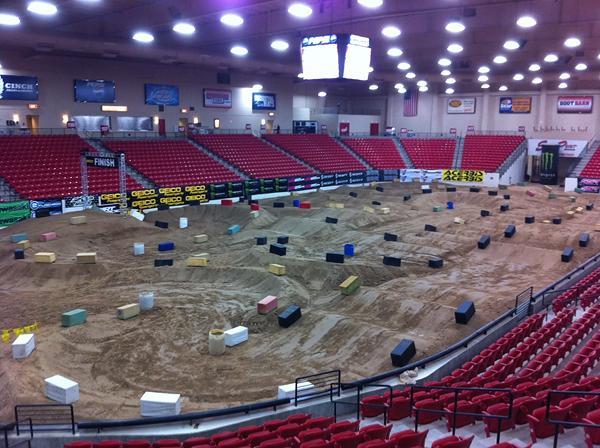 MiniMoto track in Vegas.
I did hear that Eric Sorby is racing, and he will have the world's fastest man-friend in his corner as James Stewart switches roles with his French butler. Sounds like that will make for a funny episode of Bubba's World.

A few things to consider before tomorrow's SX finale: The format is different than usual in the 250 class. Typically, there would be a heat from each region and then a shootout between the two. Now, the first race you see on Saturday will be the East Lites main event. That will be followed by the West main event. These are for points and champions will be crowned.

Hopefully they will all get a parade lap before the mains, because this track is notoriously slimy for the first couple races of the night. The track gets hard-packed all day and then they throw a bunch of water on it for the night show. All of this equals a skating rink that Nancy Kerrigan could throw a mean triple lutz off of... Yes, I just used a figure skating reference. And Nancy Kerrigan or Tonya Harding were the only names I could come up with. Anyway, watch out for crashes in the East Lites main event—they could play a role in that race. 


The track will be better by the time the West Region guys get out there, and there is a tight battle for that title. Eli Tomac is on a roll, but he'll have to go through Broc Tickle to get this championship. What will Hanny do? Roczen? Seely? And remember how fast Cunningham went here last year on a 450? There are lots of spoilers in this race, and it could be the best fifteen laps of the night. The Shootout will follow those races and will include the best ten from each coast. It's tough to pick a winner for that, but I think Wilson and Hanny will have reason to hang it out for the win.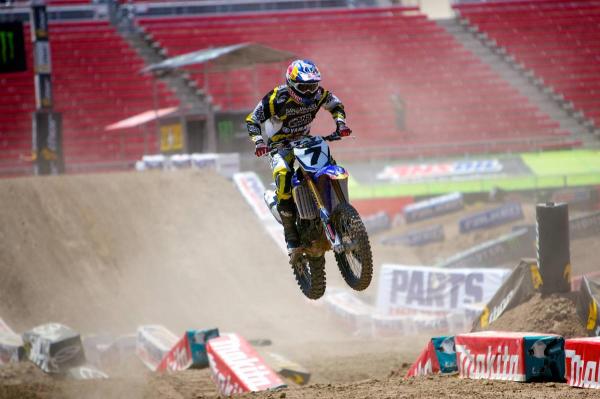 JS7 getting ready for Vegas.
Photo: Matty Fran
RV is in charge of his own destiny in the 450 class. It seems like he is back on track after last weekend's ride but anything can happen in Vegas. Good luck to all the guys in the points chase.

Okay, here's a few things to ponder over the weekend:

Check out the cool videos posted on the AMA's Kids Just Want to Ride page.

What's MDK Motorsports' Mark Kvamme up to? He's now the director of job creation in Ohio and is recovering from a motocross injury. Read more here.

Check out Stewart doing some outdoor testing on Insidermx.com.

Check out the feature in the new "Danger Issue" of ESPN The Magazine. Defending champion Ryan Dungey, currently the third place rider heading into Las Vegas this weekend, highlighted the potential danger areas on the Sam Boyd Stadium course.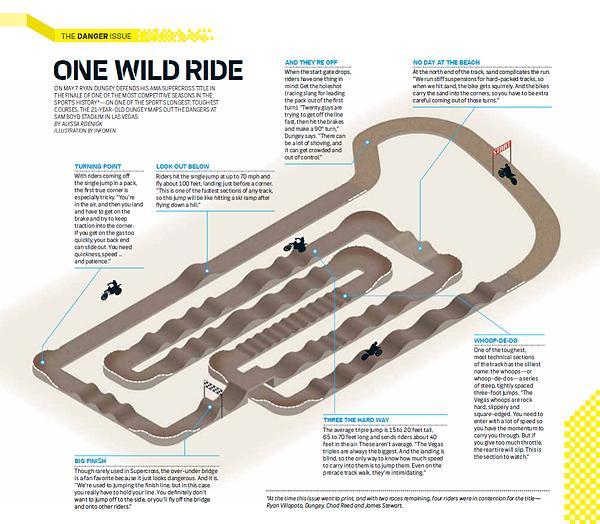 Brammo Electric Bikes featured on Wired.com.

Here's a cool Travis Pastrana interview over at SBNation.com.

And how about this? A band called Airport from Seattle has released a song about Ryan Villopoto. Check it out HERE.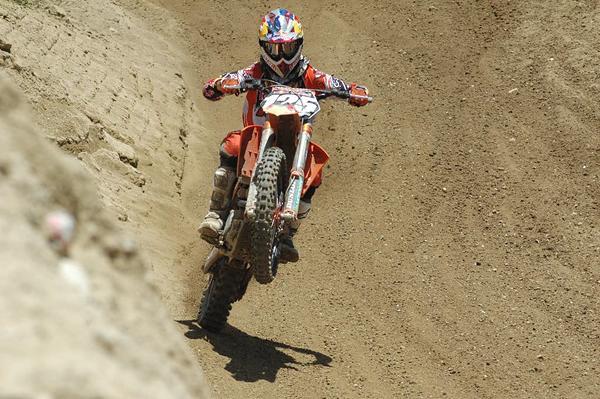 Marvin Musquin will use the GP at
Glen Helen
to get back behind a starting gate before the AMA Motocross tour starts up.
Photo: Greg "Trip" Beehler
My friend Trip was at Glen Helen yesterday and got some pics of what he says is one of his new favorite riders, Marvin Musquin. "Marvin showed up about 11 a.m. when the track was pretty torn up, and the guy just shredded the place. Looking for big things from him come GP time...."

File this under one of the odder rivalries to have emerged in our sport. Ricky Carmichael told us this week that he's developed a Twitter battle of sorts with NFL wide receiver Chad Ochocinco (formerly Chad Johnson) after Ochocinco tweeted him a challenge to a car race. If Ochocinco wins, RC would have to run an Ochocinco Condoms logo—"#85 has you covered—logo on the hood of his care; if RC wins (and Ricky says he would win, absolutely) then the brash wide receiver would have to wear one of Carmichael's #4 Fox Racing jerseys during warm-ups of a game next season (if next season happens). Like I said, it's an odd rivalry! But Chad has attempted professional soccer, reality shows, and some other hobbies during various off-seasons, so you never know—maybe #85 can drive as well as he talks!

Having grown up in a motocross family, I know firsthand that you're never too young to pitch in and help out. Same obviously goes for little Cayleigh Miller, daughter of former pro Clayton Miller and granddaughter to Freestone MX owner Tony Miller. With the national coming up quickly on May 28, it's all-hands-on-deck down there in Texas, and Cayleigh is part of the crew painting the starting gate!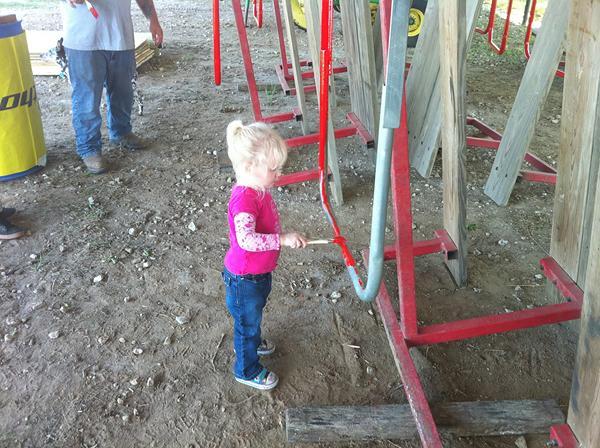 Clayton Miller's daughter Cayleigh applies a fresh coat to the starting gates.
Finally, look for the new spot for the 2011 Lucas Oil AMA Pro Motocross Championship to air during the Las Vegas SX's SPEED TV broadcast this weekend: once at 10 p.m. and again at 1:30 a.m. (ET).

That's it for this week's Racerhead. Make sure you tell your mom Happy Mother's Day come Sunday. If you can't, make sure you think about her. See you at the races.