Sam Boyd Stadium
Las Vegas

,

NV
Las Vegas
Monster Energy AMA Supercross Championship

Jimmy Albertson – Knee
Comment: Albertson crashed on the third lap of his second qualifying session at Anaheim 1 and caught his leg under the bike. He underwent ACL surgery in late January and has been on the road to recovery since. We got this update from him earlier today:
"I have been training at full speed for the last month with my trainer Greg Direnzo. My cycling, swimming, and weight training is the strongest it's ever been so I'm excited to see the results on my bike. I start riding next week and plan on returning to the MX nationals sometime in June on my Merge Racing, Blanco Basura, Trey Canard-backed Honda with Gregg Albertson spinning the wrenches!"
Jeff Alessi – Foot
Comment: Injury is almost healed, but will most likely miss the rest of SX.
Derek Anderson – Back
Comment: Still suffering the effects of a crash at the Pala National, where he compressed his back, causing a herniated disk. He will most likely miss all of the 2011 SX season but hopes to return to action at the start of the outdoors.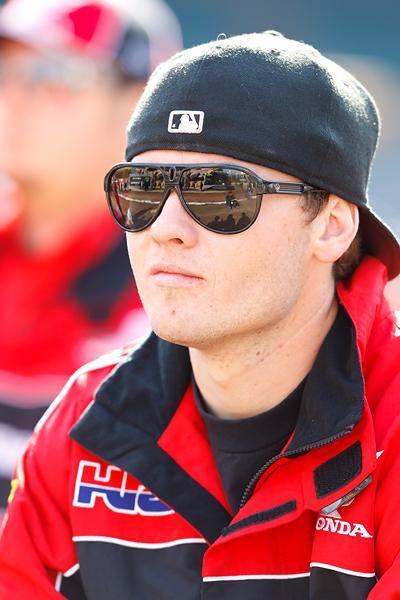 Expcet Josh Grant back sometime after Hangtown.
Photo: Simon Cudby
Daniel Blair – Leg and Back
Comment: Fractured his femur and L4 and L5 vertebrae in a practice crash at Anaheim 2, but is almost healed up. "Everything is looking good," Daniel told us this week. "I'm going in for final CT scan today on my back. Blood cot is gone. Should be on the bike very soon. Been in the gym for over a month and feel great."
A PayPal account has been set up to help Daniel and his family pay. If you are in a position to donate, please click here. He also hopes to be back for X Games.
Matt Boni – Tib/Fib
Comment: Crashed at the Dallas SX and sustained a compound fracture to his tibia and fibula in one of his legs. "My surgery went extremely well and my specialist is predicting a 100 percent recovery in a few months," Matt told us this week. "All the other Injuries that occurred were minor and have healed nicely up to this point, but no date for return has been set."
Jarred Browne – Collarbone
Comment:  He had his left collarbone plated the Friday after the Dallas SX. His left kneecap broke in ten places and it is in a cast. His right wrist dislocated and broke. "I just got my cast off of my wrist and I'll start therapy soon on that, the Rock River Yamaha rider told us yesterday. "And my knee is close behind. My collarbone is pretty much 100 percent. I'm hoping to be back on the bike in about three weeks."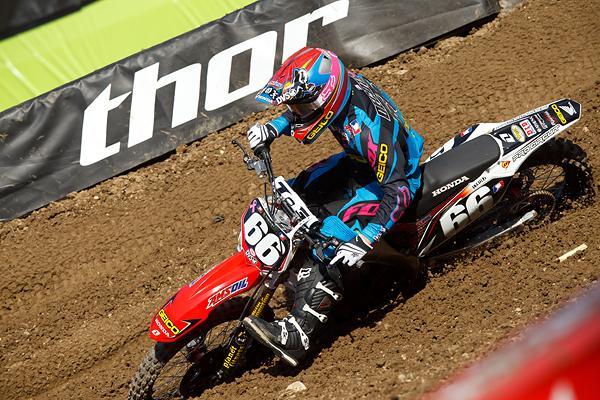 Jimmy D hopes to be back for Hangtown.
Photo: Simon Cudby
Trey Canard – Femur
Comment: Out indefinitely after fracturing his femur while testing a couple weeks back.
Jimmy DeCotis- Elbow
Comment: Dislocated elbow at the Seattle SX and he and the team hopes to be back for the outdoors where Jimmy will be filling in for the injured Blake Wharton.
Cody Gilmore – Shoulder
Comment: Dislocated his shoulder in his heat race in Seattle. Examined by Doc Bodnar and is hoping to be ready for Vegas.
Kyle Goerke – Wrist
Comment: Broke his wrist during his heat race in Jacksonville and recently underwent surgery. Out indefinitely.
Matt Goerke – Wrist and Pelvis
Comment: According to a TiLube Racing PR, Matt suffered serious injuries with a shattered left wrist and multiple fractures in his pelvis. "He has surgery scheduled for this week and will be out for the remainder of the Supercross season."
Gavin Gracyk – Knee
Comment: Gavin had surgery on his knee this week. Out indefinitely.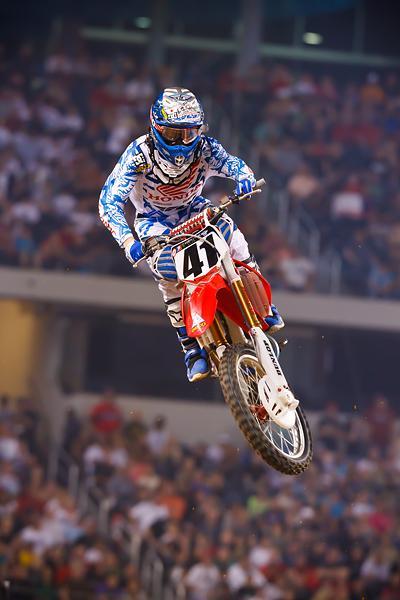 Canard should be ready sometime after Hangtown.
Photo: Simon Cudby
Josh Grant - Knee
Comment: According to a statement released by Honda, Grant underwent additional surgery to his right knee to repair his anterior cruciate ligament (ACL), the result of an injury he sustained at the Phoenix SX. He anticipates a return to racing early in the summer.
Wil Hahn – Shoulder
Comment: Still no word on when he'll return.
PJ Larsen – Wrist
Comment: Larsen crashed in his heat race in Dallas and broke his scaphoid (navicular) and another bone. Aiming to return for outdoors but isn't sure.
Sean Lipanovich – Kneecap
Comment: Recovered from his broken kneecap and is back on the bike preparing for Hangtown.
Brett Metcalfe – Various
Comment: Brett has decided to forego the supercross series to spend time preparing for the outdoor opener at Hangtown. He is back on the bike and testing already.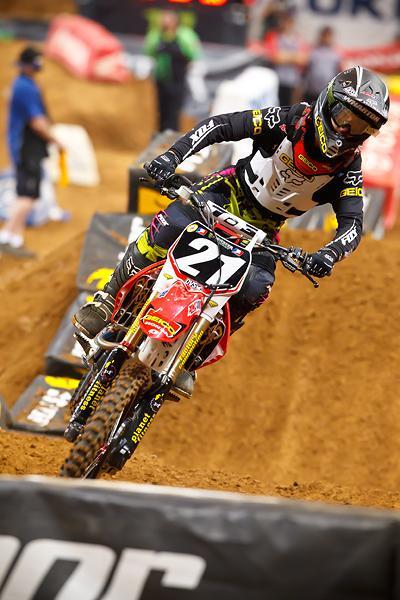 Wharton will miss the entire outdoor season with a shoulder injury.
Photo: Simon Cudby
Gareth Swanepoel – Back
Comment: Was diagnosed with a compressed T12 vertebra after he crashed in his qualifying heat in Houston. According to his team coordinator, Donovan Mitchell, "Gareth is almost fully healed and it looks as if he'll just fully concentrate on outdoors as of now."
Myles Tedder - Knee
Comment: Had his ACL replaced last December but should be read for MX.
Ivan Tedesco – Hip/Knee
Comment: Undergoing hip and knee surgery, so he's out for the remainder of the SX season.
Ian Trettel – Head
Comment: Crashed in practice at Daytona and suffered a head injury. Making progress—read the latest update here.
Bryce Vallee:  Wrist
Comment: Fractured the scaphoid bone in his left wrist prior to the season and underwent surgery to repair. Return date uncertain.
Chad Ward – Multiple
Comment: Crashed in Atlanta and reports are that he suffered a broken wrist, punctured and bruised lung, five broken ribs, broke a wing off of his spine, and a concussion.
Blake Wharton – Shoulder
Comment: Underwent surgery on his right shoulder earlier this week, then in a few weeks will have surgery on his left shoulder. This will sideline him for the remainder of the year.
Did we miss someone? Email us at letters@racerxonline.com.