Las Vegas, NV
Las Vegas
Monster Energy AMA Supercross Championship

Welcome to the Observations column brought to you by
BTOSports.com
and I have to say, this is the best Observations column that is right here on Racer X. That's not even debatable.
We were in Salt Lake City this weekend and you just never know what you're going to get when you venture up the Utah's capital. I've always liked the city and thought it was cool (literally). It's very clean, has nice scenery and seems to be nice and modern. The only problem is the open-air stadium, and at this time of year, you could get the snow flurries of last year or the beautiful weather of a few years ago. This year it looked like it could be disaster when I awoke to snow on the ground but thankfully it melted, the weather cooperated and although a bit chilly, it was pretty nice throughout the night.

Someone forgot to tell Utah its spring time.
Photo: BrownDogWilson
Well we had five for the longest time.
Then we had four.
And now, with one round remaining- we have three.
The first one to fall off was Honda's Trey Canard when he crashed while outdoor testing and broke his leg. Then we saw a comeback from Yamaha's James Stewart and he pulled to within nine points of the lead after back-to-back dominating wins. But early in the main while out front, Stewart washed his front end and in this, the year of washed out front ends, why wouldn't it be that kind of crash that did the seven in?
His season was slipping away but it wasn't totally gone, not quite yet, as he got up and pinned it. Unfortunately, he then cartwheeled violently in the whoops forty feet later and in this, a season in which Stewie's had some violent crashes, why wouldn't it be another one to really drive the nail in his championship hopes?
And with that, James Stewart was out. His season now a disaster- he'll go to the last round almost mathematically eliminated from winning the title and with that, we now have three riders with a chance at this title.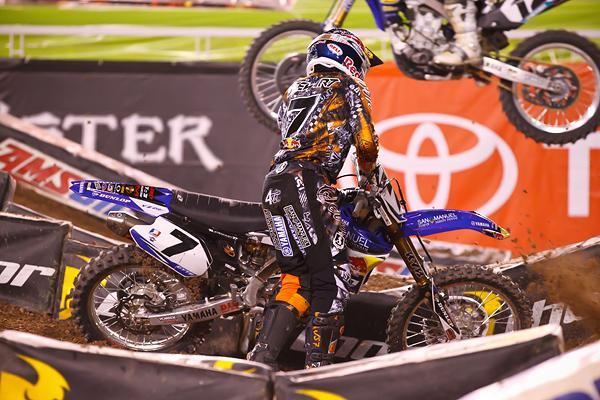 Stewart's championship hopes are all but over after a crash at Salt Lake City.
Photo: Simon Cudby
There are certain rides in our sport that have defined clutch over the years. Look at Jeff Stanton's MXDN ride in '91, Ricky Carmichael's in Vegas '06, Jeff Emig at Steel City '96 for some examples and I think that Ryan Villopoto's Salt Lake City ride has to be right up there. RV hadn't been the same rider since his disastrous Jacksonville SX ride but this weekend, he stepped it up, took advantage of Stewie's crash and won his sixth main of the year and more importantly, now has a nine-point lead going into Vegas.
So why the sudden improvement? Well only he knows for sure but that's not going to stop me from making up my own theory. The week off in the series (first one in 14!) allowed Ryan to step back and breathe a bit. The team went outdoor motocross testing and by all accounts, Villopoto was flying. He's always been a little more of an outdoor guy anyways and getting out there, forgetting about riding supercross and just pinning it was probably the best thing for him.
If you were really, really good at building those little paper mache dinosaurs that fold open and closed, but you didn't get to do it for a long time because your boss needed you to finish this big project at work , you'd be grumpy too. RV likes the outdoors, he was feeling stressed and pressured at getting this indoor title so he went back to the outdoors (his version of building those little paper mache dinosaurs) and rediscovered his mojo.
But it wasn't always that easy, early on RV was third and not really doing any damage on Stewart in front or Chad Reed in second for that matter. If the checkered flag flew at this point, Stewart and Reed would be four back of RV going into the last round. But RV got on his horse and started figuring things out. He caught Reed (mostly in the whoops) and made a nice pass on the 22 then started slowly reeling in Stewart before James crashed. Would he have caught the 7? I'm not sure but he did have the fastest time of the night a lap before he moved into second so I'm sure we would have seen a battle the rest of the way.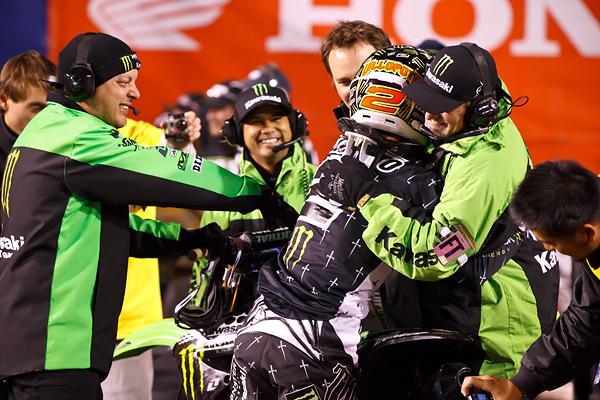 Villopoto got the big win in Utah.
Photo: Simon Cudby
Chad Reed had a good night except for the part of being passed by Villopoto. The two-two rode well and was just a tick off the pace of the front two guys. Sound familiar? It should because for the most part, it's been that way all year for the two-time supercross champion. Reed stepped it up this week in SLC with the addition of a factory Honda bike. Now, he's playing coy with the media and fans (and why wouldn't he- he's a smart business man) but from what I hear from my sources, the bike is pretty much a complete Honda works bike that Trey Canard has been riding.
It's a dicey proposition switching rides like that but he must have tested both set-ups thoroughly and decided he was better on the factory one. And for those that are wondering how many parts he had on the bike, think of it like this: why would Honda fly out motor guy Dan Betley, suspension guy Shane Drew, Team manager Erik Kehoe and big-wig Gary Martini to the race when they had no factory riders?
As usual Reed was his blunt self on the podium when talking about the whoops, which were different sizes and spaced differently after his heat race win. He said, and I quote, "It seems that whoever built the whoops took a smoke break in the middle of building them, had a few beers and then came back to finish the job". Classic Chad Reed right there…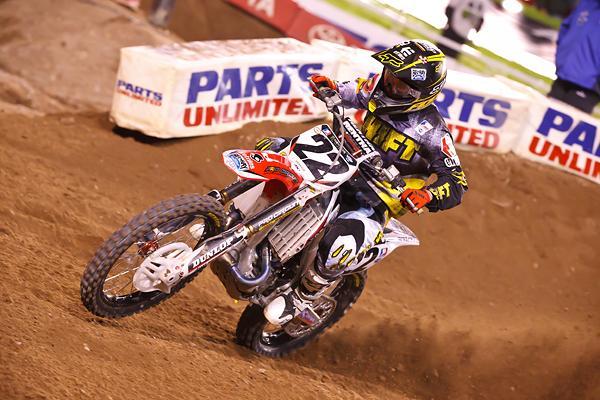 Reed needs help from RV if his is going to capture the championship.
Photo: Simon Cudby
Like I was saying in yesterday's 450 Words column, this Salt Lake Supercross showed us everything we have been seeing all year in twenty laps. If you dropped an alien down from Mars then he would have a pretty good idea of what happened this year in supercross. And unfortunately for Ryan Dungey, he just wasn't good enough this year. The Dunge certainly showed everyone what was up last year and now, finally with only one race left, we have to all just admit that his title drive last year was helped out with other riders missing races. That's not me being a "hater" or doesn't mean I don't think highly of Dungey- it's just the facts that I get from watching 16 races this year.
If there was ever a time for him to lay it on out there and take control, it was Salt Lake and he couldn't do it. Reed, Stewart and Villopoto simply rode away from him and he was relegated to the fourth best rider on this night. It was a little bit of a bummer for Ryan, but he's young, he's got a good team and bike behind him and he'll be a fixture up front for a long time. And, let's not forget he's always got the outdoors where he absolutely killed it last year.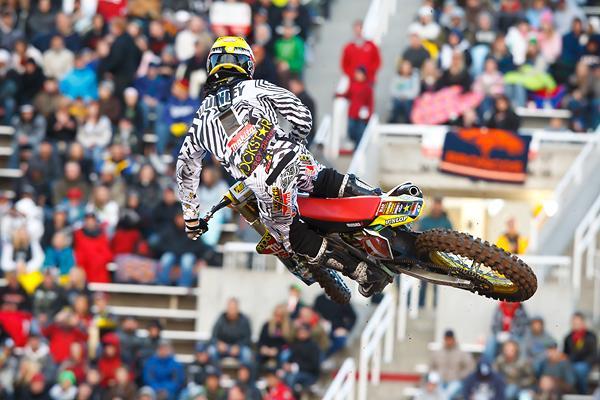 Dungey is still alive for the championship, but it's a long shot.
Photo: Simon Cudby
In a business move, Dungey has severed ties with his long-time agent Tony Gardea and with Ryan being the hottest rider on the market for 2012, this is a bit of a surprise to me. By all reports nothing bad happened between Gardea and Dungey, it was just a decision by Ryan to take his career in a different direction. There are a lot of agents in the sport and I have to say, Gardea is one of the good ones.
In Lites action, the man on fire right now is Eli Tomac. The GEICO Honda Colorado kid has been on a roll for a while now and didn't seem to cool off when the west series went on a break nor did weeding himself on said break. He came out with a good ride in Seattle to get second and this weekend he led every lap on his way to a dominating win. Tomac is now only two points back of Broc Tickle for the title and it's come down to a who-beats-who scenario.
I've only spoken to Tomac three times for official interviews but he seems like a cool kid, he's both funny and serious and is very well trained on how to talk and what to say to the press (and also well trained in what not to say-which is another skill). Whenever I have talked to him I think about how polished he is for a kid.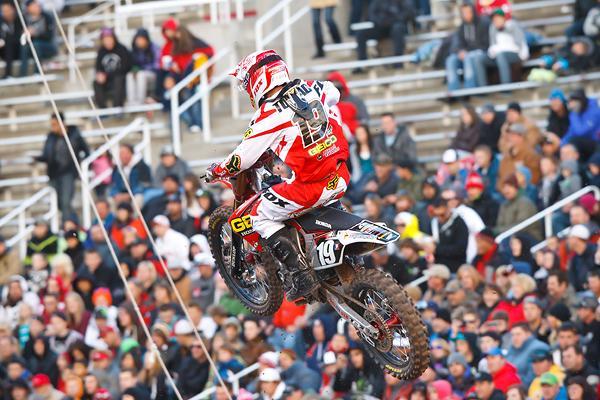 Tomac is within two points of Tickle after his win at Salt Lake City.
Photo: Simon Cudby
Broc Tickle has never been in the championship position before and I have to agree with my esteemed colleague David Pingree in that Tickle is one guy that has gotten slower as the series goes on.  Tickle started off at A1 looking very smooth and fast all at the same time but it seems that since he got into the lead (or close to it), he's lost some of the speed and style. I think that he gets somewhat of a pass because this is the first time he's been in the this situation and oftentimes, except if you're some sort of boy-wonder, you have to lose a title to realize how to win one (see Weimer, Jake for more on this) but when I brought this up to his team owner Mitch Payton in a podcast, Payton wasn't buying it. HERE's the podcast if you want to listen.
Ken Roczen came back from Europe and did some damage to the class in the form of a second. Roczen has been doing the GP's and SX thing (shades of Marty Smith!) and doing it pretty well at that. He got second in the deep sand on Monday and then, on Saturday he went out and tripled and doubled his way to a second. Pretty remarkable, really. Kid Rocz doesn't seem to be fazed by much and has a pretty loosy-goosey attitude about everything. His pass on Tickle in the main was very costly for the number 20 green bike, no doubt about it. We had Roczen on the Pulpmx Show on Monday and I was surprised when he told me that it's not set in stone that he races full-time in America in 2012, I thought that it was done. I guess he has to take care of business over there in the form of winning the MX2 World Championship first.
The other guy that was in the mix for the championship was Josh Hansen but lately he'd been crashing himself almost out of this thing until this weekend, he finally did enough damage to himself to give him almost no chance this weekend in Vegas. Hansen was in second behind Tomac early on and carried some more speed into the turns where he promptly took three shots at dive-bombing Tomac before ending up on the ground the third time.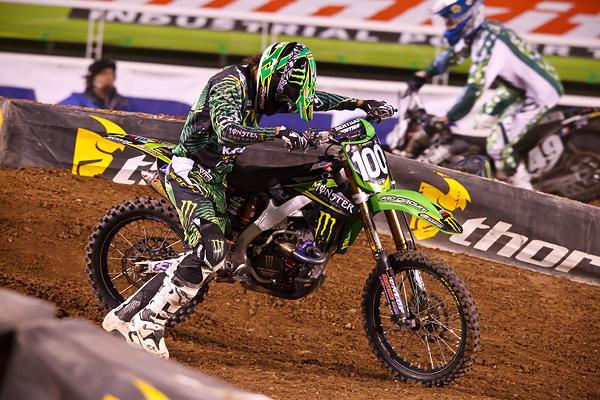 Hansen is in need of a miracle.
Photo: Simon Cudby
It wasn't needed and he admitted it after the race on Twitter. Payton wasn't too happy either. Here's the thing though, Hansen had been riding a bit like that throughout the series (On Seely in LA, on Tomac in Anaheim, on Canada in LA, etc, etc) and I guess if you live by the sword, you die by the sword and that's what happened to Hansen.
I did a BTOSports.com Racer X Podcast with Weege and Ping where Ping reported that Hansen has been pitting (getting dressed) in the Hart & Huntington truck the last few weeks before being made to go back to the Pro Circuit one by Mitch. Ping says he pleaded his case and was allowed to go back to his former team's truck in SLC. Add to this what that I heard he was out at the Kawi SX track jacking with his teammate Tickle and making comments loud enough that Broc could hear, then the videos where he disparages Tickle here and there and it all adds up to a guy trying to play mind games with a teammate.
According to Ping, the guys at PC are a little bummed on Hansen's attitude since the break. I don't get it. The guy's making a comeback in his career and life on a great team and he's winning races. In his shoes, many people would be thanking Mitch and Monster Energy for all they have done for them, but Hansen feels like he has to act differently since he's seen this championship slip away. As one close friend to of his told me late last year, "Hanny says he doesn't want drama in his life but all he does in invite it in over and over" and that would appear to be the case in this championship chase as well.
I can't figure out if JGR's Justin Brayton has had a good year or not, after all he's going to have ended the series in ninth, he'll have missed some races and his best finish this year is a fourth (one time) and a couple of fifths. Last year he ended the series fifth and seemed to be up front more often. But, and this is a big but, the comp (thank you Tony Alessi for this) is deeper this year and Justin has just flat-out, hands down won two heat races this year up against all the heavy hitters. I am leaning towards that he has indeed had a better year this year but to settle it, I called his team manager Jeremy Albrecht who has worked with him day in and day out for two years.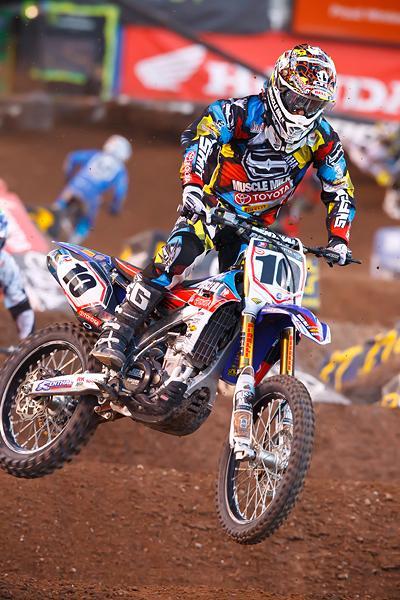 Brayton has been hit or miss all season.
Photo: Simon Cudby
"I think he has," Jeremy told me. "Last year he was up there more but it wasn't as strong of a field as this year. I think he's hit the ground more this year but that's from pushing himself and trying to get better". And there you have it folks, the verdict is in- Brayton has been better this year! Albrecht also told me that talks have begun to try and resign the Iowa speed-rocket known as Bray-10.
Let's take a look at the results shall we?
AMA Supercross Lites Class West:
1. Eli Tomac Hon
2. Ken Roczen KTM
3. Broc Tickle Kaw
4. Cole Seely Hon- Seely looked to have the holeshot and in that case, he was probably going to check out. He got stuffed a bit and then was forced to come from the back. In a weird deal, Cole has two podiums this year-both wins.
5. Kyle Cunningham Yam- Cunningham rode a fast consistent race, remember last year when he did so well on the 450 at Vegas? Keep that in mind for this weekend.
6. Tyla Rattray Kaw- Rattray was kind of invisible all day, I don't think I watched him very much but I have a feeling that will change come Hangtown.
7. Ryan Morais Suz-Morais won the heat race in a great ride and I thought he'd be better in the main but he didn't get the start.
8. Martin Davalos Suz- Davalos just did what Davalos does.
9. Travis Baker Hon- Baker's SX season is basically a write off.
10. Ben Evans Kaw
11. Tommy Weeck Hon- Weeck's been riding well the last couple of weeks.
12. Jake Canada Kaw- Doing it for his country!
13. Josh Hansen Kaw
14. Topher Ingalls Hon
15. Bruce Rutherford Kaw
16. Casey Hinson KTM
17. Donald Vawser Kaw- Weege doesn't know this guy but he does know a guy named Don Bowser.
18. Landen Powell Hon
19. Tevin Tapia KTM
20. Nick Paluzzi Yam-Not sure what happened to Snookie, I mean Nick.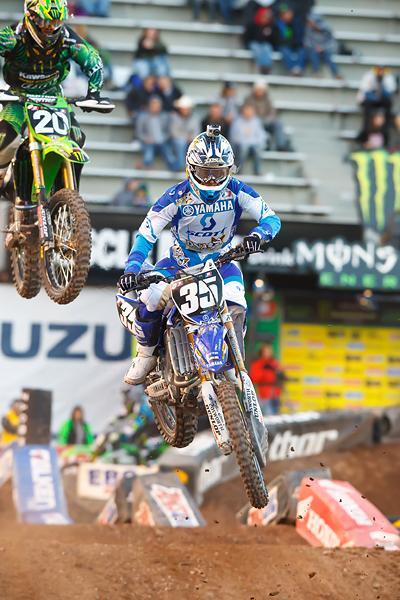 Cunningham rode to a solid with a fifth in Utah.
Photo: Simon Cudby
AMA Supercross Class:
1. Ryan Villopoto Kaw
2. Chad Reed Hon
3. Ryan Dungey Suz
4. Andrew Short KTM- Shorty was good all day except in his heat race where he went backwards. He had good practices and a strong main event on his, what you would think was underpowered in altitude 350.
5. Davi Millsaps Yam- Millsaps rode a good race and put pressure on Short the whole time. He also says that he's figured out some stuff in his diet and looks to be improved from here. I know that there was some big meetings recently with Davi and the JGR guys where they all had to make sure they were on the same page.
6. Kevin Windham Hon- KW is in a race with Short to be the top guy in the "next pack" of riders. Not what either guy wanted but hey, small victories right? He's 12 points back with one race left.
7. Jake Weimer Kaw- Weimer made his return and I think rode pretty well. He admitted that he was nervous before practice began as it was his first 450 SX race ever in his life. I think a seventh was pretty good what about you guys? A few weeks back on the Pulpmx Show, Tony Berluti said he would get eighth in his first race back and I told Jake to flip Berloot off  over the finish if he did better than that but sadly, Weimer has more class than that.
8. Tommy Hahn Yam- What's weird is Hahn's season hasn't been going well but then he just gave up on sx and started riding motocross for a while now and his indoor results have become better. He's also healthy which helps but weird how a guy can ride good when he's not even riding SX during the week.
9. Justin Brayton Yam
10. James Stewart Yam
11. Nick Wey Yam- Wey and Regal had a nice battle in the main event with each guy stuffing each other. With Tedesco missing the race with an injury, Wey moved into tenth in the points and the first real privateer. Even though that doesn't officially count for anything, it's still something! Like I said earlier, it's the small things people.
12. Kyle Regal Yam
13. Michael Byrne Suz- Byrner didn't have a great night and I was going to interview him after but he looked steamed.
14. Chris Blose Kaw- The good- Blose is one of eight guys to make every main event. The bad- he's still 15th in the points and six guys ahead of him haven't made every main.
15. Tyler Bowers Kaw- AX riders represent!
16. Jason Thomas Suz- JT- "It seriously was one of the most uneventful races of my life."
17. Robert Kiniry Kaw- I don't know who "Robert" Kiniry is but I do know a "Bobby" Kiniry and he's a good guy. Does Robert go into a phone booth and come out Bobby for the main?
18. Cole Siebler Kaw- AX riders represent part II!
19. Ben Lamay Yam- Banging Ben has picked up a Motoconcepts Yamaha ride for the last three races and he made his first main event of the year using the clear vision of X Brand goggles.
20. Mike Alessi KTM- Mike got taken out by Blose early in the race but nobody that I've talked to, including Blose's manager seems to have seen it but it left Mike's bike too damaged to continue. I wouldn't be surprised at all if the 800 skips Vegas to get ready for the USGP and the nationals.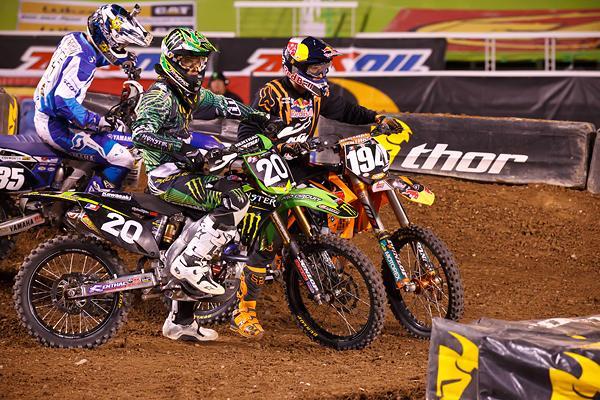 Roczen threw a wrench in Tickle's plan at Salt Lake City.
Photo: Simon Cudby
WWF moment of the night was Tony Gallo and Robert Fitch going at it Rocky IV style in the 450 LCQ. I didn't see what happened but I looked up and saw two bikes laying on the ground and one guy going over to the other one throwing haymakers! Usually these things settle down quickly but nope, the other guy came back with some blows of his own and things were on from there.
Thanks for reading, see you next week! If you have any questions or anything like that, send me an email at matthes@racerxonline.com