Welcome to another week of Racerhead, this time back coming to you from within the United States, and with the 2011 Monster Energy AMA Supercross title coming down to the wire. The stars of SX line up in Salt Lake City tomorrow with just 40 laps left in one of the most entertaining series in the sport's history, and we still have no idea who might win!
Before we get into dirt bikes and all that, just a note to say our thoughts and prayers are with our friends and fellow riders and just anyone down south who has been affected by the tornadoes that have devastated that part of the U.S... It's been a tragedy on many levels.
Keep an eye on your computer or your cell phone all day long as Racer X Online brings you all of the news and updates and timing and all of the goings-on from SLC. And you can watch the races on Sunday at noon (ET) on CBS, and then the Lites action at 6 p.m. (ET) on SPEED.
Last weekend I found myself on the other side of the world to check out the Dutch Grand Prix from Valkenswaard. It was a really good race, with lots of people and sunshine and sand and some very fast KTMs in both classes. It was a great chance to see how Youthstream builds an event and organizes its infrastructure, the paddock, its television and press compounds, and also its hospitality. I got to visit not only with Giuseppe Luongo and his staff, but also spend a couple of days hanging out with Eric Peronnard, who was also in the Netherlands for the race.
On the racetrack, I was totally impressed not only by Jeffrey Herlings, who at 16 may be the best sand rider I have ever seen at that age, but also Ken Roczen, who rode a smart race and wisely left Herlings to do his thing for his rabid Dutch fans rather than try to ride over his head to keep up—a great trait for a 17-year-old star-in-the-making. Beyond that, the Monster Energy Kawasaki's of Tommy Searle and Max Anstie were fast but no match for the Red Bull KTMs, and American hopeful Zach Osborne rode a decent race, though he was not in the top five in either moto.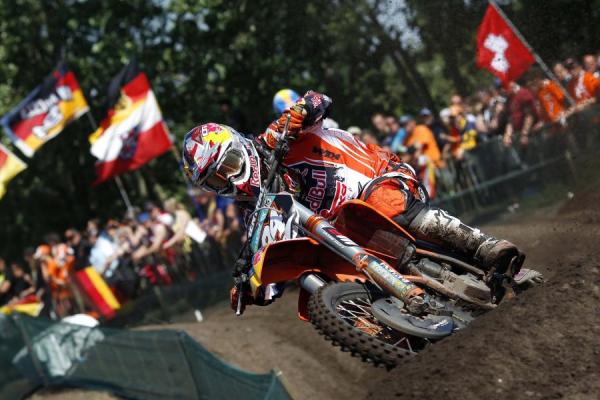 Jeff Herlings swept the Dutch GP for the second year in a row.
Photo: Ray Archer
In the 450 class Tony Cairoli proved that he's as tough as he is versatile, winning on this
Southwick
-style sand track for the third year in a row. He had a hurt knee too but he put that out of his mind and just hammered away on his Red Bull KTM. Tony, who cruises the pits on a Segway with some fat wheels, actually got beat in the second moto by his teammate Max Nagl, who like Roczen hails from Germany. The Frenchman Steven Frossard was also impressive, albeit hurt with a shoulder injury. The Monster Energy Yamaha rider is the points leader over there right now after two races.
Of course the third round is at Glen Helen in 14 days, and there was a lot of talk over there about which AMA-based riders may or may not be showing up. I don't have a lot of news there, but no matter who shows up I would expect Roczen to be tough to beat—even against his old nemesis Marvin Musquin—and also Tony Cairoli in MX1. I am actually headed out for the USGP this year so I am curious to see how those guys tackle Glen Helen's big hills, and also to see how Herlings looked on a harder-pack track.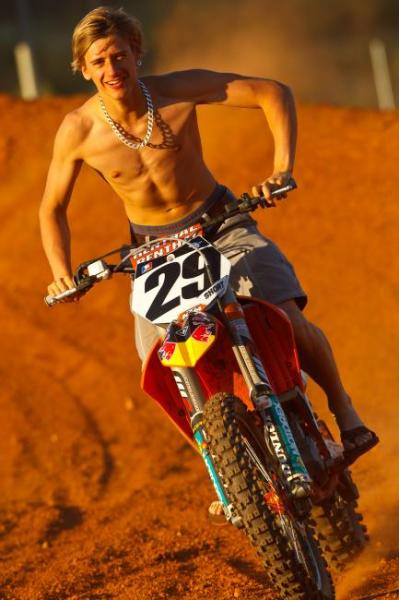 Ken Roczen is a pretty funny and very fast teenager that gets faster every time I see him.
Photo: Simon Cudby
Roczen is back in the USA to race the final two rounds of SX. Kenny was at the KTM SX track this week preparing for Salt Lake by doing a few laps in shorts and flip-flops on Andrew short's bike.
Looking ahead to May 21, if you're on Facebook and really want to keep up to date on the final preparations for the upcoming 2011 Lucas Oil AMA Pro Motocross Championships, as well a chance to win free pit passes to the round of your choice, check out the series' new Facebook page right here and give it a "like," and you just might be getting some all-access pit passes:
I would get into all of the nitty-gritty of this big AMA Supercross title showdown, but I know that Matthes and Ping and Weege have a lot to say on the topic—and Matthes broke a big news story today, so let me turn it over to the boys here now, starting with Mr. Matthes.
Well after a weekend off, I'm definitely looking forward to Saturday's Salt Lake City Supercross as the four guys are going to be one step closer to settling this thing once and for all. The weekend off, you would think, would hurt James Stewart as he had won two races in a row and is on a roll, and it maybe helped Chad Reed, who got drilled by his bike in that late-race crash in Seattle and must have been sore. And I wonder how many of the guys took the time to get out there and ride some outdoors? We did see that Ryan Dungey did some outdoor testing and we know that the rest of the pack who doesn't stand a chance of winning this title also started getting motocross ready so the question is, what about Chad Reed, James Stewart and Ryan Villopoto?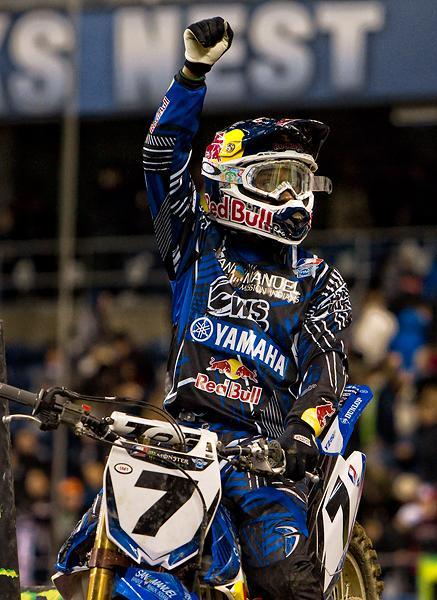 Stewart won back to back races in St. Louis and Seattle.
Photo: Garth Milan
As I wrote a couple weeks ago, if I was in the position that the top four are in I'd want to stick to the double and triples but hey, that's just me—and I was a big deal in the 85cc Intermediate class back in my Manitoba days. The weather seems like it's going to be cold but no mention of snow so far. Last year's race created some surreal moments as the white flurries flew down the riders as they tried to race around the track. It was bizarre to say the least.
I get asked all the time who I want to win this title and honestly, I don't care who wins as long as its exciting for the fans. My job is to report on the races and hopefully there's drama and intrigue each week, which makes my job easy. Each guy, if he wins, has an incredible story and the story is what I'm after. Let's look at them...
If RV wins it, it will be an amazing comeback from a very serious injury last year and he'll finally break through and get a 450 title after a few years of trying to do it. Besides, week-in and week-out, he's been the fastest guy (although not lately). Also, he DNQ'd Jacksonville and is still in the points lead!
To see Reed win it would be an awesome story. Sure, he's only got one win but man, he built this team from the ground up—and really late in the off-season—after no one wanted to sign the Two-Two. His bike is also (for fifteen races anyways) the most privateer-ish that you can have. The old veteran coming through once again!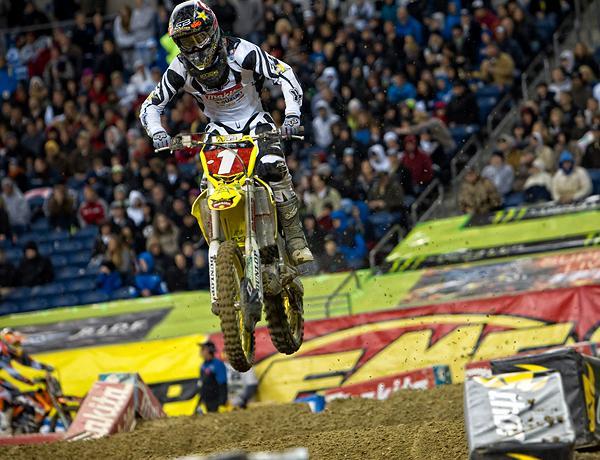 Can Dungey make it back to back championships?
Photo: Garth Milan
Ryan Dungey has probably been disrespected the most in the press and in the fans' eyes. Yeah, he only has one win but unlike Reed who can play the I'm-the-old-guy-and-I-have-a-bike-you-can-buy card, Dungey is the defending champion and has been right there. If he wins, it will be the guy that everyone counted out but who still played it smart!
James Stewart has had the toughest year of his career both on and off the track. He's won five races, crashed out of some and even got carried out of one (Jacksonville). If he wins this, it's going to be amazing and what a comeback for The Seven and his crew. He was the favorite going in and was the one that was written off at different points as well. His Daytona recovery ride might just have saved him if he wins the title. What a story!
(Also, I am getting conflicted reports on whether Stewart's charges in Florida were dropped. I see on Vital that peeps are saying they were but when I read them, I didn't see it anywhere in there, but it would not surprise me, and I am sure James and his team can't wait for it to be behind them.)
See? Each guy has a great story behind his possible championship and I'm just glad I've been there and been able to witness it. Can't wait to see how it ends.
Now onto the outdoor series and as Racer X reported last week the very-nearly two-time 250 outdoor champion Christophe Pourcel has been testing out machines for a return to the track this summer in the 450 class. Pourcel got surgery after the outdoors on his shoulder, got a late start in supercross, couldn't find a ride that he wanted and decided to focus on the nationals. It was a curious decision to be sure but the Frenchman hasn't made it here but taking the easy way out so why start now?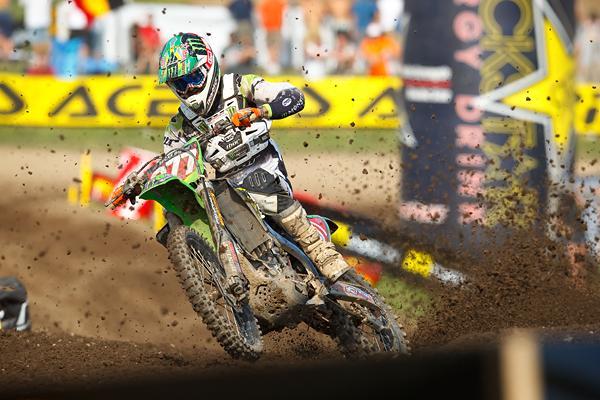 It looks like Pourcel has found a new home.
Photo: Simon Cudby
He tested the Valli Yamaha 450 as well as the GEICO Honda 450 and the respective teams and Pourcel's agent Russ Stratton got down to business to figure out what color #377 was going to choose for his assault on the 450 title.
And we waited. And waited. My sources at both teams said that last week that we would know by Monday but here we are on Friday and still nothing has been decided as I type this out... The talks with GEICO went well, Pourcel was going to keep his Monster helmet deal and gear money (most likely Fox, but possibly Shift) and was going to ride for nothing but bonuses. The team had put together a nice bonus program to where if Pourcel finished in the top five every weekend, he would be looking at a $100K plus payday. They were asked to bump up the bonus money but just weren't able to make that happen. The GEICO guys tried their best and were looking forward to having Pourcel but the two sides couldn't get together.
The Yamaha crew countered with some better bonuses and from what I hear from my people close to the team, he really liked the bike and the OEM was going to step up and help Pourcel out as well. The team uses Pro Circuit suspension and maybe the tuning tricks of Bones Bacon as well as the Showa forks and shock agree with Pourcel. Again, he could keep his gear money but the Monster helmet thing was obviously a deal breaker for the Rockstar team. I'm sure that Rockstar was approached to match Monster's deal (or maybe not if Pourcel feels personally indebted to the green energy drink) whatever it was. According to people that would know, the Monster helmet money was the kicker and it was all silent on the Valli end.
So according to both sides, they were out of the Pourcel sweepstakes and so my next phone call was to the man that Pourcel trusted very much and was helping him along the way- Pro Circuit's Mitch Payton. Payton picked up the phone and immediately told me about how fishing season was opening this weekend and he wondered if the fish were biting when I asked him about the big French fish that has yet to be caught.
"I don't have anything from Kawasaki to help him out but I'll buy him a bike and he can ride for the posted purse money" was what Payton told me. When I said it was getting late, Payton agreed and said that he just really wants to see Pourcel on the track no matter what kind of deal it is. To this, I agree whole-heartedly. I was thinking that maybe both the Valli and GEICO people were given the impression "Thanks but no thanks" because maybe Payton had something up his sleeve, but it appears not.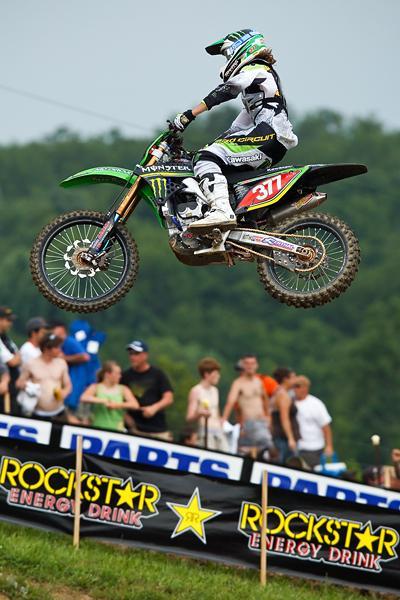 Is Pourcel still a threat for a title?
Photo: Simon Cudby
So where do we go from here? Well certainly things can change in this business and maybe the deals that are "off" can be back "on" by the time you read this. It wouldn't be the first time that deals that are dead can be resurrected so who knows? I think that sitting out the entire year would be an incredibly bad decision by Pourcel but I'm not in his shoes, I just get paid to talk about his (and others) situations. I really hope we see him out there and Racer X will be there if and when something hap...
Well this just in, Pourcel has signed with the Motoconcepts.com Yamaha team!  Which sort of came out of left field for a couple of reasons. One is that the MCY team uses FMF and as stated above, Pourcel has been/is loyal to Pro Circuit and as well, Motoconcepts Yamaha's team manager David Vuillemin and Pourcel have, at times, battled in the press over different things.
But in a true free agency market, sometimes the need and wants of peoples take precedent over emotions and feelings. Besides, I don't think the Pourcel/DV thing was ever that bad. Le Cobra is one of the good guys in the pits and he can say something and then let it go a moment later.
Anyways, from what I was told a deal was done with the Valli Yamaha crew and in fact, the guys started building a bike for the 377 when they were informed that Mike Genova, the owner of Motoconcepts, came in hard with an offer. The Valli guys were asked to match it and the owner Chad Lanza insisted that the original terms stand and that Team Pourcel had until five o'clock yesterday to accept the terms of the original deal and when they didn't, that window closed.
Congrats to Genova, Vuillemin and everybody at Motoconcepts for this signing and with Tommy Hahn, Kyle Chisholm and Pourcel, the team should be a front runner this summer in the 450 motocross class!
BTW, I tried to Tweet all that but couldn't make it fit.

An early look at Salt Lake City from BrownDogWilson.
Photo: BrownDogWilson
Like any job, there are things that you like to do and things you don't like to do. For example, if you're Dave Castillo you like waking up and going surfing in the middle of a weekday but you don't like when you have to fight traffic to and from your surf spot... Okay, that might be a bad example.
Anyways, in my job I don't particularly like transcribing out interviews because it's tedious and not much fun. Triple the pain if it's a Weston Pieck interview that turns out to be WWIII between a rider and a team.
Anyways that's what isn't fun but you know what is? Doing the History of Motocross columns that we've been running here on Racer X. I'm a moto fan first and foremost and the ability to write about the different years and what happened in motocross was a lot of fun. The Dean of Moto Knowledge, DC, took the first decade or so but I picked it up from 1982 to 1987. What's funny is I was nine years old in '82 living in Winnipeg, Canada but I read so many things and talked to so many people over the years that I could write it almost from memory.
Thanks to Maxima's Ron Lechien and Dunlop's Broc Glover for allowing me some time to quiz them and get their quotes about specific years. By the way, you're all welcome for the Rollerball references in the '87 column! Thanks to DC and Weege for letting me get into those, I enjoyed doing them and maybe I'll get another shot.
Do you live in Manitoba, Canada, and want to be a better rider? Then please hit up this David Pingree school that's taking place in three weeks. Guaranteed to make you a faster rider or Ping himself will say sorry.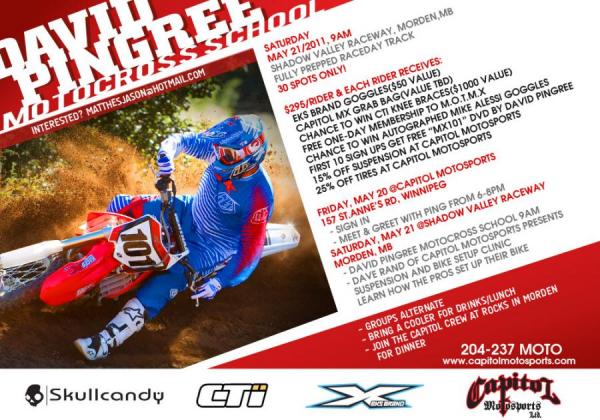 I did a podcast on Andrewshort.com with Shorty in where we talked about the Seattle race, his outdoor testing and the Glen Helen USGP coming up in a few weeks right HERE.
Alex Gobert (the name should sound familiar) from Australia has a moto website where he reports on all things from Down Under and Stateside. He wanted me to write a column on Chad Reed's incredible season coming from out of a job to within a few points of the supercross points lead. Check it out HERE.
I did a couple of podcasts this week with Honda's Shane Drew and mechanic to the stars like Keith Bowen, Micky Dymond and Mike Bell, Pat Clark, and Road Racing's Ron Heben. Both are, to me, very interesting listens from people that have been around a long time and done a lot in the industry. You may at first not want to listen because they aren't names you recognize but take a chance on them, you'll be rewarded!
Finally to wrap this opus, I present to you…Moservations Seattle!
Thanks for coming out, see you next week. Now let me throw this to Weege...
Where's Brett Metcalfe? The Rockstar Makita Suzuki rider has been MIA ever since Daytona, and back then the team said he was only "banged up." Turns out he was injured worse than anyone thought. Metty crashed hard in Atlanta and hurt his wrist. He tried to tough it out on the ultra-rough Daytona track, but he couldn't hang on there and crashed again (unfortunately taking Trey Canard down with him). At that point, Metty knew he had to get the wrist checked out further, and he found out he had a small fracture and torn cartilage. The Aussie only got back on a bike last week and the wrist is still a little tender. He should be good to go for the AMA MX opener at Hangtown, but his rookie 450 SX campaign is finished.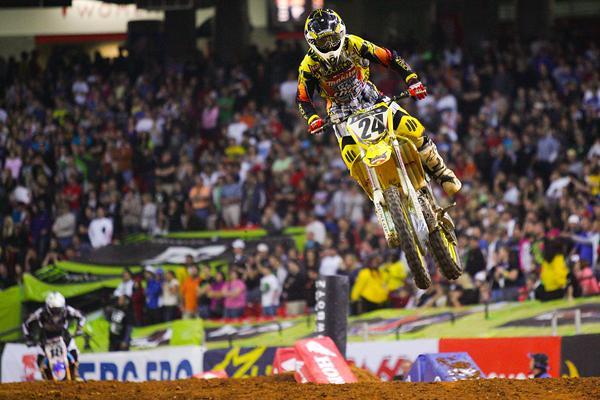 Metty is still on the mend.
Photo: Andrew Fredrickson
Of course, when a rider of Metty's caliber gets injured in SX, they often do sit out the rest of the indoor tour to focus on running for the outdoor title. No sense toughing out results in SX while recovering in when you can save yourself to win races outdoors. However, Jake Weimer is taking the opposite approach by racing this weekend. I think Jake is making the right move. Too often, riders in Jake's position are fully healthy and ready, but decided to wait until Hangtown to stay focused. And then, inevitably, those riders struggle at first while they work themselves back into race mode. Weimer has not raced at all since he hurt his back before Unadilla in August, so he wants to get some starts in, push the pace with his peers, and be that much sharper by the time Hangtown rolls around.
Metcalfe doesn't have that option—he's not ready to race yet. But last year, for example, Josh Grant was healed up from shoulder surgery and could have possibly raced the last few SX rounds. He didn't, and he didn't have a very good outdoor season.
I also talked to veteran John Dowd this week. Dowd may be in danger of losing national number sixteen this year since the AMA has now upped the minimum "keep your number" point total from one to 25. Last year Dowd had bike problems at his lone national at Southwick, and failed to score 25 points. If that happens again this year, he loses the #16. So he may just try a few extra races, such as Millville or Unadilla (the last two years, Dowd came to 'Dilla and pretty much lapped the field in a two-stroke exhibition race). "I don't know what I'm going to do," he says. "Sometimes I think I should go out there and show them I can get the twenty five points, but sometimes I think, I've had a number for well over twenty years—maybe that's enough!"
This rule will also impact Mike Brown, the 2001 125 National Champion who still holds the coveted #3.  Last year, incidentally, Brown scored fifteen points on a 450 and eleven on a 250. That's 26!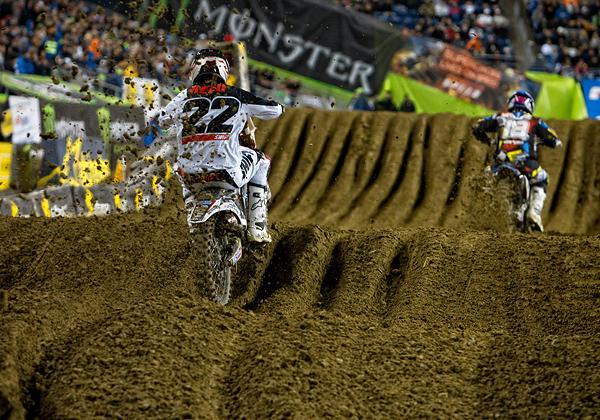 Reed will now be getting more help from American Honda with Canard on the mend.
Photo: Garth Milan
Brown rode his lone 250 race last year on the injured Tommy Searle's KTM. Funny how the replacement rider program changes careers. Back in 2009, Trey Canard broke his wrist at High Point, and it seemed like a different rider rode his GEICO CRF250 every weekend, including Alex Martin and Vicki Golden. Trey joked that it had become "the community bike," and the program culminated with Jessica Patterson winning a bunch of WMX races on it to end that year. JP$ was then so sold on the factory steed that she threatened to retire if she couldn't get another factory machine for 2010. Star Racing Yamaha stepped up, and she landed the WMX title for them.
Then last year Canard was the benefactor himself when he saddled up on Andrew Short's CRF450 in supercross and landed on the podium five times. Now that he's hurt this year, some trick bits from his bike have now ended up on Chad Reed's TwoTwo Motorsports machine, and then Kevin Windham will take the reigns when the AMA Motocross tour begins at Hangtown. Last year, Windham also rode as a guest for Team Honda when Davi Millsaps went down with an injury, and since that relationship went so well, he was the first pick this year. Can you even keep up with all of this?
By the way, I'd like to have an update from my uncle Lord Alfred again, but, uh, everyone in England was a little bit preoccupied this morning.
Time for some Ping:
Last week I received an email from the promoters of this year's Catalina Grand Prix explaining that the city had voted to decline a future event on Catalina. It was bad news for anyone that went last year because it was a great event. Then I get this email this week. Sounds like the island committee decided to cut out the middleman and do it themselves. It makes sense from a business standpoint since the event was so successful last time. And it sounds like they have big plans: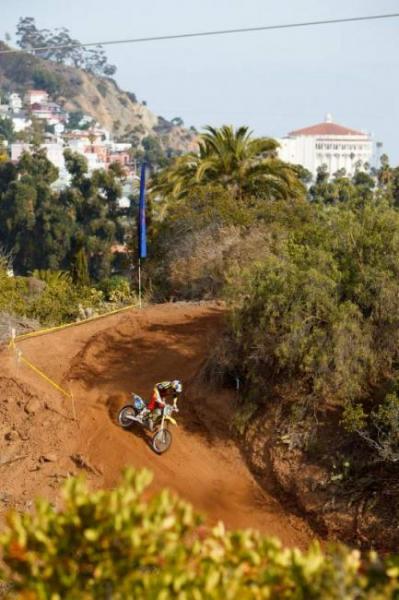 The beautiful race at Catalina will return in 2012.
Photo: Simon Cudby
Santa Catalina Island Company and the City of Avalon Announce Greatly Expanded Catalina Grand Prix for 2012: Santa Catalina Island Company (SCICo) has agreed to work with the City of Avalon to host the Catalina Grand Prix in December 2012, which will feature an expanded line-up of activities. Catalina Island is elevating the event to a new level, by extending the celebration to a week's worth of race-themed events and activities.
"SCICo felt that additional planning was needed in order to make the Grand Prix more unique to the Island and more special than if it was just an annual event on the normal race calendar," said Brad Wilson, Senior Vice President of Sales and Chief Marketing Officer for Santa Catalina Island Company. "SCICo will take an active role in securing sponsorships with the City as well as administration to enhance the overall visitor experience."
For more information, visit www.visitcatalinaisland.com.
I spotted this yesterday and thought it was really cool. I've seen Travis do just about everything on a motorcycle but for some reason it made me chuckle seeing him ride a wheelie in downtown LA with polished wingtips. This issue of GQ is on newsstands now.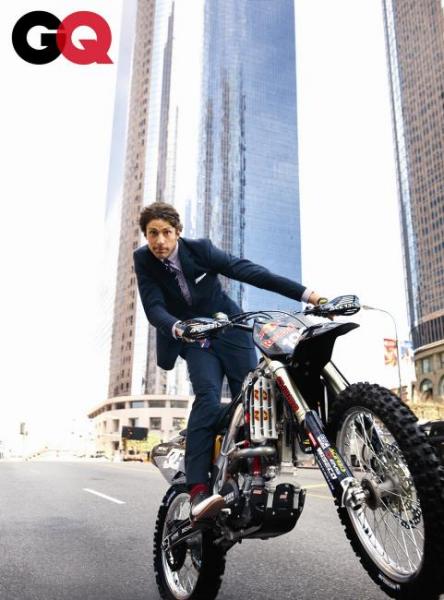 I feel like something is going to break this weekend in Salt Lake City. The titles are just too dang close and there's no way we could go to Vegas with three riders in contention for the Lites West title and four guys in it for the 450 class, is there? I hope I'm wrong. Things are going to start getting interesting over in the Pro Circuit truck where Broc Tickle now leads Josh Hansen in the points chase. According to friends of Tickle, Hanny has been trying to get in Broc's head during the break.
Those two will have to keep one eye on Eli Tomac who is inching closer to both of them in points. If Eli can get a win this weekend he will go to the final with a very real shot at the championship. There are some riders who could help/hurt the points this week. Cole Seely has yet to finish on the podium when he doesn't holeshot but he has yet to lose when he does. He could be a factor. The KTM kid Ken Roczen is back and fast enough to win. At the very least he is a podium contender and that could be good or bad news for the title favorites.
In the 450 class I could see Stewart running the table. He has nothing to lose and it puts all the pressure on Villopoto, Dungey and Reed. I could also see some emotions getting out of hand in the next two weeks. There's just too much on the line for all these guys to remain congenial. It wouldn't shock me to see Dungey go into a rant filled with F bombs and curse words if things go sideways this Saturday.
Troy Lee Designs will be debuting their new GP Air Beast gear as the weather starts getting warm. Check out this little teaser featuring the new gear.
Buckle up, folks.
For you Angry Birds Fans. Hey, wait a minute…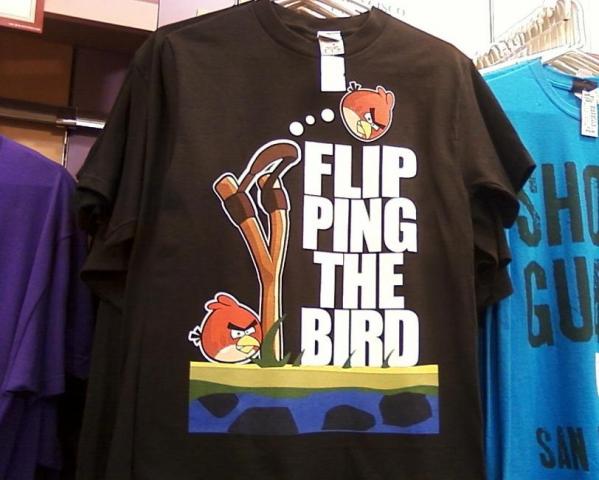 Thanks Ping. Okay, one more note:
Those of you heading to Las Vegas for the final round of the Monster Energy AMA Supercross Series should check out what is happening at Pole Position Raceway on Saturday morning, and are even invited to participate. There's a special Supercross fan and fan industry at the famed indoor go kart track which is located directly across the street from the Palms hotel/casino. The event, which begins at 9am, will feature a practice, timed qualifier, head-to-head heat race, and a main event. Cost is only $80 and includes a Pole Position Raceway t-shirt and a can of Monster Energy drink. There are 39 spots available and advanced registration is recommended. Pole Position Raceway is America's #1 chain of indoor kart tracks and those behind the brand include Jeremy McGrath, Chad Reed, Grant Langston, Greg Albertyn, Kenny Bartram and Mike Metzger, to name a few. For more information contact Joanna Craig at joannacraig@rocketmail.com or 951/443-8964.
Here are some more early photos of Salt Lake City from BrownDogWilson.
Thanks for reading Racerhead. See you at the races.