Rice-eccles Stadium
Salt Lake City

,

UT
Salt Lake City
Monster Energy AMA Supercross Championship
We are back this week to talk about the Seattle Supercross and I can do this because I was actually there this week unlike last week when I took St Louis off to stay home and yell at my TV. Things were getting tense in the supercross series, four riders are going at it tooth and nail for this title and …wait? Did you say four?
Yep, I did. That's because the Fast Five group went to the Fab Four when Honda's Trey Canard crashed while practicing for the outdoors and fractured his femur. Real bummer for Trey but sounds like he'll be up and about in a lot less time than what was first reported. At the bottom of this column, I have a little interview with Canard to find out some details on his injury.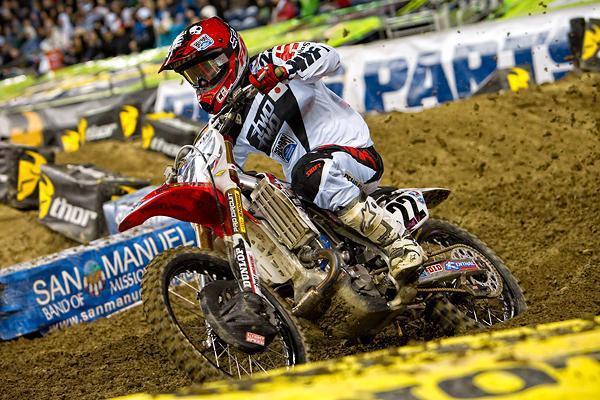 Will the veteran find a way to claim his third SX title?
Photo; Garth Milan
So either Ryan Villopoto, Chad Reed, Ryan Dungey or James Stewart are going to be named the 2011 Supercross champion in three weeks and this season is turning out to be a great one indeed. Each guy has had nights where they looked like the man and also had nights where they were humbled. It's a scary thing to look back and count the points that you just give away over the course of 17 races.
First allow me to pontificate about he great city of Seattle, Washington. If you're a regular reader of my stuff you know that I've waxed on about the Pacific Northwest before. Washougal might be my favorite national of the year but not because of the track. I used to live in Victoria, British Columbia and I love coming to Seattle. Just something about the area, the trees, the water, the laidback-ness of the people- I don't know what it is exactly but I love it. Not even the rain can dampen my feelings for the city and the general area.
I might even move to Seattle/Portland one day so how's that for love?
Okay enough with that and now onto the track which was your typical Seattle. Soft and chewy for the most part even though there was new dirt brought in for this race. It was definitely harder than in years past (where it almost seemed sandy) but still rutted up nice. The Seattle track designs don't push the limits because everyone knows that everything is going to get gnarly and rutted, so not too much to talk about---the track always uses a basic layout, and that's one that's needed in my opinion. The jumps alongside the back of the field seriously were about three feet high but they were tough because of the ruts.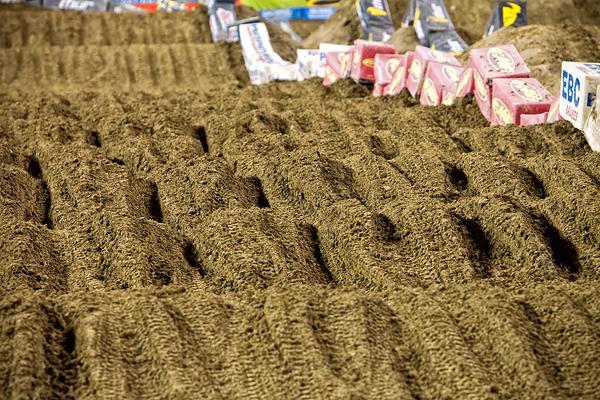 This was just the start of what was to come.
Photo: Garth Milan
In the end, the guys were fighting the track more than each other and that's what separated the best from the rest. The lap times would vary greatly and you would think that one guy was hauling ass and closing in, but nope, he was just getting a clean lap while the other riders around him made mistakes. It was a battle of attrition out there and everyone I spoke with said the track was tougher than last year.
But again, because of the ruts, not the obstacles or the lay-out.
Anyways, that sound you hear is the locomotive number seven charging full-steam ahead down the tracks with all the momentum behind it. Not even Superman standing on the tracks with his shoulder leaning in is going to stop it.  James Stewart won his second race in a row in another dominating fashion and let's face it, at this point being fourth in the standings, nine points back of the lead, with two races to go, his strategy is easy. Just win baby. Stewart took the lead early on and checked out, I think he had about a ten second at one point, and went on to get his fifth win of the series and tied Ryan Villopoto for most in the series.
On a track that was sketchy, I saw no sketchy moments in the main event and James went on to get the win. He wasn't as emotional as last week in Seattle but he's got to get this title somehow, someway or his season is definitely considered a failure. That's the bar he's set for himself at this point and you know what? He might just win this thing. Let's take a look at some of the stats right now with two to go:
Ryan Villopoto 293 points- (10 podiums in 15 races including 5 wins)
Chad Reed 287 points- (9 podiums in 15 races including 1 win)
Ryan Dungey 286 points- (11 podiums in 15 races including 1 win)
James Stewart 284 points- (9 podiums in 15 races including 5 wins)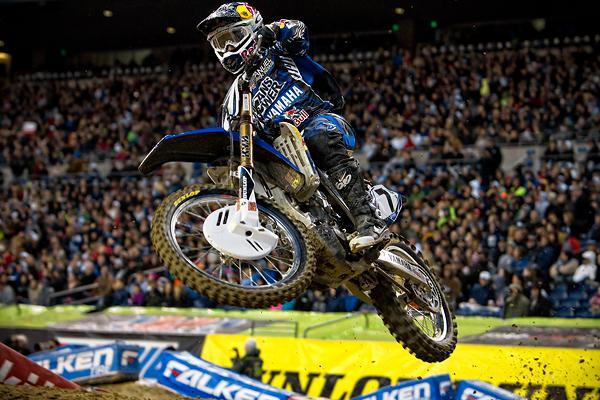 Can anyone stop the Stewart train?
Photo: Garth Milan
So Dungey's been the most consistent, RV and Stewie have won the most and statistically speaking, Reed's had the worst season among the four riders (least amount of wins and tied for lowest amount of podiums.).
They've all given away points at one point or another but here's what I wrote about after the Atlanta Supercross in this very column:
What I didn't think was very smart (and James reads this column so I may never speak to him again after this paragraph) was Stewie weaving back and forth on the track and looking back for Reed in order to take him out for the pass. Yes, I'm sure he was super/mega pissed but you can't let your emotions get the better of you, RV was gone and James needed to concentrate on salvaging enough points but he was out for revenge. It cost him two positions in the end which was four points. Remember those four points when it comes down to the end, people!
Stewart's emotion that night in Atlanta trying to keep Reed behind him and not even caring about Dungey passing him and then failing to keep Reed behind him anyway might just be the thing at the end that hurts him. Got to keep it all together at all times in this sport because you just never know…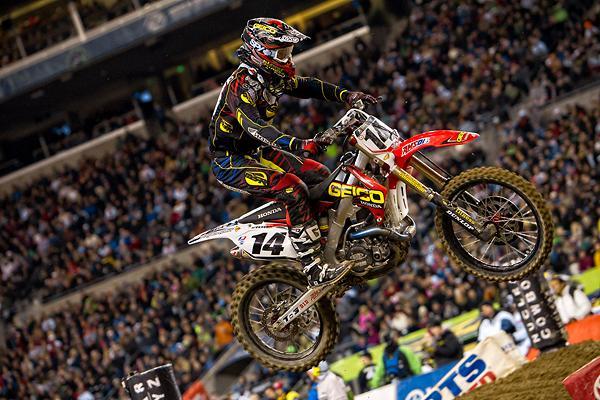 Windham captured his first podium of the year in Seattle.
Photo: Garth Milan
Seeing Kevin Windham do well is good for the sport, it's good for its fans, it's good for the promoters (who promote him as the family guy, give him extra time to practice for his opening ceremonies intro, get him in the opening ceremonies even when he was outside the top ten in points) and this week KW stepped up and (I can't believe I'm even writing this) got his first podium of the year in a great ride. He won Seattle last year and in the ruts and slop, Windham can ride a motorcycle with the best of them. As he told me in the Monday Conversation, he can hit the same spots on the track every lap and his team manager told me in a podcast, the hanging it out thing isn't Kevin's game. This week was not so much hanging it out but making sure you were calm and easy on the throttle. That's Kevin Windham's riding style (and personality now that I think about it) in a nutshell- calm and easy!
Chad Reed didn't look very good in the heat race so it's commendable that he stepped up in the main once he got a good start and rode much, much better. I was waiting to see if the Stewart/Reed rivalry was going to get nasty in the main when Chad was in front but nope, Stewart was on this weekend and things stayed clean.
As I've written before, Reed's a gamer and when it comes time to make something happen, figure something out, get faster quickly- he usually does and brings it. That's what made it odd last weekend to not see him jump that triple/triple section because he usually just does stuff like that. Anyways, he would've had second if not for a late race crash that was actually pretty nasty.
I wondered what, if anything, Reed changed between his heat and main and he texted back (Hi Andy!) "Start and attitude".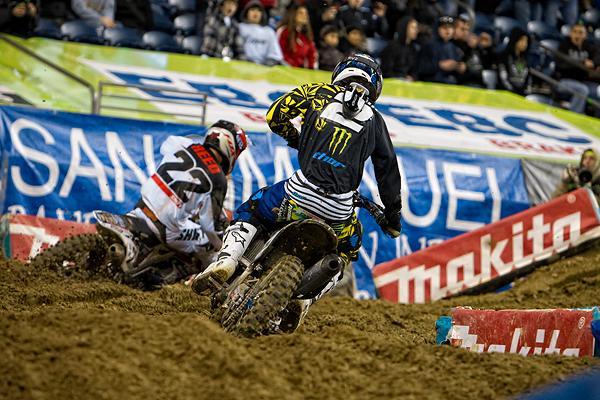 Let us not forget that RV is still the points leader.
Photo: Garth Milan
Ryan Villopoto has won this race before and he was in front of his hometown fans but a bad start doomed him on the night. He worked his way up to fourth, went for third when Reed fell down but he himself went down and had to settle for fourth. His mojo from the earlier rounds where he could come from the back and pass Reed, Dungey and even Stewart is gone. RV might be suffering a bit in his confidence because his starts haven't been there for a while and to me, the first thing needed to get a good start is "Eff everyone else, I am the effing man tonight" (or "Darn it, I really want to win tonight and I'm pretty good" if you're Trey Canard or Andrew Short).
In my opinion, and this might make me captain obvious, I still think that RV is the favorite to get this thing. He actually increased his lead from last week by one point and he just has to keep on keeping on. Las Vegas has been good to him before and let's face it, Sin City is where this thing is going down. Salt Lake City is just a prelude.
So what about this one-week break in the series for the Easter holiday? Well I'm pretty sure if you polled the riders in the title chase, they would just rather wrap this thing up (Reed actually did tell me that a couple weeks ago) but this week off is good for pretty much everyone else. Many of the other riders will be outdoor testing and then relaxing on the weekend off. If I was in the hunt I would definitely tell my team manager that I want nothing to do with any motocross riding and I would be out jumping triples and quads for the next little while.
Allow me to toot my own horn here (toot, toot) and talk about how, in Racerhead last Friday, I wrote this:
- So with that in mind, anyone else feel that if there was any momentum to be had by a rider, Cole Seely might just have it? Seely raced the 450 for a few rounds and took to it pretty well if you ask me. So Cole's been racing, been into it, and maybe that gives him a little advantage going into this weekend? I guess we'll see.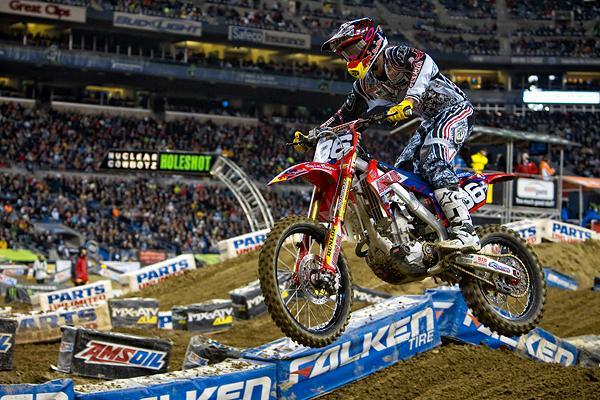 Seely steamrolled the field en route to his second career victory.
Photo: Garth Milan

Well look at this, Seely dominated the 250 main event to win his second career race and even though he's out of it as far as the championship is concerned, the way he's come on this year definitely makes him one of the favorites next year.
Eli Tomac had all the momentum when this series took a break in what seems like six months ago.  In Seattle, he kept rolling somewhat with a second. The points are tightening up on the west coast as well. Tomac's in third right now but to me, he's the guy with nothing to lose because A) he's in his first year of many in the class B) He's a rookie and no one really thought he would win the title and C) His dad John Tomac can beat me up.
The new points leader is Broc Tickle right now and Broc had a good ride going before getting pumped up and getting caught by Tomac around mid-way. I like the fact that Broc told Weege last week that he's not going to let his recently broken and plated collarbone injury be an excuse at all but you have to think that Tickle pumping up probably had something to do with lack of riding in the last little while.
The guy that did have the points lead was Tickle's teammate Josh Hansen before maybe crashing himself out of this thing. Normally a smooth, in control rider, Josh has been hitting the ground more and more recently. The results of the crashes have been a jacked-up hand and a concussion.  This weekend Hanny went down in both practices and wasn't himself in the main event as he faded back to sixth. But it was weird that he won the heat in a great ride. He really needs to get back up there and make something happen, the week off will help him heal up for sure.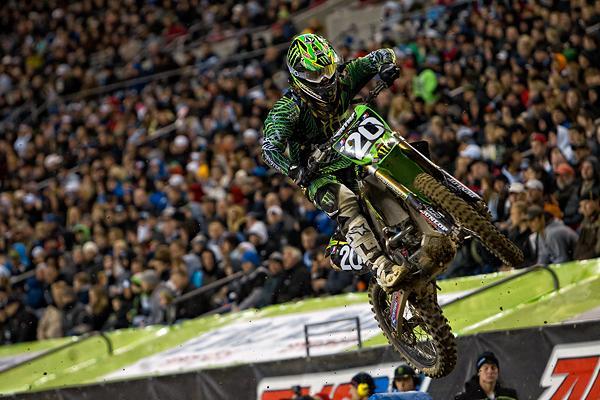 Tickle is new points leader after Seattle.
Photo: Garth Milan
Let's take a look at the results shall we?
AMA Supercross Lites Class West:
1. Cole Seely Hon
2. Eli Tomac Hon
3. Broc Tickle Kaw
4. Kyle Cunningham Yam- Cunningham was fast all day and had a great heat race but stop me if you have heard this before, he crashed in the main event. Still, a 4th is a good ride for him.
5. Tyla Rattray Kaw- At this point Rattray is just looking forward to the outdoors where he should be one of the favorites.
6. Josh Hansen Kaw
7. Ryan Morais Suz- Mo battled Hansen late in the race and even got by him before Hanny got him back.
8. Martin Davalos Suz
9. Travis Baker Hon
10. Gared Steinke Kaw- Yeah, good ride for the Steinke-ster!
11. Ben Evans Kaw- I just think Evans needs to move up permanently to the 450's.
12. Topher Ingalls Hon
13. Nick Paluzzi Yam- As first reported by RXI's David Pingree, Paluzzi is indeed going to the Rockstar Suzuki team for the nationals which kind of chaps DV's butt a bit as he thought they had an agreement for Nick to ride the Motoconcepts 450.
14. Tommy Weeck Hon- Tommy boy had a better night than his 14th indicates.
15. Preston Mull Kaw
16. Travis Bright Hon
17. Donald Vawser Kaw- Doogie Vawser M.D- Loved that show.
18. Parker Eckman Hon
19. Brad Nauditt Hon
20. Tevin Tapia KTM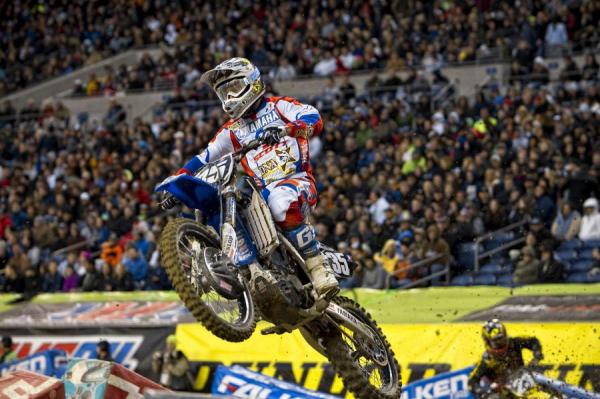 Cunningham was fast in Seattle, then crashed, then was fast again.
Photo: Garth Milan
AMA Supercross Class:
1. James Stewart Yam
2. Kevin Windham Hon
3. Chad Reed Hon
4. Ryan Villopoto Kaw
5. Ryan Dungey Suz
6. Mike Alessi KTM- Mike had his best race in a long time as he charged hard and looked confident. He even caught and passed KW at one point! Must have been the ruts…
7. Kyle Regal Yam- Another "outdoor" guy had his best ride of the season and I don't think it's a coincidence.
8. Davi Millsaps Yam- Good ride for Millsaps to come from down in the first turn to an 8th.
9. Tommy Hahn Yam- I don't think Hahn and the Yamaha are gelling right now and he's looking forward to the outdoors.
10. Andrew Short KTM- Shorty was down in the first turn for a long time before getting going with no clutch. He eventually worked his way up to ninth before stalling it and dropping back one spot. It was a better ride than the 10th indicates.
11. Michael Byrne Suz- This was Byrne's best finish of the year so far. Makes up for the long flight from Tampa to Seattle.
12. Nick Wey Yam- Wey's shifter was bent in so he sort of rode around out there.
13. Fabien Izoird Kaw- Izoird's fill-in time at Kawasaki is over and he did a pretty good job for the guys filling in for the injured Jake Weimer. He's also a pretty good guy as you can get from listening to this podcast we did right HERE.
14. Ivan Tedesco Kaw- Tedesco pulled the holeshot for the second straight week and as we all know, he's hurt and riding out the string right now.
15. Jason Thomas Suz- Yeah JT! I don't know what else to say…
16. Vince Friese Yam
17. Tyler Bowers Kaw- When arenacross stars attack!
18. Cole Siebler Kaw- When arenacross stars attack part II!
19. Chris Blose Kaw
20. Austin Stroupe Yam- Stroupe crashed in the first turn and had to be helped off but I saw him walking out at the end of the night so he's somewhat ok. We'll find out soon on Twitter!
Remember when I said at the top that I spoke to Trey Canard recently? Well here's a little mini-interview for you jerkys:
Me: Trey, sorry to hear about your injury. What happened?
Trey Canard: It's a bummer for sure, one of those things that we'll get past and it's just a speed bump in the road. The main thing is that I have to come back and try to build up my momentum again. I was out at Competitive Edge in Southern California testing for motocross and there was a really big step-down jump out there. You just fly up to it, scrub a bit and sail down it, it's like a two or three story drop.
I just went too fast up to it, I came off the top and scrubbed it but I over jumped it by two or three feet and landed in a braking bump. The way I landed was weird, it was with my front wheel turned and the pressure of it just blew the wheel apart. The whole right side spokes blew out. The wheel bent and just pitched me over the bars and then my knee brace was pushed down. When I landed the end of my knee brace was at the top of my knee cap and it put pressure on my femur and cracked it again. It was a weird deal, it's no one's fault- not the equipment, not mine. It's one of those things. It wasn't a bad break, thankfully I had my rod in there still to make it stronger. The doctors I talked to said that if that wasn't in there, I would have needed one after this crash. It hurts a lot, but it's a small break and it should heal pretty easily.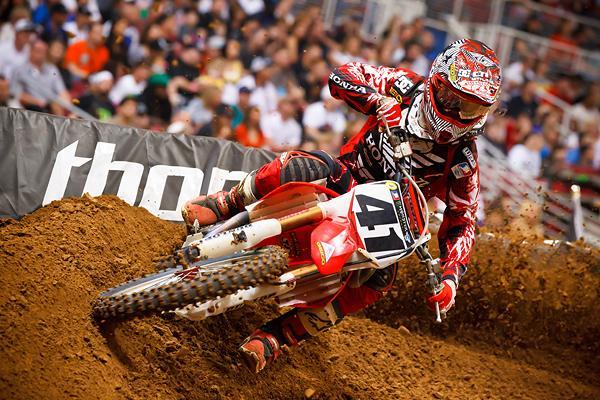 Tough break for rookie sensation Trey Canard.
Photo: Simon Cudby
Any other injuries from the crash, it sounds pretty bad.
I was sore everywhere, my head was banged up but I'm all clear from that. I was sore but that was it. The main thing was that I was so bummed from the crash.
So six weeks or so before you're back?
That's what they say, six to eight weeks so we'll see. Being a motocrosser, you're going to try to get back in a shorter amount of time. So I'll miss the first two rounds of nationals and try to get back by the third or fourth one. The first thing I need to do is to get ready and build up the momentum again. I'll want to come back strong and ready.
How are you doing mentally with this?
I'm okay, I think I'm better with this or as good as any other of my injuries. I think I've had a really good year with my finishes and the wins and you know, I wasn't in a great spot for the championship but with all the crazy stuff that's been going on this year, who knows what would have happened? I have to have a positive attitude about this and come back ready.
Did you watch the race on the weekend?
I did man, it was definitely the low of the weekend. (Laughs) I was yelling at the TV during the heat race that (Kevin) Windham won. My mom and Jimmy Albertson were here and looking at me weird. I was going nuts, I was so pumped for KW.
It was a good race, the track looked gnarly and those guys were moving.
So what are your thoughts now on this championship without you in it?
I think that the Stewart looks good, he's got confidence right now and I think the momentum has now shifted to him. Obviously, Villopoto has the lead and I don't really want to root for anyone, I want to be the guy to do it, - I don't know how it's going to go. I would be happy for any of those guys to win it. I think that Villopoto winning it would be cool, this year has been good for him and I've been excited to see his success. I've been happy to see it and it seems like he's a different guy. But honestly, I'd be happy to see any of the guys win it- they've all won races and they have all put in the hard work as well.
Thanks for the interview, Trey.
Bob Hannah was in the house in Seattle! The Hurricane was there hanging out helping out his buddy Eddie Cole from Matrix Concepts and I got to thank him for doing that Racer X Podcast a while back. He was pretty cool and just wanted to talk to me about Rollerball.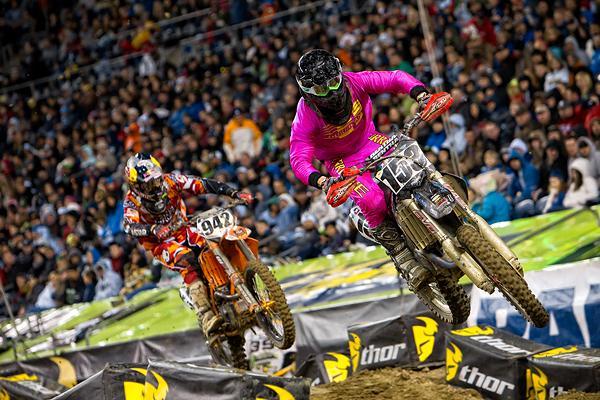 It was hard to miss Greg Crater in Seattle.
Photo: Garth Milan
Maybe this is old news but I didn't realize that GEICO Honda had already chosen Wil Hahn's fill-in Jimmy DeCotis to fill in for Blake Wharton outdoors when Wharton goes under the knife. Blake's going to miss the entire outdoor season and I say good for little Jimmy that he got a permanent ride there. But bad for Jimmy as he crashed in practice and knocked his elbow out of joint. Team manager Mike "Manimal" Larocco said that Decotis's injury wasn't that bad.
Local rider Greg Crater had many of us old-timers tearing up in the press box as he ran Team Hurricane gear from the mid-80's movie Winners Take All. Like, it was pretty much the same stuff and I have no idea where he found the hot pink pants and jersey but God bless him, he found it somewhere. He didn't make the main event but he was definitely number one in my heart. I don't do the best-dressed award anymore but if I did, Greg Crater, you won it in a runaway!
Thanks for reading, email me at matthes@racerxonline.com and we can chat about this race and other stuff.