Qwest Field
Seattle

,

WA
Seattle
Monster Energy AMA Supercross Championship
Only his most die-hard fans would have predicted a championship this year for GEICO Honda's Kevin Windham but even his detractors (anyone?) would have been surprised that, through round 14 of the Monster Energy AMA Supercross Series, the veteran Windham had not even made the podium. That changed in Seattle where Windham, by far the most popular rider in the series, was fast all day. On a track he won at last year, he rode a great race to get second. Afterwards, surrounded by fans in the parking lot, I caught up to Kevin to get his take on the night.
Racer X: Yeah KW, great ride tonight. Can you tell us about it?
Kevin Windham: It was good, it kind of feels like a win! (Laughs) Haven't gotten a podium all year and did it here tonight. The GEICO Honda team has been great all year long. I DNF'd three out of the first seven races and I crashed out of Houston while I was leading. I've had more bumps and bruises than I wanted all jammed into one year. Glad to get the monkey off my back and we had a chance to win tonight. I had a great ride and I'm happy with it, kept it on two wheels and found the podium.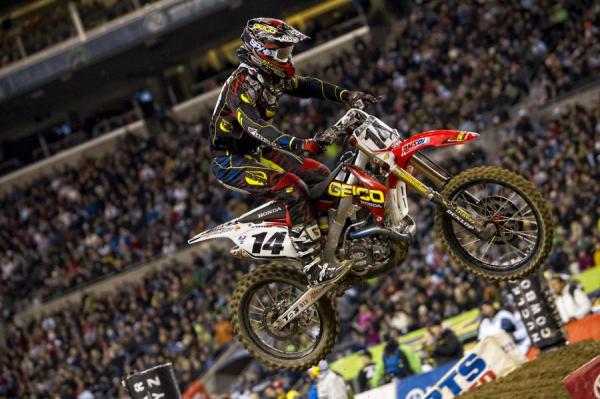 Windham is always a fan favorite no matter the city.
Photo: Garth Milan
You won here last year, you were fast in practice and won a heat so obviously Seattle is good for you. Why is that do you think?
I think that potentially, to toot my own horn a bit, if you put me up against a bunch of riders I feel like I could hit the same line lap after lap and hold my own out there. And I think this track was one of those ones that, we were fast and all, but it was one of those ones where you had to be consistent out there. Unfortunately the seven was a little faster and a little more consistent than us! But we'll take it, it's enough because up 'till now we haven't even had a shot to win a race except for Houston and that didn't go so well.
You've been around a long time…
A long time!
Yep, and you've won a lot of races and had a lot of podiums so I'm wondering if your tough year phases you at all? Where does this season rank on the frustration scale?
It's pretty bad, it's certainly not as dark as some of the others. I don't want to go back to those days of my life. To be honest with you, I feel those fans. Everyone feels those fans and everyone would. I can walk away from this sport in 2012 and I didn't leave anything out there. Everyone wants to talk about the championships that I haven't won but along the way, I've done some real cool things. I can hang it up now but the fans won't allow me to think that way.
Obviously everyone is talking about outdoors because of the way injuries are going over there on the factory Honda team and riding a couple of those. I don't know if that's going to work because I rode some nationals at the end of 2010, I went to Australia to race and now this. To be honest, I'm already thinking about what I can do better in 2012. We run our bike soft here and I'm thinking that if we stiffen it up it can help with some of the scrubs.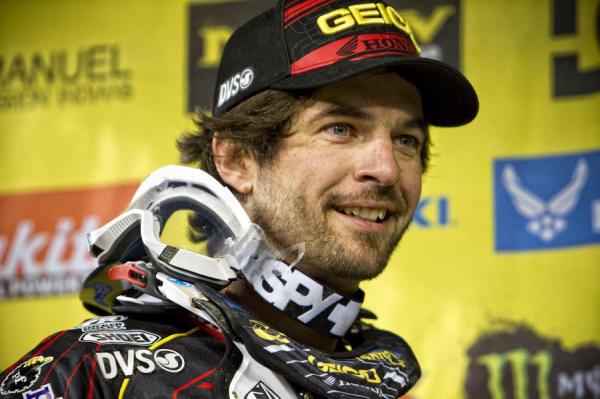 Windham scored his first podium of the year in Seattle.
Photo: Garth Milan
Well, you run your bike soft everywhere.
Exactly and I'm thinking we need to get away from that and work on that. Everyone else is a lot stiffer than me and I seem to go a lot higher in the air than those other guys. I want to get it better because once you taste victory in this sport- not breaking the top five sucks. But the fans have just been incredible. It's unbelievable, it's like where can it go from here? I cherish those guys more than anyone knows.