Natalie Secures Points Lead at Budds Creek
Mechanicsville, Md. - It wouldn't be springtime in Maryland without a good old-fashioned mud race. Mother Nature made a bold statement this weekend at the Motoworks Budds Creek National, round four of the AMA ATV Motocross Championship Series Presented by DWT. East Coast native John Natalie prevailed through the muddy conditions as he swept both motos and took over the points lead from Motoworks Can-Am teammate Chad Wienen.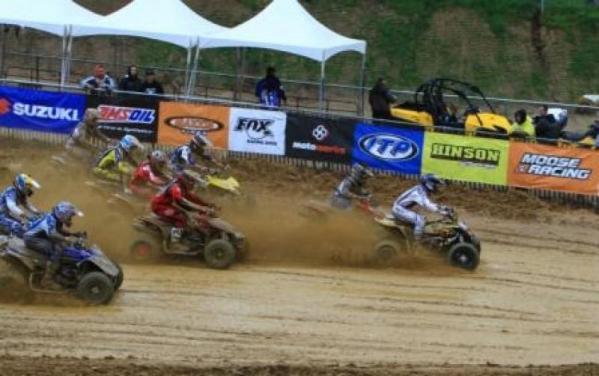 Natalie dominated the day at Budds Creek 
Photo By: Dave Smith - Raceday Pix

"I usually do pretty well in the mud. Being from Pennsylvania it's basically all we're used to riding in so I was really happy with it today," said Natalie.
Chad Wienen took the $100 ATVRiders.com Fastest Qualifier Award with an impressive 1:47.193. Natalie grabbed the $125 SSi Decals Holeshot Award in both motos, banking a total of $250 for his impressive starts. Good holeshots weren't the only thing Natalie was winning, though. The Can-Am rider used his starts as leverage to separate from the pack early on, which is especially important in muddy conditions.
"I got really great starts all day and once you get a holeshot it's a lot easier to deal with the mud because you get to throw it all over everyone else instead of them throwing it all over you," Natalie joked.
Wienen found out the hard way that the fastest lap times don't always claim the lead, especially when mud, wind and rain is involved. The previous points leader got hung up in the first turn, leaving him to work his way up from last place.
Ballance Racing's Thomas Brown got off to a great start aboard his Yamaha and settled in behind Baldwin Motorsports JB Racing PEP Honda's Josh Upperman early on. Upperman put a charge on Natalie for the lead but ran out of passing opportunities as he battled with lapped traffic late in the race.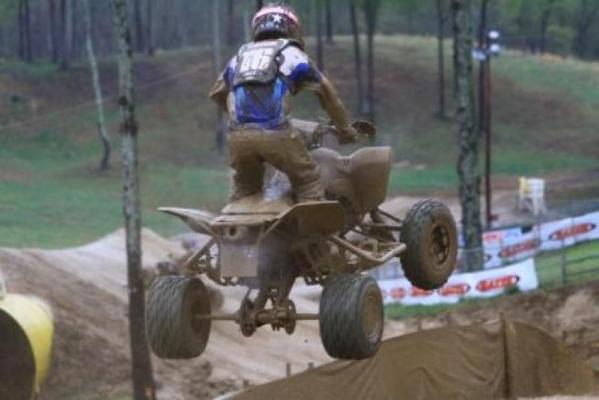 Jeremy Lawson finished a season-best 2nd overall.
Photo By: Dave Smith - Raceday Pix

After struggling with bike problems all season long, Brown finally put his Ballance Racing Yamaha with a well-deserving podium position in moto one. Walsh Race Craft Fox Shox Maxxis FMF's Jeremy Lawson put his Suzuki up front right away in moto one and after throwing off his goggles midway through the moto, finished with a fourth place behind Brown.
"My starts were actually pretty good today about fourth or fifth, which is really good for me. It's important to get up there right away because I know I can work from there; I only have to make up a couple spots to get on the podium," Lawson said.
The track crew was hard at work to keep the track in the best shape possible as the rain poured down throughout the day. Prior to the start of moto two, the crew took the time to scrape some of the excess mud off the track in order to provide better race lines and all-around track conditions. In fact, they did such a great job on the track that the riders' lap times actually dropped by nearly seven seconds from moto one.
Natalie went to work right away in moto two grabbing the SSi Decals Holeshot Award once again. Harold Goodman and Nick DeNoble latched on to Natalie's pace on the first lap but after a couple laps Natalie opened up a gap and capitalized on the clear track ahead. DeNoble wasted no time getting around Goodman for the second spot and Honda rider Travis Moore slipped into the third spot before beginning his battle with fellow rookie Chase Snapp. After finishing tenth in moto one, Snapp redeemed himself with a solid top five performance in moto two, giving him seventh overall for the day. Moore finished with a career-best sixth overall, coming in as the top finishing rookie of the day.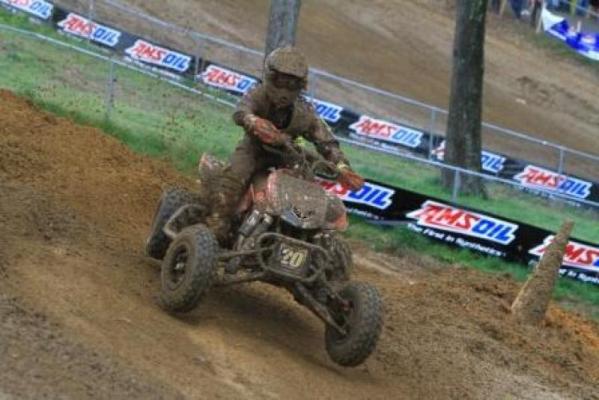 Josh Upperman had a rough 2nd moto but managed 4th overall.
Photo By: Dave Smith - Raceday Pix

Nick DeNoble had a season-best ride in moto two, finishing an impressive second in the stacked field. DeNoble got off to a great holeshot and rode the wheels off his Janssen Motorsports Honda to secure his place on the podium for the first time this season.
"I was actually praying for the rain this weekend because I'm usually a pretty good mud rider," DeNoble joked. "I was pretty nervous at first, but I just settled down and rode my race. I'm really happy with the third place overall, hopefully you'll see me more consistently on the podium from now on," he added.
Florida native Jeremy Lawson grabbed the podium position he was looking for in moto two after working his way up from mid-pack. Lawson finally made his move around Travis Moore on lap nine, giving him the final podium position and securing a season-best second place finish. Lawson now sits only seven points behind Josh Upperman in points.
"It's going to be a tight battle between Josh and I this year but I feel like our team is going to prevail and move into that third spot. We're just taking it one step at a time; our goal is definitely to be in the top three at the end," Lawson said.
Natalie now tops the point standings by seventeen points over teammate Chad Wienen. Josh Upperman sits in third with Jeremy Lawson only seven points back and Joe Byrd rounds out the top five.
The AMA ATV Motocross Championship Series heads to Sunset Ridge in Walnut, Illinois on May 7 and 8, with Pro class racing starting at 1 p.m. Saturday, supported by 37 amateur classes throughout Saturday and Sunday. For more information, please visit www.atvmotocross.com.
AMA Pro ATV Results
1. John Natalie (CAN)
2. Jeremy Lawson (SUZ)
3. Nick DeNoble (HON)
4. Josh Upperman (HON)
5. Thomas Brown (YAM)
6. Travis Moore (HON)
7. Chase Snapp (CAN)
8. Harold Goodman (HON)
9. Chad Wienen (CAN)
10. Derek Swartfager (HON)
AMA ATV Motocross Championship Pro Point Standings
1. John Natalie (188) 2. Chad Wienen (171) 3. Josh Upperman (151) 4. Jeremy Lawson (144) 5. Joe Byrd (110) 6. Chase Snapp (108) 7. Nick DeNoble (108) 8. Travis Moore (97) 9. Harold Goodman (86) 10. Thomas Brown (82)
About the AMA ATV Motocross Championship
The AMA ATV Motocross Championship is the nation's premier amateur and professional ATV motocross series, hosted at top motocross facilities nationwide. The 11-round series features the Nation's best racers, teams and sponsors, and is America's largest and longest-running ATV national motocross program. Since 1985, the series continues to expand and produce top talent from the amateur ranks, while premiering the professional class. For more information, please visit www.atvmotocross.com.