Seattle, WA
Seattle
Monster Energy AMA Supercross Championship
Thank you for reading Observations, the best column that I write about the races here on Racer X! Please remember to buy stuff from
BTOSports.com
to save some serious coin.
Ok with that out of the way, I just want to say that I did not go to St Louis for round fourteen oF the AMA Monster Energy Supercross Series, an FIM World Championship. I stayed at home this weekend in Las Vegas, visited with my mom who was down from the winterlands (otherwise known as Canada), hung out with my wife and watched my dogs (Buddy, Hank, Fred and Annie) eat and sleep.

The Edward Jones Dome in St. Louis.
Photo: Andrew Fredrickson
I'm not going to lie, it was a bit bizarre and I definitely felt a little helpless but then I started to think about how little use I actually am at the races. Once I hand my X Brand Goggles off to the riders, my purpose is over. I am there to watch the races, bug the crap out of the racers and teams and generally just cause trouble. Like, if I wasn't there- the gate still drops and everything.
So I was stuck on Saturday doing what most of you people do, which is follow Twitter and watch the Live Timing screen which may or may not freeze up at any point. I don't know what was more fun, watching this screen and wondering if it did indeed lock up or wondering exactly what year the head shot of the rider was taken in?
How depressing.
Anyways, with that in mind I thought I would sit down and actually watch the 450 race on CBS on Sunday morning to figure out what happened on Saturday night. The series hasn't been this great in a number of years and even though I knew the results, watching Ralph Sheheen, Jeff Emig and Erin Bates break it all down for me on CBS was still going to be great.
So now I present to you, a running diary of my Sunday watching the 450 telecast!
(Again, I was not at the race and yet I'm talking about it. For more on if this is proper, please see Dandunes vs Steve Cox from the Pulpmx Show. Actually, never mind. Save yourself the time.)
1:01.39 (Note: This number is the time left on the show. That's how my DVR works)- Wow! They don't fool around here and go right into the first heat race which is pretty cool. I believe in TV terms, it's called "capture the audience" so if you're some washing machine salesman and you're flipping through the channels at the top of an hour on a Sunday, you will (hopefully) be grabbed by these flying daredevils on motorcycles. If you don't have much knowledge of the sport, you're going to wonder why the guy from Bubba's World is racing motorcycles and where is the stocky Frenchman that makes you laugh?

Stewart had to have a win in St. Louis to keep his title hopes alive.
Photo: Simon Cudby
1:00:41- This heat has James Stewart, Ryan Villopoto and Chad Reed in it so of course Ivan Tedesco grabs the holeshot followed by Tommy Hahn and Kevin Windham. This makes perfect sense if you've been following the series so far. Expected the unexpected!
The first turn is exactly like the one in Toronto where we see a switchback after the first turn and where we saw Mike Alessi and Austin Stroupe just go straight and make a right hand turn onto the next lane. The odds of this happening again are very high.
1:00.01- Two laps in, Tedesco is still leading and that's cool to see. Ivan's had a rough year and I'm sure manager Kenny Watson is proud of his little jar of hot sauce (provided it wasn't too muddy and Kenny chose to go stand in the managers tower). The screen cuts to a picture-in-picture shot of Ivan and then an ad for a new quadruple cheese burger at Burger King- oh wait, that's my own picture-in-picture. Better turn that off. CBS is actually showing Reed and Stewart fighting it out for seventh early on.
59:33- Oh now, as they are showing the 22 and the 7 battle it out, Reed comes around the turn and runs into buddy and fellow countryman Michael Byrne. Stewart sneaks by and now privateer hero/outside linebacker for the St. Louis Rams Weston Peick is on Reed. I can confidently say that the two Aussies did not plan for this to happen.
57:15- RV and Stewart have a nice little battle going and they both get by Windham who was in second. Actually Windham seems to just let them both by once they get up next to him and if I'm KW, that's a smart move. He's not on their pace this year, is the series most popular rider, has 8 million in the bank and is 33 years old. I'd do it too. I also think that leader Ivan Tedesco is going to have his hands full here right away but I'm no Gary Bailey.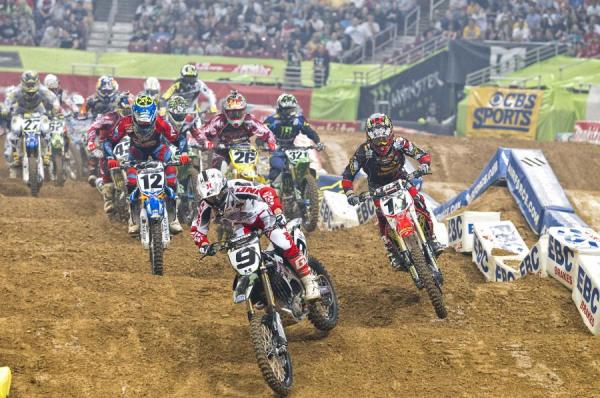 Tedesco was able to get out front early in heat 1.
Photo: Garth Milan
56:28- And Stewie gets by Villopoto with a nice move to triple over a tabletop and land on the inside of the Kawasaki rider. Smooth move, no doubt. He's into second and I'm no Kreskin (or Gary Bailey) but methinks that Tedesco is going to be stuck watching Bubba's World as it rapidly disappears in front of him real soon.
56:05- And predictably Stewart gets by the very next section but unpredictably, Tedesco gets him right back! Yeah Hot Sauce…good to see but soon after, Stewart gets back by in the whoops. Man, Stewie's suspension is so stiff, it's ridiculous. I'm gonna go and push down on it the next time I see mechanic Oscar alone with the bike. Then I will be prepared to be gang tackled by the team.
54:35- Stewart wins the heat! Which isn't that big of a shocker as he's won eleven out of fourteen this year. We know he's fast, we know he can win heat races- it's the main we want to see. Tedesco completely muffs a rhythm section and RV gets by him but still a nice ride to get third.
53:22- Commercial time! I love the Toyota one with JGR Racing. That Coy Gibbs seems like such a natural in front of the camera, someone please nominate him for an Oscar. Love, love, love the fact (as Jason Weigandt pointed out one time) that JGRMX's star rider Justin Brayton is so overlooked that he doesn't get any lines in his own team's commercial and in fact is cut out of some shots!
50:41- James tells Erin Bates that he needs a win. In other news, I need diet and exercise.
50:04- Here's something right up my alley, the MMI Tech Tip of the week starring JGRMX's Jeremy Albrecht. J-Bone talks about how they had a rear brake problem on their bikes and they made a prototype piece to stop the problem from happening again but the problem is, the lighting is so bad, I have no idea what he is showing me. Oh well, Albrecht then mentions that it's time for some "filthy white trash hookers and fat-ass Jack and cokes". I might have made that last part up.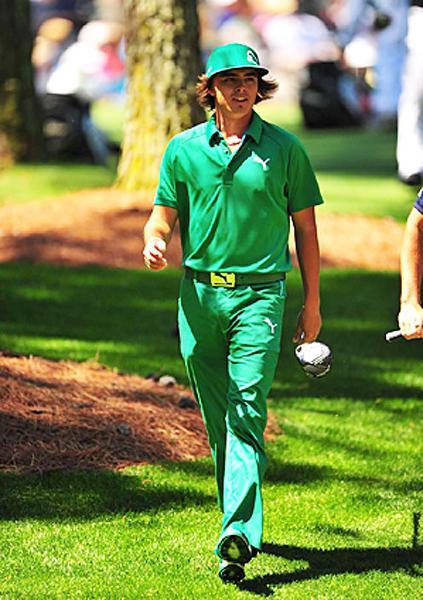 This guy is into motocross, trust us.
48:26- Emig tells us about a couple of sections on the track followed up by Bates showing us a rut. Now myself, as a hard-core moto guy, I learned absolutely nothing from what they said or showed but I suppose that the washing machine salesman would have so I'll let it go. This is a mantra that I repeat to myself plenty of times tonight. Then Ralph throws it to a Masters Golf Tournament promo and says that Jim Nantz, the famed CBS announcer is his "colleague" which is like saying James Stewart and I are both "motorcycle racers".
47:33- A cool feature of PGA Golfer Ricky Fowler being a fan of supercross which is sweet. He seems like a nice guy and made a bit of news this week when he showed up in the press tent with his hat on backwards (insert GASP here) and was told to put it forward because that's how it's done at the Masters. What a rebel…
44:57- Coming back from commercial to some pit shots of Missourians enjoying the pit party at the dome. I agree, always a good time there in the pits. Especially if the fans actually got to go inside the factory Kawasaki truck and get told how crappy of a mechanic they used to be. Good times indeed!
43:19- Just highlights of the other 450 heat and looks like Valli Yamaha's Austin Stroupe ran up in second behind Ryan Dungey before crashing out in a turn. I imagine Stroupe's tweets running through his head would be "Go Yes Fun Yum Yum Crash Sad Unicorns".
42:57- The Dunge takes heat two as Trey Canard comes through the pack to get second, Davi Millsaps ends up third and Stroupe gets fourth.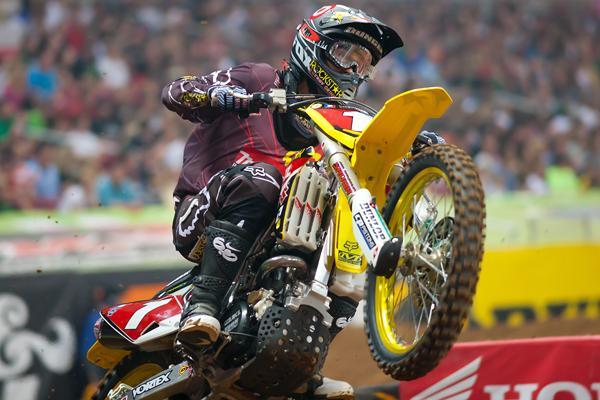 The Dunge would take the win in heat 2.
Photo: Andrew Fredrickson
42:29- Dungey's on the podium, I haven't watched it yet and Erin Bates asks him about his bike changes he made. I'm predicting that he blows through the answer to the question and moves right to the thanking of the team, everyone is working hard and looking forward to the main.
42:12- Yes! Except for the part where he calls the heat the main and missing out on the "everyone is working hard" part, I nail it. I like Ryan, I think he's a good dude but I'm in the media business to help my readers learn things about the sport and he doesn't give up much. Hence my frustration.
38:51- Coming back from commercial and the camera pans the crowd. Pretty much everyone shown flips the devil horn with the thumb folded in and the two outside fingers raised up. Doesn't matter who it is, young kid in Monster T-Shirt, hot MILF in Fox shirt or 40 year old dude in a polo with a hat on that has the brim folded over so much they are almost touching each other- they all throw the devil horns. Very bizarre because when a camera comes on me, I just sit there and look into it waiting for someone to tell me to do something. My very first instinct is definitely NOT "Hey, I should throw the devil horns right now…"
37:20- A little feature on Windham right now explaining how his wife Dottie calls him "Tommy the talker" because he always talks to fans. I can attest to KW and how he is one of the best interviews in the pits, no doubt about it. Then the producers obviously try to stage a moment where KW is talking with his manfriend Dano and as Kevin's talking, Dano walks away.  We all know has to be staged because there is no way that Dano would EVER walk away from Windham as he's talking.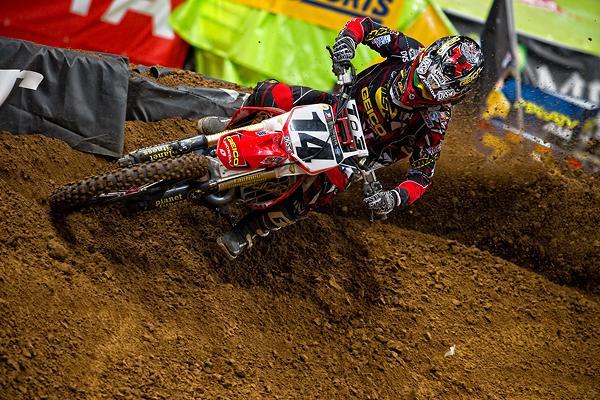 K-Dub is still one of the more polarizing figures in the sport.
Photo: Garth Milan
37:10- I've been around long enough that I remember
Mike LaRocco
getting all the love because he was the old guy and everyone cheered for him even though Mike liked to talk to people about the same as he liked getting a root canal. Then after The Rock retired it was now
Tim Ferry
's turn and he would get the grizzled old guys in his poster line saying that it's awesome he's beating the kids and now the torch has been passed to KW. They show a clip of Kevin leading Houston and then him spraying champagne but we all know those two aren't tied together. Maybe the washing machine salesman thinks that Kevin won Houston but we all know that he suffered a horrible crash there while checking out in the lead.
32:31-Coming out of commercial, they just replayed all these gnarly crashes from the season which pretty much caused me to really rethink my love for this sport. Man, these guys go out there and make it all look so easy but just the slightest miscalculation and it's pound ground time. As far as whether the producers should show this stuff, well I've gotten some emails about it from fans worried about it but to me, it's part of the "show" and you have to show the good and the bad. Do some people tune in just to see some crashes? Probably, but let's hope they're doing it with a Monster shirt on while a Toyota is parked in the driveway.
30:57- Still on that subject, the gang talks about RV's bad luck at St Louis with the big crash last year and, I didn't even realize this, Trey Canard and him coming together on the 250's and Ryan ending up with a face full of aluminum finish line structure. I don't think Ryan's going to take his family to go see the arch anytime soon.
30:42- Five second board goes sideways and man, the emotion, pressure and nerves that the top five have to be feeling at this point is crazy. Sure we'd all like the money, fame, chicks and free stuff that these guys all get but the pressure is part of the stuff that we don't see and I'm not everyone could deal with that well. No wonder why, according to Jeff Emig, Damon Bradshaw walked away from a $600,000 a year deal in the middle of his Yamaha contract. No money was worth the pressure that he was feeling week in and week out.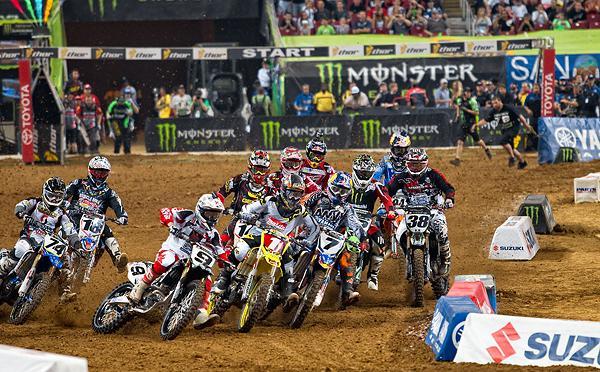 Tedesco would grab the holeshot in the main as well.
Photo: Garth Milan
30:30- But no pressure for me as I sit on my couch here and try to be witty! Anyways, Tedesco pulls off his second holeshot of the evening in the way more important main event. I like Ivan and he's riding right now with a torn ACL and not practicing at all during the week so even though he has a zero chance of winning this thing, good for him and his team for this little moment of glory.
29:19- Tedesco is still leading and for a bit. He had Dungey on his fender but Stewart gets around the defending champion and strangely enough, Dungey does the exact opposite of what Tedesco did in the heat. By that I mean, he doesn't put up much of a fight at all and doesn't square up the turns and try to get JS back. Weird deal methinks.
29:17- Stewart jumps into the lead in a real nice move but one that could've been disaster if Tedesco had been two feet more to the left. James uses his sweet triple over the table and land on the inside to get past the number 9 Kawasaki. And because I followed this race last night, I know that it's curtains for everyone else at this point. Stewart's winless streak stops here.
26:49- First shot of Canard as he gets inside the top ten and what a bummer for the 41 as he really needed to keep his hot streak going to have any hope at this title. He didn't get the start and that was it. Remember when Villopoto came from outside the top ten in LA to win the race? Yeah, well that's not going to happen anymore.
24:46- The first shot of what I've been waiting to see and it's on lap 8. There's a three double section that Stewie made into two triples because, well, he's crazy balls. So from what I gathered in reading the race reports and talking to riders the next day it was gnarly and James did it immediately to open up a bit of a gap on Dungey. The next lap around, Dungey did it, then RV did it but this was on the third and fourth laps, not on lap eight! I love this kind of psychological mindgames that go on with these guys and I can't believe Fro or Ralph haven't said anything yet. I just saw RV gain about 49 seconds on Chad!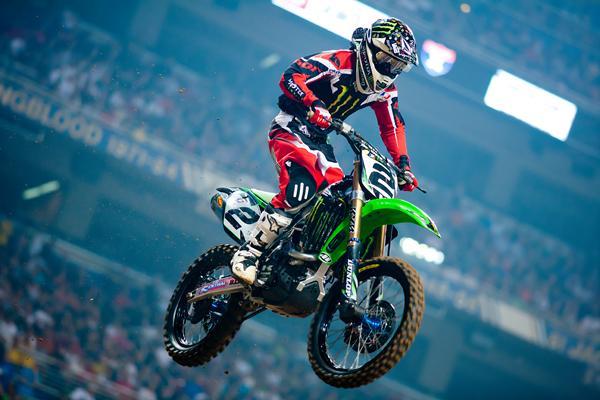 RV rode to a very quiet third in St. Louis.
Photo: Andrew Fredrickson
24:11- Yes! Fro picks up on it and says that he believes Ryan has a new line but what he (or the spotter) has failed to notice is that at this point, James has done it for five laps and Dungey for four. Anyways, RV does it to zoom by Reed but he does have a bit of help as Reed doubles right into a Tuff block! The 22 immediately becomes stuck like a Woolly Mammoth in the tar pits.
23:35- A replay shows it again but generally speaking, the track crew does a good job of getting the blocks out of the way. And to Reed's credit, he didn't blame the block for his dropping a spot because as he said, he wasn't jumping the triple/triple thing and RV was going to get him there anyways.
19:55- Back from commercial and someone really needs to sit Ralph down and explain this whole privateer/factory thing that he's been on for a few weeks. This week shows Canard on Windham and Ralph talks about how the factory guy (Canard) has caught up to the privateer guy (Windham). Look, the whole who is a privateer thing and who isn't is a giant mish-mash of silly putty and jube-jubes to but one thing I know for sure is there is no one who would ever call Kevin Windham a privateer. Ralphs a good guy and is smart, someone needs to get to him about this asap.
19:24- While I was going on about that, WOW- did Canard ever make a sweet pass on Windham. If you listen closely you can hear the groans of all the old men in the crowd as they head for the exits in time to catch the end of Matlock.
17:59- Yep, Stewie's suspension is still really, really stiff. Man, it just pops him up when he cases something. He rides front end low already and I suppose that it has to be stiff so that he doesn't eat poo when he's off by a few inches here and there.
15:06- The top three have separated themselves a bit but now Canard has caught Reed for fourth. The battle is on and there probably isn't any truth that the winner gets some works Honda parts from the losers bike.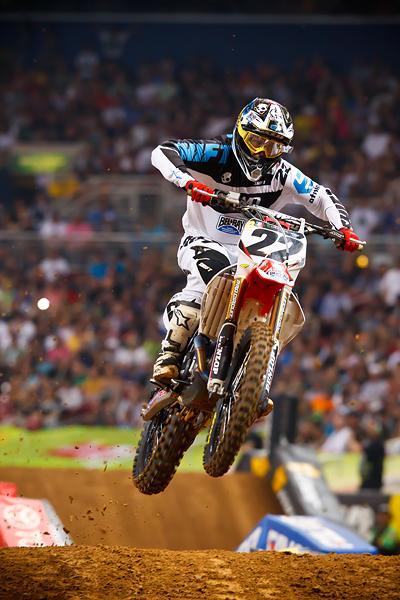 A fourth in St. Louis was not what Reed was looking for.
Photo: Simon Cudby
13:35- The guys are talking about the Brett Michaels Rock Hard Award that is voted on by the fans and gives the winner 10G's. It's for the rider that has overcome the most adversity on and off the track. I myself would probably give this award to a guy like Weston Peick who is as privateer as they come nowadays and doing well in main events. Or maybe someone like Ivan Tedesco who has hit the ground about 892 times in 14 races and currently riding with no ACL. Or Jason Thomas whose season was basically ruined by his crash in Houston and he's out there trying to make something happen.
But nope, it will go to one of the popular riders who will turn around and promptly spend that ten grand on gas for their speedboat. It's like the Snap-On toolbox that was awarded to the top mechanic in SX, which is almost always the champion's mechanic. The rich get richer. Kids, there's a lesson in there for you somewhere and it's this: be really, really good (or rich) in life and things get handed to you.
12:17- And Stewart wins it! Great ride by the seven and good to see him in the mix. Somehow, incredibly and despite all the nuttiness going on around him on and off the track, he's now 16 points down. Cue the Jaws music…
11:56- Just as I was knocking the show earlier for not showing us the triple/triple sooner and talking about that, I have to give kudos for going back after the checkers to show us Canard's battle with Reed which was very exciting until Canard almost bought the farm big-time. Wisely, Trey settled for fifth on the night and then had Max from Fly clean his pants out afterwards.
8:56- Back from commercial and interview with James on the podium. He shows some real emotion and I can imagine the pressure he's been under the last two months. He's been expected to run away with this thing and it hasn't worked out that way. Great drama if you're running the TV show!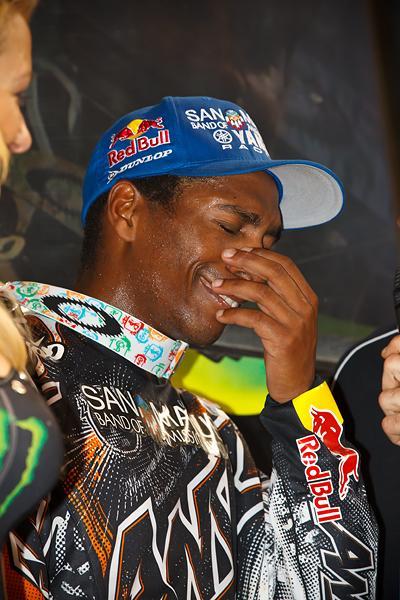 An emotional win for Stewart in St. Louis.
Photo: Simon Cudby
Next up is Dungey and when asked if he has to approach the remaining three rounds any differently he says that he just has to keep plugging away. That sound you're hearing could be me trying to plug Krazy glue into my ears so I don't have to hear this stuff anymore.
Villopoto is next and with a five point lead he seems calm. Erin asks him a question if his troubles in St Louis affected him and he shuts that down with a "Not at all, it was a racing mistake…" and he says he rode a solid race. Then he thanks Geoff Fox at Parts Unlimited which I notice he does a bit even though Geoff doesn't have much to do with the company anymore. Loyalty runs deep with RV.
And that's a wrap folks! Good times indeed and I enjoyed trying to bring this to you. Remember all you folks out there that complain about the television coverage, the CBS shows are for the washing machine salesman and the SPEED shows are more for "us". And then remember when the only race you would see all year was the Carlsbad USGP.
Thanks and email me at steve@pulpmx.com if you want to chat about stuff.