Edward Jones Dome
St. Louis

,

MO
St. Louis
Monster Energy AMA Supercross Championship
By: Monster Energy
Monster Energy Kawasaki's Ryan Villopoto came out with a bang in the 2011 Monster Energy/AMA Supercross Championship, and he has been at the front controlling the series nearly all year. But recently, he had a string of bad luck that saw him lose his 26-point lead in the title chase and actually come into Dallas second in points. But at the end of the day in Texas, he was back in the points lead and looked to have turned his luck around with a second-place finish.
Ryan, so you've had a tough run obviously, up to this event, but this has to feel better...
Ryan Villopoto: Nah, I mean it's good. I got a decent start, and I was able to sneak around the inside. I had a little bit of a bike problem the very first lap and just had to keep my mind off that. I just had to focus on what was going on in front of me and let everything fall into place, and it did.
Was the problem something that lasted the whole race?
Yeah, it lasted the whole race.
You can't say what it was?
I'd rather not...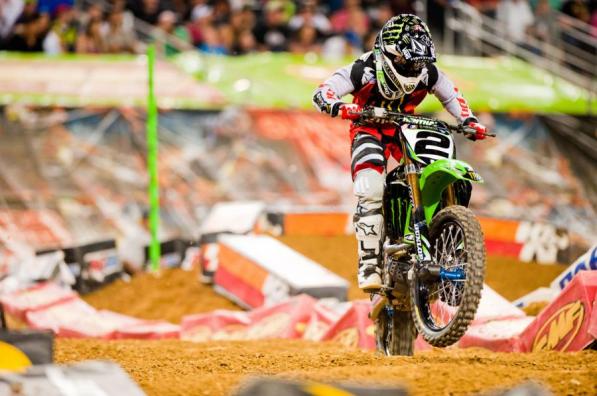 Photo: Monster Energy
To have such a big points lead like that and then to all of a sudden not be in the points lead only a couple of races later. What does that do mentally to you? How do you deal with that?
Well, I know where I sit, and it's just a bummer. Mentally, it's not great for that to happen, but I know where I stand and what I can do.
So you didn't falter in your confidence or anything like that?
No... I know that I can win races. I've won five of them so far, which is still more than anybody else and I know that with these races left it's going to take being consistent and trying to stay out of harm's way...
When you say "harm's way" are you thinking of anything in particular?
Lappers. Tonight's track was tough – the whoops were. The one set before the finish wasn't too bad, but over on the far side where Stew [James Stewart] and Chad [Reed] got together were sketchy.
People were going down there all night long...
Yeah, they were just so slippery. I asked them why they didn't kind of try to fix them and they said they were so big that the loader wouldn't go through them, either. They would just kind of bottom out. Once they built them they couldn't do anything with them.
When you got to that section every lap, knowing how tough they were, was your thought just to get through them?
Yeah, just hit them. There was nothing else you could do.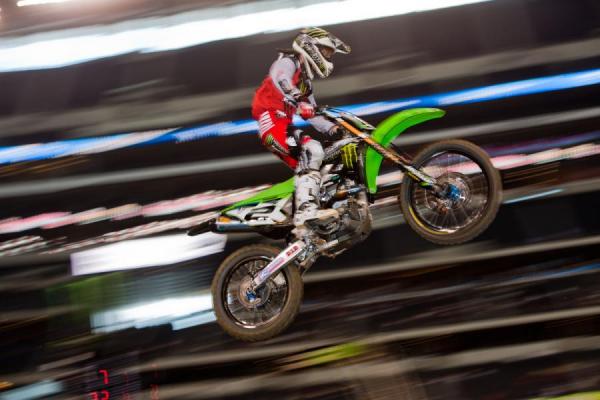 Photo: Monster Energy
So did you feel like it was almost like rolling the dice? Like, I'm just going to hit them and see what happens?
Sometimes, yeah... At least luckily we were able to go to the left there and you kind of knew what you were going to get. The right, though, was sketchy.
But you had to deal with lappers in the line on the left...
Actually, [Kyle] Regal... That guy endoed in front of me. It seems like every time, for some reason, that guy will line up next to me on the start line every time and we will hit off the start. It's almost like I think he does it on purpose.
Like you're magnetic?
I don't know what it is, but every time we start next to each other... I'll obviously pick first, but somehow he'll always get an open gate next to me and we'll hit every time.
You're back in the points lead now and I know everybody keeps saying there's a lot of racing left, but we're at four races left now. It's not that much racing anymore.
Yeah, it's getting close. We'll just keep doing what we're doing so far. I mean, once it's the week before Vegas... I don't know; we just need to keep doing what we're doing and ride smart.
You said before the season that your leg was still kind of sore when you ride...
Yeah, just walking back to the pits now, the plates on the front are always a little bit sore; even now.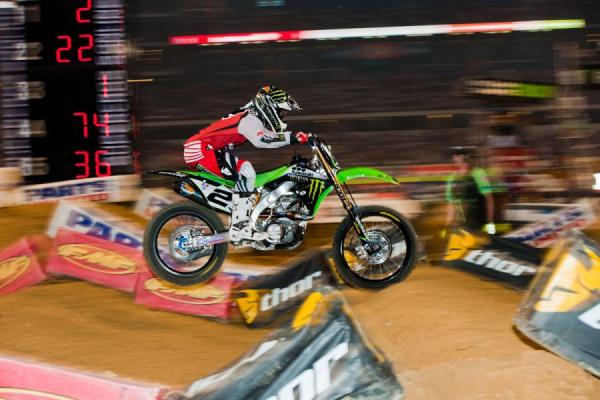 Photo: Monster Energy
Knowing how tough that injury was to overcome, and how much work you put in with your trainer Aldon Baker, if you thought you would be in the points lead by any amount with four races left, would you have been happy with that?
Aldon said that, too. "What if I would have said before the season that we were six rounds to go and you would have been seven points up?" He might have even said it when I was three points down, and I said, "Well, yeah, that would have been good thinking back then." But I knew what I had already, so it flip-flops. It's one of those things you take for granted I guess, but we'll see.
How has Aldon been through all of this stuff, when you start struggling and things like that?
Good! I mean, he was with Ricky [Carmichael] for so long and he's seen this stuff play out year after year, so it's good to have someone who has seen it before.