St. Louis, MO
St. Louis
Monster Energy AMA Supercross Championship
They say everything is bigger in Texas, and when you pull up to the new Cowboys Stadium in Arlington, Texas, you begin to understand what they're talking about. The stadium just comes out of the ground like some sort of spaceship from the gods. Once you get inside, everything is set up very nicely, including the massive HDTV hanging from the ceiling. As good as the venue is, the racing in the 2011 Monster Energy Supercross Series is even better, and that—not the dome—is what I was most looking forward to this weekend.
Here's where we're at in this nutball season:
-The defending champion who won six races last year and then absolutely decimated the outdoors can't get on track this year and has only one win, yet sits just outside the points lead.
-The guy who strung together three straight wins to take a one-race-plus lead in the points loses that lead when he doesn't qualify for a main event. He's still got the most wins in the class, so there's that.
-One rider who couldn't find a ride with anyone, was on his fourth brand in four years, and was written off by just about everyone gets a win and uses consistency to all of a sudden be in the points lead.
-Most people's favorite to win the title wins three races but crashes out a bunch, has some off-track troubles, and for the first time ever looks very mortal out on the track. He's also fifth (!) in the points.
-A rookie comes out and is very fast at times, crashes a few times, but wins two races and hangs around the points before appearing to get some sort of that valuable momentum going.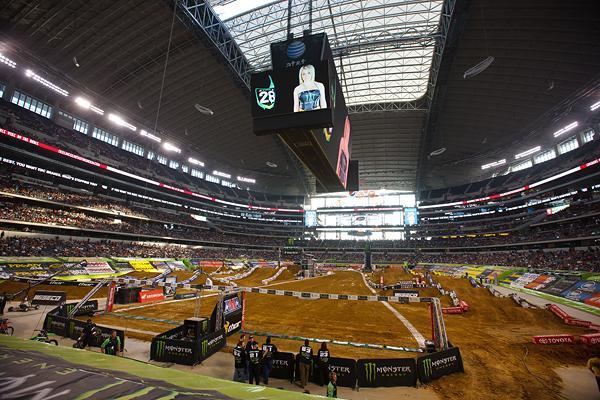 The house that Jerry built.
Photo: Simon Cudby
There are so many subplots to the year (a trainer jumping sides, a team manager fired midseason, an OEM stepping up for a privateer, an ex-champion who could never win a supercross helping a rookie win two) that even Hollywood couldn't make this stuff up. It's been a great year, it should keep going in the outdoors with the addition of Christophe Pourcel! (More on that later.)
As we always do, let's get to the track: this week in Dallas it was gnarly. The dirt was hard and slick, and what made it gnarly were the whoops. They were nasty and big and caused many riders many problems (more on that later) and to top it all off, there were two sets! The one rhythm lane was also pretty tricky and riders made mistakes in it, which cost them some time if the dude behind them did it properly. I saw more crashes than usual this weekend, and most riders did struggle with the whoops. Oh, and I loved the sand in the first turn—but then again, I was in the press box and not getting a face full of Lommel each and every lap.
Trey Canard won in Jacksonville with a great ride, and too bad for Trey but he was overlooked a bit because of all the chaos behind him and with the points leader not qualifying. Well, it was déjà vu this weekend as once again, Canard sped off with the lead and there was a massive poop storm going on behind him that caused most people to not watch the disappearing #41 but the stuff going on behind him.
I'm sure Trey's fine with that—the checks cash, his name is in the books as the winner of the 2011 Dallas SX, and more importantly, he's pulled in close in the points. Everyone's favorite Okie has gone from being 52 points down to 16 back with four rounds to go. Yeah, the odds are long that Canard will pass three guys in the points, but with 1-3-1 scores the last three weeks he's now as hot as any rider out there. All he needs to do is keep on keepin' on.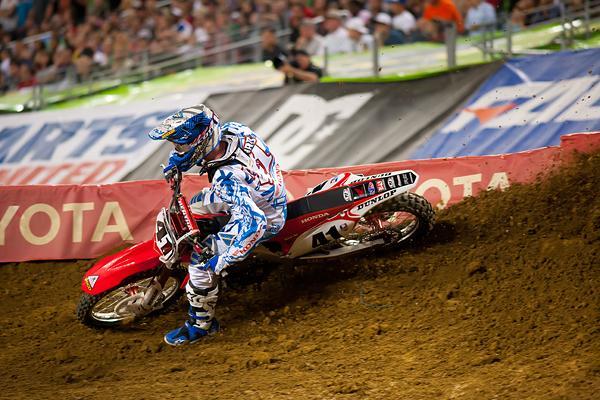 Canard's win in Dallas gives him three on the year.
Photo: Andrew Fredrickson
It's amazing really that Canard, with three SX wins, an East Region 250 title, and an outdoor national title, is now by far the best rider to ever come out of Oklahoma, surpassing his childhood hero Guy Cooper. It was probably real close until Canard won these 450 Sxes this year, which in my eyes puts him above Coops as Guy somehow never managed to win a premier-class SX.
The whoops got Canard also as he took a nice header in practice and appeared to knock the wind out of himself, so don't think he escaped unscathed on the night.
Trey's life coach Tim Ferry was there to watch his pupil win in Dallas and he was there in Jacksonville two weeks ago. But he wasn't in Toronto and Canard lost. I'm just saying.
The big battle I was speaking about was going on between rivals Chad Reed and James Stewart for second behind Canard. Reed was there first, Stewart jammed his way by in a nice move, and then Reed reeled the seven back in and made the pass back. It was an awesome battle, and with everything that had gone between them, everyone inside the giant spaceship was watching these two. Then Reed screwed up the rhythm section and Stewie pulled up tight going into the big, nasty, scary whoops.
It was then that the 1,793th OMG moment in this series happened. Stewie lost control in the whoops and plowed into Reed, sending him over the berm and onto the concrete. It was not something that James planned to do by any means, but it was just an awesome racing moment. Unless your name is Chad Reed and you're getting piledriven by a Honda CRF450R. Short of James coming out wearing a giant fluffy Barney costume and winning a race in it, I'm not eliminating anything from happening this year.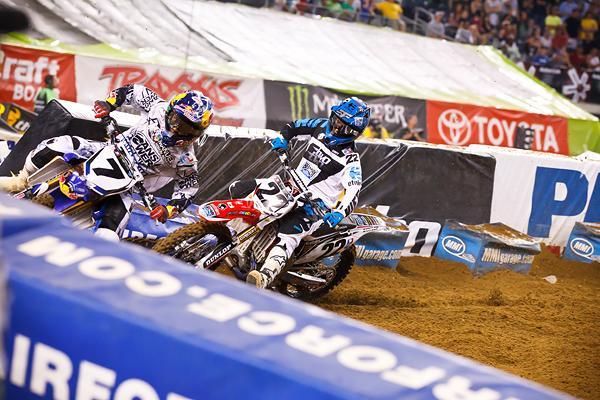 Reed and Stewart were at it again in Dallas.
Photo: Simon Cudby
James' Yamaha tweaked a radiator in the crash, Reed's Honda had the seat pull out from the tank along with a side panel caught in the chain. Both men rejoined the race with bikes that looked like they were caught up in a demo derby.
Stewie was in third when he got buck wild, and he actually ended up in fourth, so not too bad for what had happened. Reed got back up to seventh and then ate poop in the whoops thirty feet from the checkers to eventually get eighth. I have to say that, as Reed and I talked about in our post-race podcast, it's admirable that Stewart just does not know what the words "back it down" mean. Stewie had more than a few close calls in the whoops in practice, the heat, and the main but yet the seven was still attempting to go through them at Warp 9. When it worked, he was by far the fastest guy through them. When it didn't- well, we all saw the results.
I got an email that asked me why I suckle up to Reed so much and don't ever have a reaction from Stewart in my post-race podcasts. Trust me, I have tried to reach out to James to get an interview or a podcast here or there, but so far, no dice. We did speak the week before Toronto to try and get something done but then his arrest came and I haven't gotten a response back from him yet. I like James—he's a good guy and can be really funny at times—but I believe he's a little wary of people in general (maybe he got burnt in the media a lot as a kid coming up—I don't know because I was a mechanic at the time).
I was also on Reed's team for three years as a mechanic and am friends with his team manager and mechanic, so it's easier for me to just walk in and look around to find Chad. The guys at San Manuel are cool but I definitely do not know them as well as other people in the pits, and with manager Larry Brooks out of the picture, it's not as simple as me going in and asking where JS is.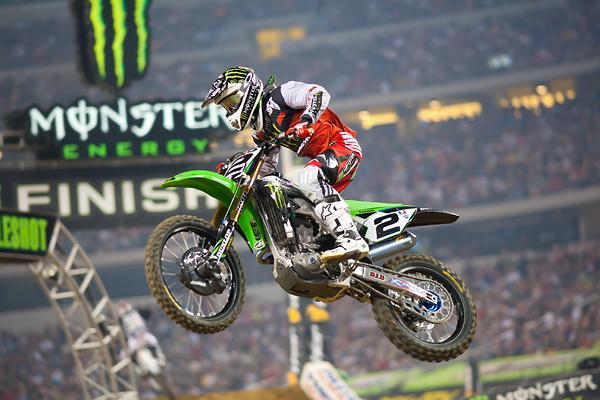 Villopoto rode to a quiet second place in Dallas.
Photo: Andrew Fredrickson
Just like some would say that Ryan Villopoto got lucky with his wins in Atlanta and Daytona (I wouldn't say the Daytona one was but some would), those same people might say that he got another one as he went from being in fifth and not really coming on to ending the night in second and reclaiming the points lead. But grasshopper, I would tell you that RV actually got unlucky in the fact that he had a bike problem happen off the start that affected him the entire race.
What happened was the front of his seat pulled away from the catch on the tank and therefore nothing was holding it down. Hence, RV was having trouble holding on tight in the whoops as well as not being able to seat bounce like he would have liked to. There was a triple after the first turn and RV was the only top dude going inside and double-singling the thing when outside-triple was clearly faster. It was hard for Ryan to do everything he wanted to do out there, and he was going to have to settle for what he had instead of charging, but his steadiness was rewarded with a second.
So here are the standings right now with four races remaining:
Ryan Villopoto 255pts. (5 wins)
Chad Reed 249pts. (1 win)
Ryan Dungey 248pts. (1 win)
Trey Canard 239pts. (3 wins)
James Stewart 234pts. (3 wins)
So as you can see, it's still tight. In fact, it's tighter than last week, which was tighter than the week before and so on.
Stewart was my pick for the title before the year began, but his chances are pretty slim right now: he's twenty-one down and has to leap four riders to do it. Sure, one of these guys may have some bad luck, but four of them? I just don't see it happening. And what a trying season for the seven. To me, RV is still in the driver's seat, but he's got to get a win here real soon to put his mark back onto this thing.
Another thing to admire about Reed is the fact that he'll up his game when he has to. He may not have Stewie or Villopoto speed, but in the main event, when he needs to, he will figure things out and up his pace to match the guy who's right in front of him. He was catching Canard (not much, but still) this weekend, he caught Dungey last weekend in Toronto, and in Jacksonville he caught Canard late in the race. Somehow, some way, Reed makes it happen out there.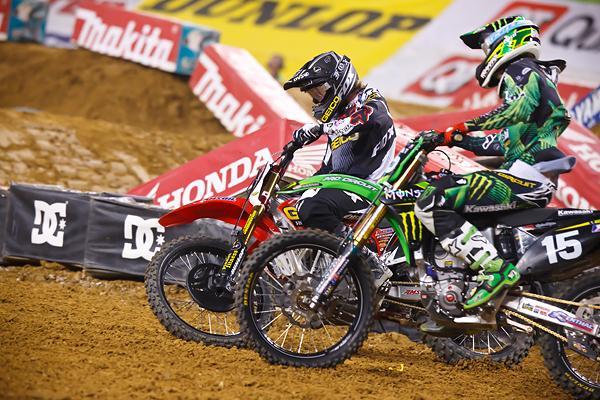 The Wilson/Barcia rivalry is starting to heat up.
Photo: Simon Cudby
This just in: Dean Wilson and Justin Barcia don't like each other. There's not a lot of love lost between the two going back a while now. I don't know what happened, if anything, in the amateur ranks or if it's just a case of Barcia rubbing someone the wrong way (which he tends to do). And these two are going at it for the East Region 250 title tooth and nail, which will be settled soon. Dean has rebounded to win the last two and pull to within 13 points with two rounds remaining (St. Louis and Las Vegas). I still think that Barcia has this in control, but watch out.
The two riders spent a ton of time banging off each other in the heat and main event this past weekend, and as I said at the first round in Houston, both of these lads worry me with their attempts at getting at each other. You can totally tell they're worried about each other and not trying to get away from each other. One of these times, someone is going down and lose major points.
Wilson won this battle in a thrilling main event, and if I was Barcia, I wouldn't even worry about Wilson and getting back at him. Imagine if you're Barcia. Okay, you ready? Okay, besides having a ton of money, probably having chicks groping you all the time, and a ride on one of the best teams in the sport, you're also riding with some broken bones in your wrist, you're holding a nice points lead, and you want to risk a crash or an injury by repeatedly trying to dive bomb the guy in first? To me, the absolute best revenge to Wilson would be to stand on that podium in Vegas with the #1 plate.
But for me, a jerky in the press box, I love seeing these two go at it each and every corner. Just not sure if GEICO team manager Mike LaRocco feels the same.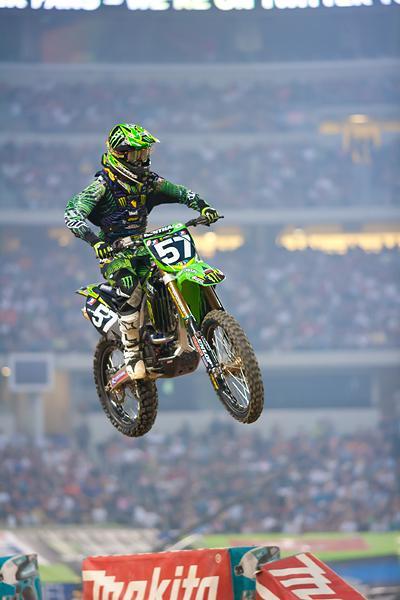 Baggett has struggled since his win in Daytona.
Photo: Andrew Fredrickson
What has gone on with Wilson's teammate Blake Baggett? Man, ever since getting the points lead at Daytona with his win, his world has imploded. The friendly kid from California can't seem to get off the gate to save his life and is crashing here and there. Baggett had another off-night with a seventh. He needs to get one of those "talks" that team owner Mitch Payton seems to like to dish out now and then.
Speaking of Payton, I dropped by his pits to see what was up with him. I love talking to Mitch—he's always a great storyteller and full of information. I asked him what was up with his old rider Christophe Pourcel and Mitch said he'll help CP out for the nationals if he has to. I got the sense that Mitch thinks Pourcel is close to signing with someone, but if it comes down to it, Payton says the right thing to do (even if it's money out of his pocket) is help the kid out because he deserves it.
When I asked if he would put Pourcel on a Kawasaki, he didn't know what he would do, but he didn't think Pourcel could fit under his truck. It would have to be a separate deal. Myself, I would bet that you wouldn't see Pourcel on a Kawasaki because of hard feelings on CP's end that Kawasaki picked Jake Weimer over him.
I had heard Pourcel to Honda on Josh Grant's bike for the nationals, but I spoke with manager Erik Kehoe and he told me Grant's on target to return for the third or fourth round of the nats. I didn't ask specifically about Pourcel, but I would doubt they would do anything if Grant is coming back.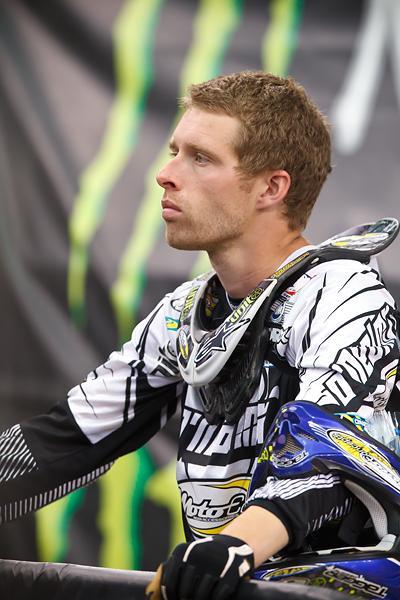 Hahn had a seasons best seventh place finish in Dallas.
Photo: Simon Cudby
Good ride for MotoConcepts Yamaha's Tommy Hahn in getting a seventh in his first race back in a while. T-Hahn has not had a good year so far with his best being an eleventh combined with a bunch of crashes and injuries. I thought that to come out at this point in the season and run inside the top ten was pretty good. Hopefully there are more good finishes ahead for one of the sport's nice guys.
Mike Alessi got the holeshot once again and appears to be back to his old form of getting the start NO MATTER WHAT. Yeah, sure, once out front the 800 went back very quickly due to his absolutely horrible form in the whoops. Mike was so bad in them that I had to ask his brother Jeff (who was right in front of me in the press box) how in the hell someone so fast could be so bad in one particular section of the track. Jeff replied that they have some whoop tracks built for them by Pops in the desert and that Mike rides them all the time to get better but it's all mental for Mike at this point. Jumping through them was not the move this weekend.
Mike is outdoor testing this week in California, and he'll make a choice between a 350 and a 450, but seeing as he's been riding the family's 450 during the week to get ready for MX, I'm betting he picks the factory 450 for this summer.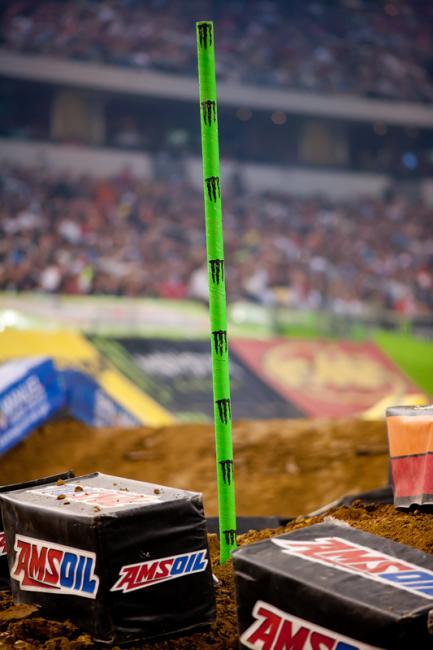 The Poles were out in Dallas and that would make Ping happy.
Photo: Andrew Fredrickson
Let's take a look at the results, shall we?

AMA Supercross Lites Class East:
1. Dean Wilson Kaw
2. Justin Barcia Hon
3. Blake Wharton Hon- Wharton made the box in a strong ride. I love what he's doing for this fourth grade class, real cool for sure and the kids were there to see him get on the box.
4. Malcolm Stewart Suz- Yeah! My Mookie fever is back on right now as Mookster got his career best finish in D-Town. I know talent when I see it and I'm telling you people, Mookie has got "it" and by "it" I don't mean the clap.
5. Matt Lemoine Kaw- Lemoine went down with two laps left while in fourth but still had a good ride on the privateer Kawasaki to get a top five.
6. Darryn Durham Hon- Didn't notice Durham all that much to be honest but I'm sure Tim Ferry did!
7. Blake Baggett Kaw
8. Gannon Audette Yam
9. Alex Martin Hon- Good ride for the diminutive one.
10. Tyler Bright Hon- Yeah! Bright had his best finish of the year to get into the top ten. I had no idea who he was but he wears X Brand goggles so I help him out this year and he seems like a cool kid. His vision is probably great also!
11. Hunter Hewitt Suz- There's tough love with your kid and then there's pops not keeping a spot open on his team. Still, Hewitt's been pretty good as a privateer.
12. Jason Anderson Suz- Anderson needed this finish. He's wobbling down the stretch here.
13. Taylor Futrell Hon
14. Lance Vincent Hon- Vincent just got picked up by KIlbarger Racing and so that means his boss finished two spots behind him.
15. Hunter Clements Hon
16. Levi Kilbarger Hon
17. Ryan Sipes Yam- Oh man, this is one that Sipes is going to look back on and wonder what happened. He moved into the lead early and I (and many others) figured he was gone. But he actually got reeled back in a bit and then in the corner after the whoops sort of just rode off the track and went down. It was definitely a dorky crash and one I'm sure Sipes doesn't even know what happened.
18. AJ Catanzaro Hon
19. Justin Sipes Kaw- NOT a good night in the Sipes family.
20. Nicholas Myers Hon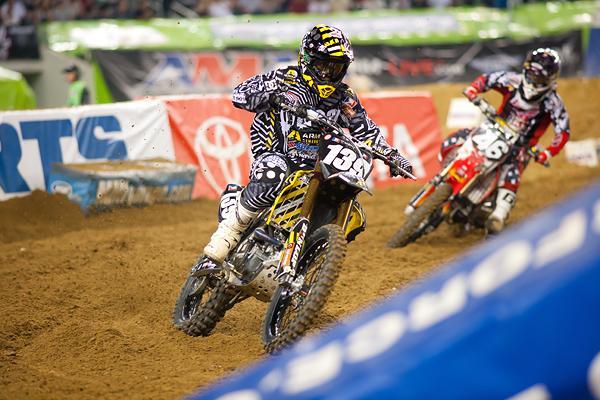 Lil Stewart rode to a solid fourth in Dallas.
Photo: Andrew Fredrickson
AMA Supercross Class:
1. Trey Canard Hon
2. Ryan Villopoto Kaw
3. Ryan Dungey Suz
4. James Stewart Yam
5. Kevin Windham Hon- Hey, great ride for KW as he had to go to the LCQ after a crash in the heat race.
6. Andrew Short KTM- I spoke to Shorty after the race and he was just happy to have gotten through it in one piece. There were guys dropping left and right. This was a hometown race for the Shorts.
7. Tommy Hahn Yam- Also a hometown race for Hahn. Who's more of a Texan? Colorado guy Short or Kansas guy Hahn? Any Texans reading this email me and give me your opinion.
8. Chad Reed Hon
9. Austin Stroupe Yam- If Stroupe was tweeting about his night in Dallas, it would go something like this "Woodchucks Beavers oil in the moonlight ninth"
10. Mike Alessi KTM
11. Weston Peick Yam- Great ride for Peick to get eleventh even though he had to "move" Chris Blose out the way causing Blose to cut the track and chase after him. It was that kind of night in Dallas.
12. Fabien Izoird Kaw- Izoird might be on until Seattle or even longer as Jake Weimer heals up. Really though, I bet it's all SX because why bring Weimer back for two races?
13. Chris Blose Kaw
14. Michael Byrne Suz- Byrner has to be frustrated, for every one step forward he takes, it's one backwards the next week. He stalled it in the main.
15. Ivan Tedesco Kaw
16. Kyle Regal Yam- Or is native Michigander Regal a real Texan?
17. Justin Brayton Yam- Brayton DNF'd with a crash in the whoops.
18. Nick Wey Yam- Wey DNF'd with a nasty endo when his bike hit neutral.
19. Cole Seely Hon- Seely DNF'd when he went down in the second turn. He's done in the 450 class now. Bummer way to go out but he still impressed in his short stay with the big boys.
20. Davi Millsaps Yam- Millsaps DNFd with Seely with an injured hand. I sense a bit of frustration from the JGR team towards Davi and his riding this year.
I feel bad for saying this (because he already wasn't a fan of mine at one point in his life but I think he's coming around), but Ivan Tedesco is really struggling right now. The #9 Kawasaki is crashing, crashing, and then sometimes he's crashing. He had a good ride in Jacksonville but he's scored single-digit points in three out of the last four races. He's riding with an ACL tear in his knee which can't be helping, and due to Wey's problems this week, he somehow moved back into the top ten in points, but I definitely (and I'm sure he did as well) thought he would do better this year.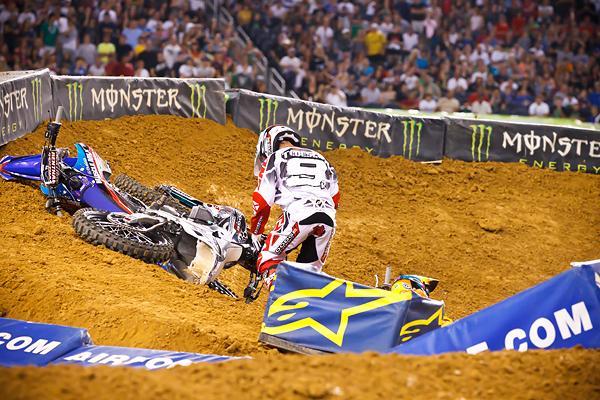 IT has struggled all year with crashes.
Photo: Simon Cudby
One thing about Tedesco is he doesn't give up, and if anything, he pushes it too much at times and hits the ground. Oh well, he's got four more races and then he's probably going to have to go under the knife this summer.
Matt Boni of the Ti-Lube Kawasaki team hit the deck hard in Dallas and broke his tib and fib through the skin. Ouch! That's too bad for the former top privateer of the year, and he'll be out awhile. The Ti-Lube guys started the year without Matt Goerke, then got him back before he wadded up and went out for the year and now Boni is out. Tough year for the guys, but they did pick up Cody Gilmore for the rest of the year to fill Goerke's spot.
Thanks for reading. Appreciate the time we spent together today, and you can email me with any thoughts you may have on this race at steve@pulpmx.com.