AT&T Stadium
Arlington

,

TX
Arlington (Dallas)
Monster Energy AMA Supercross Championship
What a night for TwoTwo Motorsports
Chad Reed
.  He looked to be in prime position to grab his seventh podium in a row and hold on to the supercross series points lead. He had caught and re-passed rival
James Stewart
and was closing in on leader
Trey Canard
ever so slightly when "it" happened.
It was Stewart losing control in the whoops and launching himself in the side of Reed. This shot the Aussie off the track and resulted in what could have been a nasty crash. Reed brushed himself off and worked his way up to seventh before another crash with thirty feet to go until the checkers cost him a position. It was a gritty eighth on the night for Reed.
Afterwards in his truck with road rash and a scratch all the way down his back from a footpeg (or perhaps a Velociraptor) he gave me thoughts on the night.
Racer X: Chad, tough night, but in way a bit lucky because your crash was bad and you could have gotten hurt.
Chad Reed: It could have been worse. The bike was tore up. I was lucky to continue and not fall down again. Pretty bummed on that last lap crash, my seat was coming up, it was broken and as we saw with James [Stewart] the whoops were pretty gnarly and it was coming up with me in the whoops. It was pretty sketchy.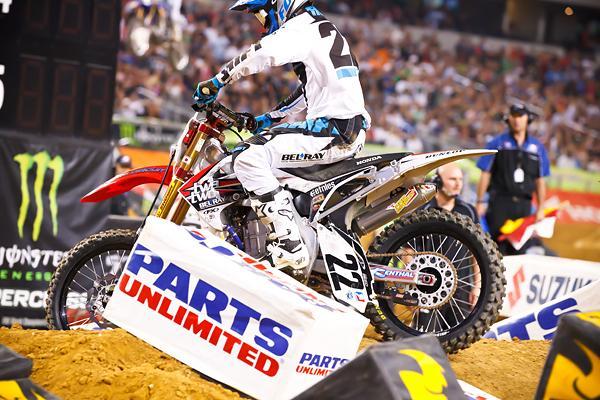 Reed would have trouble with his bike after getting together with Stewart.
Photo: Simon Cudby
Were you checking the bike out there on the track when you were stopped during the main?
Yeah, when I stopped on the track the side panel went into the wheel or chain and I thought the bike was locking up. I'm in the championship hunt and you don't want to stop, but I'm not going to hurt myself out there with a bike that is going to break.
Before the "incident" you had to have been happy with the way you were riding.
Yeah, the first few laps I was trying to find my lines and it's hard to do that when someone is pushing you on the inside. I knew it was James there and I just let him have it. Of course he took me to the widest part of the turn, but that's OK, that's racing. But it was weird, as soon as he got in front of me it seemed like he was a roadblock. I was scrubbing jumps almost onto the back of him. Canard was pulling away and [Ryan] Dungey was on me, so it was go-time!
So I was biding my time behind him when he made a big mistake in the whoops. It was pretty much the same thing as when he crashed into me. I drove it in there and made a block pass. I smoothed myself and was pulling away, chipping into Trey's lead. I made a big mistake and scrubbed too much in the rhythm section and wasn't able to triple. That allowed James to get right up on me and he was typical when he tried to make something happen in twenty feet of track. He pinned it in the whoops, lost control and he hit me. My immediate reaction was "let's do it," hit me as hard as you can. My thoughts were is he really over this championship and does he really not want me to win this thing that bad?
I think that he's lucky that I was there; if not he was going into the stands.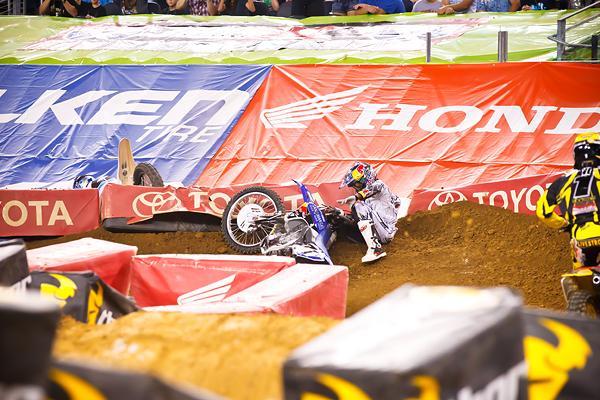 The "It."
Photo: Simon Cudby
Did you see him at all or did you have no idea what happened?
No, I had no idea. I was blindsided. You watch it on video and figure it all out. I didn't have any time to react; he pushed me over the berm and onto the concrete. At that point, you try to regroup as much as possible. When I got my bike up there was water everywhere and you see James riding away. My bike is tore up and I'm bummed that I couldn't get back on and ride aggressive and get on it. The whoops were brutal and I couldn't go through them because I had nothing to hold on to because of my seat. My arms were tightening up because I had to hold on with them. Just disappointing, but at the end of the day we're six points down and a while ago we were twenty-nine down, so it's good.
You seem surprisingly calm about this…
I've let it go. I've vented and we'll move on to next week and these things happen although they seem to happen with him quite a bit. We all make mistakes.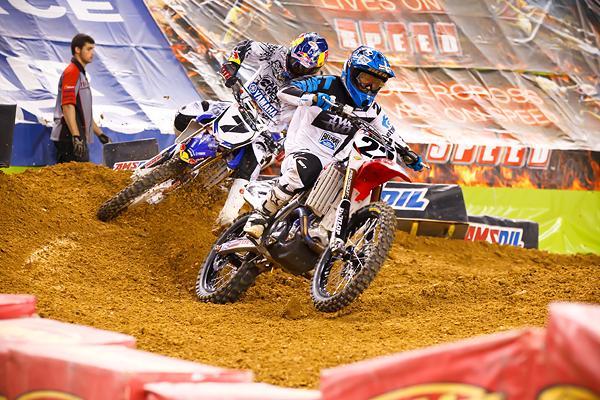 Will this incident spark the Stewart-Reed rivalry even more?
Photo: Simon Cudby
What's amazing to me is that he had a couple of real close calls but he never backed it down!
Just never! I guess in one respect you have to respect his commitment [laughs]. Brutal weekend, but we're only six down and four to go. Everyone's tightening it up and it's go time. Tonight I was chipping into Trey's lead and everything was going good. I saw Ryan [Villopoto] there on film and he was in fifth and wasn't really catching anyone. Oh well, I caught the short end of the stick with James Stewart's mistakes.
Well, you are riding really good right now and you have to be confident that you can go to St. Louis this weekend and win, right?
Yeah, absolutely. It's been a good stadium for me. I've won there before and started a streak there in '03 that you contributed massively to by standing in the middle of the track and cheering me on [laughs]. I'm not deterred by the points of the championship, it's just crazy week in and week out.