Santa Clarita, CA - 2011 (Spring/Summer Collection) AXO Subzero vented gear has just been released. This wave is one that you're going to want to ride. It sets a new pace for AXO, that is the first brand to offer 3 releases in a year, thus keeping the designs always fresh and limited in quantites.
AXO MX pants are the lightest in the market, yet offering the highest quality and all the features required by a modern MX rider.
EXTRA VENTED PANELS on the sides of the jersey and on the thighs
600 denier Nylon thigh panels
1000 Denier Kodra is layered over the rear of the pant
AXO's own slip fit knee and thigh pattern suspends the thigh from the knee allowing the knee panel to operate independent from the leg. Ideal feature for knee brace users
AXO's own slip fit pattern and design is also used on the rear saddle
2 side adjustments
Vented thigh TPR panel allows cooling air to circulate up the "Slip Fit" and exit through the venting
Genuine Leather is utilized on the inner knee panels
Super strength Poly zipper, ideal for dirt environment, cut a bit longer to help with putting on the pants
AXO MX jerseys are quality proven by the many champions that wear them daily. All designs are optimized for racers' needs such as number, name and sponsors' logos placement.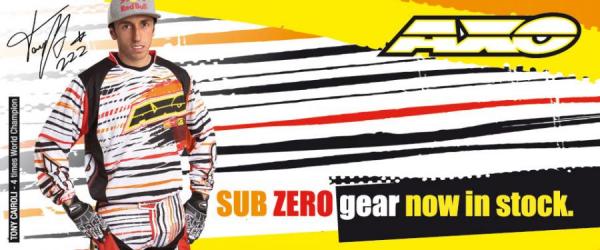 Check out the bright 3 colors and clean lines of these new design at www.axo.com/us/collection/dirt/jerseys/sub-zero-jersey. Keep in mind that the next wave of gear will be coming in August of 2011 and is sure to be just as exciting if not more than this wave.

For the latest updates be sure to check www.axo.com or find us on facebook at www.facebook.com/axocafe