AT&T Stadium
Arlington

,

TX
Arlington (Dallas)
Monster Energy AMA Supercross Championship
By Jim Kimball
Weston Peick had the ride of his short AMA Pro Supercross life this past Saturday in Toronto when he holeshot his heat race and led a couple laps. Peick would eventually finish the heat in sixth, and then later nab a decent start to finish the Toronto main in twelfth. Riding for the Rock River Power Sports Yamaha team, Peick is a one of a handful of guys that travel across the country chasing Supercross glory, and Toronto certainly showed us what the 20-year-old from Wildomar, California, could do with a nice start. Based on his great ride up north, Weston has now moved into the top twenty in Supercross points, and is also the subject of this week's Privateer Profile.
Racer X: Weston, first off I have to hear about that heat race holeshot and leading for a few laps.
Weston Peick: Yeah, that was definitely cool. I need to thank the guys at Dunlop, they put a great new tire on my bike that really helped. I had a decent gate line up, and was about three over left of the box, and I just ripped a great start. I led for about a lap and a half before I got a little tight and eventually finished in sixth.
Tonight had to be about your best ride in supercross so far right?
That's definitely been my best Supercross ride so far, holeshotting my heat, and then leading a few laps. That was actually my first holeshot since I began my pro career, too! With the twelfth place in the main tonight I also tied my best finish so far in Supercross, but I haven't really been focusing much on the actual results. I've just been focusing on being consistent, and making every main that I can. Then, if I can do that, hopefully by the end of the year they'll add up and I can get into a final result like top fifteen in points – that's what I am working towards.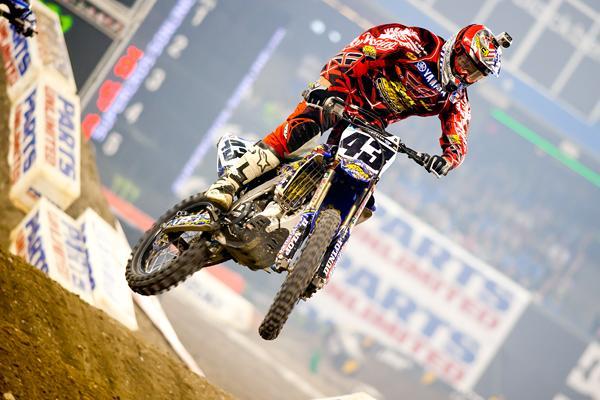 Peick grabbed his first ever holeshot in Toronto.
Photo: Andrew Fredrickson
Have you been making most of the mains?
In the beginning of the season I was having some pretty good luck, and getting into most of them, but it seemed that about at the half-way point that I had had a lot of little things going wrong, and I missed making some – partly bike stuff, and partly me riding bad. But last weekend I made the main in Jacksonville, so I hope that I've now turned things around, and will make the rest of them. I'd really like to get a top ten finish before the series ends.
How is the Yamaha 450 now with a year under your belt on the new bike?
Yeah, definitely. We have the bike dialed in much more now. Starting out last year with it was a little rough as it was all new. Now this year it's working great. We have some better parts, and have much more time working with it – it's actually quite a bit better for me this year.
Rock River Power Sports Yamaha has now been around the national circuit for a couple years. How are things with the team?
It's definitely not a "factory Yamaha" backed team, buy we do get some parts from Yamaha, and they try to help us a little bit. Then, just like anyone who rides a Yamaha, we have options to buy parts off the truck. We are not a team like Valli Motorsports, or San Manuel, but we can purchase parts from Yamaha.
Do you have any opportunities to ride at full on Supercross practice tracks like the Yamaha one?
No, not really. At the beginning of the season I was just riding at local supercross tracks, but now that the series has moved eastward they have given me the option to ride their track – which is awesome. It's an excellent track, and it gives me much more seat time.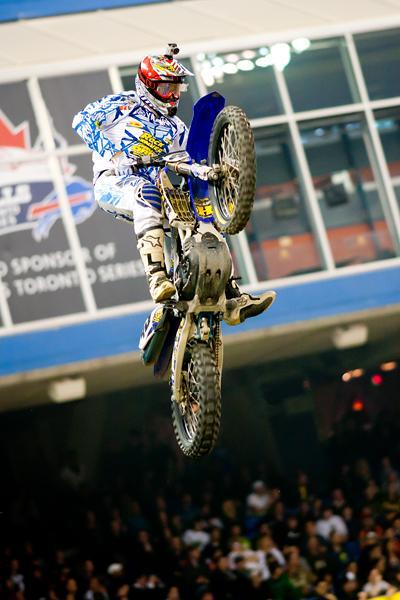 Peick had his best finish of the season at Toronto, a 12th.
Photo: Andrew Fredrickson
Earlier you spoke about where you'd ideally like to be in points when supercross ends. What do you need to work on to get there?
For me the key to supercross is getting a good start. The tracks are so tight and everyone is going so fast that the starts are the key, along with getting through the turns as quickly as possible, and keeping my speed up.
Now with supercross winding down, will you be racing AMA Pro Motocross?
Well, that's somewhat up in the air right now. I don't know if I can afford too. Everything is just undecided as far as the team and me right now with regards to motocross.
I hope that things will work out Weston. With that said, who would you like to thank here?
Definitely a big thanks to Rock River Power Sports Yamaha, Fly Racing, BoostMX, FMF, K&N, Max Muscle Sports Nutrition, Pro Drive Sports Fuel, Dunlop, Utopia, Schmidt Suspension, and also to my parents and other friends that help me out.
(For any potential sponsors that want to contact Weston for the outdoor season, please email him at: westonpeick@hotmail.com )