Win a KX250F from National Switchgear
Race Ready Kawasaki KXF250 is National Switchgear's 25th Anniversary Grand Prize
Lewisville, TX - National Switchgear (NSG), the most preferred electrical service provider in the marketplace, and primary sponsor for the 2011 Violation1.com Shea Racing AMA Supercross Team, has officially launched their 25th Anniversary Sweepstakes contest. Grand prize is a race-ready Kawasaki KXF250.
This state of the art race bike is restored to like new condition and originates from the 2010 AMA SX National Switchgear sponsored race team Violation1.com/Shea Racing/NationalSwitchgear.
"The bike is made all the more valuable by the autographs," commented Doug Powell, president of National Switchgear. "The Supercross team we sponsor is awesome and have come on board to make this a true one of a kind classic."
The bike sports racer signatures that include Austin Howell (# 61), Tevin Tapia (# 70), Ricky Renner (# 94), Vernon McKiddie (# 129), and Jason Langford (# 804). To view the bike and enter the contest visit www.natlswitchgear.com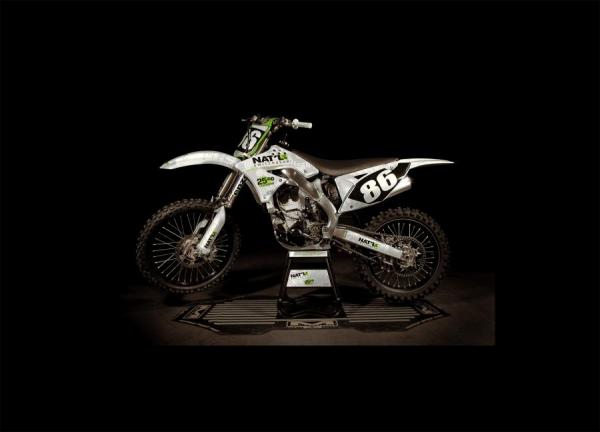 2009 229 lb. race-ready Kawasaki KXF250
New Motor
Enzo Suspension
Acerbis Plastic
Custom graphics kit by Speed Graffix.
Dunlop Tires
Excel Rims
Outlaw Billet Kit
Outlaw Billet Gas Cap
Renthal Bars
Outlaw Bar Pad
ODI Grips
SDG Gripper Seat
TM Designs Factory Edition Chain Slide-N-Guide Kit
Matrix M2 Worx Stand
Matrix M2 Worx Stand Tray
Matrix M9 Worx Mat

Contest winner chosen in December 2011.
Eligibility to receive the 25th Anniversary motorcycle is limited to customers or potential customers of National Switchgear through attendance at industry events and trade shows to which customer or potential customers are invited and those customers or potential customers registering via National Switchgear's website from January 1, 2011 through December 31, 2011. Giveaway of the motorcycle is intended to be a promotional giveaway to celebrate the 25th Anniversary of National Switchgear with its customers and/or potential customers. It is not intended to be, nor shall it be construed as, a matching contest, prize drawing or sweepstakes open to the general public. Employees, vendors, equipment dealers, competitors, and/or any family member of employees, vendors, equipment dealers and competitors, as determined in the sole discretion of National Switchgear, are ineligible to receive the award. Only one 25th Anniversary motorcycle will be awarded. Only one entry per customer or potential customer.
National Switchgear is an industry leading equipment supplier, supplying new OEM electrical equipment and repurposed switchgear, circuit breakers and related parts. www.nationalswitchgear.com