Rogers Centre
Toronto

,

Canada
Toronto
Monster Energy AMA Supercross Championship
The twelfth round of the Monster Energy AMA Supercross series took place in Toronto, Ontario Canada tonight and what a race it was. The points had tightened up considerably after last weekend's rave in Jacksonville and things were getting down to the nitty-gritty.
And yes I used nitty-gritty in a sentence.
After his disastrous night last weekend, Monster Energy Kawasaki's Ryan Villopoto held a six point lead on Team Two-Two's Chad Reed in the series, and despite being carted off last week with an injury, San Manuel Yamaha's James Stewart had actually gained three points due to RV not making last night's main event. Rockstar/Makita Suzuki's Ryan Dungey was right in the mix as well Honda's Trey Canard won last week. So what would happen this week?
First up were the qualifying races to get into the main event, top nine finishers would end up with direct transfers to the main while the top two in each of the Last Chance Qualifiers would get the last spots into the points and money paying main events.
250 Heat 1
The two Monster Energy Pro Circuit teammates were one-two off the start as Dean Wilson and Blake Baggett roared down into the switchback of a first turn. Wilson immediately stretched out a pretty good lead while Baggett had his problems with ARMA Energy Snax Malcolm Stewart who pulled up alongside Baggett a couple of times. Those two had a pretty good battle for a bit until Stewart made a few mistakes, which allowed Baggett to pull away.
From there Blake started picking up seconds on Wilson until he was only two back at the finish. Time would run out on the #57 as the Scottish/sort-of Canadian Wilson won the heat.
1-Dean Wilson
2-Blake Baggett
3-Malcolm Stewart
4- Darryn Durham
5-Blake Wharton
6-PJ Larsen
7- Hunter Hewitt
8-Les Smith
9-Brad Ripple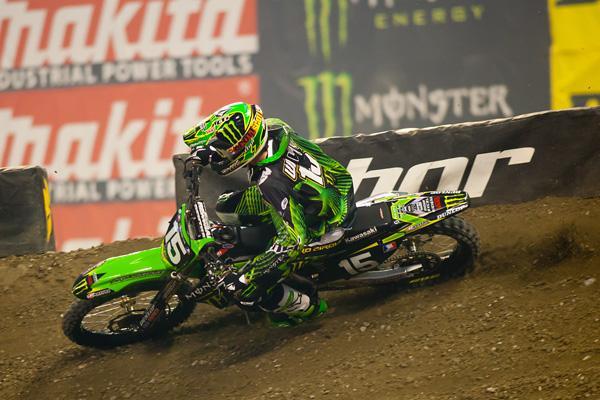 Wilson took heat 1.
Photo: Andrew Fredrickson
250 Heat 2
Another set of teammates went 1-2 into the first turn as DNA Shred Stix Yamaha riders Gannon Audette and Ryan Sipes raced to see who would come out with the lead. Unfortunately for Sipes, he would tangle with another rider and go down so the fastest qualifier's work was cut out for him. He would eventually get all the way back to fifth, but out front it was GEICO Honda's Justin Barcia taking advantage of the carnage to grab the lead. The series points leader wouldn't look back as he motored away with the win in the heat.
Behind him, Audette and privateer Lance Vincent rode a strong race to get third and another privateer, Matt Lemoine would get the fourth spot coming from the back.
1-Justin Barcia
2-Gannon Audette
3- Lance Vincent
4-Matt Lemoine
5-Ryan Sipes
6- Justin Sipes
7-AJ Catanzaro
8-Alex Martin
9-Jason Anderson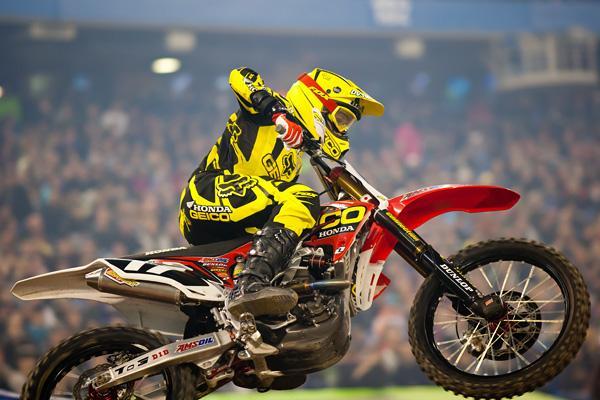 A heat race victory was in the cards for Barcia in Toronto.
Photo: Andrew Fredrickson
450 Heat 1
Ryan Dungey and Trey Canard put on a battle in heat one of the 450s as those two went at it hard and clean. Canard got by Dungey at the end of the whoops but Dungey retaliated with a nice pass underneath and the two drag raced down the start straight. Right after that, Canard made a mistake in the sand and Dungey pulled back out.
It took some lappers holding up Dungey to allow Canard to pull back in and right before the finish, Trey snuck underneath Ryan and took the lead and the last lap flag as well. It was a great race up front, and behind them was Kevin Windham, who rode a lonely race to get third.
1-Trey Canard
2- Ryan Dungey
3-Kevin Windham
4- Davi Millsaps
5- Nick Wey
6- Cole Seely
7- Chris Blose
8-Austin Stroupe
9- Matt Boni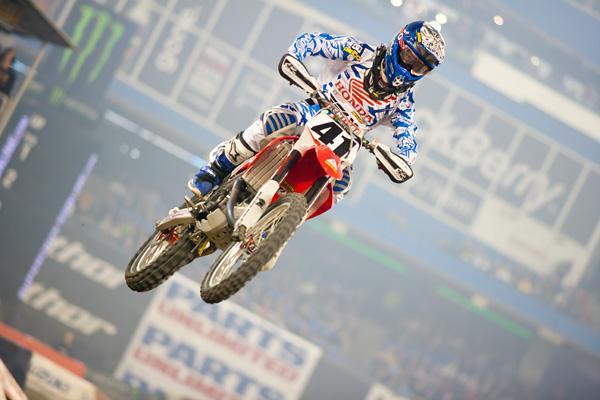 Canard and Dungey put on a great show for the fans in their heat.
Photo: Andrew Fredrickson
450 Heat 2
Privateer hero, Rock River Yamaha's Weston Peick, was the unlikely holeshot winner of heat two with BTOSports.com/BBMX Michael Byrne right behind him. Behind those was James Stewart and Stewart moved into second quickly, Peick had a great ride going but was no match for Stewart who got by quickly and stretched out his lead. Chad Reed got by his fellow countryman Byrne and into a comfy second.
Behind that pack was points leader Ryan Villopoto who was mired back with a bad start, things would get worse as the number 2 would stall it in the sand and be forced to come from the back. Reed had his own troubles as he went down in the whoops. The 22 had to remount and re-pass Byrne to get into second again.
Eventually Ivan Tedesco and RV caught up to Byrne and those three had a short intense battle for a lap with RV coming out in third, Tedesco fourth and Byrne fifth in the shuffle. Out front though, James Stewart took the win and the stage was set for a great main event. Red Bull KTM's Andrew Short seemed to experience some mechanical problems with his KTM 350 and had to DNF.
1-James Stewart
2-Chad Reed
3-Ryan Villopoto
4-Ivan Tedesco
5-Michael Byrne
6- Weston Peick
7-Justin Brayton
8-Tye Simmonds
9-Mike Alessi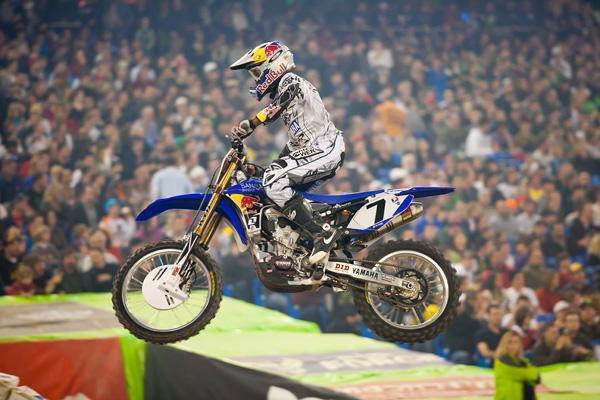 Once Stewart got out front, there was no catching him.
Photo: Andrew Fredrickson
250 LCQ
1-Tyler Futrell
2- Ricky Renner
450 LCQ
1-Andrew Short
2- Fabien Izroid
250 Main Event
The gate dropped on the twenty man main event and Pro Circuit's Blake Baggett appeared to get the holeshot coming into the switchback first turn. Unfortunately, Baggett was unable to stop in time and went into the tuff blocks. This allowed Blake Wharton, Justin Barcia and Ryan Sipes to get out front and start sprinting away.
Sipes, who was fast all day, made a couple of great moves to get both Barcia and Wharton at the end of the whoops and spring right into the lead early in the race. The three riders charged into the sand when disaster struck for Sipes. In the left hander after the sand, Sipes went high in the berm and was stuffed hard by Wharton. The collision forced Sipes off the side of the track and onto the pavement in a spectacular crash. This also allowed Barcia to get into the lead with Malcolm Stewart right there as well.
Eleven-10 Mods Darryn Durham was also up there early before going off the track and he would eventually be forced to climb up to ninth. Meanwhile, Stewart's time in second only lasted a lap as he crashed heavily on the landing of the triple and was forced to DNF on the night. Stewart has the speed but has found the going rough in his first year of supercross.
All this action allowed Pro Circuit's Dean Wilson to assume the second place spot and once there, he slowly but surely cut into Barcia's lead. There was just a steady march to the front by Wilson and by lap eight, he was all over the high-revving Honda rider. The pass came at the end of the whoops and Wilson was into the lead from there. He wouldn't be challenged from there as he almost instantly had a three second lead.
Coming from the back was Sipes and he made his way from almost being lapped at one point to all the way up to fifth on the night in a great ride for the veteran from Kentucky. On this night it was all Dean Wilson as the Scottish kid who once rode for Canada at the Motocross des Nations came home (kind of) and got the win he desperately needed as far as this championship was concerned.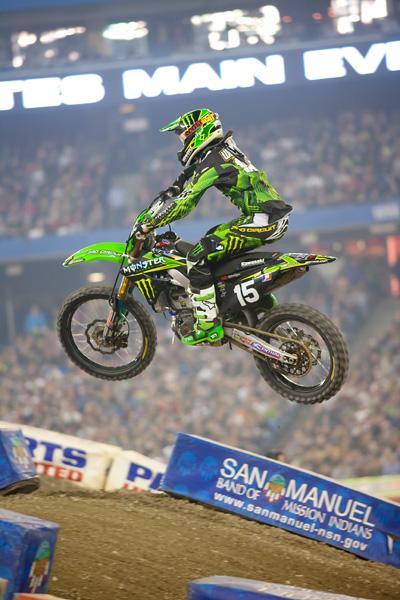 Dean Wilson was first to the checkers in Toronto.
Photo: Andrew Fredrickson
Barcia still leads the series by 16 points but thanks to some great riding by Wilson, the gap was cut into a little bit.
Results: 250 Main Event
1- Dean Wilson
2- Justin Barcia
3- Blake Wharton
4-PJ Larsen
5- Ryan Sipes
6- Blake Baggett
7- Gannon Audette
8- Hunter Hewitt
9-Darryn Durham
10- Matt Lemoine
11- Justin Sipes
12- Les Smith
13- AJ Catanzaro
14- Alex Martin
15- Lance Vincent
16- Ricky Renner
17- Taylor Futrell
18- Brad Ripple
19-Malcolm Stewart
20- Jason Anderson
450 Main Event
The 450 class was ready to go for an eventful twenty lap main event and the last guy to make the main event was the first guy to the first turn. Frenchman and Monster Energy Kawasaki rider Fabien Izroird was the holeshot winner and led for most of the first lap before defending champion Dungey got by.
Behind those two stood Chad Reed, Valli Yamaha's Nick Wey and Honda's Trey Canard. Two of the main combatants, James Stewart and Ryan Villopoto were buried back a ways as Stewart got banged around in the sand pit and RV didn't get the start that he needed. These two would meet again on lap three when Stewart appeared to make contact with Villopoto at the end of the whoops (a popular passing spot) and both men went down. Stewart picked up his bike first and took off while Villopoto was forced into the mechanics area for some quick repairs.These two would have to put their work in to salvage points.
One man putting his work in was Ryan Dungey, as he at one point jumped off the track and then in a nifty move, seat bounced the tuff blocks and right back on the track lane. Besides that, Dungey was putting down some fast and consistent laps while Reed pulled up a little closer once some lappers got involved. Canard held strong the whole way but made a few mistakes and lost the draft of the top two. Last week's winner would have to settle for the final podium spot on this night.
Meanwhile back a little ways, Red Bull KTM's Mike Alessi suffered a mechanical on his machine and DNF'd. The Dodge Motorsports Hart and Huntington crew of Chris Blose and Ivan Tedesco suffered crashes as did Valli Yamaha's Austin Stroupe and BBMX's Michael Byrne.
It was a tricky track that got beat up by the end of the night, the riders were making a fair amount of mistakes out there. Stewart would eventually work his way up to fourth and Villopoto somehow salvaged a ninth from way back. Both riders have now had consecutive sub-par (for them) weeks.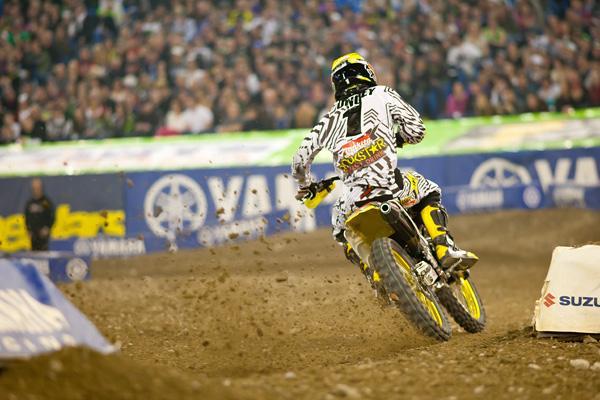 Ryan Dungey is back to his winning ways.
Photo: Andrew Fredrickson
Up front, Reed got close enough to Dungey to see knobbies on the tire but he wasn't able to really mount an attack. Dungey rode smart and fast throughout the race and picked it up when he had to. Reed made a pretty big mistake with a couple laps to go and that was all the breathing room that Dungey needed to claim his first win of the season.
With Dungey's win, the 450 class has now seen five different winners and the points spread sees five riders within twenty-two points. The new points leader is now Chad Reed and he's got a slim three point lead on Villopoto and eight on Dungey.
Results: 450 Main Event
1-Ryan Dungey
2-Chad Reed
3- Trey Canard
4- James Stewart
5- Justin Brayton
6-Nick Wey
7-Andrew Short
8-Kevin Windham
9- Ryan Villopoto
10-Cole Seely
11- Davi Millsaps
12- Weston Peick
13- Fabien Izoird
14- Michael Byrne
15- Tye Simmonds
16- Matt Boni
17- Chris Blose
18- Ivan Tedesco
19- Austin Stroupe
20- Mike Alessi