Rogers Centre
Toronto

,

Canada
Toronto
Monster Energy AMA Supercross Championship
Alan Brown: Manager, DNA Shred Stix Star Racing Yamaha (
Gannon Audette Seventh and Ryan Sipes Fifth)
Ryan (Sipes) was the fastest guy here tonight, he collided with another rider and I think it was a little early to make that move in the race and I think that move took the win away from us. I haven't seen the film yet so we'll wait and see how it (the pass) was. I really felt Ryan would have won the race. His last to fifth ride was great but it's a bummer. It was there for us.
Gannon Audette had a really good race, he was second in the heat and he's starting to figure it out. He's making mistakes every weekend but they are not the same mistakes every week. He's figuring it out, he's 18 and doing well.

Matt Boni: Ti-Lube Kawasaki—16th Place
I got a horrible start and that's not fun on a rocky track. I was moving my way forward, made some mistakes, got tired and fell over. Then I re-grouped, got going up to 14th and made a huge mistake- went back to 16th and finished there. It was rough, I need to tighten up my game and get my program going in the right direction.
What happened after the race with Tye Simmonds?
I'm an aggressive rider and I'm all for slamming each other and taking it old school but I don't like brake checking down a straightaway and if you're going to do that and take both of us out, that's not a smart move. If you want to slam your way by me, I'm cool with that, but brake checking, I'm not cool with that.

Michael Byrne: BTOSports.com/BBMX—14th Place
It was tough night, I rode great in the heat. Off the start [in the main] I was right behind Kevin (Windham) and I went down in the first turn. It's tough for sure, my wrist was bothering me a bit.  Maybe need to get some more rest during the week so I'm ready for the main.
I feel like I should be a top ten guy right now but instead of having energy and charging, I'm riding around. The rocks were bad and as you can see in my lip, they weren't great. They hurt bad!
The track really deteriorated quickly, the whoops were really bad and it's tough to make the chicanes in there because they get one-lined. The track was tougher than I expected it to be.
Andrew Short: Red Bull KTM—Seventh Place
It was a good night considering what happened. In the first practice I think I hit the kill switch and my bike bogged. At least I'm hoping so! Then the next time out I got a rock stuck in my rear brake pedal but there was so much foam there I couldn't see it! So that was tough and in the heat race we had a fuel line problem, maybe a rock hit it. Then in the LCQ I was super nervous and got the start from the outside.
I should have cheated on the start like Wey and Alessi. They just went straight! Maybe I should have done the same thing but I had a conscience and turned left, but that left me dead last. I came around at the end of the first lap in seventeenth and worked my way up to seventh. I beat Windham and that was nice because he got me last week. I'm excited about that. I moved through a pack of riders and they were good riders so I'm happy about that. It was good to beat Windham because he waxed me last week.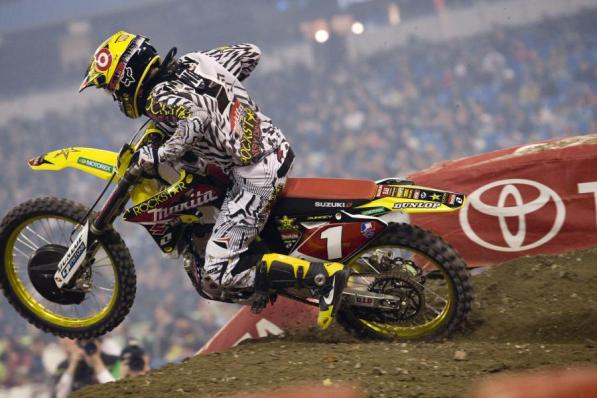 Reed gave Dungey credit for holding steady in the number-one spot.
Matt Pavelek photo

Chad Reed: TwoTwo Motorsports/Bel-Ray Racing—Second Place
It's a long way to go but we're taking steps in the right direction. I'm happy but I'm bummed as well, I felt like last week I rode really, really well and had some strong points but I also had some weak points as well. I did the same again this week. I'm happy to be in contention but I need those wins. I was good enough in sections but last week Trey rode well and this week Dungey rode well.
I need to put myself in position to ride away with the wins. I want to win this championship and I don't give a damm how many wins I get but at this point in the championship, wins are needed. I was in some good positions to capitalize on but couldn't make it happen.
He (Ryan Dungey) rode a great race, he rode solid and I have to give it to him. He attacked the track and was really strong. It was taking me a lot to stay with him and when I had to attack him I was making small mistakes. I felt like I was delayed in my decision-making, I would see a good line and then not take it. It would be like "Hello, there's a good line over there but I'll take the shit line". I was off a bit. I'll work on that.

Dave Osterman- Manager-TwoTwo Motorsports/Bel-Ray Racing (Chad Reed)
I'll take this result, it was a tough track. It was a track where a lot of guys had trouble doing everything every lap. My guys did well and I'm proud of them. Chad wanted to win for sure and he rode great but so did Ryan (Dungey). Everyone rode good and everyone struggled at the same time. We're happy to come back to second and we'll take the points lead.
I was more worried about Trey (Canard) and Dungey more than Chad.  I was watching them more than Chad because I wanted to see what they were doing differently. It (The track) was tough for sure on us and we had a bit of a problem with the head pipe but thanks to Pro Circuit for giving us a whole bunch of them. Man, the track was tough. The whoops were gnarly by the end.