Rogers Centre
Toronto

,

Canada
Toronto
Monster Energy AMA Supercross Championship
By: Jason Weigandt and Davey Coombs
10. Stewart and Reed have History in Canada:
James Stewart
has had mixed success in Toronto. He won here over RC back in 2005 (
See This Week in Kawasaki SX History
) in what many thought was a sign that the guard had changed at the top of AMA Supercross, only to see RC edge him for the title by two points. The next year he ended up going off the track at the finish line jump when he and Reed accidentally bumped each other (sound familiar?). He went off the track, only to pull back out right in front of
Travis Preston
. But the last time he was here -- 2009 -- he took a solid win.  But Reed has also won here twice, so he knows the way to the winner's circle in Canada as well. And yes, they drive on the right side of the road up there.
9. Dean Wilson's border crossing: As you probably remember, last year Deano, everyone's favorite Scotsman-turned-Canadian-back-to-Scotsman, had a little trouble at the border. It cost him a round of the series as it took more than a week to get back into the states. That led many to guess that he would race the West Region this year to avoid another mishap, but apparently he and U.S. Customs are all good now and he's good-to-go. Hopefully.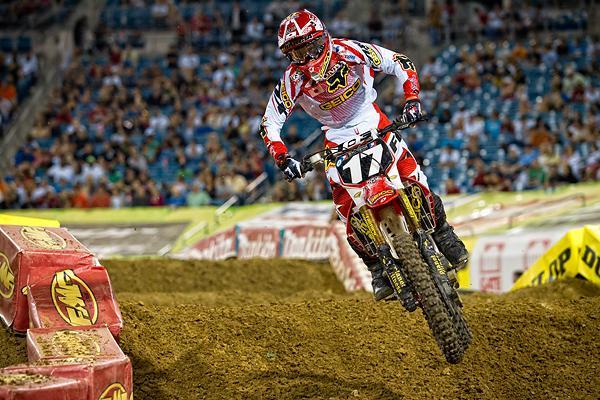 Will Toronto once again provide magic for Barcia.
Photo: Garth Milan
8. Barcia's Breakthrough: Justin Barcia won his first AMA Supercross Lites main event in Canada last year, so the spacious Rogers Centre has been good to the GEICO Powersports Honda rider.  He's on a roll, and after a bad week for Blake Baggett, he's up 17 points. He could edge closer to the title in Toronto, which is effectively a home race for the native New Yorker.
7. All Banged Up:
For sure, Stewart and
Ryan Villopoto
are hurting to some degree after rough nights in Jacksonville, so their health may determine the results for everyone else this weekend. This championship may have many contenders, but it's hard to argue that RV2 and JS7 have consistently been the two fastest riders—eight combined wins in eleven races stands as proof. But this is the first time they are both bouncing back from painful weekends at the same time.
6. Stewart's Condition, Continued: Well, Villopoto was banged up last weekend, but at least he was able to ride back to the pits after missing out in the LCQ. Stewart left the building on the Asterisk backboard. If he can bounce back to win this weekend, it will be one of the most remarkable single-week turnarounds we've ever seen.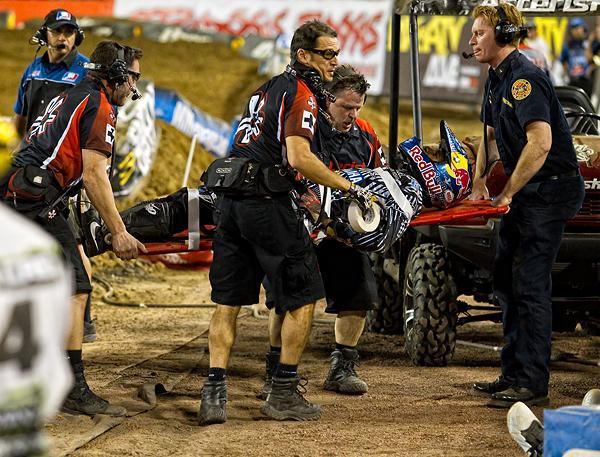 Stewart is all set to race in Toronto after a nasty spill in Jacksonville.
Photo: Garth Milan
5. Reed's Speed: There is absolutely no doubt that Chad Reed has come all the way back after a rough 2010 season. Seven podiums in the last eight races proves his trademark consistency is there, and his "in it to win it" mentality has put him within seven points of Villopoto. But along with that old consistency comes the same old question: Can Chad go fast enough to get some more wins?
4. Dungey's Speed: And yet more questions rise when Ryan Dungey's name comes up. The defending SX Champion is still winless, and each week that streak continues, the questions about it are asked louder and louder. At Indy, it looked like he was on the verge of a breakthrough. But in Jacksonville, he had a shot at Reed and Canard and couldn't get it done. Time could be running out, or, in a season where consistency seems to be more important than straight race wins, maybe his timing is just right.
3. Canard Confidence: With a win in Houston, Trey Canard got so pumped up that he crashed a whole bunch at the next four rounds. He stayed up in Jacksonville and won. If the rookie is able to learn from the mistakes after the first win and not make them again after the second, he could do some more damage.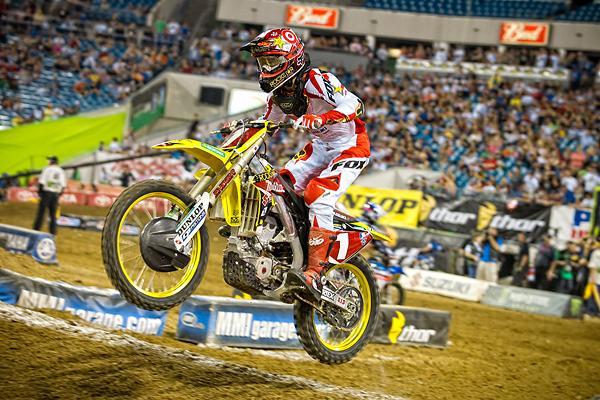 The defending champion is running out of time.
Photo: Garth Milan
2. Toronto Dirt: Toronto soil used to present a tough mix of ruts. The dirt would get rained on while in storage for the year, then freeze over during the winter, and begin to thaw while laying within the heated Rogers Centre. The folks at Feld Motorsports have fixed the problem by storing the dirt in an area where rain can't get to it. Since then, the soil has been soften than some west coast stuff, but not terribly rutted.
1. Still Here: There's one piece of news that remains the same, and it's the best news of all. Despite bumps, bruises and big crashes, the five fastest riders in the game (Villopoto, Reed, Dungey, Stewart, Canard) are still making the races and putting on a show. If you have any chance to make it to one of these races in person, do it!