Rogers Centre
Toronto

,

Canada
Toronto
Monster Energy AMA Supercross Championship
Les Smith got a break last summer after he was hired by Honda of Troy as a fill in rider for the injured Levi Kilabrger.  The York, South Carolina resident made progress throughout the series, and ended up with a top ten in the final round at Pala Raceway.  Now riding for the Jimmy Weinert Racing team, the 20 year old has been doing the same thing in Supercross – improving weekly to where he has now taken a very impressive seventh at this past weekend's Supercross Lites in Jacksonville, Florida.  Les is currently twelfth in the Lites East Coast series – just a few points outside the top ten.
Racer X: Les, isn't the seventh overall in Jacksonville your best finish so far this year?
Les Smith: Yes sir – for sure!  That was my best finish so far, and I am pretty stoked about it right now
In general; how do you feel that things have been going in Supercross?
Well, I struggled some at the first two rounds with some crashes, but then finished tenth at Daytona.  For me it's all kind of a head game, and at Daytona that got cleared up.  I rode good there, qualified good with lap times, and then took a fifth in the heat race.  Similar to last year in the outdoor nationals; this is where I should have been all season, but it just took some time to figure it out, and get my confidence.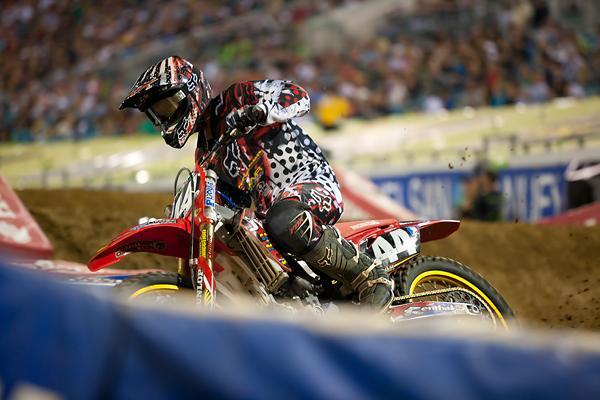 With three consecutive top-ten's, Smith will be looking to make it four in a row at Toronto.
Photo: Andrew Fredrickson
Daytona must have been some type of turning point as that race is so gnarly. Since then you've been finishing well; like taking another tenth at Indy, and then of course Jacksonville.
Yeah for sure. Finishing tenth at Daytona really pumped me up. That was by far the toughest race that I have ridden in my life.  I feel that my fitness is good, and that my speed is getting better – so I was really happy with that ride there.  Daytona was a good starting point to change my luck, and to continue improving every weekend.
What's your ideal finish in the remaining Supercross races?
That's a difficult question, and I definitely don't want to sound cocky, but there is no reason that I should not be challenging for top fives.  Realistically I am happy with a seventh like at Jacksonville, but I really want to be in contention for top fives before the season is finished – that's the goal.  Outdoors has always been easier for me than Supercross is, but with my experience this season I know that 2012 Supercross will go much better for me.  Last year I had no Supercross tracks to practice on, but this year Jimmy (Weinert) has two tracks to practice on at his South of the Border facility – so having a "true" Supercross track to ride has really benefited me.
I'm very interested in hearing more regarding Jimmy Weinert Racing – can you tell us about it?
Yeah, it's a really great team.  I had been talking with Jimmy for a while now about the training facility that he put together - it all works out well.  We all ride, and train together every day; Jimmy is there and he watches over us.  He helps us a lot, and tells us what to do in order to succeed.  The entire program has a lot of structure – which also helps out a lot.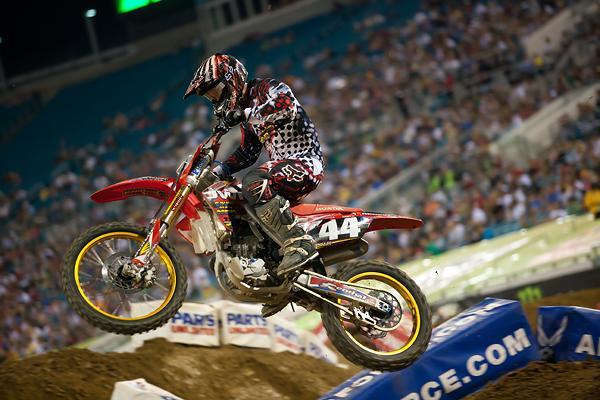 Will Smith be able to reach his goal of a top-five finish before seasons end?
Photo: Andrew Fredrickson
Obviously Jimmy Weinert is a former pro and AMA Champion, but also it's been sometime since he competed; is he still able to provide lots of advice and guidance?
Oh yeah. He always has great ideas, and suggestions.  But he will be the first to admit that he's not that up on Supercross, and that it is way different now.  Overall though, he really knows what he's talking about, and can always help out with any race situation. It's great to sit down and listen to him as he's excellent at giving advice, and explaining things in a very understandable way.
We've been talking a lot about your 2011 season, but for those that may not know you well let's hear a bit about your career start as an AMA Pro?
I raced a couple of outdoor nationals in late 2009, and then started my first full season as a pro last year.  I raced a Yamaha during the Supercross series, and then signed with Honda of Troy for the motocross series.  The Honda of troy Team had very good 250's so I was really happy about that.  I'm a little bit bigger guy, and probably more suited to a 450 so I needed a great bike like the Honda of Troy team had.  Riding their bike helped make the transition from 450 to 250 pretty easy.  When I raced 450's I always practiced on a 250 so that also helped – I now like riding 250s much more.
How did the 2010 nationals go for you then?
I felt that it was good, and that we got better every weekend.  I ended the season with a tenth at Pala – which is where I should have been all season from a lap time perspective.  My starts were terrible, but we finally got that figured out neat the end of the series; then my rides were better.  Overall I'm happy about it, and I feel much better about the upcoming outdoor series.
Les, who do you want to thank?
For sure Jimmy Weinert and the whole South of the Border crew, FOX Racing, FMF, Moto Hose, Renthal, Factory Connection, VPE Motors, Hager Cycle World, Dunlop, ICW, Cycra, Impulse Graphics, my mechanic Chuck Shirley at Privateer Connection, and especially my family and girlfriend for doing so much for me.