Rogers Centre
Toronto

,

Canada
Toronto
Monster Energy AMA Supercross Championship
Thanks for reading this Observations column and it's all brought to you by BTOSports.com, the best place for stuff for your bike and body. You can listen to the Podcast show to save even more money!
Wow.
Just when you think this year's supercross series couldn't get any better, it does. To the battles of LA to the drama in Houston to "the pass" in Atlanta and  "the jump and crash" in Daytona, we now add this weekend in Jacksonville, Florida. This supercross series has been, to quote all the kids, off the chain.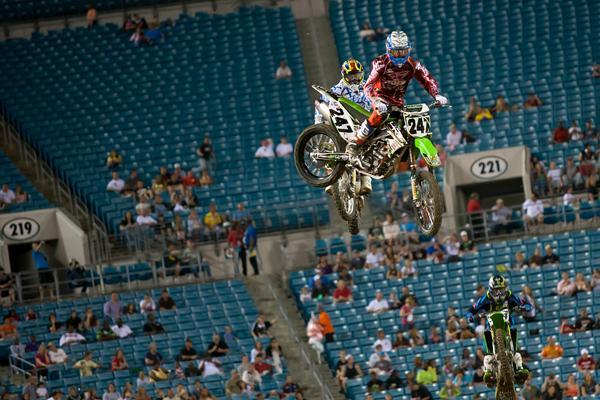 Poor attendance once again shined a dark light on Jacksonville.
Photo: Andrew Fredrickson
First let's get some housecleaning things out of the way and one of them would be, and I've asked this before, why does a state with as many great riders and weather like Florida continue to NOT support the supercross series? Since I've been doing this crazy circuit, I've been to two Tampa stadiums with three races, a bunch of Orlando events, I even went to the infamous Miami '89 event as a 16-year old kid and now, three Jacksonville races. Different cities, same events, different times of the year but always one constant: Poor ticket sales. Daytona is its own animal because of bike week and the attendance there, to me, has grown quite a bit from back when they held the race during the day. But the other Florida venues just haven't drawn like many other cities we have on the tour. It's a weird deal for sure and to wrap my head around this lack of interest among the Sunshine State people to supercross, I called the guy that always gives me the right answers about anything. And that would be 1997 125 East Coast champion, Tim Ferry.
Ferry, born and raised in Florida, raced for 184 years and he agreed with me on the lack of attendance in Florida for the races. His theory is that Florida is a redneck state that is into swamp buggies and mud-bog races (hence why Monster Jam does so well), the cities that you visit have nothing on the outskirts to draw from (his example was the city of Orlando. Outside of there, it's pretty barren) and that the people that are into dirt bike riding are the guys that have ten year old bikes and go to Croom OHV park. Whatever it is, Florida continued its streak this year of not drawing very many people and that's too bad because it was a great race!
As far as the track, it had a right hand first turn which caused a few riders problems, but as Kevin Windham told me after the race, all the riders are talented enough to corner without sticking out their foot. The rear brake is on the right side and a right hand first turn means sticking your  leg out and only being able to use the front brake. It takes a lot of skill and no margin of error to successfully tip-toe around the first turn without incident. There were some crashes this weekend but it's impossible to really know how many were caused by being a right hand first turn and how much were not. Houston's first turn had more incidents and it was a left.

Stewart was blasting the whoops in Jacksonville.
Photo: Garth Milan
I loved the long whoop section, it was right out of a corner and was very difficult for the riders. Many a big name guy struggled in them during practice and it was funny to see how many guys just rolled through them lap after lap.
Before the night show, I heard from some managers that the whoops were smoothed out and this made some people in James Stewart's camp upset because Stewie had killed it during practice, setting lap times much quicker than anyone else, with a huge advantage in the whoops. I say that it was a good move because they were very big and guys like Weston Pieck (who's a main event rider) was struggling with them. It wouldn't have made for good racing with dudes cartwheeling through the air lap after lap. Even after knocking them back, the whoops were still very challenging and made the race very exciting.
Trey Canard has been struggling a bit the last few weeks with crashes and the old disease that every young rider has at one time or another which is the dreaded "Making mistakes, trying to overcome them and crashing" malady. Canard does the right things, works hard and wants to win races but sometimes, you have to let the race come to you, and if you don't have it on a certain night, then you don't have it. Canard was very angry last week after coming together with Ryan Dungey, he was upset at Daytona for his crashes as well as the week before in Atlanta when he shot off the track. It's been a rough three weeks for the little ginger.
Funny how that works because the chips all came together this weekend and the guy led every lap for his second career 450 SX win. He got caught by Chad Reed late in the race when he couldn't nail the whoops as well as Reed, but he had a super-sick scrub to get to the ground before Reed and then jam his way past on the inside of the next turn. From there, I was waiting for Reed to make a run in the whoops again but he couldn't get close enough and it was all Canard on this night. Great to see for sure, Trey's been frustrated lately and this is the kind of break a guy could use to give him some second half momentum. Especially going into Toronto, a track that he rode well last year.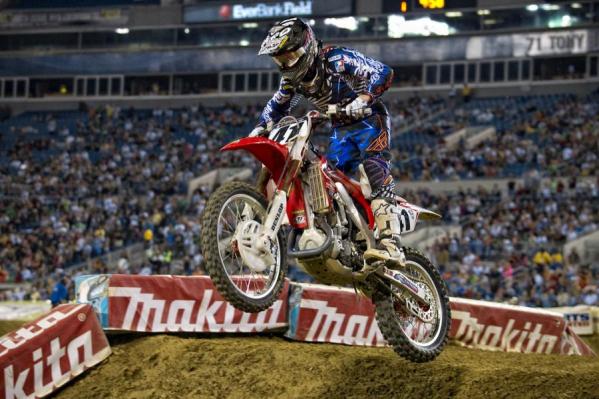 After a few rough weeks, Canard broke through in Jacksonville.
Photo: Garth Milan
Series points leader Ryan Villopoto didn't qualify this weekend and that, my friends, is the sound of a bomb going off in this series. A series of first turn/first section screw-ups contributed to his demise and for the first time that anyone can remember (and I called some old-timers to see if they could remember), a series points leader did not make the main event. I got some emails and tweets asking why RV didn't keep riding in the heat race to try and improve his gate pick, well he wasn't feeling the greatest after going down hard in the rhythm section and decided to head back to his truck.
What a frustrating two years for James Stewart. At this point we have to all agree that this chase for the title isn't working out the way he, or his fans, thought it would. He hasn't won in six weeks, he's fourth in the points, he's been knocked silly a few times now and it can't be a whole lot of fun for a guy that likes to have fun. He was the fastest guy in Jacksonville but got taken out by Matt Georke off the start (not Georke's fault) and got carted off on a backboard.
The good news is that he actually gained three points on RV in the standings with being carried out! Even if he wins this title (doubtful), all this crashing has to make James stop and pause to wonder if this is all worth it. One of these times, he may not get up so quickly.
I've been on a lot of teams with some good managers and some bad managers, some teams that were tight and some that had infighting and no one went to dinner together. Think about how much you're around everyone on your team, it's a seven day a week thing and many team people spend more time with their co-workers than their wives (or partners- if you're into that) and because of all those factors, it makes me wonder what the effect of Larry Brooks leaving the team for "family reasons" a while back. Stewie hasn't won since Larry left. Look, I'm not saying that a team manager is the difference between winning and losing, but having a good one helps and I wonder what's going on mentally with James right now? Is he distracted with this? Who's handling everything? How much is he thinking about the structure of the team? There are some great dudes on that team who are capable of handling everything but I really don't think it's a coincidence that things haven't gone right since James and Larry broke up.

Word from the Stewart camp is that he will be racing in Toronto, after his gnarly get-off in Jacksonville.
Photo: Garth Milan
Lost in the "Oh my god, Ryan Villopoto didn't qualify" talk was the fact that JGRMX's Justin Brayton also didn't make it through. JB10 has won a couple of heat races this year and when all is right in the world, is probably a top five guy or so, he had pulled up on Andrew Short in the points and had a bunch of momentum from the last two races. When they list his DNQ in the points, the causes of death will be "crashes."
The 250 east series got a shake-up as well as, stop me if you heard this before, some big names didn't qualify for the main. Pro Circuit's Blake Baggett, and Rockstar Suzuki's Jason Anderson all didn't make the cut. At least the moto gods were equal opportunity defeatists with a top Kawi and Suzuki rider all not making it.
Baggett forced a move on Justin Barcia in the heat race that, by the sounds of his team owner Mitch Payton, wasn't necessary at the time (but he could be forgiven a bit because Bam-Bam tends to do that to people) and went down. In the LCQ, he fell in the first turn and POOF, just like that he went from six points out of the lead to thirty-one. Baggett's hope for a title probably went out the window on a beautiful Saturday night in Jacksonville.
But let's talk about the winner Justin Barcia and how he won the race (and possibly the title) in the first seven seconds. You see, in the heat race, Barcia went off the track in his collision with Baggett and passed some dudes on the concrete, which then got him docked by the AMA. So his gate pick for the main wasn't the greatest, he was on the outside and we had already seen the right-hand first turn cause plenty of people plenty of trouble.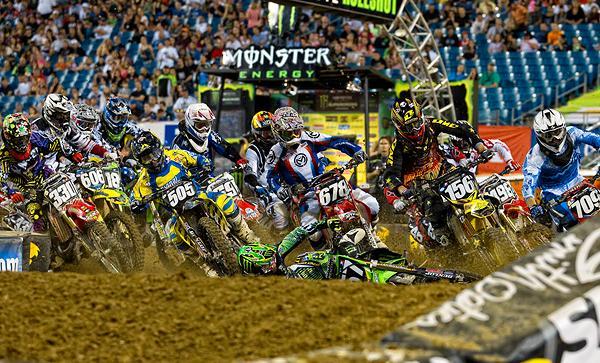 This may have cost Baggett the championship.
Photo: Garth Milan
But what he did was a thing of beauty, no doubt about it. Barcia got the jump and powered into the first turn in the only way he knows how to: wide, wide open. He cut to the inside of the first turn and basically like the kid in Karate Kid who was told to "sweep the leg," Barcia swept the first turn and was gone! The margin of error from sweeping the first turn and being a hero and getting pushed out by the dudes on the inside and crashing into the bales is very slim. After grabbing the holeshot and winning the race, Barcia put a chokehold on this title with a great ride.
Bam-Bam also was the only 250F to triple onto a tabletop all day in practice which was much faster, then he did it on the first lap of his heat race and decided it was too sketchy from there. Still, the confidence one must get from being the only guy in his class to jump something must be a pretty good feeling.
Dean Wilson had been down in the dumps the last couple of weeks with some (for him) sub-par finishes but he told Weege he went and looked at the waves for a while this week while his team owner told me that they worked on starts. Whatever it was, the waves, the starts or maybe practicing starts down at the waves- it worked and Wilson was much better off the starts (hmmm, maybe we have our answer?) and had a strong 15 laps on his way to a runner-up finish.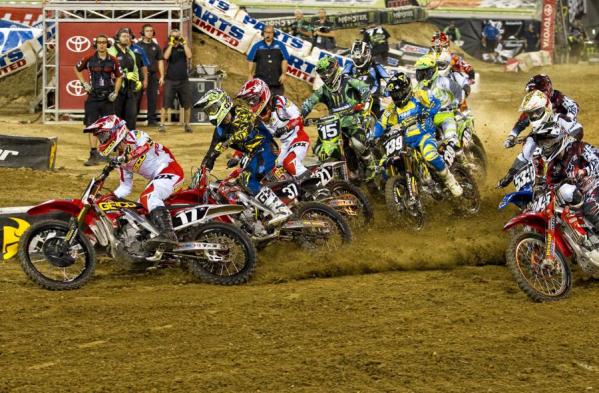 Barcia got a jump on the field early in Jacksonville.
Photo: Garth Milan
Funny moment on track walk (at least to me) was myself, Canard and Wilson standing on the finish line and me trying to get Canard to triple it for all the money in my bank account. Wilson and I thought it was totally doable (probably a 100 foot jump that you would have to have a surgeons precision to do) and Trey sort of agreed. Then Kevin Windham walked up. I asked KW about it and he said there is no way he would do it for a million dollars, it was dumb and you could get really hurt. It was at that moment that the three of us just stood there and never mentioned the jump again. Windham had spoken and we all thought it was dumb.
Then Canard said that the marshmallows in Lucky Charms gave him indigestion, his back was sweating and he had to go.
Let's take a look at the results from the weekend.
AMA Supercross Lites Class East:
1. Justin Barcia Hon
2. Dean Wilson Kaw
3. Ryan Sipes Yam- Sipes won his first race last weekend and made all of us happy. He was again the fastest guy in practice but in the main, he lost touch with the top two dudes.
4. Matt Lemoine Kaw- Lemoine has been much better the last couple of weeks. Top privateer!
5. PJ Larsen KTM- I think that as Lemoine has gotten better, Larsen seems to have regressed a bit since the start of the series.
6. Darryn Durham Hon- Tim Ferry's second favorite rider came back from injury and had a nice result.
7. Les Smith Hon
8. Taylor Futrell Hon-His best finish of the year for a kid that came out of the amateurs at the same time as Baggett.
9. Hunter Hewitt Suz
10. Justin Sipes Kaw-Pooh made the main and had a pretty respectable ride.
11. Lance Vincent Hon- Vincent had a couple of rough weeks but with Alex Martin's troubles and Vincent's 11th, he moves back past Martin into the lead of the "guys who you didn't expect to be this good" category.
12. AJ Catanzaro Hon
13. Kyle Keylon Suz- Good for Keylon, his best finish of the year.
14. Sean Lipanovich Suz- Good for "Lippers".
15. Bradley Ripple Hon
16. Levi Kilbarger Hon
17. Blake Wharton Hon- Oh Wharton, it's getting worse and worse for Prince. He was up front before crashing in the whoops.
18. Chris Gosselaar Suz
19. Gannon Audette Yam
20. Malcolm Stewart Suz- Oh man, as any of my Twitter followers know, I've been having a serious case of Mookie fever for a few weeks now. It's still there but after J-Ville, I may be feeling better.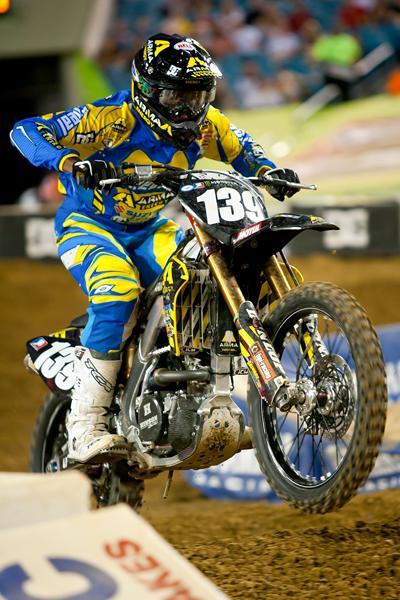 Mookie got together with Gannon Audette early in Jacksonville, resulting in a 20th place finish.
Photo: Andrew Fredrickson
AMA Supercross Class:
1. Trey Canard Hon
2. Chad Reed Hon- I spoke to Reed to find out why he wasn't able to get close enough to Canard to make that run in the whoops like we all thought he was going to. He said that on the triple before Canard got squirrely and knocked tuff blocks off the track and Reed thought he wasn't going to triple. But he did and Reed had backed out and at the last second had to seat bounce the jump which sent him mega-high. That cost him time.
3. Ryan Dungey Suz-It was all there for the Dunge, top two riders out of the class, him all over the two guys that he should have covered right in front of him and by the end, he was eleven seconds down from the leader. When do we all just admit that, for whatever reason, it's not happening for Ryan?
4. Kevin Windham Hon
5. Andrew Short KTM- Shorty rode well, another top five for the two-nine.
6. Ivan Tedesco Kaw- Tedesco was closing up on Shorty when some roost blew out his goggle lens, he was forced to tear them off and get the always awesome eye flush after the race. Still, his best finish of the year!
7. Mike Alessi KTM- Alessi holeshot the main event and had his best race of the year, he's already eyeing the outdoors right now.
8. Austin Stroupe Yam- Stroupe makes his return to the track and has a pretty good finish I think considering all the things he's been through.
9. Nick Wey Yam- Another good finish for Wey, two top ten's in a row since getting a new practice bike. Listen to the Pulpmx show for more details. Wey was last at the end of the first lap.
10. Chris Blose Kaw- Guess what? Blose had his best finish of the year!
11. Fabien Izoird Kaw
12. Michael Byrne Suz- Has to be a bit discouraging for Byrner to have the two top guys out and he get's the same results as he did last week although he did crash on the first lap.
13. Jason Thomas Suz- JT makes a return to the land of main events.
14. Jarred Jet Browne Yam- The Jet makes a bombing run.
15. Cole Seely Hon- Seely had a run in with Stroupe at some point in the main event. I spoke to him before the night show and he's doing two more races and then back to the 250F. He's gaining valuable experience.
16. Kyle Partridge Hon
17. Davi Millsaps Yam- Millsaps deserved better for sure, he was one of the only guys jumping the quad and then was fourth early on, then he crashed a couple of times and like I said, he deserved better.
18. James Stewart Yam
19. Matthew Goerke Kaw-Poor Matt, his crappy year just got even worse when he broke a bunch of stuff in the collision with Stewie.
20. Weston Peick Yam
Can we please, please, please not introduce James Stewart in opening ceremonies as "the fastest man on the planet" anymore? Look, I get it that announcer Ralph Sheheen is practically in love with this saying but to have the voice of god guy bring him out to that with the competitors that are beating him sitting right there seems kind of wrong. I'm not bagging on James but that title should be thrown around if you are out there demolishing the races but with "only" three wins, fourth in the points I think we can throw that away now. And just to be cool, I will add in a hashtag #nothating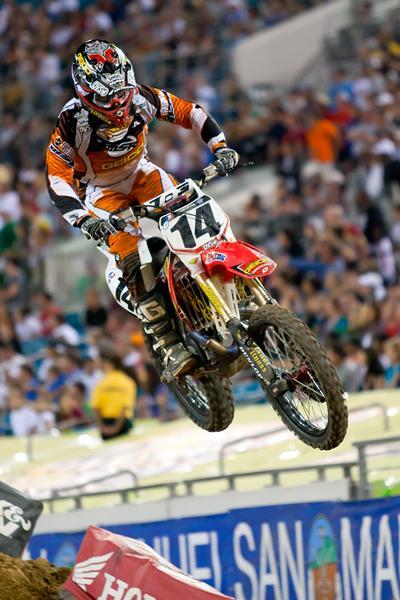 K-Dub rebounded in Jacksonville.
Photo: Andrew Fredrickson
A couple weeks ago in the weekly Racer X Podcast show where Weege, Ping and I recap each race, I mentioned that Windham was probably just riding around and not pushing it all that much the last few weeks after his bad crash at Houston and San Diego. I was immediately derided as an idiot, told that Windham was upset by his finishes and that he's trying as hard as he can. I just thought that being at the age that he is, with nothing to prove to anyone- Windham might just back it down a bit after some pretty gnarly crashes. The other two yahoos I mean experts, told me I was full of it.
Allow me to quote Weigandt's "Redux" column from yesterday on this very same website "K-Dub actually admitted before the race that the hard hits he took in Houston and San Diego did have an effect on him mentally, and he had lost that willingness to go hang it out."
Thank you very much. I'll move on now.
As far as the best dressed guy, nothing really stood out to me as new or something that I liked. I do like the black Answer stuff, the yellow and blue MSR, the black and gold Fox, Alessi's A-Star get-up and a few others but this weekend in Jacksonville, nothing caught my eye besides the steak, chicken and lobster that the JGR team served up courtesy of The Sage Room.
Speaking of JGR, Coach Gibbs was in the house and I got to spend a little time talking to him about football. Joe's a great guy but he didn't seem really interested in how I don't draft his former player Clinton Portis in fantasy football anymore because of injuries. Can't say I blame him really.
Thanks for reading, see you next week when the series goes to, wait for it, Canada! I know that the entire industry is absolutely frothing at the mouth at the idea of going to Toronto. I'm so pumped that I'm going in a day early! Email me at steve@pulpmx.com