Rogers Centre
Toronto

,

Canada
Toronto
Monster Energy AMA Supercross Championship
After becoming one of the first-ever co-recipients of the AMA Horizon Award in 2008, Pennsylvania native Darryn Durham signed his first-ever pro contract with the Star Racing Yamaha team for 2009. In his first season of supercross, Durham finished a respectable tenth in points with a season-high fourth in Jacksonville. Outdoors he finished twelfth in points, and although he earned national number 36 for 2010, he unfortunately didn't earn another contract with Star Racing and was forced to go it alone.
Luckily, fellow PA native Chad Sanner was ramping up his engine modification shop—Eleven10Mods—and helped pull together a last-minute effort with support from Troy Racing, Kilbarger Drilling, and Cycra. Fast forward to 2011 and Darryn is again with Eleven10Mods and Renegade Racing Fuels aboard a privateer Honda. In the first Eastern Regional Lites Heat race of the year in Houston, "Double D" battled with Dean Wilson for the win. It was during that dust-up that Darryn suffered a broken foot, sidelining him until this past weekend, where he shook off some rust and finished a very respectable sixth. We called him to get his take.
Racer X: Darryn, welcome back to supercross.
Darryn Durham: Yeah, man, it was sweet to be back racing. I missed it.
It seems like it didn't take long at all to shake off the cobwebs—that was a heck of a heat race in Jacksonville.
Yeah, I rode two days before the race and I knew I didn't really lose any speed, but I kind of didn't quite have the endurance for fifteen laps on the bike. But the heat race went well, for sure. I was a little nervous on the line, but once I got out there I was fine.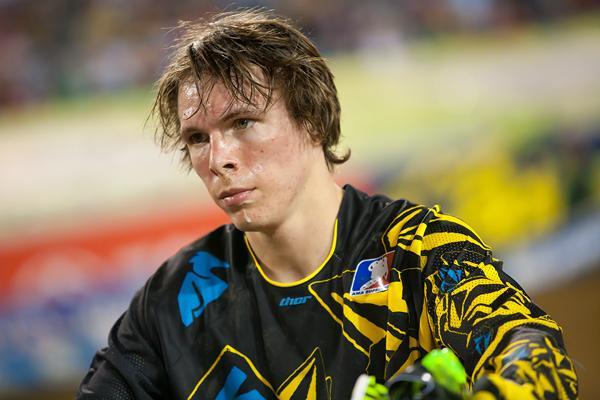 Durham was solid in his return from a broken foot, finishing sixth in Jacksonville.
Photo: Andrew Fredrickson
You got off to a good start in the main and finished sixth. That's not too bad considering it was your first race back.
Yeah, it wasn't too bad. I think I could've done a little better if I was more prepared, but it just felt so good to get back out there racing.
Let's go back to the Eastern Regional opener in Houston. In the first Lites heat of the night, you and Dean Wilson had quite a battle, but you ended up breaking your foot. Give us your take.
Dean and I were battling and he came on the inside and he didn't even really hit me that hard, but he just hit me right in the foot and as soon as he did I knew it was broke. It was definitely a bummer, but there's nothing I could do about it. I wasn't mad at him or anything, it was just kind of a racing deal.
So what have you been doing in your down time?
I kept training as much as I could, but it's difficult when you can't run or ride a bicycle. I was seeing Dr. Medsker to help me get healed up a little faster, and that's pretty much it. I was pretty bored.
When did you get back on the bike?
My first day back riding was last Thursday; I rode Thursday and Friday and then went racing.
Is your foot still sore?
Yeah, it actually is. It's not that bad till the whoops, and the whoops in Jacksonville were pretty tough, so I was struggling there.
Can you explain your team situation? Last year it was Honda of Troy/Kilbarger Racing, now this year you're with Chad Sanner and Eleven10Mods, but not Troy Racing, but you're running Troy graphics. What's the deal?
[Laughs] I don't really know what the deal is with the Troy graphics. I just know that N-Style wanted us to run them, so that's what we're doing. But yeah, I'm with Eleven10Mods and riding a Honda, and the bikes are really good. I don't know, the Kilbarger team kind of screwed me over a little bit last year, so I decided to go with Chad Sanner at Eleven10Mods. He builds a hell of a race bike.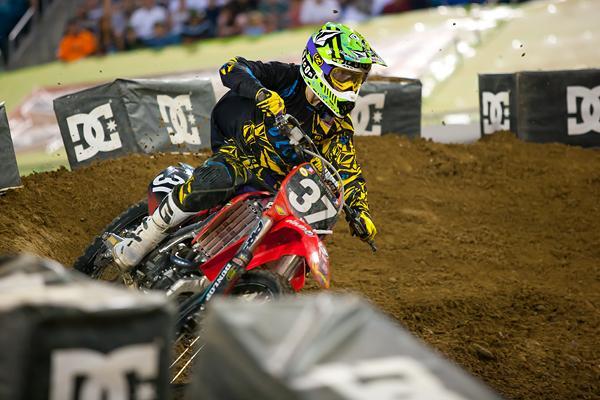 Can Durham reach the podium before seasons end?
Photo: Andrew Fredrickson
Did you get any other offers?
No, I was kind of left high and dry after last year. I didn't have the best of years—I got hurt in supercross and didn't really get to show anything and then outdoors I never really put two solid motos together, but I'm really looking to turn it around this year. I've been staying down at Club MX in South Carolina training and riding, so I'm looking for good things this year.
Back when you signed with Star Racing, were you kind of surprised they didn't re-sign you after your rookie season?
Yeah. Well, I originally signed a two-year deal with them, but they boned me over too. Man, I don't know. I had a few good finishes in supercross and was kind of learning, but I don't know, they didn't want me back.
Well, keep your head up, man, because you definitely have the speed and talent to run up front.
Thanks. I definitely feel I'm capable of finishing on the podium. I really worked hard coming into this year and I'm just really bummed that I got hurt at Houston. Hopefully I'll just get healthier each week and I'll be winning some races before the end of supercross.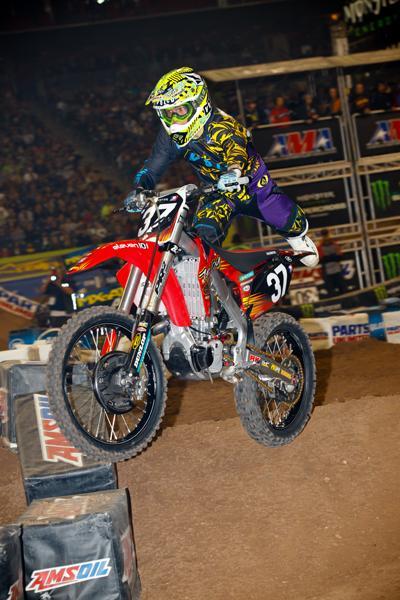 Double D held on to this near get-off in Houston.
Photo: Simon Cudby
Looking ahead, will we see you racing the nationals?
Yep, I'm going to do the whole outdoor series.
Well, give your sponsors a mention, Darryn, because I'm sure you have some good people behind you.
I'd like to thank Eleven10Mods, Renegade Fuels, PR2, Volcom, VonZipper, Bell, FMF, Deft Family, MotoTassinari, QTM, Raptor, Hinson, Vortex, Carnk Works, ICW radiators, ARC Levers, Hammer Head, Motion Pro, Kicker, Total Image Autosports, Pro Taper, DP Brakes, Motorex, Ride Engineering, Cernic's, Heat Shield Products, LeoVince, RK/Excel, Dunlop, Straight Shot air filters, Atlantic Promotions, Pattern33, and Club MX. Thanks, guys.