Thor Amateur Race Team Has Championship Week
Two amateur events got underway last week and things have gone extremely well for the Thor Amateur Race Team.  Both events at the MillCreek Spring Classic and Freestone Spring Championship produced multiple Thor champions and showed the industry that there will be more to come from this high-quality class of riders in 2011.
First up is a look at the Thor MillCreek Spring Classic.  This was the inaugural year for the Spring Classic at MillCreek MX Park in Pell City, Ala., after making the move from Lake Whitney in Texas.  Despite the transition in locale, Thor & Parts Unlimited continued its long-standing partnership with the Spring Classic and the riders competing on the track.
Despite a wet and cold week in Alabama, Thor riders shined out on the track.  Below is a breakdown of championships won by a crop of riders led by Jeremy Martin and Justin Bogle.  In addition to a total of 14 championships at the Spring Classic, Thor riders also accounted for seven runner-up finishes and nine third-place efforts.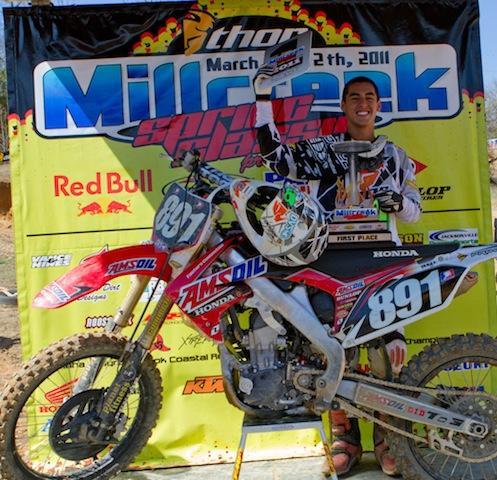 Justin Bogle (Courtesy of VurbMoto)

Champions
- Lance Kobusch - 65 (7-9) Modified
- Justin Dunn - 85 (9-11) Stock
- Challen Tennant - 85 (9-11) Modified
- Cooper Webb - 85 (14-15) Modified
- Cooper Webb - Supermini 2 (13-16)
- Jace Owen - Schoolboy 2 (13-16)
- Justin Bogle - 250 A
- Justin Bogle - 250 A Pro Sport
- Jeremy Martin - 250 B Stock    
- Jeremy Martin - 250 B Modified
- Justin Bogle - 450 A
- Jeremy Martin - 450 B Stock
- Jeremy Martin - 450 B Modified
- Steven Tokarski – Collegeboy

At the Freestone Spring Championship in Wortham, Texas the winning ways continued for Thor-sponsored riders.  Also an inaugural amateur event, the riders competing were lucky enough to compete on the pro track that is home to the Freestone National coming up on May 28, 2011.

The star amongst stars at Freestone was Cole Thompson.  The young rider won six titles in dominating fashion throughout the intermediate classes.  

When asked about his performance, Cole said "I had a solid week and was able to win all of my classes… Freestone's track was amazing and the long motos really played into my favor".

Additional Thor riders that brought home championships were Colt Nichols (Schoolboy 2, 14-16) and Sean Cantrell (85, 9-11 Stock).  These riders also helped add four second-place finishes while Carter Halpain delivered a pair of third-place podium results as well.

Make sure you visit thormx.com and follow Thor MX on Facebook.