Breakthrough Rides for Coach Seiji Clients at ATL
February 28, 2011 11:05am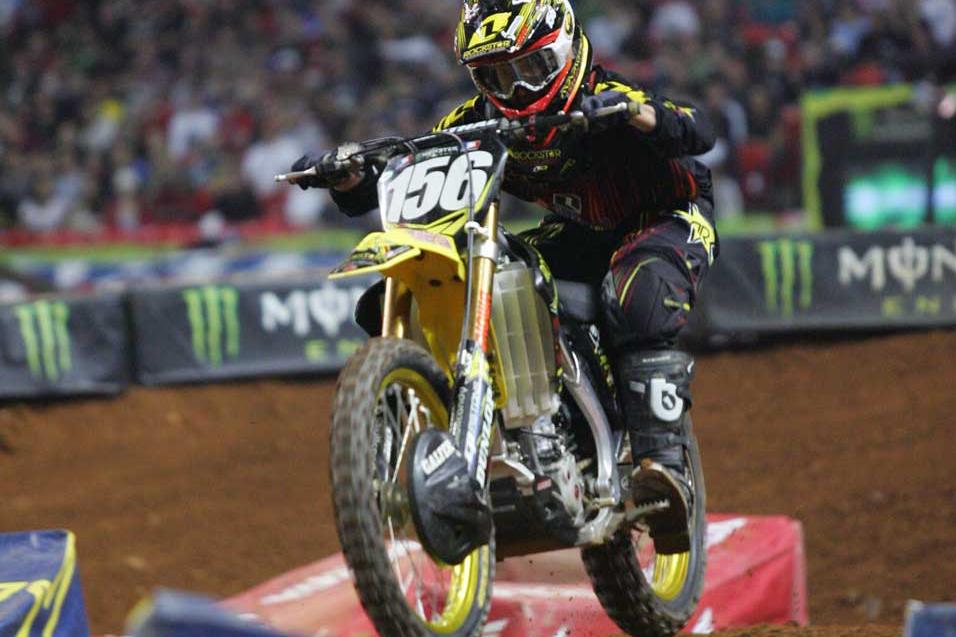 The 2011 Atlanta round of the 2011 Monster Energy Supercross Series provided breakthrough rides for Coach Seiji Lites class clients #65 Hunter Hewitt and #156 Jason Anderson while also remaining fruitful for #29 Supercross class client Andrew Short. Long time Coach Seiji client Hunter Hewitt earned his career best finish with a 6th place while Jason Anderson posted top 3 lap times all night on his way to a 9th place finish. Andrew Short continued his hunt for a podium finish with a strong 6th place finish in his main event.
Both Pro Circuit/One Industries pilot Hewitt and Rockstar Energy/Suzuki rider Anderson recorded extremely fast times in their qualifying practices: Hewitt produced the 12th fastest overall Lites qualifying time while true supercross rookie Anderson amazingly posted the 3rd fastest overall lap time. Red Bull/KTM Factory Racing rider Short posted the 10th fastest qualifying time in the premier SX class.
Lites Heat #1 produced a tight start with #65 Hewitt pushing his way to the front end of the pack and fighting for the 4th place position through the first few lanes. Hewitt would ride consistent and smart to maintain 4th at the checkers. Lites Heat #2 also produced another tight start with #156 Anderson gating well and also squirting out of the first turn near the front. Anderson would earn a 3rd place position after the first few lanes and maintain that position throughout the heat race while producing the fastest lap time of the heat. #29 Short started well in his incredibly stacked heat race and rode an intelligent race to finish 4th behind Canard, Reed and a surprisingly fast Millsaps.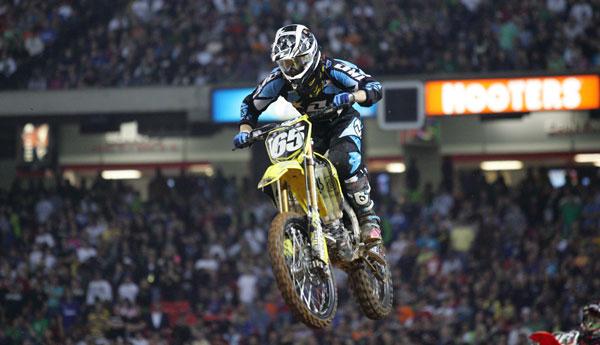 Hunter Hewitt earns career best 6th place finish.
Photo: Andrew Fredrickson
Both Hewitt and Anderson started well in the Lites class main event with Hewitt coming around in 7th after the first lap with Anderson on his rear fender in 8th. Both riders advanced one position by the third lap but Anderson would hit the deck on a tricky on/off section while actually going for the pass on Hewitt. Hewitt would maintain his position to earn a career best 6th place finish while Anderson would charge through the pack to earn a hard fought 9th place finish while recording the 2nd fastest lap time of the main event. Short would gate smartly and thread his way through the pack to come around in 7th on the first lap. The veteran rider would extract all the power of his KTM350 and lay it on the red Georgia clay to move up to 6th on the next lap and advance to 5th by the fourth lap. Short would remain in this position until the last lap, losing a spot to Canard's incredible charge through the group.
Coach Seiji is extremely proud of all his riders and is excited for the future rounds. Go ATX Crew!