This Week in Monster Energy Supercross: Atlanta
Georgia Dome
Atlanta

,

GA
Atlanta
Monster Energy AMA Supercross Championship
AURORA, Ill
– As the 2011 Monster Energy AMA Supercross, an FIM World Championship, nears the halfway-point of the season, four different riders have earned main event wins in the Supercross class, including
James Stewart
,
Ryan Villopoto
,
Trey Canard
and
Chad Reed
. Monster Energy Kawasaki's
Ryan Villopoto
, of Poulsbo, Wash., carries a three-point lead into Atlanta's Georgia Dome this weekend over Team San Manuel Yamaha's Stewart.
"I've always liked the dirt in Georgia with the red clay and I'm really looking forward to racing in domes for a while," said Villopoto. "I didn't have the best weekend last week and did what I could to make up points. I hope this next weekend is better than that."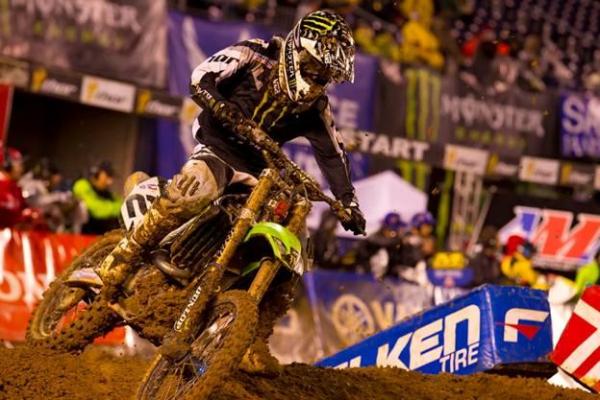 Heading into Atlanta's race at the Georgia Dome this Saturday, Monster Energy Kawasaki's
Ryan Villopoto
sits in first place, three points ahead of San Manuel Yamaha's
James Stewart
.
Photo Credit: Hoppenworld.com
While Villopoto may enjoy the Georgia clay, he is winless in Atlanta. Stewart won in Atlanta in 2009 and 2007, and Ryan Dungey, the defending Supercross class champion, won last year in Atlanta.

"The track was gnarly out there," Stewart said, who earned is sixth podium of the season last weekend.  "I tried my best, but my best just wasn't good enough.  I'll be back with some Bubba Scrubs at Atlanta though and hopefully will get it done."

Dungey, who has five podium finishes, is 23 points out of first place and sits fifth overall in the Supercross class season standings. Following a DNF at Anaheim, the 21-year-old Minnesotan has been climbing his way back to the top of the standings.

"The track was actually in pretty decent shape at the start of the main in San Diego," said Dungey. "I got a great start right up with the front guys and really tried to put my Rockstar Makita Suzuki in a good position and make no mistakes because the rain was coming down. The track was getting greasy so I just tried to keep my lap times good and not make any mistakes. To finish off with a second was good – a great step in the right direction and one step closer to that win. I'm looking forward to Atlanta. We have press day there so we'll get a chance to check out the track a bit. Atlanta has been really good to me – I really enjoy going back there. The fans are great and it's always one of the biggest crowds."

After winning the first Supercross class main event of his career, American Honda Racing's Trey Canard finished fourth in San Diego and is fourth overall in season standings. Canard led until lap five when he suffered a crash and allowed Reed to move into the lead.

"I'm really excited for this weekend's Atlanta race because I earned my first podium with the American Honda Racing team at this race last year," said Canard. "I want to be on the podium again there this weekend. I actually think last weekend's San Diego race was my personal best race of the season. I know I won in Houston, but in terms of being in the right place mentally and physically, and me actually racing well, I think I put all the pieces together last weekend. It was just a shame it was so slippery and wet because my confidence was high and I was in the zone to win."

Geico Honda's Kevin Windham, who crashed while leading in Houston, suffered another crash in San Diego.

"I've taken some really hard hits the last two weeks and I feel pretty lucky I haven't broken anything," said Windham. "My longevity in the sport is a direct result of avoiding these kinds of problems. This is not typical of the way I ride at all. It's been a very trying time for me. I can't even practice like normal during the week because I need to rest my body. Trying to push the limits to stay up front this year puts you on the edge."

Red Bull/KTM's Andrew Short earned his seventh top-10 finish in San Diego with a sixth place. Short has improved his results since the season opening race in Anaheim, where he finished 10th. His average finish heading into San Diego is 7.4.

"I put myself in contention for a great finish at San Diego after almost nailing the holeshot," said Short. "I made a few mistakes at the end of the race and lost a few positions. I came real close to passing Millsaps back at the end but eventually finished 6th."

Like Short, his teammate Mike Alessi is steadily improving, finishing a season-best ninth place in San Diego.

"I was definitely tired after that race," said Alessi. "It's the hardest I rode all year, and I think it showed with an improved result. It gives me a lot of confidence to know I can compete inside the top 10."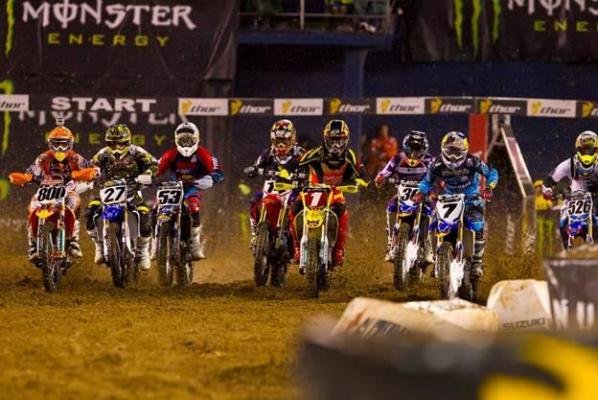 Saturday's race at the Georgia Dome marks the 33rd time the gate will drop for a Supercross class race in Atlanta.
Photo Credit: Hoppenworld.com
Rockstar/Makita/Suzuki's Brett Metcalfe finished eighth in San Diego and is seventh overall in season standings, just two points behind Andrew Short.

"I really enjoyed riding the track in San Diego," said Metcalfe. "I'm just a little disappointed in my results. I got a bad start in the main – I had a lot of wheel spin at the start because the gate was so slick. I had to fight my way through the pack with my RM-Z a bit but I was a little inconsistent. It was a difficult one, but I still picked up an eighth and I'm happy that my Rockstar Makita Suzuki is still sitting seventh in points. I need to start pushing and get some better results. I'm glad to go to Atlanta. I've done well there in the past and it's a good layout with a lot of floor space. The dirt is tacky and it suits my style. I look forward to a better result with my Suzuki there."

Team San Manuel Yamaha's Kyle Regal had an impressive heat race, finishing third.  However, as the night went on the track got worse and it proved to be challenging for Regal in the Main Event.  Regal was able to pull out a 12th place finish, but has not been able to get the top 10 finish he is looking for.

"I wasn't able to perform as well as I had hoped," Regal said.  "I'll be training with James for the next month in Florida, so I'm looking forward to that and hope to reach my goal of a top 10 in the upcoming races."

As the Eastern Regional Supercross Lites class returns to action, Monster Energy/Pro Circuit/Kawasaki welcomes back their two podium finishers from Houston in Dean Wilson and Blake Baggett. Wilson was very close to the win in Houston and has been working hard to get back up to speed after sitting out with an injury most of January.

"It's not easy to just jump back into racing after being off the bike for over a month," said Wilson. "It was mostly about my endurance in the main event and I think that with each week, I'll only get stronger."

Baggett looked comfortable in his first race and looks to Atlanta to show he is win material.

"I felt really good in Houston, but just didn't do well off the start," said Baggett. "Atlanta should be a longer start and I think I can really put the Kawasaki out front. I'm really looking forward to racing every weekend again and hopefully go after a championship."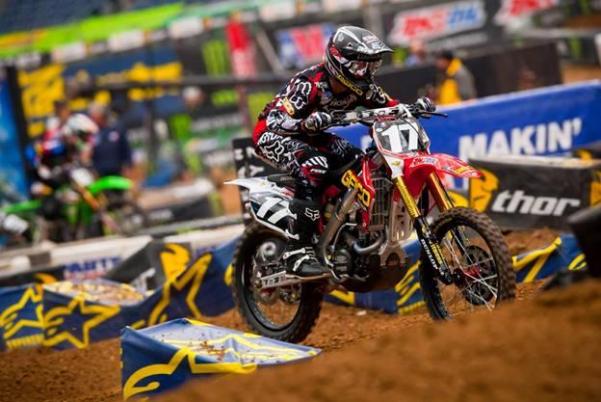 With a commanding victory two races ago in Houston, GEICO Honda's
Justin Barcia
sits in first place, followed by Monster Energy/Pro Circuit/Kawasaki's
Dean Wilson
and
Blake Baggett
, respectively.
Photo Credit: Hoppenworld.com
Current points leader GEICO Honda's Justin Barcia rocketed off to a great start to his 2011 campaign by winning the first race of the Eastern Regional Supercross Lites class championship in Houston. The Honda racer will now look to build on his early success at his hometown race this weekend at the Georgia Dome.

"I can't wait to ride again," Barcia said. "I didn't want to take last week off after winning in Houston. I wanted to ride again the next day. You have the whole off-season to think about that first race. I knew I needed to be strong and I wanted to get off to a good start. I know a lot of people are pointing to me as one of the favorites in the (Lites) East so I wanted to show everyone I was worthy of all the attention. Now that race is done and it's time for Atlanta."

Barcia's teammate, Blake Wharton, also had a strong opening race and stayed in Barcia's shadow for most of the Houston race before finishing sixth.

Red Bull/KTM's Ken Roczen will take a break from competing in the premier class this weekend before contesting the Daytona Beach race in the Supercross class.

Team Rockstar Energy Suzuki's east coast rookies Ian Trettel and Jason Anderson scored fifth and seventh-place finishes respectively at the opening race of the Eastern Regional Supercross Lites championship.

"I really had no idea what to expect coming into Houston," said Trettel. "I qualified my Suzuki RM-Z 11th fastest, which I feel is pretty good about because there are a lot of fast guys here in the east. I got a pretty good start in my heat race but got pushed around a bit in the first lap and ended up sixth. I got a pretty good jump on the start of the main, but there was a lot of bumping and pushing; I felt I just had to be patient. I put my head down and put my RM-Z250 to work and was able to get my Suzuki up to fifth. I'm really happy with a fifth-place finish in my first race – that was my goal, but you never know if you're going to be able to put everything together for the first night. I'm excited for Atlanta because it's always a big crowd and a cool track. I'm going to study the Houston race and figure out what I need to do to improve my results for Atlanta."

Anderson hopes to build off his finish in Houston now that the rookie jitters are gone.

"I was excited for my first pro race ever in Houston," said Anderson. "I wasn't really used to the timed qualifying and I started off a little slow but got better throughout the end of qualifying. I got into my heat and had a good first few laps and ended up in third at one point, which was cool. I made it to the main and got a decent start and my Rockstar Energy Suzuki RM-Z250 powered me up to seventh, which is where I stayed, and that was good. I'm excited with the result and I want to build on that for Atlanta. Atlanta always seems to be a good event and I'm excited to get out there after getting that first race out of the way."

Tickets are available at the Georgia Dome Box Office, SupercrossOnline.com, participating Yamaha dealers, all Ticketmaster retail locations, charge by phone at (800) 745-3000, or online at www.ticketmaster.com. Practice and qualifying begins at 12:30 p.m., and the main event begins at 7:00 p.m.  Club Level tickets are available for $50 Adult/Child; Gold Level $45 Adult/Child; Mid-Level $35 Adult/Child; Upper Deck $10 Adult/Child. Fans can also get into the Pits for FREE from 12:30 – 6 PM Race Day when they recycle a MONSTER Energy Can at the stadium Pit Entrance (valid only with event ticket).

For more information on the Monster Energy AMA Supercross, an FIM World Championship, please log on to www.SupercrossOnline.com. For all media requests, please contact Denny Hartwig dhartwig@feldinc.com or 630-566-6305. Follow Monster Energy Supercross on Facebook and Twitter.