2011 MiniMotoSX Track Map Revealed
2011 MiniMotoSX Track Map Revealed
New venue provides room for a longer track!

Irvine, Calif – The 2011 GEICO, AMA MiniMotoSX, presented by Monster Energy and Braaap USA will be making a one year stop at the South Point Arena. The new venue provides a larger floor for the Schaefer Tracks crew to create the longest MiniMotoSX track to date. The riders will start out of view of the fans and blast into the Arena to tackle the tabletops, doubles, whoops and combination of 13 turns that make up an exciting track for racers and spectators.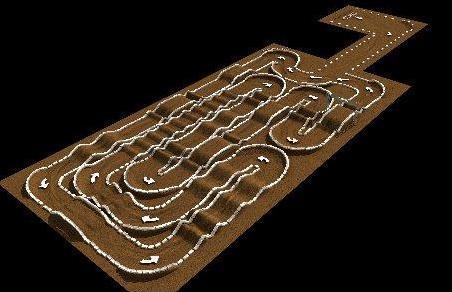 "After seven years at the Orleans Arena, it is refreshing to have a new, larger floor to work with" noted Mike Karsting, VP of Events at Source Interlink. "The racing is always exciting at MiniMotoSX and the longer lanes and additional obstacles and turns will provide more passing opportunities." So take a look at the attached image and start daydreaming about blasting through the whoops, launching the doubles and railing the bowl turns.

Make your plans now to head out to Vegas for Monster Energy AMA Supercross weekend a little early so you can catch the Friday night show.  You can find race entry and event info at www.minimotosx.com and the new South Point Hotel host has ticket and room packages available at www.southpointeventscenter.com/events/11-minimotosx.php.
For rules and race information visit www.minimotosx.com or email minimotosx@sorc.com