RCU Welcomes Back Jeff Stanton
February 15, 2011 10:00am
Ricky Carmichael University Welcomes Back 4-Time Daytona Supercross
Winner Jeff Stanton to its Faculty

Morgantown, W.Va
-
Ricky Carmichael
University is proud to announce the return of yet another past Daytona Supercross Champion, Jeff Stanton, as a faculty member for the 2011 school, Monday, March 7 at Daytona International Speedway.
Stanton will work alongside Ricky, Mrs. Carmichael, Jeff Emig and other accomplished faculty members in teaching the class of 100 students. Last year, the past champion worked with students on breaking down the rhythm sections and cornering technique.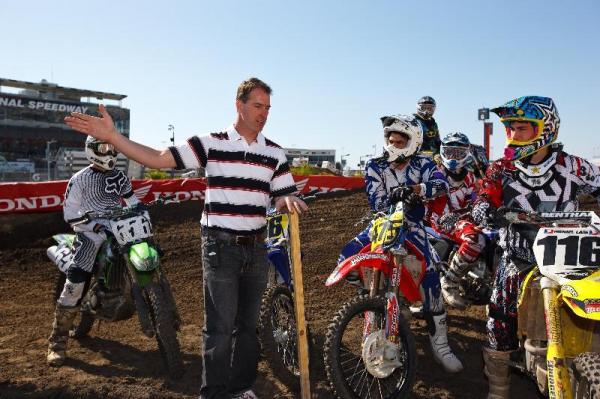 "I'm honored to be a part of the RCU Faculty for the second year. I think it's a great thing that Ricky is doing because not many people get the opportunity to ride the infamous Daytona Supercross track," said Stanton, a four-time Daytona Supercross Champion. "Daytona International Speedway is such a special facility and all the great teachers and sponsors really make it a first-class event."
Stanton is an AMA Motorcycle Hall of Fame racer who holds three AMA Supercross titles and three AMA Motocross Championships. A resident of Sherwood, Michigan, he retired from professional racing in 1994 but spent the years after helping mentor and coach American Honda Racing's top riders.
"I've been lucky enough to work with Jeff on several occasions; he's a first class guy and one of the all-time greats out on the race track. I am really proud to have him back as a faculty member for this program", said Carmichael, 15-Time Champion and Principal of RCU.
Please remember, RCU is limited to 100 participants and last year's event sold out. For more information, or to register for RCU, please visit
www.mxsports.com
.
About Daytona Amateur Supercross Championship
The Ricky Carmichael Daytona Amateur Supercross Championship, produced by MX Sports, offers an opportunity for amateurs to compete on some of the most prestigious motorsports grounds in the world - Daytona International Speedway. Run in conjunction with the Daytona Pro Supercross during the first weekend in March, the Ricky Carmichael endorsed event marks the only chance during the year to take riding lessons from the Greatest of All-Time. The 2010 inaugural event sold out, filling every position on the gate, making this amateur supercoss event a once in a lifetime experience for participants all ages. For more information, please visit www.mxsports.com
.
About Ricky Carmichael
Ricky Carmichael is the Principal of Ricky Carmichael University. Carmichael won 102 AMA Motocross Nationals and 48 AMA Supercross main events for a record 150 major wins between 1997 and 2007. The Tallahassee, Florida resident won 10 AMA Motocross Championships and five AMA Supercross crowns, giving him a record 15 major titles in his career. After retiring from professional racing, he began pursuing a career in auto racing and was named the Most Popular Driver in the 2009 Camping World NASCAR Truck Series. Currently Carmichael is competing in NASCAR's Camping World Truck and Nationwide Series for Turner Motorsports. As for motocross, he will forever be known as "the Goat," which stands for greatest of all-time.