GNCC Features Live Laps Texting
GNCC Features Live Laps Texting
Off-Road's Only Real-Time Updates
Morgantown, W.Va.
- GNCC Racing is proud to announce Live Laps Texting Service, off-road's only live text alert for a mobile device.
By texting to m@gncclive.com, fans can choose from three different codes to receive lap-by-lap real-time updates from their favorite GNCC events.
The first code allows fans to subscribe to a racer for the day, meaning they will receive alerts each time the racer completes a lap. This message will contain the rider's hometown, number, bike brand, class and class position, overall position, laptime, and elapsed time.
The second code allows fans to periodically check on a rider or several riders at once. This system will respond with information on a rider's position, laptime, and other race data.
The third code provides information on the overall top 20 or a particular class. Using specified class codes, fans are able to follow unofficial class results as they happen.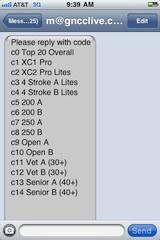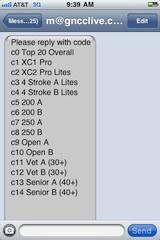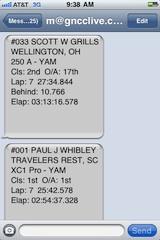 "We are excited to provide our GNCC fans with real-time updates on what's happening throughout the race.  Since our courses range from ten to 12 miles, fans can know what position their riders are in no matter where the fan is," said Dan Reinhart, GNCC Systems Manger. "It's also a great opportunity for fans that aren't able to make the race to keep up with what's happening during the races."
The 2011 Can-Am Grand National Cross Country Series kicks off with the Moose Racing Westgate River Ranch GNCC in River Ranch, Florida in conjunction with Daytona Bike Week March 5-8. ATV practice will take place on Saturday and racing on Sunday, followed by bike practice on Monday and racing on Tuesday. For more information, go to
www.gnccracing.com
.
About GNCC Racing:
The Can-Am Grand National Cross Country Series is America's premier off-road racing series. Founded in 1979, the 13-round championship is produced exclusively by Racer Productions. Cross country racing is one of the most physically demanding sports in the world. The grueling three-hour GNCC races lead as many as 1,800 riders through tracks ranging in length from 10 to 12 miles, competing for more than $3 million in prizes. With varied terrain, including hills, woods, mud, dirt, rocks and motocross sections, GNCC events are tests of both survival and speed. For more information, please visit
www.gnccracing.com
.