Reliant Stadium
Houston

,

TX
Houston
Monster Energy AMA Supercross Championship
And we're back at the Big A in Anaheim, California for round five of the Monster Energy Supercross Series! In the past we've gone to Anaheim three times in a year and with one of the rounds going to Dodger Stadium, we've shrunk Anaheim to two and it's a good thing it appears as the stadium was SRO- Sold Right Out.
The fans were into it, the riders were starting to get into the grind and we had a good cause to support as A2 was the "Save the Ta-Ta's" round or the Breast Cancer round where donations were made towards fighting the disease and the racers wore pink in support of that. Memo to the teams and gear companies-- flo pink is good. Flesh pink is not so good.
Now onto the track, and upon walking it, it looked very difficult. The big whoops from Oakland were back although shorter, and everywhere you looked, there were jumps sticking up out of the ground. As well the over/under bridge was back for more. That's two weeks in a row for the sweet, sweet bridge. The track looked to be very difficult and scary!  As we'll go into later, Stewie turned a few heads with his riding out there but for the most part, the guys were stuck into doing each section one way. The whoops separated some guys, but the sand in the S-turn section was beyond ridiculous. It was follow the leader from the end of the whoops to the first turn. Oh well, I thought that from the outside it looked great but it didn't turn out so well. Sometimes you have a raceable track and sometimes you don't!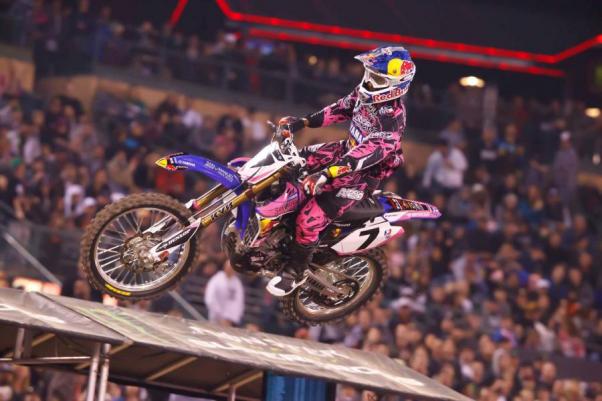 Stewart dominated the field in Anaheim.
Photo: Simon Cudby
Stewart won the race in a convincing manner, he was the best rider on this night--no ifs, ands or buts about it. He's skipped the last timed practice session the last couple of weeks which tells me he's banged up from a crash somewhere along the line (probably Oakland), but it hasn't seemed to matter much as he has still dominated the last couple of weeks. In Anaheim he busted out a couple of jumps that no one else could do and that was all she wrote. He was the man in Anaheim and the term I used for him a few years ago was "crazyballs". Well, crazyballs was back at A2, taking names and kicking ass.
Why has he skipped the last practice in Oakland and now Anaheim? Well, at Oakland I believe it was to get his marbles back, but this week? Who knows? Maybe he's superstitious or maybe he's still battling an injury.
RV got second and seemed ok with it after the race, he wasn't very stressed out on the beating that he got and that's probably a good thing. He's not the type of guy mentally who gets psyched out by anything. He'll take it that he got beat, he was still the second best guy, and he will move on.
Listen to how casual he is in this podcast (HERE) as I talked to him while he ate a peanut butter and jam sandwich in the parking lot.
Ryan Dungey suffered a terrible blow when his chain derailed as he was working his way through the pack. Well if he was playing it a bit safe before, that strategy is now out the window as The Dunge has to get busy and get some wins if he has any hope to win this thing. It's a real shame about the DNF, one time at Yamaha Reed threw a chain off at Red Bud and we had no idea how it happened except for the fact that he must have gotten a rock right in the exact spot that would make the chain skip and fall off. Everything else was measured out and installed correctly and everything. Sometimes, poop happens.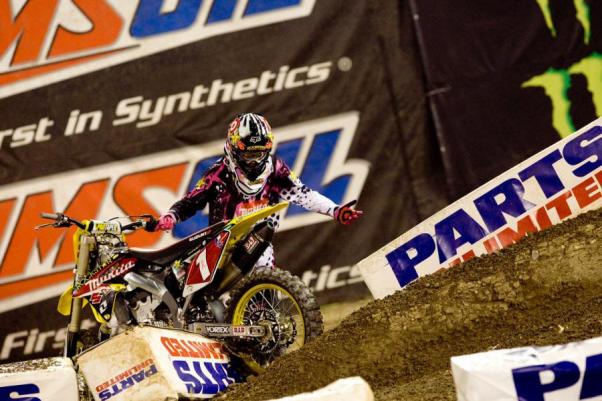 Dungey's title chances took a big blow in Anaheim.
Photo: Matt Pavelek
Josh Hansen suffered a terrible crash in practice going through the whoops and probably should've been out for the night. He hit his head hard, hurt his hand and got carted off which generally makes for a DNS on the night. Incredibly Hanny suited up and not only won his heat race but also put it all together to ride a great race and win the main event. The 100 withstood some great pressure from some frisky kids and just like the LA race, proved that he deserves this title.
With a cast on after the race and a one week break for the next west race, Josh has some healing up to do but he'll be coming into San Diego with a ton of confidence because if he can win in the condition that he was in, what can he do when rested?
The frisky kids that I was referencing were Eli Tomac and Ken Roczen who both took runs at the Kawasaki of Hanny at different times. Both of these dudes were hanging it out trying to win their first race and in a way, the battle between them helped out Hanny because they were preoccupied with each other and protecting lines which allowed Hansen some breathing room.
Tomac, in particular, is getting the confidence needed with his last few rides to go out there and win one of these races. His A1 struggles seem so long ago, with his bike and his skill-- I believe the kid will stand atop the podium at one of the upcoming races. I spoke with him after the race and he was very excited about what had just happened, even though he got beat.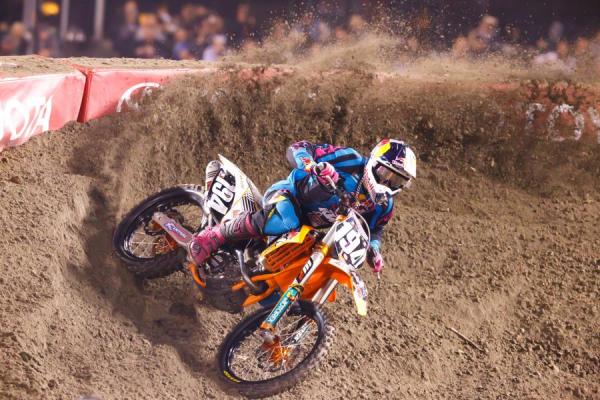 Roczen scored his first career podium at A2.
Photo: Simon Cudby
As far as the other boy wonder (vunder?) it was the German Ken Roczen who got his first podium on his career. Ken Rocz was very good and man, he's not scared at all! The kid just knows that when in doubt, grab more throttle! I just read this morning that Ken is going to race a 350 this weekend in Houston and I have to say, I'm very surprised at this move. Ken's raced five supercrosses ever and you're going to throw him in the deep end right away? The good thing about it is that at sixteen years old, you don't know any better to be scared.
I love the opening ceremonies video with RV. Kudos to the people behind it but most of the credit goes to Ryan for allowing the video of him laying there in a hospital bed and the x-rays being shown. In a sport where you're never allowed to show weakness, talk about your injuries or admit anything, RV is breaking the mold. Set all that to a cool Eminem song and you have goosebumps!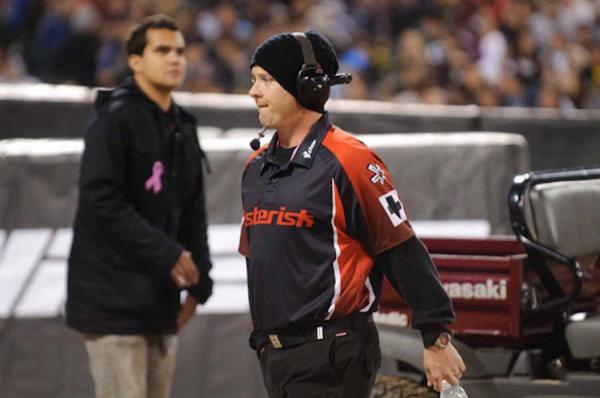 This Asterisk medical person was spotted finishing his ice cream before helping out a nearby injured rider and has been repremanded. He also kept muttering on about a pole and a corner.
Photo: James Lissimore
Nice to see Reedy finally bowing to public pressure (or at least, my pressure), and busting out a nac-nac on the opening ceremonies parade lap. The kid Canard was making those other dudes look bad.
Speaking of Canard, that's a couple of races in a row that he's not been able to get the all-important start. The Okie is hopefully not getting frustrated, but the thing is, when you're out there racing through the pack, bad things can happen. He has to start getting up there, getting away from all the potential carnage and move forward. I don't have a doubt that it's going to happen, I just hope he survives these wild rides from the back.
A few weeks ago I wrote that GEICO Honda's Jimmy DeCotis's results hadn't improved with the addition of a GEICO bike. I presented this theory to Weege in a podcast and he said that I was wrong and upon further investigation, it turns out I was.  I corrected myself on the podcast but maybe people didn't hear that show. So I'm here to say that I was wrong. Because if you take out his one fifth place finish last year, he is indeed doing better with the promotion to the GEICO team once Wil Hahn got hurt.
His buddy Eddie Ray told me that Jimmy wasn't pumped with my comment and I know I apologized but not in print. I also met Jimmy and realized that he's very tiny. He's so small that maybe we could use him as a unit of measurement. Like my cars truck could hold "three Jimmy Decotis" or "I'm two and a half Jimmy Decotis high" or whatever, you get my meaning.
I am now back in Jimmy Decotis's bad books.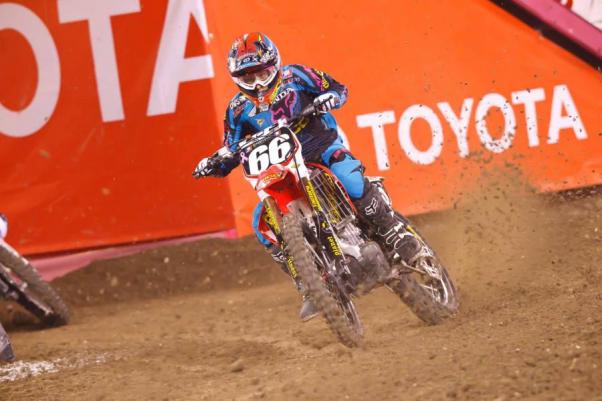 Jimmy D has been solid for GEICO Honda, filling in for the injured Wil Hahn.
Photo: Simon Cudby
Funny how, when you look at the segment times from the race that in the section that had the two quads in it, RV was actually faster than Stewie.
Segment 2
RV- 18.757
Stewie- 18.776
(Close I know but still)
Segment 3 (whoops)
Stewie- 24.233
RV- 24.666
(almost .5 of a second)
So yes, James is gnarly and all that but the real key to his victory was the whoop section. That was where he was much better than anyone else. In the heat race James was over a half a second better than RV and I would guess that was the one lap when he combined both quads together but I can't be sure.
Let's take a look at some results!
AMA Supercross Lites Class:
1. Josh Hansen Kaw- One thing about Hanny that might come back to haunt him is his tendency to take guys a little wide in turns. He doesn't have to do that to get by and guys like Jake Canada and Eli Tomac could have long memories at some point. Right now his speed is letting him get away with it but one time, when he's not as on it, his moves could haunt him.
2. Eli Tomac Hon-
3. Ken Roczen KTM- Something I didn't mention before was Rocz jumping over the tabletop in the one section that was helping him gain a bunch of time. Until he kept screwing it up and then his big advantage was stopped.
4. Broc Tickle Kaw- Tickle was right there and I mean right there if something happened to anyone inside the top three. Unfortunately for him, everyone kept it steady and a fourth was the best Broc could do.
5. Kyle Cunningham Yam- KC won a heat race over Tomac which was nice to see but a bad start doomed him in the main. Still, a fifth is pretty good as was his ride last week.
6. Martin Davalos Suz
7. Ryan Morais Suz- Mo's west coast attack isn't going very well as he's not able to really ride during the week from a practice crash earlier in the year.
8. Bruce Rutherford Kaw- Great ride for Bruce, once again he's the top placing real privateer.
9. Ryan Marmont KTM- Marmont's been pretty good and the JDR KTM team went into the year with a lot of people asking "huh?" about their riders, but manager Nathan Ramsey has been doing a good job with Marmont and Simmonds.
10. Jimmy Decotis Hon
11. Cole Seely Hon- Seely crashed early on and after his LA win and climb to a few points out of the lead, he's now in fifth and 43 points out. Two bad races have doomed him.
12. Antonio Balbi Kaw
13. Jake Canada Kaw- A nation is behind him.
14. Ben Evans Kaw
15. Scott Champion Kaw- Champion's made some big improvements this season.
16. Casey Hinson KTM
17. Kyle Beaton Kaw- Canada's Beaton raced his first sx of the year and made the main event right out of the gate. Good for little Beets, he's good people.
18. Parker Eckman Hon
19. Yuta Ikegaya Suz- I know nothing about this guy, I assume he's from Japan, even though his entry says Apple Valley, California.
20. Nick Paluzzi Yam- Nick crashed out early on.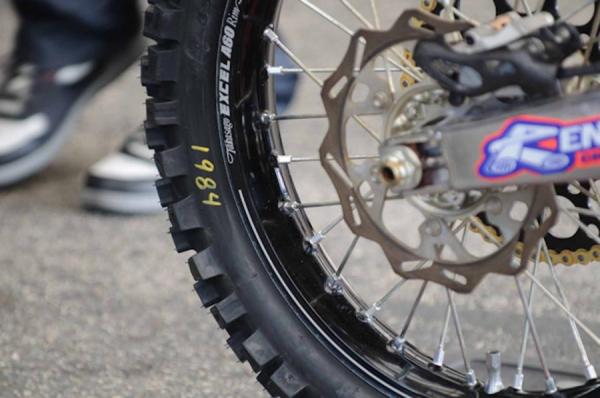 Again, Pirelli whipped out a special tire for the JGR guys. This week it was the 1984 tire which definitely isn't my favorite but probably worked pretty well. Especially in the Panama section.
Photo: James Lissimore
AMA Supercross Class:
1. James Stewart Yam
2. Ryan Villopoto Kaw- I'm going to stay back in Florida after Atlanta and hang out. RV told me about this place called the "Tiki Hut" by his house that has awesome Tator-Tots that they call 'Tiki-tots'-I'm so there.
3. Chad Reed Hon- Reed rode a lonely race in third to get his second podium in a row. He's also getting more help from Honda along the way which blurs the privateer line even more.
4. Justin Brayton Yam- Brayton rode well to get fourth and in a breakthrough of sorts, I don't think Ryan Dungey was going to catch him even if his chain didn't fall off.
5. Trey Canard Hon- I want to see Trey round that first turn in the top three. I really want to see what happens then. The good news about Canard's A2 is that Tim Ferry showed up.
6. Andrew Short KTM- great ride for Shorty. He was good all day and in talking to him before the race, I sensed that he was going to do well because he was happy with the bike and the track. Short is also getting to go home to his wife and kids which also makes him happy!
7. Ivan Tedesco Kaw- One thing that Ivan did win this week is coolest looking bike!
8. Kevin Windham Hon- KW to Weege- "I don't know, I'm riding great- those guys are just hauling ass" or something like that.
9. Brett Metcalfe Suz- Metty and Millsaps went at it in the heat and the main event. It was one of those battles that you had to see, it looked intense.
10. Davi Millsaps Yam
11. Kyle Regal Yam
12. Mike Alessi KTM- Mike rode the best race he had all year. He got the start and raced hard the entire 20-laps. Yeah he dropped back pretty far and yeah he held some dudes up but you have to start somewhere and for Mike, A2 was the hopefully the beginning of some improvements.
13. Matt Boni Kaw- Boni had his best race of the year as he looked to be finally riding the bike and not the bike riding him. A switch in suspension companies is a big part of that.
14. Kyle Chisholm Yam- The Chiz has been working with manager David Vuillemin closely and this weekend was fast in every practice and in the main he was right there until he hooked his boot on the radiator shroud and tumbled over. Add to that his nasty practice crash and he had a much rougher night on paper than his speed showed. He was better, no doubt about it.
15. Nick Wey Yam- Wey might be taking some time off as he's got a jacked up back.
16. Jason Thomas Suz- JT is back into the main and I'm sorry to say, I never noticed him once he got into the main. Still, good to see.
17. Chris Blose Kaw- Blose and manager Kenny Watson are both going into a therapy session asap. For more on this, listen to this past Monday's Pulpmx show.
18. Tye Simmonds KTM
19. Fabien Izoird Kaw- Kawi's fill-in for Weimer, Izoird will get better as he gets more used to things. Don't forget he raced SX last year and had he raced under an AMA license, he'd be national number 59 or something like that. I didn't see him after the race but that was probably because he had to go star in a "It's not butter" commercial with Fabio.
20. Ryan Dungey Suz
The Best Looking Gear Award goes to…
He swept everything else so why not give the award to James Stewart for his Answer flo-pink motif. The stuff looked great and I like the way (either unintentional or intentional)Answer borrowed a bit of styling from the old FOX Image jerseys that had like a pink spider-web on them in the early 90's. Like I said, don't know if that was the inspiration or not but the stuff looked great!
Thanks for reading, email me at steve@pulpmx.com and we can chat like little buddies that we all are!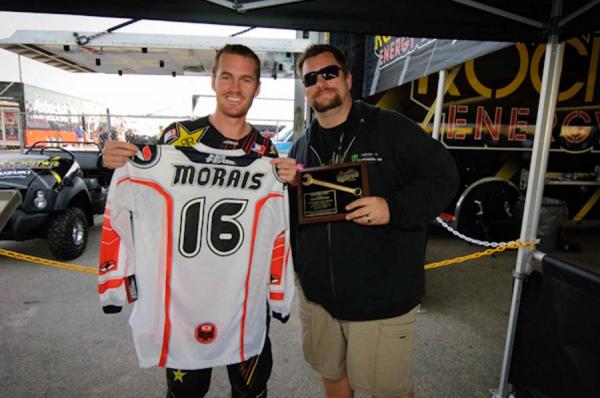 Some of you people may have heard me complain a time or two about how I got screwed out of the Golden Wrench award at the 1999 Mini O's when I worked for Ryan Morais. Some of you may also have heard about Twitter follower Elemophee making me a replica plaque because he was tired of hearing about it. Well at A2, I busted out Ryan's jersey from that race and my plaque and we made an unjust situation into a positive. Finally!
Photo: James Lissimore