By: Anthony Sansotta
Toledo was this weekend's host of the AMA Arenacross Series. Mother Nature blasted the city with over a foot of snow leading up to the event, but that didn't stop fans from packing into the Huntington Center for rounds 6 and 7 of the series. The track was slick and the hard packed conditions made smooth riding important for the weekend.
Tuf Honda's Jeff Gibson came into the second double header round of the series with 113 points and just a 6 point lead over Babbitt's Monster Energy/TiLUBE Kawasaki's Chad Johnson. Chad's teammate Tyler Bowers was sitting in third and coming out of Denver with momentum. He seemed to be focused and ready to battle.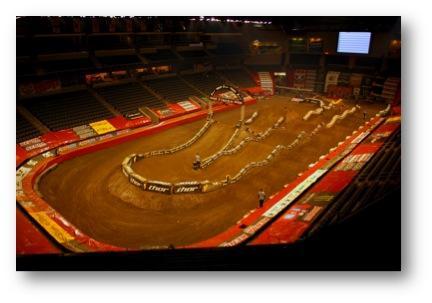 The first race at the Huntington Center filled the arena with fans both nights.
Photo Anthony Sansotta
Friday night Jeff Gibson jumped out into the early lead of the 25-lap main on his Tuf Racing Honda with Babbitt's Monster Energy/TiLUBE Kawasaki's Tyler Bowers close behind. Bowers stayed on him for the first half of the race. He was able to capitalize on a mistake by Gibson in the whoops and take over the lead on lap sixteen. He soldiered on to the win. Foremost Insurance/Spinechillers/Hondaoffairfield.com's Zach Ames worked his way into third place on lap 8 and put his head down and finished right behind Gibson and secured his spot on the podium.
Tuf Racing Honda's Jeff Gibson still holds a slight points lead heading into the Louisville, Kentucky round of the 2011 season.
Arenacross Lites action saw Adam Gulley take his third consecutive win on Friday night aboard his Double Vision Kawasaki. Hot Rod's Racing Honda rider Austin Coon gave chase but came under pressure late from the Gateway Cycle's/Trentman Racing Kawasaki rider Steven Mages, Coon would hold on to take second and leave Mages with third for his second podium of the season.
Saturday night the action heated up when Bowers got tangled up with another rider on the first lap of his heat and was forced to go to the LCQ after his Babbitt's Monster Energy TiLUBE Kawasaki suffered a smashed pipe. He would remain focused and dominate the LCQ to start second row for the main event.
The gate dropped on the main and Tuf Racing's Cole Siebler took the holeshot and got out to a comfortable lead. Utah's Gray Davenport would fall into second spot on his Babbitt's Monster Energy/TiLUBE Kawasaki but come under immediate pressure from Siebler's teammate Gibson.
Cole Siebler led the Arenacross class main event from start to finish in route to his first AMA arenacross win.
Photo Anthony Sansotta
Bowers diced through the pack making it all the way up to third. He caught Gibson, who was in second, and dove to the inside at the start of lap fourteen. The two would swap spots for the next two laps through lap traffic, until Bowers pulled the trigger and got clear of Gibson. He set his sights on Siebler, who was just 2.6 seconds out front with five laps left. He closed the gap but came up just short, leaving Tuf Honda with First and Third on the podium.
In Arenacross Lites action Adam Gulley's streak came to an end. He would finish third and head off to the Monster Energy Supercross East Coast Lites series with confidence from his Arenacross success. Heat race winner Patrick Massie jumped out to an early lead on his Foremost Insurance/Spinechillers/Hondaoffairfield.com Honda. He was pressured by Steven Mages on the last 2 laps. Mages would fall just short and settle for second.
Friday Results :
Arenacross Class Results: Toledo
Tyler Bowers, Danville, Ky., Kawasaki
Jeff Gibson, Blacklick, Ohio, Honda
Zach Ames, Prospect, Ohio, Honda
Kevin Johnson, Spring, Texas, Yamaha
Gray Davenport, Lehi, Utah, Kawasaki
Chad Johnson, Rhinelander, Wis., Kawasaki
Kelly Smith, Ludington, Mich., Yamaha
Brock Sellards, Sherrodsville, Ohio, Honda
Cory Green, Nowata, Okla., Suzuki
Dave Ginolfi, Lake Hopatlong, N.J., Suzuki
AMA Arenacross Lites Eastern Regional Class Results: Toledo
Adam Gulley, Jonesburg, Mo., Kawasaki
Austin Coon, Spencer, W.Va., Honda
Steven Mages, Sardinia, Ohio, Kawasaki
Patrick Massie, Washington Court, Ohio, Honda
Maxx Malatia, Itasca, Ill., Kawasaki
Tyler Sehr, Belleville, Ill., Honda
Kyle Goerke, Lake Helen, Fla., Suzuki
Scott Zont, Algonquin, Ill., Honda
Austin Primavera, Larue, Ohio, Suzuki
Kenneth Henry, Ashtabula, Ohio, KTM
Saturday Results :
Arenacross Class Results: Toledo
Cole Siebler, Emmett, Idaho, Honda
Tyler Bowers, Danville, Ky., Kawasaki
Jeff Gibson, Blacklick, Ohio, Honda
Chad Johnson, Rhinelander, Wis., Kawasaki
Zach Ames, Prospect, Ohio, Honda
Gray Davenport, Lehi, Utah, Kawasaki
Kelly Smith, Ludington, Mich., Yamaha
Dave Ginolfi, Lake Hopatlong, N.J., Suzuki
Daniel Aulsaybrook, Ortonville, Mich., Suzuki
Nathan Skaggs, Chilicothe, Ohio, Honda
AMA Arenacross Lites Eastern Regional Class Results: Toledo
Patrick Massie, Washington Court, Ohio, Honda
Steven Mages, Sardinia, Ohio, Kawasaki
Adam Gulley, Jonesburg, Mo., Kawasaki
Kyle Goerke, Lake Helen, Fla., Suzuki
Scott Zont, Algonquin, Ill., Honda
Michael Lang, Saugerties, N.Y., Honda
Tyler Sehr, Belleville, Ill., Honda
Austin Primavera, Larue, Ohio, Suzuki
Tanner Young, Marland, Okla., Yamaha
Kenneth Henry, Ashtabula, Ohio, KTM
Arenacross Class Points (After Race 6 of 19)
Jeff Gibson, Blacklick, Ohio, Honda – 155
Tyler Bowers, Danville, Ky., Kawasaki – 152
Chad Johnson, Rhinelander, Wis., Kawasaki – 140
Gray Davenport, Lehi, Utah, Kawasaki – 112
Zach Ames, Prospect, Ohio, Honda – 112
Cole Siebler, Emmett, Idaho, Ho            nda – 109
Nathan Skaggs, Chillicothe, Ohio, Honda – 89
Kevin Johnson, Spring, Texas, Yamaha – 82
Kelly Smith, Ludington, Mich., Yamaha – 79
Cory Green, Nowata, Okla., Suzuki – 73
Arenacross Lites Class Eastern Regional Points (After Race 4 of 10)
Adam Gulley, Jonesburg, Mo., Kawasaki – 95
Patrick Massie, Washington Court, Ohio, Honda – 83
Steve Mages, Sardinia, Ohio, Kawasaki – 64
Tyler Sehr, Belleville, Ill., Honda – 54
Austin Coon, Spencer, W.V., Honda – 53
Kyle Goerke, Lake Helen, Fla., Suzuki – 40
Scott Zont, Algonquin, Ill., Honda – 40
Kyle White, Freeport, Ill., Honda – 38
Austin Primavera, Larue, Ohio, Suzuki – 30
Maxx Malatia, Itasca, Ill., Kawasaki – 29