PanicRev Will Hand Out Pink Roses at A2
Murrieta, CA
- PanicREV and the
Truth MX / MB1 / FLY / PanicREV / HYH / Kawasaki
team are providing PINK ROSES for all the ladies at A2 this weekend in honor of Breast Cancer Awareness. Please stop by the pits or look for the PanicREV girls to get yours.
"We are excited for this weekend at A2. The Breast Cancer Awareness theme really opens the door for some out of the box stuff. We will be passing out PINK ROSES to all the ladies in the pits reminding them that they are important, valued and loved." -- Scott Parkinson (www.PanicREV.org President)
We are also excited to be rocking custom pink DR.D Exhaust and the teams custom Packers and Steelers graphics. Be sure to stop by the pits and check 'em out.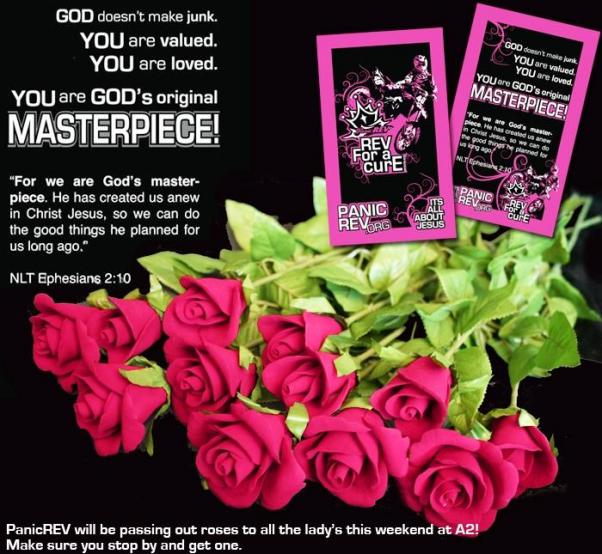 For more information check out the team's Facebook page
Team media file download links:
Special Thanks to the team sponsors:
Truth MX / MB1 / FLY / PanicREV / HYH / Carls Cycle Sales / Team Green Kawasaki / JL59 / DR.D / Wiseco / Works Connection / RK Excel / TiLUBE / TiFUEL / Vortex / Dunlop / DT1 / Scott USA / Applied / Fusion Graphix / ODI / SDG / Cats Motorsports