This Week in Monster Energy Supercross: Oakland
AURORA, Ill.
– Monster Energy Kawasaki's
Ryan Villopoto
, of Poulsbo, Wash., made a statement last weekend at the inaugural Monster Energy AMA Supercross, an FIM World Championship, race at Dodger Stadium, scoring his second win of the season and stretching his points lead to five over Team San Manuel Yamaha's
James Stewart
. This weekend, the championship heads north for its second consecutive race at a new venue for the 2011 season as the Oakland Coliseum hosts the fourth race of Monster Energy Supercross season.
Stewart's night in Los Angeles resulted in a hard-to-swallow runner-up effort for the two-time champion. After a rough heat race, he bounced back with a solid start in the main event, grabbing the lead on Lap 3. Stewart looked like he was on a path to take his second straight victory of the season, but tucked the front wheel just past the halfway point. Despite being able to fight his way back into second, Stewart knew he gave away his chance at the win with his mistake. With podium results at each of the first three races, he sits just five points out of the championship lead.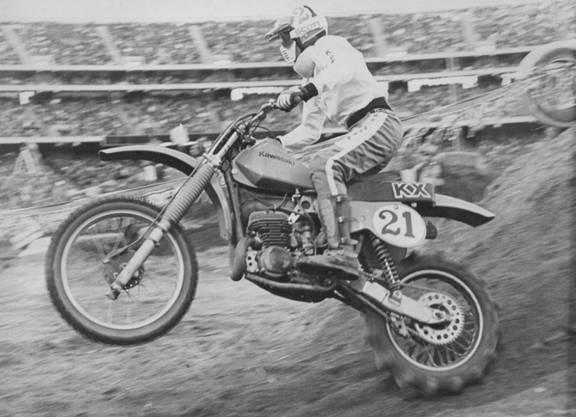 The first Oakland supercross race was held on January 18, 1979 and Jimmy Weinert won on a Kawasaki. Jimmy Weinert used a paddle tire, to win on the all sand track. The AMA has since ruled paddle tires illegal.
Photo Credit: Dick Miller Archives
"It felt great to come back home for the week, but I've been focused and have been working on correcting some of the mistakes I made the last couple races," Stewart said. "I'm super excited for Oakland this weekend and hope to bring home the win."
For Stewart's teammate
Kyle Regal
, Los Angeles was just another step in his continued development of acclimating to the deep field of talent in the Supercross class. Much like his teammate, Regal is looking for good things in Oakland.
"I've been training hard all week and am hoping for better results this weekend," said Regal.
Rockstar/Makita Suzuki's
Ryan Dungey
and his Yoshimura-equipped Suzuki RM-Z450 powered to a third-place podium finish at Dodger Stadium. After qualifying fourth, Dungey and his Suzuki came out strong and dominated his heat race with a convincing win. In the main, Dungey grabbed a second-place start out of the gate just behind teammate
Brett Metcalfe
and pulled into the lead by Lap 2. Dungey's Suzuki RM-Z kept him at the front pack for the duration of one of the most exciting main events in recent years.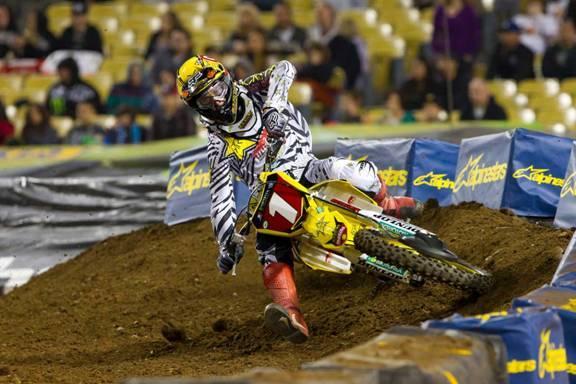 2010 Supercross class champion and Rockstar Makita Suzuki's
Ryan Dungey
sits in third place, 14 points behind leader
Ryan Villopoto
in the Supercross class standings.
Photo Credit: Hoppenworld.com
"L.A. was good overall so I'm excited to head to Oakland," said Dungey. "It's always good to go to a new venue so I'm definitely looking forward to Oakland and going to another new stadium. We did some work this week, my regular routine, and plan on showing up to Oakland ready to go."
Metcalfe started his night in L.A. with some tough luck in his heat race but fortunately was able to score the final qualifying spot for the main event. Despite an outside gate pick, Metcalfe and his Suzuki RM-Z450 blasted out of the gate and pulled the hole-shot just ahead of Dungey. Metcalfe led the first lap and a half until a small mistake put him on the ground. The Rockstar/Makita Suzuki rider remounted and rode a strong 18 laps to an eighth-place finish.
"I felt a lot better on the bike in L.A.," said Metcalfe. "So I'm really looking forward to Oakland – another new stadium. The dirt should be a little looser and more tacky, which will suit my style a little better. I put in some good work this week and am ready for Oakland."
After qualifying 18th in L.A., Rockstar Energy Suzuki's
Ryan Morais
rode his Suzuki RM-Z to a third-place finish in the first Lites heat race. In the main, Morais was eighth at the start but rode a strong, consistent race, working his Suzuki up to a third-place podium finish.
"The Rockstar Energy Suzuki team did a great job and I'm happy to put my Suzuki RM-Z on the podium in L.A.," said Morais. "I'm going to go home and work on my starts for Oakland. It seems like whoever gets the starts winds up winning this year. I'll be ready to step it up for Oakland. I'm excited for the new venue as it will level the playing field a bit as no one really knows what to expect."
Rockstar Energy Suzuki's
Martin Davalos
qualified fastest for the day and dominated the second heat race on his RM-Z250 to end up with a convincing win. Davalos had a solid fourth-place start in the main but had some issues and fell back to eventually finish in 11th place.
"I think I've been a little too cautious and that has caused me problems in the main events," said Davalos. "I think I need to work on my confidence and be more aggressive to improve my mains. I'm looking forward to a better result in Oakland. Another new track and new atmosphere will be good."
The entire Red Bull KTM team continues to improve and saw solid results across the board at Dodger Stadium. Rookie Ken Roczen bounced back from a hard crash in Phoenix to mix it up at the front of the field and challenge for the lead early on in the Supercross Lites main event. Misfortune eventually struck the German rider, but he rebounded to finish sixth.
"If you asked me to reflect on the last three weekends, I would definitely say I have learned a lot," said Roczen. "I have made a few mistakes each week that are just part of learning. I feel I am improving each week and moving closer to hopefully landing on the podium."
Andrew Short
continues to adjust to his KTM 350 SX-F and experienced another strong outing in Los Angeles. While his ninth-place finish isn't what Short was looking for, it's also not an indication of how much more confidence and comfort he feels on the new bike after another race under his belt.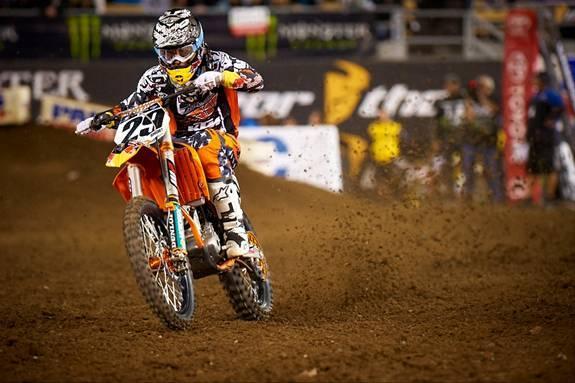 Four races into the season, Red Bull KTM's
Andrew Short
is hopeful that his progress on the new KTM 350 SX-F will get him near, if not on the podium for the Oakland Coliseum race on Saturday.
Photo Credit: Hoppenworld.com
"It is the first year of supercross for the new KTM 350 SX-F and I feel we are making great progress each weekend," said Short. "The bike is a solid bike for supercross racing and I am feeling very comfortable on it. I have some things to work on and have a great team behind me to make sure we get the results to where we need to be."
For
Mike Alessi
, Dodger Stadium served as the ideal place to turn his season around after struggling the week prior in Phoenix. With a positive weekend behind him, Alessi is looking to get more out of himself and his KTM.
"I have been struggling the first few weeks," said Alessi. "I had a better weekend in L.A. than I did in Phoenix but I am still working on getting my fitness back. My goal is to finish inside the top 10 within the next few races."
After capturing a win at the newest venue on the circuit at Dodger Stadium, Monster Energy Kawasaki's
Ryan Villopoto
hopes his luck with new stadiums will follow him into Oakland. He has been able to hold the points lead since the opening round in Anaheim and already has two wins through three races this season.
"It's always fun going to a new stadium," said Villopoto. "The dirt should be pretty similar to what we've seen in San Francisco and that is where I got my first win last year. I just want to ride smart and keep up the momentum for the championship."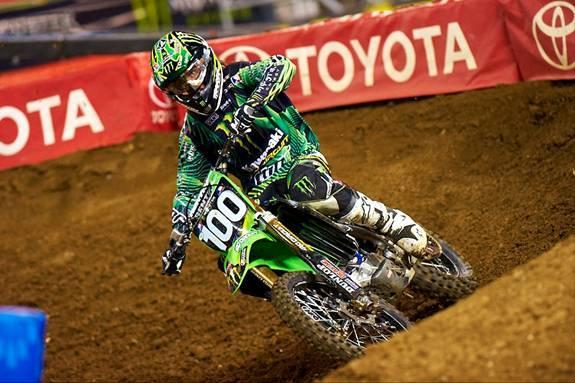 Despite a disappointing fifth place finish last weekend in Los Angeles, Monster Energy/Pro Circuit/Kawasaki's
Josh Hansen
is looking to regain control of his early-season dominance in the Supercross Lites class and make the podium this Saturday at the Oakland Coliseum race.
Photo Credit: Hoppenworld.com
Monster Energy/Pro Circuit/Kawasaki's
Josh Hansen
maintained his points lead heading into the Oakland Coliseum. He is looking to bounce back from a fifth-place finish in Los Angeles and go after his third win of the season.
"I think Oakland is going to be good," said Hansen. "I'm looking forward to getting back on the bike and seeing if I can get another win."
Still making his mark on the Supercross Lites West Region class is
Broc Tickle
. He currently sits four-points back from teammate Hansen in the championship and is still very hungry for his first win aboard the Kawasaki KX™250F and Monster Energy/Pro Circuit/Kawasaki.
"I felt better than I have all year in Los Angeles, but my results didn't show it," said Tickle. "I made a mistake at the end of the race that cost me a podium, but I still was able to get some good points. Hopefully Oakland will go a little better."
Having to make some adjustments to his training routine before Los Angeles because of a wrist injury,
Tyla Rattray
looks to get back on track and go after another podium finish in Oakland.
"I had to take some time off before Los Angeles to let my wrist heal up and I was a little rusty before the race," said Rattray. "Hopefully I can get back to my normal routine and put in a good ride in Oakland."
CBS will broadcast the Supercross class race at 12:00 p.m. EST and SPEED will broadcast the Supercross Lites class race at 6:00 p.m. EST on January 30, 2011.
Tickets are available at the Oakland-Alameda County Coliseum Box Office, SupercrossOnline.com, all Ticketmaster retail locations,
www.ticketmaster.com
, or charge by phone at (800) 745-3000.  Practice and qualifying begins at 12:30 p.m., and the main event begins at 7:00 p.m. Club Level tickets are $75 Adult/Child; Trackside $45 Adult/Child; Lower View $35 Adult/Child; Upper View $25 Adult/Child; Extreme Value $10 Adult/Child. Fans can also get into the Pits for FREE from 12:30 – 6 PM Race Day when they recycle a MONSTER Energy Can at the stadium Pit Entrance (valid only with event ticket).
For more information on the Monster Energy AMA Supercross, an FIM World Championship, please log on to www.SupercrossOnline.com. For all media requests, please contact Denny Hartwig dhartwig@feldinc.com or 630-566-6305. To follow Monster Energy Supercross on
Facebook
and
Twitter
.
About Feld Motor Sports®
Feld Motor Sports®, Inc. is the world leader in specialized arena and stadium-based motor sports entertainment.  Feld Motor Sports, Inc. productions include Advance Auto Parts Monster Jam®, Monster Energy Supercross, AMA Arenacross Series, Nuclear Cowboyz℠, and IHRA® Nitro Jam®.  Feld Motor Sports, Inc. is a division of Feld Entertainment, the world's largest producer of live family entertainment.  For more information on Feld Entertainment, visit www.feldentertainment.com.