Scott Champion has been racing at the pro level for a couple years now and is racing the 250 class on the West this year. He has qualified for the last two main events on a two-year-old Kawasaki KXF250! Being a real privateer in a field full of support riders is tough, but Scott is doing an excellent job and making progress each week. We caught up with him after Los Angeles to find out how things are going.
Racer X: Scott, tell the readers about where you are from and how you got into motocross.
Scott Champion: I am from Temecula, CA and my Dad got me a PW50 when I was 4 years old.  He grew up riding and racing and got me into it.  We would always get our gear on and go ride into the hills, behind our house for hours and it was all I wanted to do.
When did you start racing? Did you race any big amateur stuff?
My Mom or Dad never pushed me to race or anything like that.  We would go to the hills, the desert and tracks to just have a lot of fun.  I really wanted to start racing when I was 11. I didn't do a lot of big amateur races because my Dad couldn't get the time off of work and we honestly didn't think I could handle those big races at the time. I did Mammoth one year on 80s, World Mini one year, and the Amateur Open race one year.
How did you make out in those races?
I didn't do very well.  I was in the top 10 but never did that well.  After those races I knew where I was at and just kept riding and having fun with it.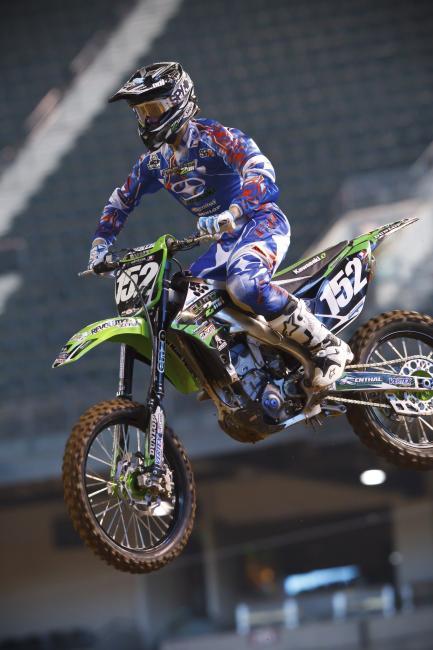 Champion has been solid this season, making two consecutive mains.
Photo: Simon Cudby
So you turned pro in? Then what did you do for races?
Well a buddy of mine and my Dad's friend, Bob Scholten got me hooked up with Steve Butler at Yamaha in '08. I started doing some testing for them and was kinda how I was still riding dirt bikes because my bike situation was not that good at the time. With just the wear and tear that the bikes get, we couldn't afford it anymore. I was basically done racing and just riding and testing for Yamaha. I got a job at Jay's Board shop in Temecula and worked there for a while. Then I got a job at Active ride shop because I used to skateboard a lot as well and enjoyed that. At the same time I did a couple pro races to get my pro license and got a little exposure. I called Riley Racing because I heard from a friend that they were looking for a replacement rider. They said to come out to Phoenix to watch me ride and the next week I was on a full team to do
Washougal
,
Southwick
,
Millville
and
Steel City
!
How did you do at the Nationals?
My first national was at Washougal, where I qualified 17th. I struggled in the races a bit because the suspension I was using was set up for the guy who I replaced and was not used for the longer motos. I finished 27th overall I believe at Washougal. At Southwick, I qualified 4th overall and finished 13th in the second moto. Everyone on the team was really happy and so was I, and all of my friends and family.
Is this your first year of Supercross?
No, I did West Coast Supercross in 2009, with Riley Racing. I made all the rookie mistakes but learned from all of them. My best finish was a 17th.
How is this year going for you?
It's going good. I feel like I am getting better each weekend and getting into the mains.  I've crashed on both main event starts this year so I haven't really been able to show what I can do with those guys. But I am looking forward to Oakland this weekend and the rest of the series!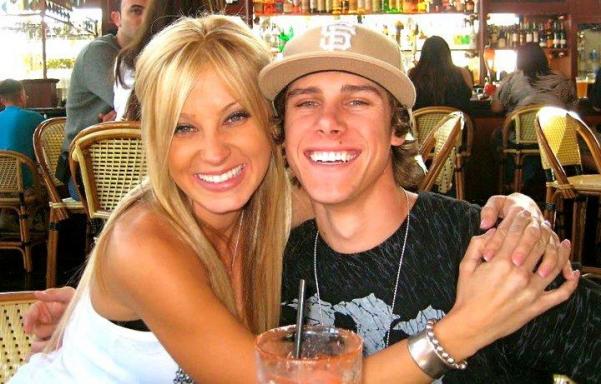 Champion and girlfriend Erin Normoyle.
A lot of readers might not know this but your girlfriend is Erin Normoyle and is part of the TV crew for the Nationals. How did you guys meet and how is that going?
Yeah, we met in '09 and used to hang out a little bit and ride 110s.  At Glen Helen that year, I was borrowing a friend's bike to race and was only planning on doing Glen Helen. At the race she came up to me and asked if I wanted to travel with her to the rest of the races and the rest is history. It's going good and she helps me out a lot.
What's a normal day like for you during the week?
Wake up, do bike work, get gear together, go ride...eat lunch. Then go to my trainer Charles Dao's and do it all over the next day.
Do you have a mechanic that helps you at the races?
For the first two races, my buddy Kyle was helping me just at the races on Saturday. We have known each other for a long time and work good together. He knows what fires me up and helps me a lot. He goes to school at USC and couldn't make it to LA this weekend so we found another guy to help out which worked out. During the week I usually do bike work myself and keep everything going.
How do you get from race to race? Do you travel by yourself?
Erin and I just go in my truck. At A1, we hooked up with SPY and pit out of their motor home.  At Phoenix we just had my truck and some chairs. The team I ride for Revolution2MX travels with us as well last weekend. We had a cool trailer to pit out of and get out of the cold!
What's the plan for the rest of the series?
I'm not sure for Oakland, Revolution2mx might be taking the bikes and Erin and I might ride the train or just drive up and pit out of the truck. Not really sure yet and still trying to make plans.
After Supercross do you plan on racing the Nationals this year?
I really want to but if I don't have all of the pieces together, I won't. This last year was really hard to keep it all going. I was so stressed I couldn't even ride my motorcycle. Without the travel budget, the parts, a mechanic, and all the pieces that are required, it doesn't work and we learned that the hard way.
A lot of people don't realize how hard it is to be a real privateer. It makes it hard to perform your best. What do you think about how the top privateer awards?
I honestly know nothing about them. At Budds Creek this year, Tapia walked up with a huge check and I was like how did you get that and he said you had to enter online and all this stuff. So maybe I should look into that!
At Washougal you got a chance to ride for Factory Yamaha. How did all that come about?
At Red Bud, Guy B asked if I wanted to do the 2010 Yamaha YZ250F intro at Washougal and of course I wanted to do that. I flew up that week before Washougal and rode for a couple days. The last day, I was putting in a long moto and they were watching me. I came back and they all surrounded me and asked if I wanted to ride the Factory Yamaha 450 that weekend. They were all really cool guys and I appreciate them giving me that great opportunity, as well as, Guy B inviting me up there for that.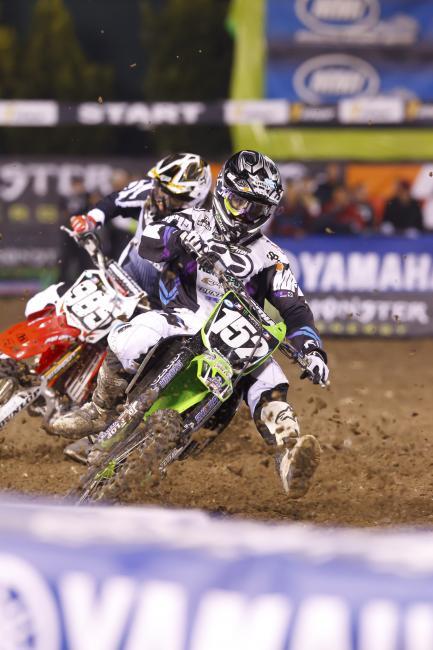 Can Champion extend his main event streak to three at Oakland?
Photo: Simon Cudby
Was it easier or harder, when you rode for them compared to a day when you were doing it on your own?
It was way easier!  All I had to worry about was riding that bike as fast as I could.  Although, I struggled with the suspension a lot cause it was so stiff. It wasn't easy going from Erin's CRF250 to a Factory Yamaha 450, thats all I'm going to say! (laughs)  First moto, I pulled off as I was just getting beat up. Second moto, I crashed on the start and came back to 19th.  My palm on my right hand was ripped open so bad from holding on and I just tried doing the best i could.
It must have been hard not being prepared to ride a 450 and just hoping on and expected to do well?
It was very frustrating, and still is when people ask how I did. But at the same time, everyone at Yamaha put zero pressure on me. I put the most pressure on myself and didn't get what I wanted. It was an awesome day though and a cool opportunity.
How do you think your results would be right now if you were on a team that took care of everything and you just had to show up and race?
That's hard to say. I'm not gonna be like that or be that guy who tells everyone he's going to do this do that. I just want an opportunity that gives me all the pieces I need to be successful then I can show what I believe I'm capable of.
Someone told me your riding a older bike right now. Is that true?
Yeah it's a 2009 Kawaski KXF250.  I rode Erin's '08 Honda last year in outdoors and just try to do the best I can with what I have.
Do you have a lot of aftermarket parts?
I have Enzo doing the suspension which is really good and a good motor guy but that's about it.
Well good luck with the rest of the series! Is their anyone you would like to give a shout out to?
Thanks Chris.  Yeah, I want to thank Revolution2mx, Warren and Brown Precision Tools, Dunlop, Enzo, Spy, No Fear, United Distributing, Vertex Pistons, Hotcams, Deft Family, Works Connection, Renthal, C4mxODI, MotoPro Graphics, UFO, Braking, Ride Eng, and last but not least Erin, my Mom, my Dad, Kyle B, & all my friends and family who have always supported me!