January 24, 2011 -  The Legends & Heroes of Motocross Tour is underway with three rounds of the Monster Energy Supercross Series under its belt.  Many thanks to all of our supporters, especially the folks at JT RACING USA for stepping up to help sponsor the tour and our friends at Motion Pro, SLS Audio, ProGold Lubracants, Parts Unlimited and Tom White of the early days of Motocross museum for their support!.  The tour includes a cool array of vintage racing machines on display and a moto-history time line at every Supercross event attended.  Additionally, we honor a different Legend with a special "Legend & Heroes" award, recognizing their accomplishments and role in our great sport.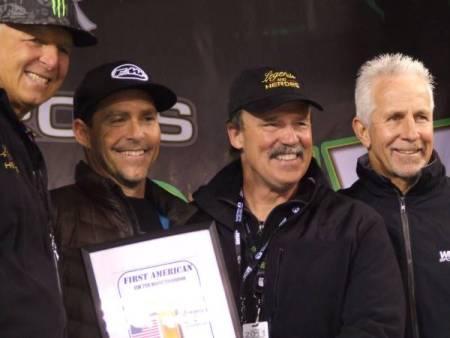 Round 1, The Anaheim 1 induction of 1982 FIM 250 World Champion Danny LaPorte took place in front of So-Cal fans at the season opener on January 8th.  Danny joined us for an interview at the L&H-Monster Energy Pits stage during the day along with National Champ Donnie "Hole-Shot" Hansen and legendary commentator, John Wolvern.  That evening we presented Danny with his Legends & Heroes award with help from the Professor "Gary Bailey" and Tom White of the Early Day of Motocross Museum.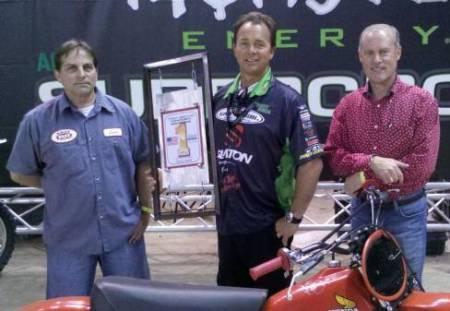 Round 2,Phoenix and the second stop of the Tour saw 3 Time National Champion, Marty Smith, graciously accepted his award during a busy night for him as he was also managing his SX team though out the day.  The Professor, Gary Bailey, along with Lynn Shoup of Rage Racing presented the Champ with a stellar Legends & Heroes award (design by Lynn Shoup) in front of 1000's that evening on the Monster Podium.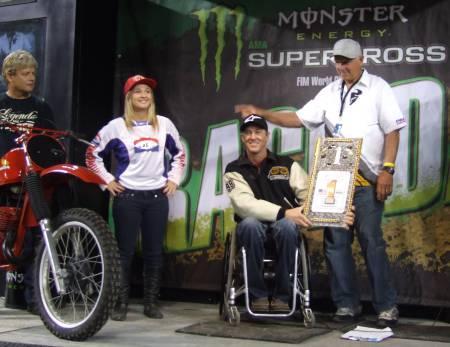 Round 3, For the first time the Legends & Heroes Tour made it to Dodger Stadium for the inaugural event of SX!  The day was filled with activity throughout the display thanks to the tireless work of our L&H team including Rolf & Tami Greenhill, Mike & Lindsey Owens, Terry, Barbara & Jared Moody, Chris Brooke and Scott Brophy all from Southern California.  Who was our Legend for Dodger Stadium? No other than 4 Time National Champion and 5 Time MX des Nations Champ, David Bailey.  Gary Bailey hosted the epic evening and presented David with the coolest yet Legends & Heroes award… design by the professor himself!
Off to round 4…
See ya at the Races!
Alex Moroz
Stay tuned to future updates and photos coming your way soon!