It's no secret that Ryan Dungey doesn't always get full credit for his winning performance in 2010. Dungey did not have to go through James Stewart or Chad Reed on his way to the supercross championship last year, which has caused some people to put an asterisk next to his championship. This doesn't mean that Dungey wouldn't have won the title if Stewart and Reed hadn't crashed out of contention, but like it or not, he didn't prove that he could beat them, either.
Enter 2011. We're three rounds into this season, and Ryan Dungey has beaten Stewart once, and Reed twice (If you're a Stewart or Reed fan, you can say that Dungey has lost to Stewart twice, and once to Reed). In any case, we haven't seen anything telling enough to lead to a definitive judgment in either direction, although the race in Los Angeles did leave us with some clues.
After winning his heat race, Dungey found himself leading the main after his teammate, Brett Metcalfe, went down while running first. After thwarting multiple attempts, Dungey surrendered the lead to Stewart on lap three, and it looked like the race could be over when Stewart started to very slowly inch away. You know what happened next; Villopoto got into the mix. Maybe it was the heat RV was bringing, or maybe Dungey just needed to settle down a bit. Either way, he upped his pace, and the Ryans actually started closing in on Stewart. During the charge, Villopoto was able to pass Dungey, but Dungey refused to give up the fight and made a run at RV that would ultimately backfire, causing him to bobble and drop down to fourth behind Trey Canard.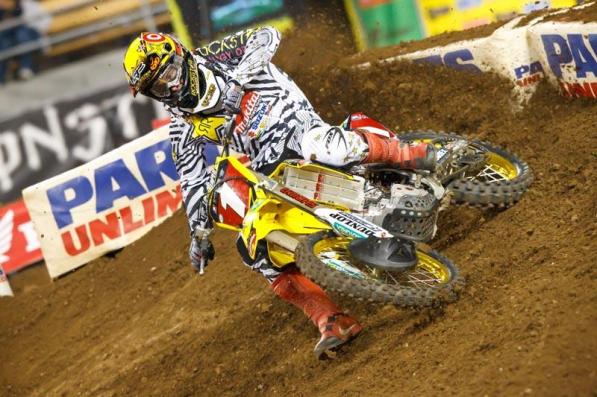 In LA, Dungey made major progress on speed. But will consistency still be his greatest asset?
Cudby photo
When it was all over, Dungey took third, behind Villopoto and Stewart, in what was by far the best race of this young season. Even though he didn't take the win, Dungey's speed and tenacity showed that he is still capable of battling for wins in this extremely stacked class.  He's also right in the thick of the points battle. His 58 points put him in third, 14 points behind Villopoto, nine points behind Stewart, two points ahead of Trey Canard, and ten points ahead of Reed. A closer look reveals that out of the current top five riders, Dungey is sitting in the middle of four guys who didn't complete a full season last year. It's a reminder of just how rock-solid Dungey truly is, and a possible glimpse at what an injury-free 2010 might have looked like at this point.
Before the season started, nobody doubted that Stewart and Villopoto would be fast. However, Stewart has demonstrated a penchant for big crashes in the past, while RV has yet to complete a full season in the supercross class. Will Dungey's steady approach be enough to prevail over the competition? Hopefully, we'll have to wait for the checkered flag to fly at the finale in Las Vegas before we know the answer to that question.