Renegade Fuels Race Results From Anaheim and Phoenix
Renegade Fuel came into the 2011 season with titles in the 2010 AMA Outdoor Nationals. Looking to repeat in the 2011 Monster Energy AMA Supercross an FIM World Championship, Renegade fuels would team up with some of the most elite riders and teams in the industry.

The start of the first round,  the electric A1 would start off by seeing RockStar Suzuki and Renegade Fuels rider Martin Davalos setting the fastest lap time in the second practice, then going down and not qualifying out of his heat race. Davalos would have to go to the LCQ to get to the main.

Another rider on the Renegade SX4+ fuel, Topher Ingalls would grab second off the gate in Heat 1 and finish the moto in fifth.  Dakota Tedder would qualify out of his heat race and secure his spot in the main. A really big  congrats to him on a nice seventh place ride. Star Yamaha and Renegade Fuels rider Nick Paluzzi would finish a strong second place in his rookie SX heat race.

Once the mains were set Renegade would help fuel Dodge, Hart & Huntington rider Ivan Tedesco to an amazing holeshot in  the main event. Tedesco would lead two laps and battle within the top 3 for nearly half the race.

Renegade rider from the GEICO Powersports team, Kevin Windham, would again look extremely  smooth, precisely collected, and still fast as ever.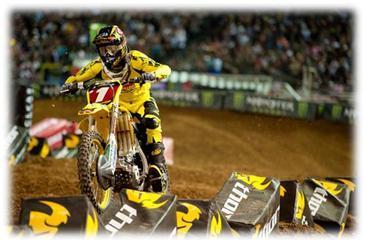 Renegade Fuels would see the following riders in the main event at A1,
AMA Supercross Lites Class: A1
1. Josh Hansen

2. Broc Tickle

3. Tyla Rattray

4. Martin Davalos

5. Cole Seely

6. Ryan Morais

7. Ken Roczen

8. Travis Baker

9. Nick Paluzzi

10. Eli Tomac

11. Antonio Balbi

12. Ben Evans

13. Kyle Cunningham

14. Ryan Marmont

15. Cody Gilmore

16. Bruce Rutherford

17. Travis Bright

18. Dakota Tedder

19. Christian Craig

20. Topher Ingalls

AMA Supercross Class: A1

1. Ryan Villopoto

2. Ryan Dungey

3. James Stewart

4. Trey Canard

5. Chad Reed

6. Kevin Windham

7. Ivan Tedesco

8. Brett Metcalfe

9. Josh Grant

10. Andrew Short

11. Kyle Chisholm

12. Nick Wey

13. Kyle Regal

14. Mike Alessi

15. Jason Thomas

16. Justin Brayton

17. Chris Blose

18. Matt Boni

19. Davi Millsaps

20. Tommy Hahn

Round 2 held in Phoenix AZ, would again see the RockStar Suzuki, GEICO Powersports, and Star Yamaha riders in the top ten.  Renegade Fuels rider, Eli Tomac would  push past Tyla Rattray to put himself in the top 5.  Second to fifth places had absolutely no breathing room by the checkered flag, as they were neck to neck fighting for the top five positions .

The Supercross LCQ would see a close finish for the final transfer spot to the main, Renegade rider Chris Blose and Phoenix local boy, would fight to the finish, with another Renegade Fuels rider Jarred Browne, and make the pass with three corners from the finish to take the final spot in the main.
Renegade Fuels would have the following riders in the main event held at Chase Field,
AMA Supercross Lites Class: Phoenix, AZ - Chase Field
1. Josh Hansen

2. Broc Tickle

3. Ryan Morais

4. Cole Seely

5. Eli Tomac

6. Tyla Rattray

7. Jimmy Decotis

8. Travis Baker

9. Martin Davalos

10. Kyle Cunningham

11. Jake Canada

12. Ben Evans

13. Bruce Rutherford

14. Antonio Balbi

15. Nick Paluzzi

16. Casey Hinson

17. Ryan Marmont

18. Scott Champion

19. Ken Roczen

20. Christian Craig

AMA Supercross Class: Phoenix, AZ - Chase Field

1. James Stewart

2. Ryan Villopoto

3. Trey Canard

4. Chad Reed

5. Ryan Dungey

6. Justin Brayton

7. Andrew Short

8. Brett Metcalfe

9. Kyle Chisholm

10. Kyle Regal

11. Davi Millsaps

12. Nick Wey

13. Weston Peick

14. Ivan Tedesco

15. Chris Blose

16. Tommy Hahn

17. Ryan Clark

18. Jeff Alessi

19. Kevin Windham

20. Austin Stroupe


For more information on the Renegade products you can visit www.renegadepro1.com or contact Mark Ticen 270-467-4215. For updates from Renegade Fuels you can follow them on Twitter. The photos were taken by the Ryne Swanberg. For all your team and rider pics contact Ryne at  ryne@swanbergphoto.com . More news and updates from Renegade Fuel coming soon!