Ryan Dungey. Chad Reed. Ryan Villopoto. James Stewart. Kevin Windham. These racers, and many more, are the superstars of supercross. You know who they are and where they finish every weekend, but what about the unseen individuals that work tirelessly during the week to make sure the races go off without a hitch every Saturday night? Without these people, the stars of our sport wouldn't have a track to race on, or pits to park in. One of these people is Nate Swartzendruber, who plays an integral, as well as extremely busy role as supercross paddock manager. For this week's Between the Motos, Swartzendruber talks about racing, life on the tour, and some of the behind the scenes action that goes into putting on supercross races week in and week out.
Racer X: Take us through a typical day in the life of a supercross paddock manager.
Nate Swartzendruber: Everyday is different. You have to be flexible in this job, which is one thing I have learned doing this the last two years. But on a typical race day, I arrive at the stadium around 7:30 a.m., attend a brief morning meeting, and hit the pits as soon as possible because my radio and phone are both usually blowing up by 8:00 a.m., informing me of the many privateers and sponsors waiting to park. Space is always limited so it seems we have to stretch the asphalt to make everything fit some weeks. The hours leading up till noon are always busy clearing fire lanes, bike lanes, trip hazards, setting up bike racks, hanging last minute posters and making sure the pits flow together nicely. Rental cars are my archenemy; I spend a fair amount of time tracking down owners or calling tow trucks to clear them all out. Afternoons, things calm down a little. I go into maintenance mode and make sure everything is flowing nicely with a packed house of spectators. Once the pits close I immediately clean up and teardown our equipment, and then head down to the track to help out where I can. Finally, when the races are over, it's time to pack up everything we brought, usually finishing the day around 3:00 a.m., and sometimes as late as 5 a.m., depending on the stadium and weather.
Do you have any favorite, or least favorite venues?
Houston is my favorite from a work standpoint. The parking lot is huge, square and closed off until Friday. This makes my life much easier and the pits always look good from the press box windows. Jacksonville is tough because the last two years we have been forced to use a grass lot. It has rained heavily every time during the week and wet soft grass and big semi trucks don't mix well.
What's your favorite and least favorite part of your job?
Parking day on Friday is my favorite. All the hard work of the week comes together in just a few hours. All the planning, all the stressing, comes to fruition as we transform an empty parking lot to a bustling mini-city. Of course. working the track with the fastest riders in the world blazing by at arms length is pretty exhilarating, too. The worst commute is going from San Diego to Atlanta back-to-back weekends. We leave around 9:00 a.m. on Sunday, and drive straight through for 34 hours, stopping only for gas and food. We then grab a few hours of sleep and start loading in Tuesday morning. But as bad as driving can sometimes be, packing up muddy wet trailers in the rain (or snow in Salt Lake City) after already expending yourself hard all day can be pretty miserable.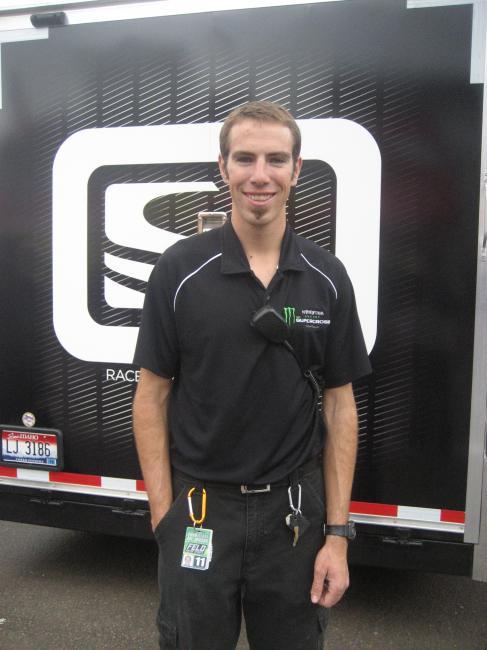 Swartzendruber is the man that keeps things running during supercross.
Photo: Aaron Hansel
On your end, how much time and effort go into a single weekend of supercross?
For the crew and us it is a complete lifestyle commitment. We live on the road, and eat, drink, and breathe supercross. If we are not working we are usually driving to the next venue. We unload and load 7-8 semi truck trailers every week, including 2 whole trailers just for Tuff Blocks. If those trailers aren't packed correctly, everything won't fit. We generally pack them all up in 5-6 hours after the race, weather dependent.
Do you have any memorable on-the-job stories?
I was at one of the Anaheim rounds bustling about taking care of normal business when a little boy with his mom in toe stopped me to as a question. "Where is Bubba's trailer?" He asked with excited glee all over his face. It was just a few rows down so I walked him over and showed him were to go. It was a simple request but it changed my day. The little boys excitement rubbed off on me, snapping me out of the daily grind. Meeting a professional athlete like Bubba and getting his autograph probably highlighted his month. This simple encounter reminded me what a privilege it is to be involved in such a cool sport.
It seems like everyone in the industry I meet has some sort of interesting Mitch Payton story. How about you?
Yeah, (laughs). On my first race day I threatened to have his van towed, not knowing it was his. He just smiled and laughed and said, "Yeah, get that ugly pile out of here," and joked with me about it for a few minutes, never telling me it was his and that he was allowed to have it in the pits. I found out from my boss later that it was Mitch's. Did I feel dumb? Yeah.
What kind of features and activities can fans expect to see in the pits this year?
Our Supercross sponsors are always stepping things up with new and innovative ways to let you experience their products. The paddock is bustling with interactive games and hands-on excitement. Monster has one the coolest mobile entertainment towers I have ever seen; you can tower to the top with your favorite flavor of Monster. Toyota is stepping up their sponsorship with a solid presence in the pits. They always have fun activities and the best prizes in the pits. We have some new comers with the likes of DC Shoes, Amsoil, Traxxas, Smith Goggles, Falken tires in addition to our always faithful sponsors like Thor, Parts Unlimited, A-Stars, Makita and the Air Force. You will see cutting edge technology from the motocross industry as you acquire some cool swag to add to your collection. And that's just the first few hundred feet! Deeper in the pits you will find your favorite riders and teams with the fastest and prettiest dirt bikes this planet has ever seen!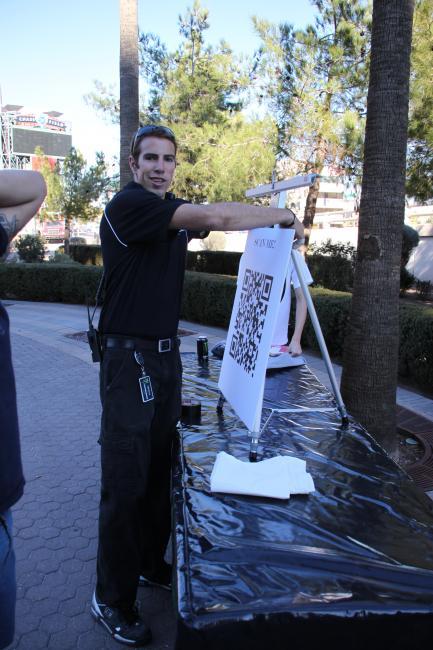 Swartzendruber taken care of business.
Photo: Caleb Kile
With two rounds down, do you have any personal predictions for the rest of the season?
That's tough, I predict awesome racing every week for sure, but other than that, you just can't bet against Bubba!
You've been working at the races since you were 21 and became Supercross Paddock Manager at 22. You've obviously figured out how to get, and keep, a job in the industry, despite a floundering economy. What would your advice be for all the people out there that are trying to get a job in the race industry?
Keep your eyes open and seek out what you want. The best jobs I have ever had I found by seeking out the company or job I wanted regardless if they were hiring. Sometimes it works, most of the time it doesn't, but you only need one to say yes. Keep at it.