Carey Hart, Josh Hill & More on Fuel TV's "The Daily Habit"
Airing Tuesday, January 18 at 11:30 pm ET/PT and telecast several additional times, we have a true legend in motorsports and the man behind the Hart & Huntington Empire, Carey Hart is here. He brings H&H team rider
Josh Hill
, and they talk injuries, comebacks and team support.
Also, from "Parks and Recreation" and "Californication," we have actress/comedian Alison Becker. Today's panel will share some thoughts on VH1's new action sports show "The X-Life" and show you how fire makes skate fails better. Plus, a segment described in just three great words: "Bikini girl experiment." Then we welcome to the Stride Sound Stage a Hard Rock Albums' Billboard chart-topper Escape the Fate!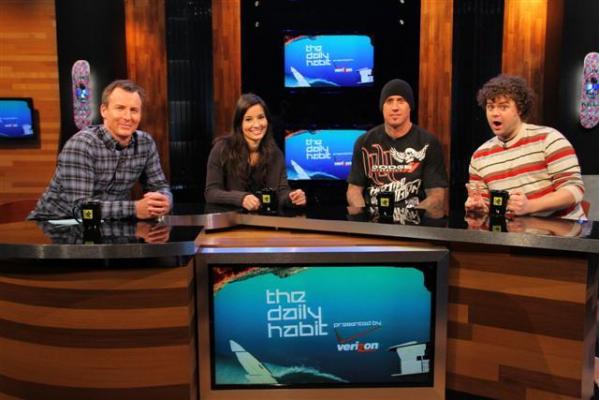 Pat Parnell, Alison Becker, Carey Hart and Jordan Morris
"The Daily Habit" is FUEL TV's first original daily series, telecast weeknights at 11:30pm ET/PT. "The Daily Habit" features the biggest risk-taking athletes and the most influential faces in entertainment and brings them together on one stage to discuss everything from "stuff that matters to guys" to "trends that need to end." If you ever wondered who the people were that did the things that make you say "holy crap!" … then you should probably watch this show. There's also a ton of hot chicks, hilarious comedy and the greatest band performances ever.  
About FUEL TV
FUEL TV is the only cable and satellite television network that features the exciting world of adrenaline and thrill-seeking sports and the stories that surround them. This new generation of sports provides a rich landscape of some of the most vibrant and action-packed television entertainment in the world. See why young adrenaline sports fans call FUEL TV the channel they never turn off. FUEL TV, part of FOX Sports Media Group, was launched July 1, 2003 and is seen in more than 30 million U.S. homes. FUEL TV programming is available in more than 50 countries around the world with 24/7 channels operating in Australia and Europe. To subscribe to FUEL TV, call 877-4-FUEL-TV. For program times and other information, visit www.fuel.tv