Answer Racing's James Stewart Wins In Phoenix
Corona, CA
- Coming into the second round of the 2011 AMA Supercross series in Phoenix, all eyes were on the top contenders to see who was going to come out on top. After all of the dust settled, Answer' s
James Stewart
once again claimed the top spot on the podium.
Decked out in Answer's new 2012 Spring Haze gear, James started off the night in somewhat of a different fashion by having an early heat race crash. Yet, he was able to remount and qualify directly into the night's main event. As the gate dropped on the main event, James jumped out to a quick hole shot and lead the entire main event from start to finish.
Coming into this year, everyone was wondering how James was going to fair after taking such a long time off. Well, he answered those questions by returning to top form and placing himself into a great position to once again reclaim the Supercross title.
Make sure to check out our website to stay up to date with what is going on with Answer at Answerracing.com. As always find us on our social sites: Facebook.com/Answerracing or twitter.com/Answerracing to have a chance at winning some cool swag and for continued updates on all of our Answer Racing riders as the 2011 Supercross series looks to be one for the ages.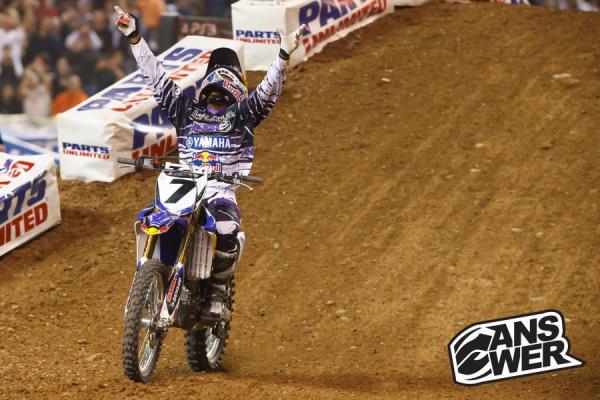 About Answer Racing
Answer Racing was started in 1976 with a vision to provide hardcore MX enthusiasts with products they can trust. Many years have passed since then, but Answer Racing has not lost site of the original goal. Whether you are a diehard racer, or a weekend warrior, Answer Racing has you covered. At Answer Racing, we believe that protection and looking like a pro are one in the same.