This Week in Monster Energy SX: Phoenix
AURORA, Ill.
– The gate will drop on the 14th Monster Energy AMA Supercross, an FIM World Championship, race from Phoenix on Saturday night when points leader and Monster Energy Kawasaki rider
Ryan Villopoto
leads the elite field of Supercross class racers into Chase Field. Monster Energy/Pro Circuit/Kawasaki's
Josh Hansen
carries the Supercross Lites class points lead after a dominant performance last weekend.
Villopoto heads to Phoenix coming off his 10th-career win in the Supercross class. After all the rehabilitation and training he went through healing up and getting ready for Anaheim 1, the win was very special.
"Winning definitely feels good," said Villopoto. "Anaheim 1 is usually the race where everyone sizes each other up and since I haven't raced in so long, it was nice to see that I still had it. Coming off an injury as big as mine, it goes through your head whether or not you'll be the same as you were. This win has already given me the confidence I need to know I can still race with the top guys."
Monster Energy/Pro Circuit/Kawasaki's Hansen rode his championship momentum into the first round and grabbed the first Supercross Lites class victory of the 2011 season.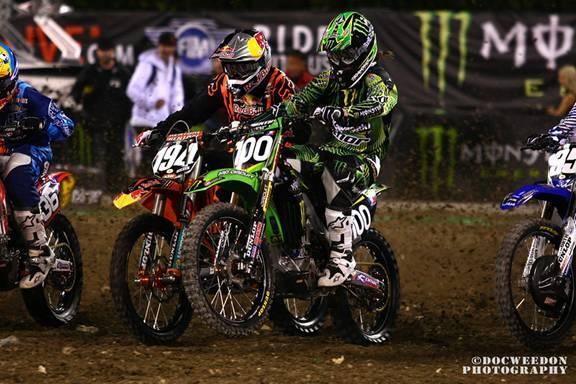 Monster Energy/Pro Circuit/Kawasaki's
Josh Hansen
has his sights set on earning his second Supercross Lites Class victory of the season heading into Phoenix this weekend.
Photo Credit: Chris Weedon
"It's really great to start the season off on top," said Hansen. "There are a lot of guys going fast out there and you can't really count any one of those guys out. I knew I had put in the work before hand and had the confidence to win. This season is going to be tough, but I'm ready to work for my first Supercross Lites championship."
At the season opener last weekend in Anaheim, Kawasaki led every lap of the main events in both the Supercross and Supercross Lites classes while also leading every lap of competition on Saturday evening for Supercross Lites. Last year, Kawasaki swept four races during the 17-race season by taking the checkered flag in each class.
Defending Supercross class champion
Ryan Dungey
finished second last weekend and looks forward to Phoenix where he earned the first Supercross class win of his career in 2010.
"Anaheim 1 was a good start and we'll take from what we've learned and keep moving forward, said Dungey. "I like Phoenix and I'm really looking forward to it. It's always a hard-pack track and the last few years it has been really good to me. They always do a good job there and it's a fun setup. Phoenix is a great race and it's really technical so we'll try to do our best to prepare for it and show up ready."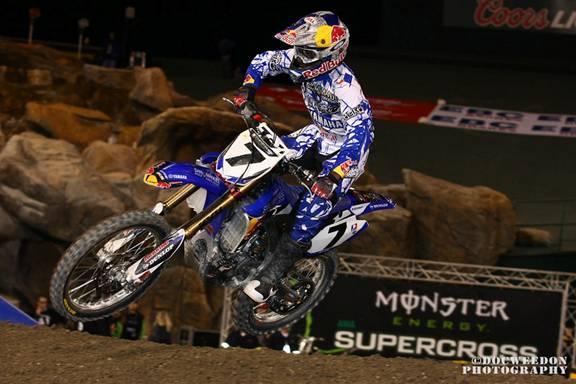 Team San Manuel Yamaha's
James Stewart
is putting last year's Phoenix race behind him and is looking to extend his podium streak to two.
Photo Credit: Chris Weedon
Team San Manuel Yamaha's
James Stewart
has been busy in California this week, working towards getting a better start in Arizona.  The two-time Supercross class champion has put last year's race in Phoenix behind him and was visibly happy with his podium finish in Anaheim, considering all he had to do to get back to racing.
"My goal was to get back on the box in Anaheim and we accomplished that," said Stewart.
Rumor has it that if Stewart picks up a win this weekend he will break out a much-anticipated celebratory dance. Stewart's teammate,
Kyle Regal
, has a similar goal this weekend, "to get a better start and finish."
The 16-year-old German sensation Ken Roczen, who rides for the Red Bull KTM Factory Racing Team, turned heads at the opening race of the Supercross Lites championship after setting the fastest lap time during practice. However, an injury from the final practice session had him feeling quite tired heading into the main event.
"My afternoon crash left me with a bruised thigh and arm and gave me a big headache," said Roczen. "I didn't feel 100% heading into the main event but the pain was not bad once the gate dropped. It was my first supercross, and I rode a little tight but overall I am happy to finish and be safe for the next race. I am looking forward to improving my overall finish at Phoenix."
Roczen's Supercross class teammate
Andrew Short
started his season with a 10th-place finish in his debut for the team after finishing fifth overall in the 2010 Monster Energy Supercross championship.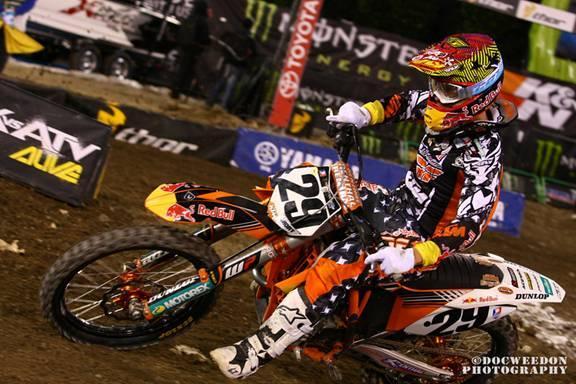 Red Bull KTM Factory Racing's
Andrew Short
is ready to rebound from last weekend's 10th place finish heading into Phoenix this Saturday for the second race of the season.
Photo Credit: Chris Weedon
"I had an off day," said Short. "There's not much else to say. Overall, my 10th-place finish isn't the worst start to the season but it's not where I want to be and it's definitely not where I know I can be. I have a great team behind me that has helped me get my bike perfectly dialed in and there are no excuses. I plan to turn things around at round 2."
Known for his great starting skills,
Mike Alessi
began last weekend's main event near the front of the pack but faded as the race progressed, eventually finishing in 14th place aboard his Red Bull KTM machine.
"I have been struggling to get my fitness program back in gear since returning from racing overseas," said Alessi. "They run much shorter races over there, and I have been training for shorter sprints. Now, that we are back to 20-lap mains I have (a lot of) work to do. I was happy with my start at Anaheim but need to get my fitness up to improve on my overall result and try to break into the top 10."
In his first race for Rockstar/Makita Suzuki, Supercross class rookie
Brett Metcalfe
finished eighth in the main event after transferring out of his heat race in third place.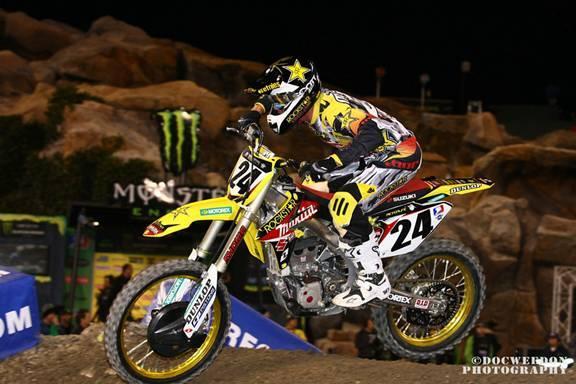 Australian native
Brett Metcalfe
made his official Supercross Class debut for Rockstar/Makita Suzuki last weekend in Anaheim and now looks to charge through the ranks and earn a podium spot at Phoenix's Chase Field race this weekend.
Photo Credit: Chris Weedon


"We had a pretty good first day at Anaheim 1," said Metcalfe. "We've learned a lot and now I'm looking forward to going to Phoenix. I think Phoenix is going be good. We've got a great foundation now that's good to build off of and I think going into Phoenix, we have a little momentum. I'm feeling better on the bike. I think that track will suit me and our setup a little better. So I'm looking forward to going there and improving on what we did at A1."

Despite a crash during the week before Anaheim 1, Rockstar Energy Suzuki's Ryan Morais finished sixth overall in the Supercross Lites class and looks forward to improving his results this weekend.

"I'm pretty happy with my A1 results, considering coming into last week I barely even rode," said Morais. "I had a pretty good crash last Tuesday and dealt with some stuff and didn't really even ride. I'm real excited to go to Phoenix. I will be able to put in 100-percent effort. I'll be ready to rock and roll."

Martin Davalos made his Rockstar Energy Suzuki debut at Anaheim 1, finishing fourth overall in the Supercross Lites class.

"I'm definitely looking forward to next week in Phoenix," said Davalos. "I'm going to work on a few things this week. I need to get better starts, so I'll be working a lot on my starts and some other things and I will definitely be ready. I'm looking forward to it."

Preseason Supercross Lites class title favorite Wil Hahn, who rides for the GEICO Honda team, suffered a compression fracture of his T5 vertebra and is expected to be sidelined for six to eight weeks. Hahn will be replaced by privateer Jimmy DeCotis.

"I haven't stopped smiling. It's really, really exciting," said DeCotis. "I was nervous on the ride out but once I got on this GEICO Honda it felt great. I'm kind of glad about getting thrown right into a race because I just like to ride and when you're waiting and waiting for the season to start the anticipation is just too much sometimes. Now I don't have time to worry; I just need to go out there and race."

In his first full season in the Supercross class, American Honda Racing's Trey Canard proved he could run up front with the big boys, earning fourth place after setting the second fastest lap time in practice.

"I was really happy with fourth overall last weekend," said Canard. "I know that I need to get better starts as I've shown I have the speed to race up front. But having to fight my way through the pack at Anaheim cost me valuable time. I need to get better starts in order to put myself in a position to contend a podium spot each week."

American Honda Racing's Josh Grant, who won Anaheim 1 in 2009, finished ninth at the season opener this year.

"My goal for the first race of the season was to finish in the top 10 and I achieved that last week," said Grant. "I'm really happy to get the first race of the season out of the way and I now know where I need to be in terms of fitness and race pace."
As a new member to the Monster Energy/Pro Circuit/Kawasaki team, Broc Tickle had a nice debut with a runner-up effort in Anaheim in the Supercross Lites class.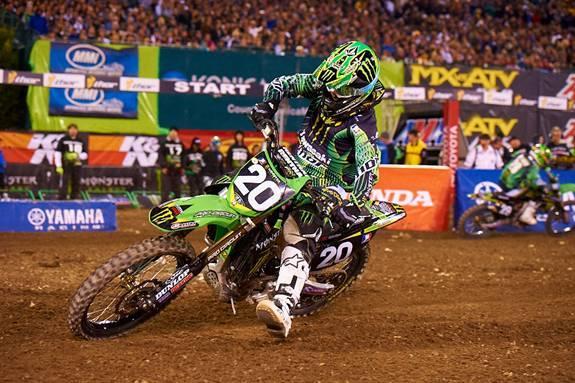 Monster Energy/Pro Circuit/Kawasaki's
Broc Tickle
debut with his new team proved he is a perfect fit for the squad, locking in a second place finish during the season opener in Anaheim.
Photo Credit: Hoppenworld.com
"It has been a great experience so far being on such an amazing team," said Tickle. "I've never felt so comfortable on a team and I think that has really helped with my confidence on the track. I really think my biggest competition will be my teammates. They are all great riders. If I stay focused, I know I can be in the mix for the championship."

Although his night ended well earning a podium finish in his first-ever supercross race, Tyla Rattray had a tough start to the day with a hard crash he endured in practice. While he looks to enter Phoenix fully healthy, he also hopes to continue his results and stay off the ground.

"I think the race went really well for my first time out there," said Rattray. "The class has some really fast guys, but if I stay off the ground I know I can keep improving. Each venue is new to me and I'm really looking forward to the track in Phoenix."

Traxxas and Kawasaki have teamed up to offer a very unique giveaway at the Monster Energy Supercross Pit Party. At every single supercross race this year, Traxxas will be giving away a Kawasaki KX™450F to one lucky winner who visits and signs up for the raffle at their huge display in the pits. A winner was already awarded at the first race in Anaheim and there are still 16 more to go.

SPEED will broadcast both the Supercross and Supercross Lites classes live this Saturday night at 9:30 p.m. EST/6:30 p.m. PST.

Tickets are available at the Chase Field Box Office, all Ticketmaster retail locations, charge by phone at (800) 745-3000, SupercrossOnline.com, or online at www.ticketmaster.com. Practice and qualifying begins at 12:30 p.m., and the main event begins at 7:00 p.m. Club Level tickets are $65 Adult/Child; Gold Circle $42 Adult/Child; Mid-Level $30 Adults / $10 Child; SuperValue $22 Adult / $10 Child; Treadhead $10. Fans can also get into the Pits for FREE from 12:30 – 6 PM Race Day when they recycle a MONSTER Energy Can at the stadium Pit Entrance (valid only with event ticket).

For more information on the Monster Energy AMA Supercross, an FIM World Championship, please log on to www.SupercrossOnline.com. For all media requests, please contact Denny Hartwig dhartwig@feldinc.com or 630-566-6305. To follow Monster Energy Supercross on Facebook and Twitter.

About Feld Motor Sports®
Feld Motor Sports®, Inc. is the world leader in specialized arena and stadium-based motor sports entertainment.  Feld Motor Sports, Inc. productions include Advance Auto Parts Monster Jam®, Monster Energy Supercross, AMA Arenacross Series, Nuclear Cowboyz℠, and IHRA® Nitro Jam®.  Feld Motor Sports, Inc. is a division of Feld Entertainment, the world's largest producer of live family entertainment.  For more information on Feld Entertainment, visit www.feldentertainment.com.