Courtesy of Monster Energy
If there's one word to describe Broc Tickle, it's "hungry." Tickle has put in a lot of great rides in his short time in the pros, including taking the win at the Seattle Supercross last year. He felt his program needed to be stepped up a bit, and frequently when racers want to step up their games, they turn to Mitch Payton and the Monster Energy/Pro Circuit Kawasaki team. Tickle signed with the team late in silly season after battling it out a bit with his former team, which had first right of refusal on his contract. Now, he's focused on only one thing: Winning. At Anaheim 1, Tickle grabbed the holeshot in his heat race and the main event, winning the heat race and finishing second in the main to teammate Josh Hansen.
So obviously this is your first race on a new team and I'm pretty sure this is also your best-ever first round in any series, isn't it?
Broc Tickle: Yeah, for sure. I mean, two holeshots; I can't really go wrong with that... Last year and my years before, those were like one in a million. So it was great to get good starts and be up there and actually go for a win again. It felt good to get up there in the mix.
Did you know that was Josh Hansen behind you the whole time?
Oh yeah, I knew the whole time, because in the first lap I actually got passed by two people in the first corner and he was one of them. It was like me, Christian Craig and then [Nick] Paluzzi. I went to go pass Christian Craig because I tripled the triple and I kind of hit him a little bit, and then in the next corner he took me wide and Hansen actually hit Christian really hard and I went right into first. So I knew he was there the whole time and as soon as I knew that I kind of wasn't worried about it because I knew he kind of had my back in the beginning of the race.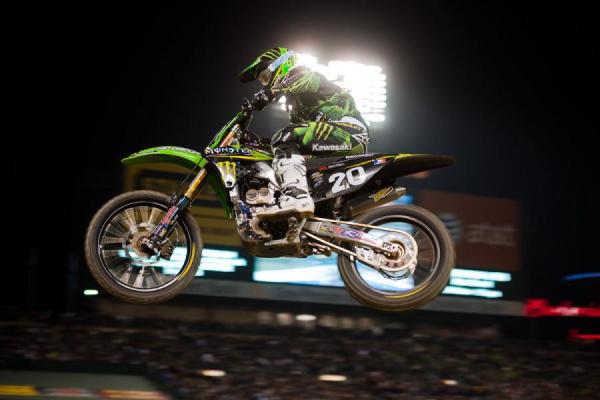 Tickle scored a solid second place finish at A1.
Photo Courtesy of Monster Energy 
Well, you knew that he wasn't going to do anything dirty, but you also had to know that he's going pretty fast because you've been testing with him leading up to this race, right?
Oh yeah, he's a great rider and I give it up to him. He did really good tonight and so did Tyla [Rattray], so it was a good team effort tonight. I know what I have to work on and this is my first time really getting a start in the main and having that pressure, so it felt good to actually have that pressure and know what it feels like.
So, when you won Seattle, you didn't start up front?
Well, it kind of worked out weird; I just kind of got into first and pulled away four or five seconds then just stayed there. It was easy for me because I already had a little gap and once you have a little gap you can kind of play with it. It was just learning how to race for the lead this week. I mean, all of us are good riders and all of us can do good, it's just whoever can do that the best.
You were one of the more underestimated guys coming in...
For sure, I knew that before the weekend. I mean, I knew people knew I was going to be racing and be somewhere up front, but I don't think they were expecting me to come out here and win; and that's what I'm coming here to do. It doesn't matter, they can keep me under the radar if they want, but I'm still going to be there. So, I had fun tonight and I couldn't thank Mitch enough because he gave me the opportunity and it's like a dream come true. So, hats off to him and everybody else, Monster Energy, Kawasaki, everybody...
Final question: If you had to give up either your ride with Pro Circuit or your fiancé, Jess, which would it be?
I can't do that.
You have to pick one...
No, I wouldn't pick. I'd just tell you to leave. [Laughs]