Yoshimura-Backed Teams Score Top Ten Finishes at A1
CHINO, CA –
Yoshimura-backed teams all captured top ten finishes in front of a sell-out crowd during the first round of the 2011 AMA/FIM Supercross Championship season Saturday night in Anaheim, CA. The Rockstar Makita Suzuki, Rockstar Energy Suzuki and Honda racing teams all put their Yoshimura products to good use in a successful campaign in Anaheim.
Rockstar Makita Suzuki's Ryan Dungey and his Yoshimura-equipped Suzuki RM-Z450 were strong all evening long and finished out the night with a second-place podium finish in the first 450 main event of the 17-round season. Teammate Brett Metcalfe piloted his own Suzuki RM-Z450 to an eighth-place finish in the first 450 supercross race of his career.
"This is a great start to the season," said Dungey. "We started out a little slow in practice, but the Rockstar Makita Suzuki team was able to make some good adjustments and by the main we had a great setup for my Suzuki RM-Z450. I got a decent start and was about fourth, and I worked my way up to second. Ryan Villopoto was just a little too far ahead to catch, but I'm real happy with the second-place finish. It's a good start and we'll take from what we've learned and keep moving forward. I'm looking forward to Phoenix; it's been good for me the last couple of years and I'm looking for a good race there."
"I started out a little tight and uncomfortable in practice," said Metcalfe. "My Rockstar Makita Suzuki team was able to make some adjustments and by the time we got to the heat race, I was feeling really good and I was happy with my setup on my Suzuki RM-Z450 – it was time to go racing. My heat race turned out really good. I got a good start and ran up to about second and ended up finishing third. I had another great start in the main, and was up front, and I felt comfortable and felt like I was in the groove, but then I made a big mistake and went off the track and that really upset my rhythm for a few laps. After that, I lost touch with the lead group and just wanted to finish out those twenty laps and not make any more mistakes. We had a pretty good first day and learned a lot and I'm looking forward to going to Phoenix."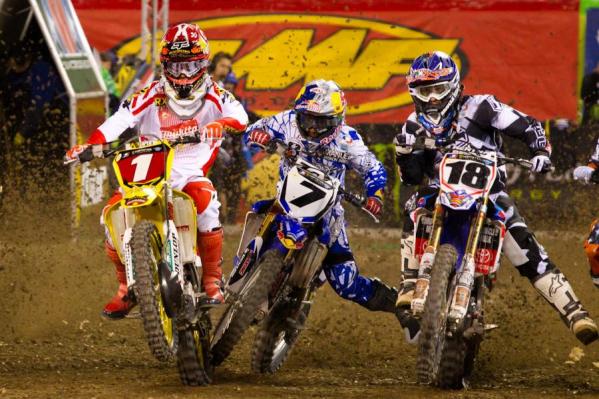 American Honda Racing riders Trey Canard and Josh Grant rode towards the front of the pack aboard their Honda CRF450R® race machines on Saturday night as well. After being hit and going down on the opening lap of his heat race, Canard transferred through to the main event by way of the last chance qualifier race. Getting a mid-pack start in the main and rounding the opening lap in ninth position, Canard rode a solid come-from-behind race to finish in fourth place. Making his Supercross debut for American Honda Racing, Grant put in a strong performance to finish fifth in his heat race and go on to record a solid ninth-place result in the main.
"I'm really happy with fourth overall tonight," said Canard. "I need to work on my starts this week as I demonstrated I have the speed to race up front. But having to fight my way through the pack cost me valuable time. My bike was set up perfectly and I'm where I need to be fitness wise; I just need to get better starts in order to put myself in podium contention each week."
"My goal for the first race of the season was to finish in the top 10 and I achieved that tonight," said Grant. "I'm really happy to get the first race of the season out of the way and I now know where I need to be in terms of fitness and race pace."
On the lites side, Rockstar Energy Suzuki's Martin Davalos fought back after a trip to the last chance qualifier to a fourth-place finish after a strong ride on his Yoshimura-equipped Suzuki RM-Z250 in the 15-lap main event. Teammate Ryan Morais rode a consistent race to place sixth after only days of recovery from a Tuesday practice crash.
"Practice went really good for me," said Davalos. "I was able to get really comfortable on the track and get used to it quickly. Unfortunately, in the heat race I was pushed out to the hay bales and pretty much went down on the ground and unfortunately, I hit my chin and my bike was really bent up. I ended up winning the LCQ, but I ended up with a bad gate pick for the main event. I did my best and ended up fourth in the main event. I got a little tight at the end and unfortunately, I couldn't quite get to third place. I'm definitely looking forward to next week in Phoenix. I'm going to work on a few things this week and will definitely be ready."
"I'm pretty happy, considering coming into this week I barely even rode," said Morais. "I had a pretty good crash on Tuesday and dealt with some stuff and didn't really even ride. I'm real excited to go to Phoenix. I will be able to put in a full week of riding before and in a couple of days I should feel normal and be back to one hundred percent. By Phoenix, I'll be ready to rock and roll."
The next stop of the 2011 AMA/FIM Supercross Championship for the Yoshimura-backed teams is Chase Field in Phoenix, AZ on Saturday, January 15th.
About Yoshimura R&D of America:
Yoshimura is "The Leader in Performance" and has been for more than 55 years. With unmatched skills, knowledge, and passion for racing, Yoshimura is on the forefront of the aftermarket exhaust industry. Yoshimura pipes are race bred and feature the same legendary performance, fit and quality that has been their trademark for more than five decades. To learn more about Yoshimura and view their wide variety of performance products, visit www.yoshimura-rd.com.
CONTACT:
Jake Klingensmith
Yoshimura Product and Race PR
714-546-2088 office
714-501-6549 mobile
Ryan Raymond
Yoshimura R&D of America
909.628.4722 office