Troy Lee Designs / Lucas Oil / Honda Posts Solid Start to Season
After a big season in 2010, the TLD crew has been hard at work preparing for 2011. We've welcomed some great new partners to the team, including Adidas and Silly Bands, and more time than ever before was spent ensuring that the machines Cole Seely, Travis Baker and Christian Craig race on Saturdays are rocket ships. Last Saturday night it was time to lay the first hand of cards on the table and see what was what.

All of the TLD riders posted competitive qualifying times in practice and looked comfortable and ready to race. Travis Baker led the way in the second heat race [which included all the TLD boys] by coming through in third place. Seely would recover from a small crash and sneak into the main while Christian Craig worked through some first-race issues and would have to go through the LCQ. Christian got a much better start in that race and secured his spot in the final.

The main event started with a dramatic Christian Craig holeshot. It might have been a curse for the rookie rider who has come to expect so much from himself. After leading the first lap he was knocked down by another rider and would have to restart his bike from dead last. Meanwhile, Cole Seely and Travis Baker did not get the starts they were looking for. Both riders rode with heart and determination for the entire fifteen laps and after cutting through much of the field finished fifth and eighth respectively. While both riders obviously anticipated better results it was a solid place to begin their march toward the top of the podium.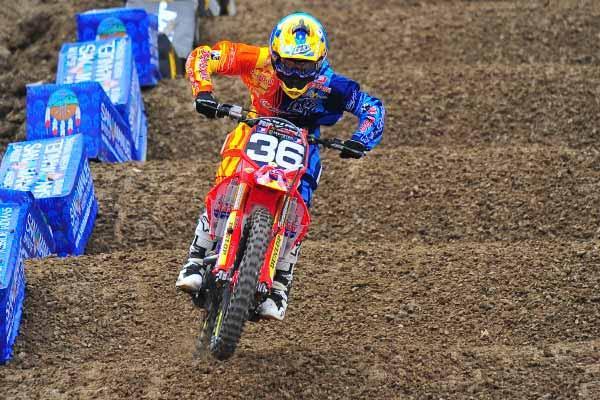 "I felt good and confident going into the night," said Cole. "I just wanted to put myself in a position to be a contender for the title. The main event went great. I got a bad start but I was happy with the way I rode and made a lot of good passes. I feel very confident and strong going into the rest of the series."
"I felt really good going into today's race, but practice wasn't too good," said Christian. "I had a bad crash in practice one and hurt my back a little but the track was good. The main event was good, I was leading until (Josh) Hansen kinda stuffed me and I went down, I ended up 19th. I feel really confident going into next week, I expect myself in the top 10."

This weekend the team heads to Phoenix, Arizona for round two. Starts will be the focus for Baker and Seely prior to heading to the desert while Craig simply needs to absorb all the experience he can from his teammates. By seven o'clock on Saturday night they will all be ready to fight for a win.

On behalf of the Troy Lee Designs race team staff and everyone at TLD, we would like to wish a speedy recovery to our friends Wil Hahn and Jimmy Albertson, both of whom were injured last weekend. Heal up quickly, boys.

TLD would like to thank all of our team sponsors: Lucas Oil, American Honda, PPG, Red Bull, SillyBrandz Global, Adidas, BioLytical Labs, Dunlop, McQueen Racing, VQ OrthoCare, Shock Doctor, Skullcandy, Renthal, Alpinestars, Pro Circuit, Primm MX Collection, Couts Heating & Cooling, Selle Italia, N-Style, VP Racing Fuels, ODI, DID, Rossignol, Pacific Collision Centers, Muc-Off, Kasey Kahne, Elrod Racing, New Era, Leatt, Cycra, Hammerhead, Hinson, Twin Air, Talon, QTM, and EPIC Action Camera.