Between the Motos... Eddie Babbitt
By Jim Kimball
Without a doubt we're all excited about the 2011 Monster Energy AMA Supercross Series, but let's not forget that there is another series starting January 8th – AMA Arenacross. While Arenacross may be a bit overshadowed by supercross right now, it remains one of the most exciting forms of dirt bike racing around. This is especially true for Eddie Babbitt, whose Team Babbitt's Monster Energy, TiLube, Kawasaki, presented by Maxxis squad of Josh Demuth, Chad Johnson, and Tyler Bowers set a new record when they went on to take first, second, and third in the 2010 championship. With that said, who better than to check in on regarding the forthcoming Arenacross series than Eddie Babbitt? His team and Muskegon, Michigan dealership both have exciting things happening.
Racer X: Eddie, we need to begin with your fantastic 2010 season. Was there any negatives with it?
Eddie Babbitt: It was definitely a great season, but obviously now we have a big target on our backs and everyone wants to do what we did. The only negative is not being able to do it again. Once you sweep the podium like that I don't know if you can ever have a better feeling than that accomplishment. But at this point going forward everything is very positive. The sponsors are excited, we are very excited, we are certainly prepared, and now cannot wait for January 8.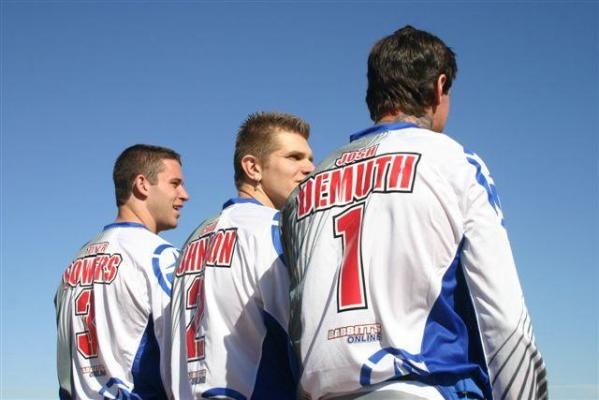 Can Babbitt's Monster Energy team repeat its podium sweep in 2011?
Photo Courtesy of Babbitt
Have there been any significant changes with your 2011 program?
No, not really, though internally we have done some different things with our motors, and now we have Enzo working with our suspension – which is one of the most important ingredients in racing. We feel that Enzo will be very beneficial to our success in 2011. Team manager Denny Bartz is back with me for the sixth year in a row. Our rider line-up is the same, except with now having Gray Davenport filling in for the injured Josh Demuth. We have also retained many of our sponsors, and even picked up some new ones. We are definitely on the right track, and our going to continue to improve and move forward.

In supercross we've seen the silly season really drag on with a lot of economic or budget issues. Is that the same for Arenacross?
It has affected us somewhat, but is also seems that last year it was worse for us. Last year I was concerned if we had hit the bottom yet, but as far as I'm concerned we did, and we have now rebounded. In the bigger picture it is going to be a slow return, but I do believe that it is returning – which is a real positive in a negative world. There's a lot of excitement that I see in the industry right now, and I believe that we are in an upswing.

Speaking of excitement, you have expanded your dealership both with a totally revamped building and the addition of the Honda brand.
Well, we have been here for over forty-five years. I'm a second generation owner and we are pushing forward. Ever since we started the race team and our online business, we've seen nothing but growth. The unit sales have been somewhat sluggish, as they have been nationwide, but we've continued to add new employees, built a new service complex last year, added a new shipping department for our online sales, and just finished remodeling our whole retail side of the dealership. So, there is definitely a lot of excitement here at Babbitt's. Our employees are excited, and our customers are excited when they come in here – so that's been very positive for us. What we've noticed with having a professional race team is that we have customers all over the country that want to be a part of what we are doing. It's really exciting to have someone from Nebraska, Texas, or Florida want to come here and buy bikes or parts because of what we are doing in racing. So, our racing contributes to our retail success, and our retail success helps support our racing.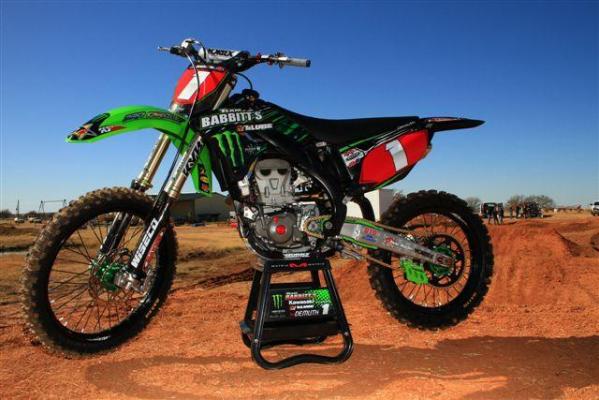 Team Babbitt's Kawasaki hopes to keep the red plate for 2011.
Photo Courtesy of Babbitt
You've been around Arenacross racing for a while now…what's your take on the current status of AMA Arenacross?
Well, there has been a lot of conversation around scheduling, like when the series should start and when it shouldn't start; among many other topics. I know that they are bringing back the "Dash for Cash" in this series, which in the past the fans really got into. This should be really exciting for the series and the fans at each round – so that's a positive. The Speed TV coverage will be back strong again, and that obviously has been a big benefit to us. The biggest disadvantage to the series now is that it's competing against supercross, which is obviously the biggest series in this format. So the smaller Arenacross series has a big competitor with supercross. With that said, I wouldn't be surprised if you see Arenacross starting in November again.

Speaking of supercross, at times you have talked about having a team that competes in supercross, in addition to Arenacross. Is that something still in the back of your mind?
I guess that I'm no different than anyone else in this industry. I love supercross and motocross—that's why I do this race team. Obviously supercross is the biggest form of dirt bike racing. Last year we helped the Ti-Lube supercross team with Nick Wey, which went very well for us. Obviously Nick was bumped up to the factory team, which took a little steam out of our sails, but that was good in the big picture. This year we are back again with the Ti-Lube team where Matt Boni and Matt Goerke will by flying the "Babbittsonline.com" logo on their front fenders. So we are excited to be involved in supercross. As far as our program moving to supercross, I think there is a future possibility of that, but I don't think that I'll ever get away from Arenacross. Arenacross has been very, very good for us here at Babbitt's. There's been a lot of excitement locally, as there has been nationally. If we ever do a full season of supercross it will be a second program for us, it will not be a replacement for Arenacross – it's my intention to stay here.

That's probably a good way to wrap things up Eddie, but is there anything that you may want to add?
Maybe just to add that everything is going great. If I didn't have good people working for me, there would be no way that I could do this. My team manager Denny Bartz and chief mechanic Chad Goodwin are phenomenal assets to the team, as well as our truck driver Rob Goodwin and our new mechanic Grant Hutchison. These guys work super well together and are essential parts of our team. Without that core group of people, this program would not be as solid as it is. So, I want to send out a big thank you to them, to our riders who are out there working and training hard, along with our excellent sponsors like Monster Energy, TiLube, Maxxis, and Kawasaki – as well as all the staff here at Babbitt's and www.Babbittsonline.com, who are standing by and helping us – and keeping this program alive and well.

Check Babbitt's Kawasaki out online at www.babbittsonline.com.