SkullCandy Welcomes Nick Wey
Park City, UT – December 30, 2010
– SKULLCANDY is pleased to announce the addition of
Nick Wey
to our expanding MOTO squad.
Team 27
will be representing SKULLCANDY for the 2011 SX and MX season aboard his Valli Motorsports Rockstar Yamaha.
"NYK has been a supporter of the brand for well over a year now, so it was about time we made things official. He is one of the most consistent riders around and also rolls around with his own unique style and personality, making him a fan favorite at every race and a perfect fit for the brand. I have backed NYK since the day I met him and am stoked to have him running the SKULL, plus somebody needs to keep his ego in check!" - Jason Kimball – Sports Marketing Manager – SKULLCANDY
"I am really hyped to be added as a part of the SKDY team and work along side the likes of Snoop Dogg and Kimball! They have the most legit product around and I am proud to be a part of such an amazing crew. I'm going to kick some dirt on the competition, then bounce out to NYC to kick it with Jay-Z and check out my new SKULLCANDY billboard in Times Square. Ya Heard!? -
Nick Wey
– Dewitt's OG
Look for Nick in the pits at A1 working on his swagger and jammin out to Snoop Dogg on his new custom SKDY Aviator headphones.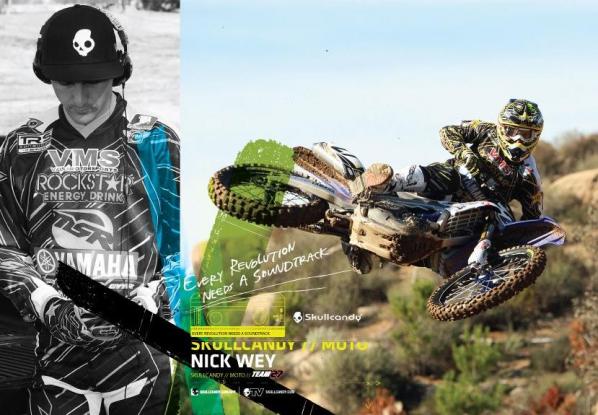 About Skullcandy
Skullcandy designs and constructs premium headphones, ear-buds, speaker docs, audio accessories, and other audio-enabled lifestyle products. Skullcandy also collaborates with top brands to integrate its speaker technology into products from snow helmets to jackets, beanies and bags. The Skullcandy family includes exclusive partnerships with: Roc Nation, a Jay-Z-founded music and entertainment company, Mix Master Mike, the National Basketball Association, and the Hard Rock Hotel and Casino in Las Vegas with branded Skullcandy stages at the Joint, Rehab, and Friday night live. Skullcandy's roster of artists and athletes is amongst the most prolific in any industry. Skullcandy gear is sold globally through top retailers, specialty outlets and can be viewed online at http://www.Skullcandy.com