Summercross in NZ - Hot And Dry Turns Wet And Muddy
by Andy McGechan

It was summer by name but winter by nature for at least half of New Zealand's big annual post-Christmas motocross event near Whakatane this week.

The 39th annual Summercross dished up scorching temperatures and heated race action on day one on Monday, the juniors and women racers enjoying perfect conditions under a typically hot Bay of Plenty sun. But that had all changed 24 hours later when the seniors and veteran racers lined up in the starting gates on Tuesday.

A storm "bomb" struck and rain and high winds lashed the track at Awakaponga, near Matata, in many ways turning the race action into a gamble.

But Rotorua's Michael Phillips (Honda) played all his cards right, romping to a convincing victory in the premier MX1 class, beating such high-profile rivals as fellow Kiwi internationals Justin McDonald (Honda), the national MX1 champion from Christchurch, Mount Maunganui's Cody Cooper (Suzuki) and former Grand Prix star Josh Coppins (Yamaha), of Motueka.

Only recently retired from racing the world championships in Europe, Coppins had been favoured to win the day, but a crash in his opening MX1 race put paid to that and, with bent handlebars and no front brake, he had to settle for nursing his bike home in sixth spot.

Phillips won that opening race and, in scintillating form all day, pushed on to repeat the performance in his next outing.

Track conditions deteriorated further by the third and deciding race and Phillips found himself mired in traffic at the start.

"I ran into the back of a few guys at the start but stayed focussed and got into a rhythm soon after and was making up lost ground," said the 24-year-old Phillips.

"I caught up to Josh (Coppins) but then slipped back again as (Waitakere's) Shaun Fogarty (KTM) barged back past me. Then I crashed and lost more ground. I knew fifth would be okay for the overall win and that's where I finished."

Phillips' 1-1-5 results gave him the MX1 overall by three points from McDonald (2-4-1), with Cooper (5-2-2) another five points further back and Coppins (6-3-3) seven points adrift in fourth overall for the day.

"I made a few mistakes today," Coppins admitted. "I tweaked my knee in that first-race crash and I was forced to play catch-up from there on. I'm not going to dwell on what happened today. I'm just going to move on."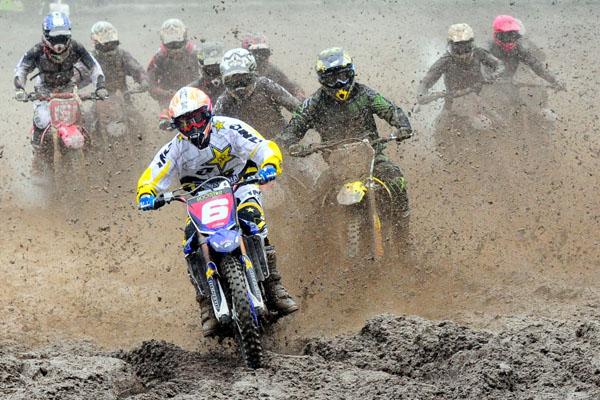 Motueka's Josh Coppins (Yamaha) leads the MX1 class into turn one at Whakatane.
Photo by Andy McGechan, BikesportNZ.com


The MX2 class went to Hawera-based Taupo rider Brad Groombridge, the Suzuki rider cashing in when class leader Damien King (Yamaha), of Cambridge, dislocated his shoulder in the day's final race.

Tauranga's Peter Broxholme (Honda) finished second overall, just three points behind Groombridge, with a surprisingly fast Jonathan Martelli (Kawasaki), of Rotorua, claiming third spot on the podium.

Yamaha riders dominated the other senior classes with Waitakere's Ethan Martens (Yamaha YZ125) winning all three Youth MX races, Hamilton's Darryll King (Yamaha YZ250) winning all three Veterans' over-35 years races and Auckland's Tony Cooksley (Yamaha YZ250) finishing 2-1-1 in the Veterans' over-45 years category.

Meanwhile, there were a string of outstanding performances too on the first day of action at the Whakatane Summercross on Monday, with several riders dominating their classes in spectacular style.

Rangiora's Isaiah McGoldrick (KTM) dominated the 12-17 years' 250cc class with a stunning three wins from three starts.

Atiamuri's Dion Picard (Suzuki) was outstanding in two classes, winning the 12-15 years' 125cc class as well as finishing runner-up to McGoldrick in the 250cc class.

Kaukapakapa's Josh Jack (BikesportNZ.com Suzuki) scored a hat-trick of wins in the 16-17 years' 125cc class, while Otago's Courtney Duncan was another to shine in two classes, comprehensively winning both the 14-16 years' 85cc/12-16 years' 150cc class and the women's category as well.

Taupo's Cohen Chase (Yamaha) was unbeaten in the 12-13 years' 85cc class while Hamilton's Josiah Natzke (Yamaha) was untouchable in the 8-11 years' 85cc category.

As for the weather, it was back to it's sun-burning best the following day. Incredible.